*Prices in USD
$1,19920 - $1,83920 $1,499.00 - $2,299.00

$1,91920 - $2,15920 $2,399.00 - $2,699.00

$1,44000 - $1,68750 $1,600.00 - $1,875.00
Learn More About Beds
Why We Love Modern Beds
What is a bedroom without a bed? As the centerpiece and often times the focal point of the room, a bed is part of your space's overall decor and lends itself to how you will layout the rest of the room. But the bed also exists in a functional manner to aid in slumber, comfort and to help round out your personal sanctuary. Modern beds especially offer unmatched comfort and style you can't help but appreciate in the bedroom. Our collection of contemporary bed frames fulfill a functional requirement of holding a mattress and providing an exemplary amount of storage to help you keep the room clutter-free. Plus, each bed frame in this assortment is designed with the skill and delectable craftsmanship we love.
Where Beds Work Best
In the bedroom of course! But knowing your bedroom's layout is key to helping you select the right modern bed and any furniture you choose to introduce into this personal space. Standard bed frames work well in just about any bedroom and are offered in the sizes you would expect to find including king size frames, queen size frames, twin size frames and full size frames. Storage beds are a go-to choice if keeping clothes organized is a priority for you. And if you like to sit up far away from the floor, you'll appreciate the selection of platform beds. Finally, for guest bedrooms, living rooms or large entryways where you might prefer something more than a sofa, look to the assortment of daybeds available.
A Bed for Every Interior Design Style
From stainless steel bed frames meant for contemporary homes to luxurious polished wood frames and options inspired by mid-century design, your options for a new bed are limitless. In casual contemporary and transitional rooms, look to the beds from Blu Dot for a frame that has no problem fitting in. Blu Dot offers almost anything you could need in a bed frame, from platform frames like the Modu-licious Bed to the popular and plush Dodu Bed. Introduce fine Italian craftsmanship into your home with a bed from Calligaris and look to IonDesign for clean-lined designs meant for modern bedrooms. Mid-century and retro-inspired bedrooms are best suited with a bed frame from Gus Modern. Gus pays exceptional attention to the details in any of its furniture collection and honors the creative design of the 1950s in a fashionable and functional way we love. Lastly, check out the bed frames from Copeland Furniture for wood designs handcrafted from environmentally-friendly lumber sourced in Vermont.
How to Choose the Best Bed & Frame
How do you choose the best bed for your home? Aside from a style that is in accordance with your interior design, size should be your next closest priority when choosing a new bed frame. You'll need to pay close attention to important sizing dimensions like height (especially for platform and storage beds), width, length and depth to appropriately choose the best frame for your bedroom. Before you begin your search, pull out the measuring tape and thoroughly determine how big of a bed (or how small) will work in your room's layout. With a size in mind, you'll find it easy to refine all of your options and then choose the frame that will accommodate your room. Remember to consider important design features like materials (i.e., polished wood frames versus upholstered frames), colors and hardware finishes to find a bed that will have no problem blending in. If you have any questions about the modern beds featured here, please call our furniture experts at 877.445.4486.
Other Considerations
The bed is just one essential component of successful bedroom design. You'll also need additional pieces of bedroom furniture - including clothing dressers, credenzas, bedside tables, lounge chairs and decorative benches. To really round out aesthetic of the space and keep it well-lit, look to the assortment of bedroom lighting. While portable lamps for the table and floor are always appreciated, your bedroom may benefit from elegant recessed lighting, flushmounts, wall sconces or a ceiling fan with lights. Finally, if a bed frame is too large for any area of your home, you may like the selection of modern sleeper sofas.
Related Products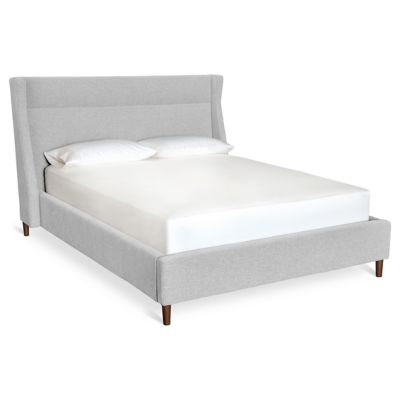 The Gus Modern Carmichael Bed is a distinctive ...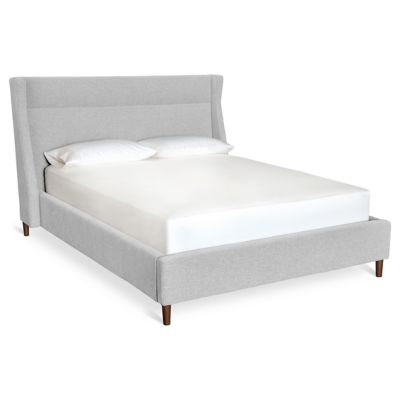 Description:
The Gus Modern Carmichael Bed is a distinctive blend of traditional and contemporary styles. A tall, angled headboard, footboard, and side rails are all crisply upholstered in fabric. Within, a sturdy steel mattress suspension eliminates the need for a box ...
Highly creative, distinctly modern design. The Hunker Bed ...
Description:
Highly creative, distinctly modern design. The Hunker Bed by Blu Dot features built-in walnut nightstands which are integrated into a curved, sleek upholstered headboard. Its padded solid hardwood and plywood frame provides ultimate comfort and support while cord management escape ...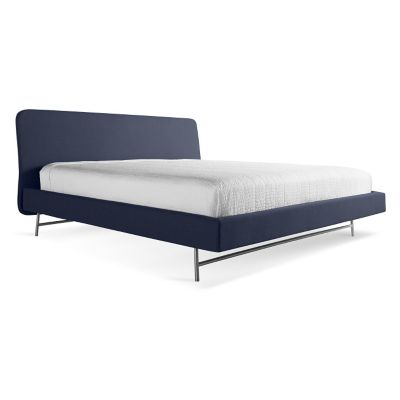 Description:
The Blu Dot Hush Bed is stealthy. A wafer thin upholstered headboard and padded side rails are supported by a brushed stainless steel base, giving the frame a sturdy yet subtle persona. Choose from several colors and sizes and turn ...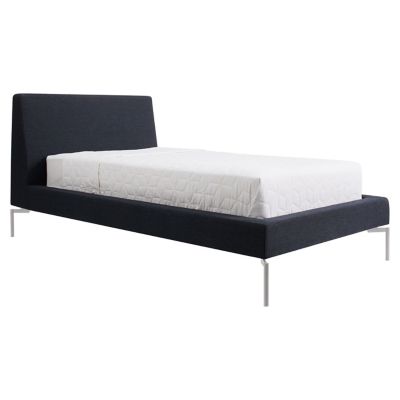 Rest assured, you'll never sleep the same way ...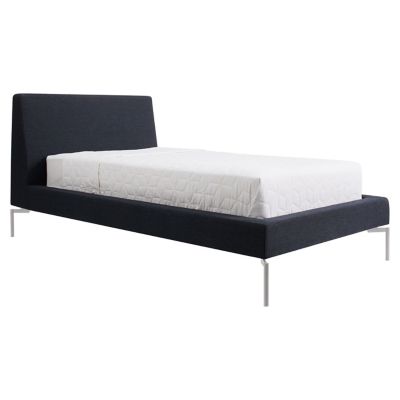 Description:
Rest assured, you'll never sleep the same way ever again. The Blu Dot New Standard Bed ensures that with its tautly tailored upholstered headboard and frame and uniquely angular steel legs. Mix and match upholstery fabric colors and leg finishes ...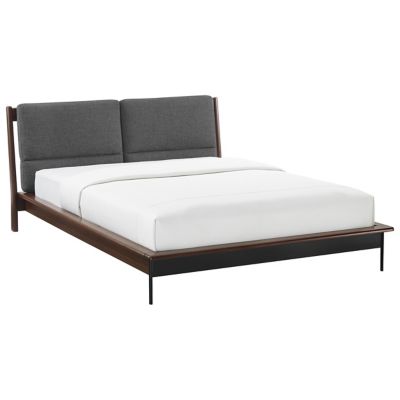 Relax in stylish comfort with the clean, modern ...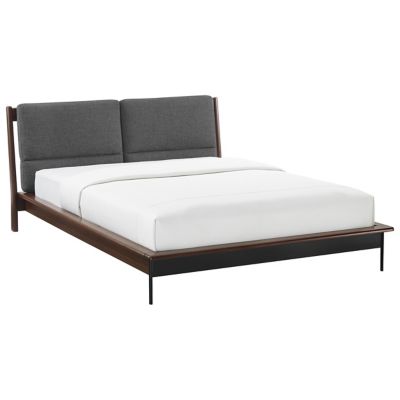 Description:
Relax in stylish comfort with the clean, modern lines of the Park Avenue Bed from Greenington. A simple stepped frame design made from solid bamboo with steel leg supports, it features a headboard with two plush upholstered cushions to add ...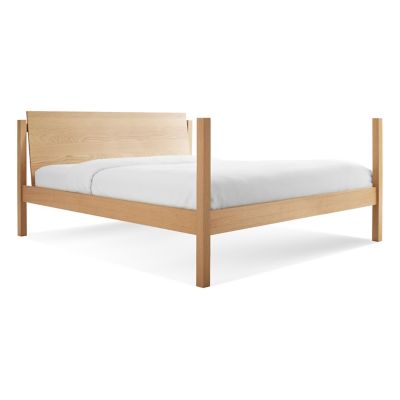 Draw a straight line to restfulness with the ...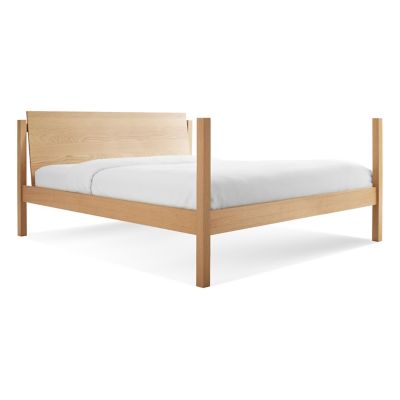 Description:
Draw a straight line to restfulness with the post Up Bed by Blu Dot. Assertively simple with clean edges and 90-degree angles, this handsome platform bed features a tall, stately post at each corner, delineating the boundaries of its space. ...