Floor & Table Lamps
Learn More About Floor and Table Lamps
Why We Love Floor & Table Lamps
There's something freeing about being able to move furniture around quickly and easily. It's the same with portable floor lamps and table lamps. Their mobility is a huge benefit when moving around or redecorating to express a newly discovered design scheme. They can immediately change the look of a room without having to rewire or punch a hole in the wall. Floor lamps are especially great when it comes to adding ambient lighting, while table lamps help immensely when it comes to reading or task work at the desk or couch.
Read More
Where Floor & Table Lamps Work Best
Floor and table lamps are able to find their home in a number of rooms, thanks in part to their versatility and portability. You'll find a modern floor or table lamp will work well in the living room, providing task and ambient lighting where ceiling lights and wall sconces might not spotlight a particular area, like near a couch or in a far corner. They're also great for bedroom lighting, especially when two lamps are used on either side of the bed atop your nightstands. If you don't have a reading sconce in the bedroom, you'll find a table lamp will offer a similar amount of helpful, task-oriented light. Plus, table lamps on either side of the bed means individual lighting control and one happy couple. Table lights are especially great for the office or den, providing adjustable task illumination so you don't get a headache from eye strain. Finally, in the dining room or placed near the front door in the entry, you will like the functional and decorative presence of a console lamp.
Floor & Table Lamps for Every Style
This collection of portable lighting is designed to fit a wide variety of interior design styles, ranging from traditional rooms to spaces with the most modern of decor. Classic table and floor lamp styles include bronze and polished nickel lamps by George Kovacs, as well as the wrought-iron lamp designs by Hubbardton Forge. Contemporary homes benefit from the transitional lamp options by Robert Abbey and look to Artemide or Flos Lighting for an ultra-modern floor lamp, table lamp or desk lamp. Finally, if you love energy efficiency in your home, be sure to check out the LED-infused lamps from Marset.
Choosing the Best Portable Lamp
When it comes to choosing a floor or table lamp, you will want to consider the size of the lamp and how it will fit into your room. In large living areas like a great room or open living room, the space will benefit from the inclusion of an arc floor lamp or multi-arm lamp. Conversely, smaller bedrooms and offices will require much more proportionate options like a slim desk lamp or pair of small table lamps. When browsing for a new lamp, be sure to view its sizing dimensions to get the best idea of the fixture's width, diameter, length and weight before purchasing. You can also review the lamp's light source options and if you plan to take the fixture outdoors, verify it is UL listed for wet or damp locations. If you have any questions about the floor and table lamps featured here, please call our lighting experts at 877.445.4486.
Other Great Options
You'll love torchiere floor lamps. They provide the best of both worlds--ambient lighting and adjustable task lighting--all in one fixture. Uplight floor lamps and torchiere lamps are ideal in living rooms, where you want a decent amount of general, ambient light, as well as focused light for catching up on your favorite book. And if you love the portability and versatility of these lamps, you may enjoy the same benefits in a wall lamp -- check out the selection of plug-in wall lights for options that simply plug-in to the nearest power outlet and can be re-arranged at a moment's notice.
Show Less
Related Products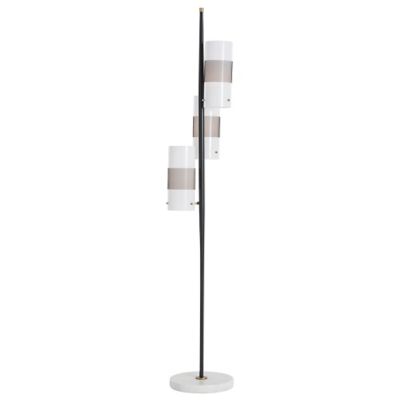 The Arteriors Delfino 3-Light Torchiere is a modern ...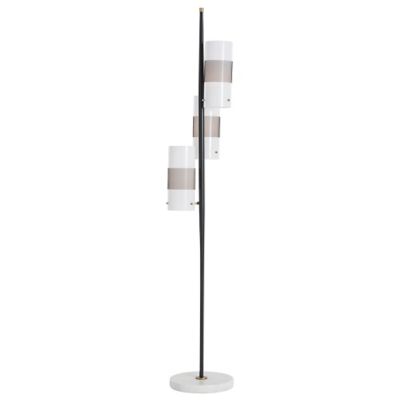 Description:
The Arteriors Delfino 3-Light Torchiere is a modern lighting option that finds the delicate balance between black and white. The opal shades each feature a steel mesh cage and exposed hardware, an example of industrial influence made refined. The subtle ...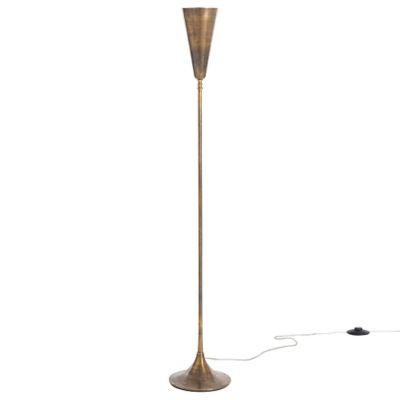 The Arteriors Frisco Torchiere is a solid brass ...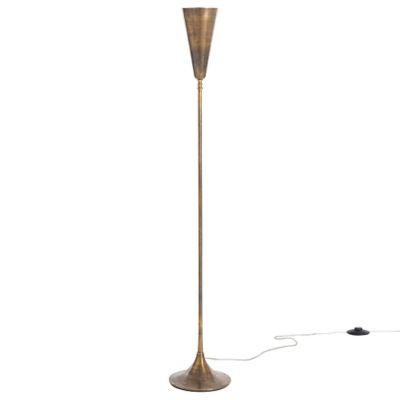 Description:
The Arteriors Frisco Torchiere is a solid brass piece that is slim and ideal for small spaces. The inverted cone shade throws the illumination upward, creating a lit atmosphere with a hint of Mid-Century style. The cone shape is echoed ...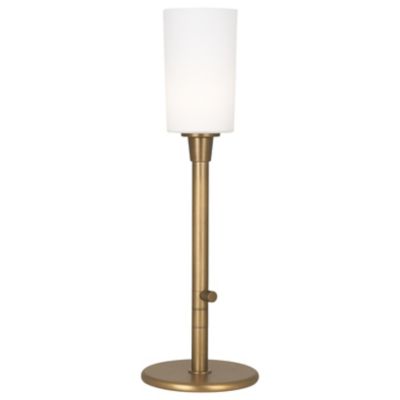 The Robert Abbey Nina Table Torchiere designed by ...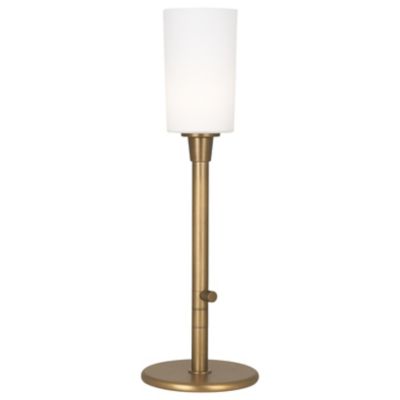 Description:
The Robert Abbey Nina Table Torchiere designed by Rico Espinet adds a measure of optimism to areas with its inviting illumination and clean-cut design. The Nina Table Torchiere features a White Frosted Cased glass shade and metal body with Polished ...