Table Lamps
Why We Love Modern Table Lamps
There's nothing like coming into the living room and being greeted by the personality of decorative, contemporary or retro table lamps. An entire room's design scheme can be inspired by a well-chosen lamp, and a table lamp set can instantly, and inexpensively, boost the energy of a room and update the decor as the seasons and contemporary lighting trends change. They create new, fresh, and attractive dynamics, adding diffused lighting that contributes to the welcoming appeal of a room. And most modern table lamps are portable too, allowing them to be taken anywhere a bit of light or noticeable character is needed. With this collection of table lamps spanning a variety of interior styles, you'll have no problem adding a lamp here or there to round out the look of your rooms.
Where Table Lamps Work Best
Thanks in part to their versatility, well-chosen contemporary table lamps allow themselves to work well in almost any room. The living room usually hosts a range of activities throughout the day, from boisterous social gatherings to peaceful moments of rest and relaxation. That's why table lights are so great for this type of area. Using table lamps for living room lighting will enliven the room with bright illumination and style for parties, while also playing an important role by becoming a source of reading light on those quieter nights. Modern nightstand lamps are essential if you like to stay up reading after your partner goes to sleep and they also offer a type of ambient lighting you cannot achieve with common forms of ceiling lighting or wall lights. Some of these decorative table lamps will also work well outside. Outdoor table lamps allow your summer barbecues and patio dining occasions to continue on long after the sun has set. Finally, for the home office or workspace, consider any of the LED table lamps for bright and focused task lighting.
Find a Contemporary Table Lamp that Matches Your Decor
Table Lamp Ideas for Every Style
Table lamps are a common element of any room's design thanks in part to their versatility and portability. Whether the room follows a traditional aesthetic or one that is more on the contemporary side of the spectrum, you are sure to find the table lamp you need in this assortment. For fans of retro-inspired mid-century style that takes its looks from the 1950s, check out the table lamps in the collection from FLOS. The FLOS selection also includes provocative designs like the Gun Table Lamp and the colorful Miss K Table Lamp. Luxurious spaces benefit from the crystal table lamps by Verpan Lighting or Vistosi. Unlike a crystal chandelier or pendant hanging from the ceiling, these elegant choices allow you to introduce a noticeably luxurious element to your rooms with ease. And if you love the benefits of energy efficiency in your home, check out the LED table lamps available. These portable LED table lamps offer the same contemporary design style you love along with better long-term savings and a bright disposition.
How to Choose the Best Table Lamps
The sizes, styles and color options of table lamps are vast. From glass table lamps and brass finishes to small table lamps and cordless options that can be recharged anytime, the choices here are plentiful. Use these common questions and tips to assist you in picking out the perfect table lamps.
Where do you plan to place the table lamp?

When choosing a designer table lamp for your space, first consider the purpose of the lamp. Is it to add a stylish decorative element in the room or to aid you in a certain task? Try to identify exactly where you plan to place the lamp to then decide what style of modern lamp you will need.

What is the best size of table lamp?

Next, pay careful attention to the lamp's size. Look to its height, width, length (for lamps with adjustable arms), and cord length (for those options that require a cord instead of being battery operated). Choosing the right table lamp size is key to determining just how a lamp can play its role in the overall decor of a specific room. It's up to you to decide if you prefer a tall table lamp or a more petite option.

Should I choose an Modern LED table lamp?

LED lighting has many advantages including a longer lifespan, energy savings, and they typically emit brighter light. However, you'll need to decide just how bright you want your table lamp to be. It can either be a bright lamp used for reading and similar tasks, or you may opt for a table lamp using a halogen bulb to support a warmer glow of light. Take a look at the lamp's lumen output to best understand how bright it will be. And if you opt for a lamp without integrated LED, check its required bulb type to be prepared with the right light bulbs.

Can I use a table lamp outdoors?

Thanks to their portability and ease of use, you absolutely can use any of these table lamps outside as a great way to add extra light to the porch, deck, patio or a covered gazebo. If you plan to leave the lamp outside for a long period of time, double check its UL rating to see if it is rated for safe use in damp and wet location areas.
If you have any questions about the table lamps featured here, please call our lighting experts at 877.445.4486.
Other Considerations
Kartell offers an illustrious collection of modern table lamps from renown designer Ferruccio Laviani. Table lamps can be paired with a similarly styled floor lamp to create a well-rounded amount of illumination for living rooms and bedrooms too. Floor lamps and table lamps often belong to the same product family, allowing you to decorate your space with ease and cohesion. Instead of table lamps in the bedroom, consider using mini pendants over the nightstand. And lastly, if it's a portable table light you need for your kitchen or dining area, you'll want to see the collection of buffet table lamps. These extra tall table lamps are the perfect mix between a traditional table lamp and a floor lamp.
Show Less
Related Products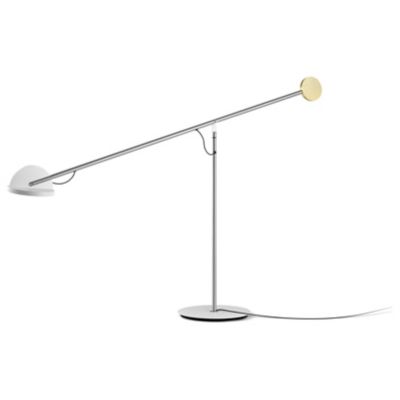 Simple, sleek and strategic. The functionality and clean ...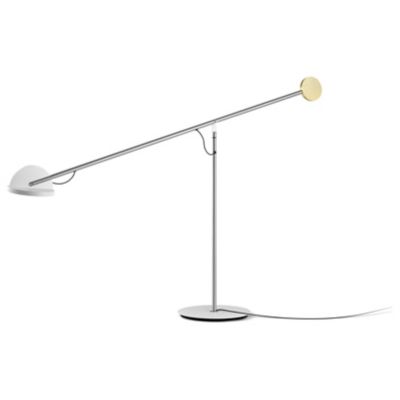 Description:
Simple, sleek and strategic. The functionality and clean lines of the Copernica P LED Table Lamp by Marset make it an extraordinary piece for any modern living space. The Steel and Aluminum frame adjusts smoothly, assisted by the versatility of ...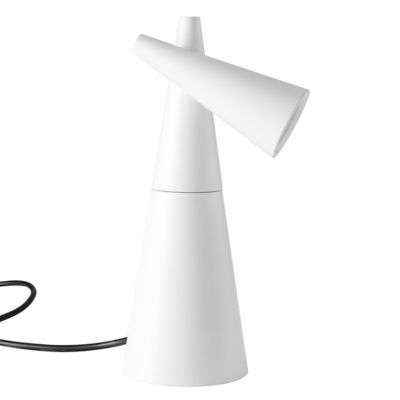 Deconstructing the shape of a small trumpet to ...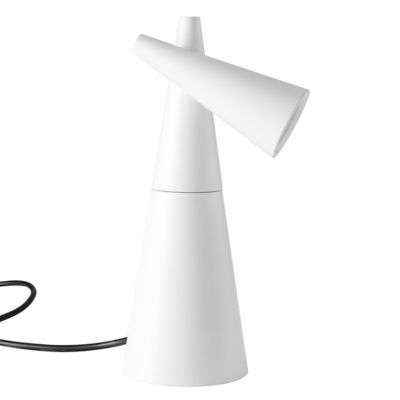 Description:
Deconstructing the shape of a small trumpet to simple geometric shapes, the Estiluz Cornet LED Table Lamp offers the convenience of adjustable task lighting with an individualistic and bold design. Cone shapes join together with at two adjustable junctions, alternating ...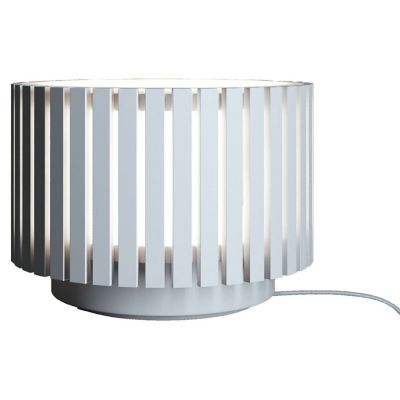 The Dacre Table Lamp by Modloft features the ...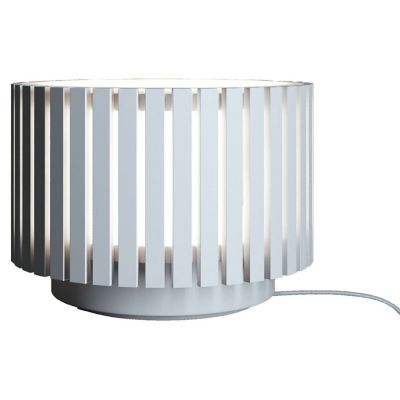 Description:
The Dacre Table Lamp by Modloft features the ideal combination of composite wood construction and crisp metallic accents. Its modern aesthetic is crafted with a dramatic slated frame design for superior light diffusion around any contemporary room you place it ...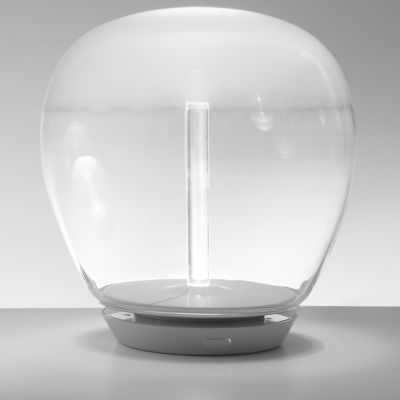 Designed with optimal light diffusion and efficiency in ...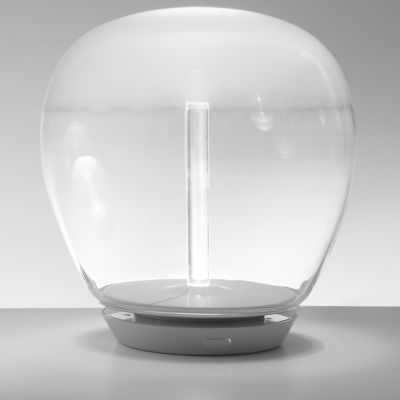 Description:
Designed with optimal light diffusion and efficiency in mind, the Artemide Empatia LED Table Lamp generates a controlled ambience from a two-toned glass enclosure and interior light guide. The hand-blown glass shade transitions from a frosted top to a completely ...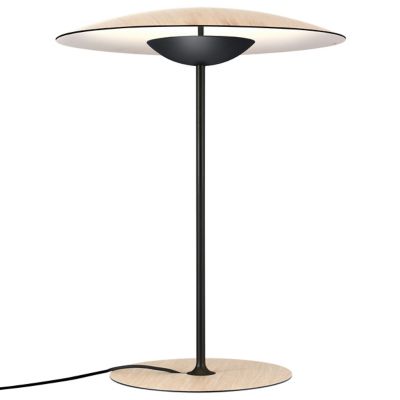 Inspired by the cymbals of famous drummer, Ginger ...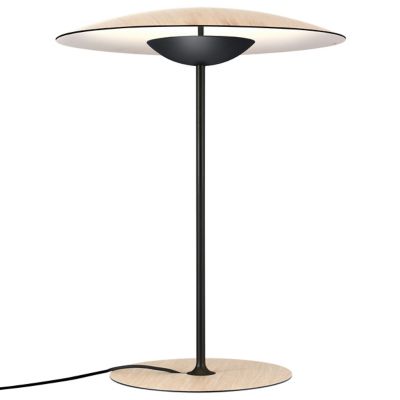 Description:
Inspired by the cymbals of famous drummer, Ginger Baker, the Marset Ginger LED Table Lamp is an exceptionally thin and smooth conductor of light. The high pressure shaping of high-quality wood and paper results in an ultra-thin shade with a ...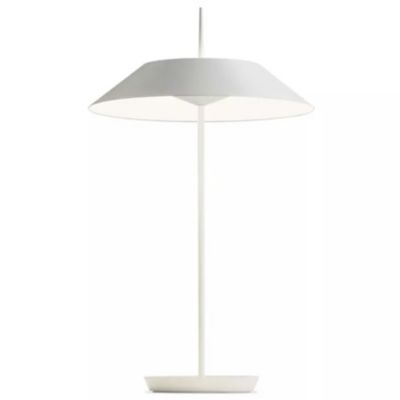 The Mayfair Table Lamp by Vibia features a ...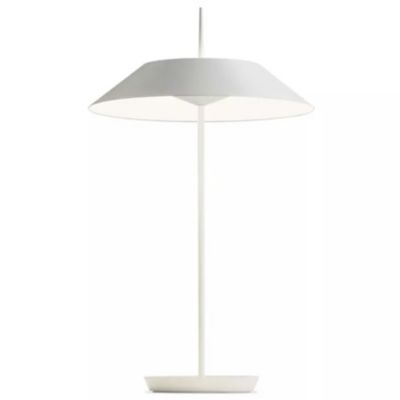 Description:
The Mayfair Table Lamp by Vibia features a contemporary reimagination of conventional, old-fashioned table lamps. This sleek table lamp is equipped with an Aluminum Zinc plate, a Steel fixture, and a half conical silhouette. When illuminated, an LED light source ...