Dining Room Lighting
Learn More About Dining Room Lighting
Why We Love Dining Room Lighting
Big or small, opulent or austere, the dining room can easily become the center to home (especially so in more open floor plans). This makes the decision of what lighting to choose very important, whether it's for a formal dining space or a cozy breakfast nook. A basic guide to lighting dining rooms is to use linear fixtures over rectangular tables and circular fixtures over the square and round tables, although there's no such thing as a hard and fast rule in the design world. From elegant dining room chandeliers to suspend over the family table to understated fixtures like wall sconces and console table lamps, you'll find everything here to appropriately dress up your dining space.
Where Contemporary Dining Room Lighting Works Best
For a look that's pleasing to the eye, the basic guideline works well: the main dining room light should share a similar shape with the dining table itself. Easy enough, right? But, after that simple rule of thumb, the sky's the limit. Ceiling lights with distinctive drum shades are an easy way to add some texture or color to the space, as well as creating a strong focal point. You'll find many drum-shaped pendants and close-to-ceiling lights to choose from. Neutral spaces can benefit from lighting fixtures featuring brighter colors and bolder patterns, and vice-versa. Going in the opposite direction, the jaunty look of a branching linear suspension brings a dynamic look to a dining space and appropriately fits the elongated shape of a rectangular table. A pair of sconces throughout the room creates a well-rounded look and if you have a console or buffet table in the space, consider accenting it with a lamp.
Dining Room Lighting Ideas for Every Style
The dining room is often regarded as a place of luxury where friends and family gather for a formal dinner occasion. But there's no reason you can't enjoy the luxury and modern appeal of well-designed lighting throughout the space at all times. Robust contemporary chandeliers by designers like Luceplan or Leucos introduce a statement-making fixture to the space, while crystal chandeliers from Schonbek are sure to inspire oohs and ahhs. If a chandelier doesn't quite fit the look of your dining room, check out any of the sleek and stylish pendants by Tech Lighting. And dining rooms decorated with more traditional elements of decor may appreciate ceiling lights in the collection from Maxim Lighting or ELK. Finally, if you appreciate the presence of energy efficiency in your dining area, look to any of the fixtures using LED as their light source.
How to Choose the Best Dining Room Light Fixtures
Before you can appropriately redecorate your dining room, you'll need to determine the functionality you need out of a light fixture. If it's to cover the dining table, look to chandeliers and pendants. Have a need for ambient washes of light? Consider a few wall lights spread throughout the space. Once you can decide where you need lighting in the room, you'll then need to measure the space to determine the sizes of lights you will need. If you are placing a chandelier or large pendant in the room, be mindful of dimensions like height, diameter, and weight. With size and purpose in mind, you can then refine your options by colors, finishes and other important design features that can blend in with your dining room's existing decor. Lastly, review the fixture's lumen chart to identify just how bright it will be. If you have any questions about the dining room ceiling lights, wall lights and lamps featured here, please call our lighting experts at 877.445.4486.
Other Considerations
First things first: put a dimmer on it. Legrand Adorne and Lutron both have a wide variety of options to control the brightness of the light and you'll be glad you have them. After that, there's no reason to stop at only what's hanging over the table. Most pendants and chandeliers belong to design families, so you can tie in similar wall sconces for a little more ambient lighting. In open floor plans, adjoining areas can become extensions of the dining space, so you can get creative with that. And finally, in bigger and open dining areas, you may appreciate the air flow provided by a modern dining room ceiling fan.
Show Less
Related Products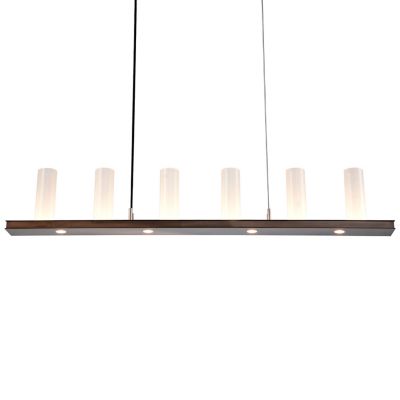 An artful juxtaposition of strength and fragility, form ...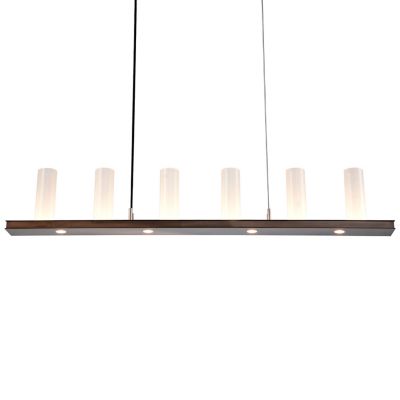 Description:
An artful juxtaposition of strength and fragility, form and function, lit and unlit surfaces. The Carlyle Corona LED Linear Suspension by Hammerton Studio brings these appealing contrasts to your surrounding space with its narrow, hand-polished steel body and rounded, Blown ...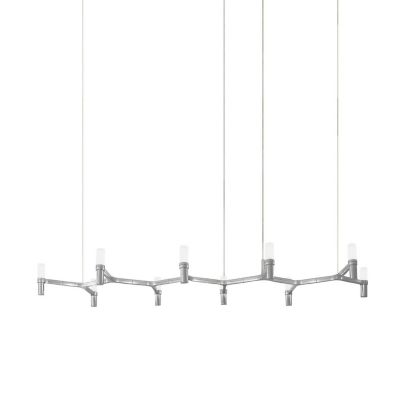 The playful Nemo Crown Plana Linear Suspension by ...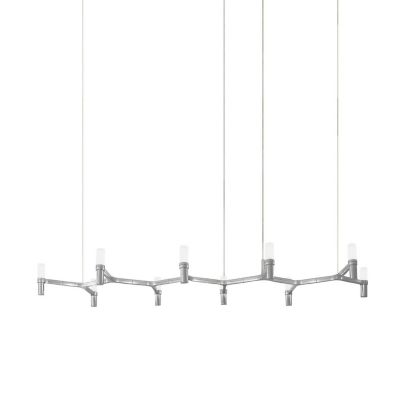 Description:
The playful Nemo Crown Plana Linear Suspension by Nemo has a zig-zag, die-cast aluminum body ideal for modern dining or conference rooms. Its minimalist form prominently features 10 sandblasted, opal-white glass diffusers that offer a widespread, yet warm lighting effect. ...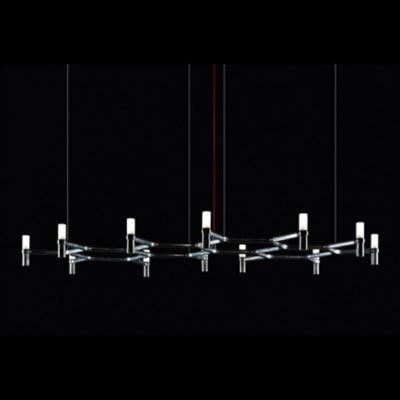 A quartet of hexagonal modules form the Nemo ...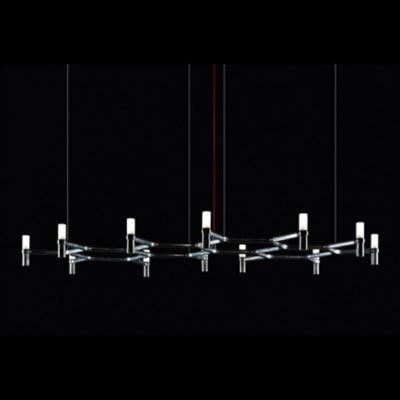 Description:
A quartet of hexagonal modules form the Nemo Crown Plana Major Linear Suspension with an ornamental perimeter of diffused light. The geometric lines of the structure connect the points of light like a honeycomb constellation when viewed from below. A ...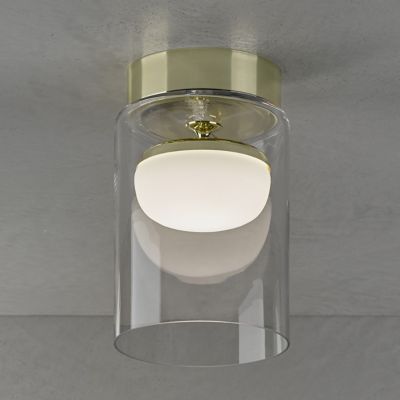 Elevate the ambiance of your home with the ...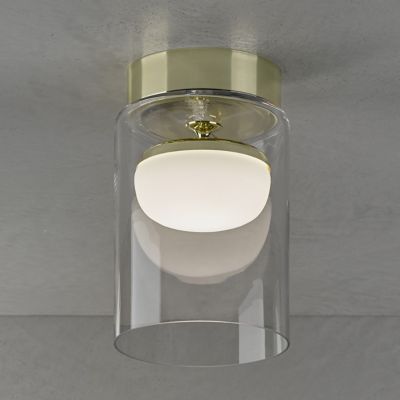 Description:
Elevate the ambiance of your home with the soft and elegant accompaniment of the Diver LED Flushmount from Prandina. Designed by Sergio Prandina himself, this endlessly appealing piece unites clear and white glass in a tasteful and soothing arrangement. It ...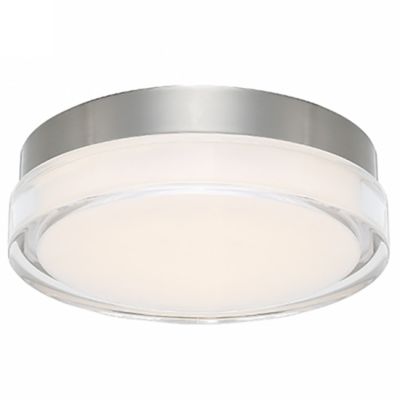 Leave a dot on your interior space with ...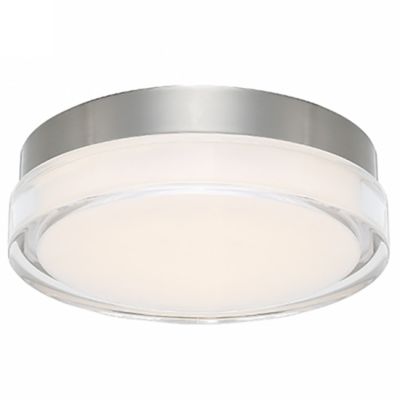 Description:
Leave a dot on your interior space with the Dot LED Flushmount by dweLED. Its circular silhouette features a marine-grade Stainless Steel base and a lightweight Acrylic diffuser. The base houses an integrated LED energy-efficient engine that displays a bright ...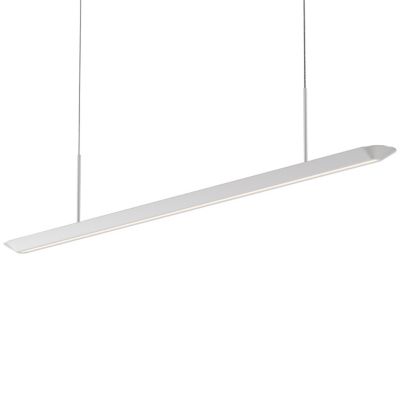 Modern lighting with a smooth, aerodynamic look. The ...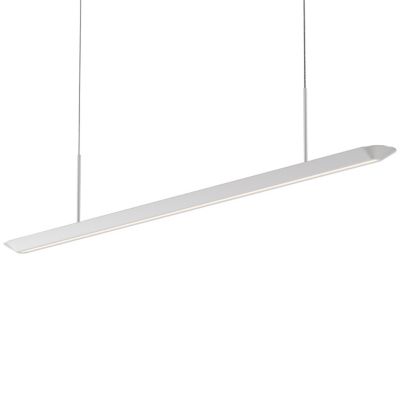 Description:
Modern lighting with a smooth, aerodynamic look. The SONNEMAN Lighting Glide LED Downlight Pendant appears effortless in its ability to both illuminate and accentuate modern spaces. This sleek linear suspension boasts visual interest in the flared V-shaped profile of its ...