Chandeliers
Learn More About Chandeliers
Why We Love Modern Chandeliers
Ceiling lights and modern chandeliers serve as a great way to bring elegance into today's modern spaces. From commercial common areas like lobbies and ballrooms to residential spaces like formal dining rooms, chandeliers add instant opulence. Chandeliers are also one of the easiest ways to upgrade your decor without a complete remodel. Available in varying drop heights, shade styles, and illumination levels, you'll never run out of options.
Read More
Chandelier Definition: What Exactly is a Chandelier?
Before we jump into why we think you need a new chandelier, let's first provide the precise definition of a chandelier. Chandelier comes from the French word for candlestick, suggesting warmth and traditional familiarity, but it has grown to mean so much more in terms of creating the look of a space or tying a room together. While at its base it is a highly decorative fixture suspended from the ceiling, a modern chandelier goes for the gold in fashion rather than function. Unlike a pendant, flushmount or other ceiling suspension, a chandelier is made to be the exemplary focal point of the room.
Where Chandeliers Work Best
Because of the luxurious statement a chandelier makes, this type of ceiling light is best placed where it can recieve optimal visibility. In grand entryways and foyers, a large chandelier makes a memorable first impression in a 2-tier, 3-tier or even 5-tier design. A unique chandelier in your entryway makes an immediate statement of your sense of style while also providing an ample amount of illumination. Chandelier light fixtures also work well for dining room lighting, creating ambiance and setting the desired mood whether romantic or casual. For intimate dinner parties or casual dining with the family, a chandelier can easily be the centerpiece of the dining room. A kitchen chandelier can improve the overall lighting design for larger kitchen and cooking areas and in the living room, a decorative chandelier will become the topic of conversation. While the entryway, dining room, kitchen and living room are where a chandelier often finds its home, the fixture is being seen more and more in bathrooms and bedrooms as a way to add similar mood lighting and ambiance, especially when controlled by a dimmer switch. Lastly, up the ante in your exterior decorating with an wet or damp-rated outdoor chandelier.
Iconic Chandeliers You'll Love
One of the best things about modern chandeliers is the sheer number of choices available. No matter your style preferences, there's a chandelier that will suit your needs. Popular lighting brands like Moooi and Swarovski Lighting provide chic dining room chandeliers and pendant lighting that liven up any space. For subtler contemporary lighting, Feiss Lighting, Visual Comfort and Tech Lighting have a range of options that brightly illuminate interiors without detracting from existing décor and accessories.
How Do I Choose a Chandelier?
Choosing the perfect contemporary chandelier lighting for your space should be based on a combination of personal preference and consideration of existing fixtures. You will want to make sure the chandelier will complement hour décor without overpowering it. The scale of the room is also important because choosing a chandelier that is too large or too small can create problems, both visually and structurally. Follow these steps to pick out the ideal chandelier for your space.
1. Understanding Chandelier Types
Begin your selection by understanding the different types of chandeliers available. In this assortment you'll discover ultra-modern minimalist chandeliers to those with exposed vintage Edison bulbs, as well as luxurious crystal-studded fixtures. Depending on your application, there is a type of chandelier here to fit your style. Consider the other fixtures and furniture you have in place as well. You'll want to pick a style of chandelier that complements other pieces of decor already in place.
2. Placement Options
Chandeliers can fit into almost any room of the home, but you need to be careful about blending a new chandelier in with existing implements. Deciding whether you will place a chandelier over the dining table versus in the grand entryway will determine the specific type of chandelier and size you will want. Also, consider how far you want the chandelier to suspend from the ceilingb as some options can hang really low or be installed flush with the base of the ceiling.
3. Chandelier Sizes
The size of the chandelier you choose is also critically important as you do not want to end up with a fixture that is too large or too small for your application. Once you have decided where you will be installing a new chandelier, be sure to thoroughly measure the room. Be mindful of common sizing dimensions like height, width, diameter (for round chandeliers), hanging length (especially for fixtures installed over a dining or kitchen table) and in some cases, weight. Once you have a clear idea of the sizes you can choose from, the next step is finding one that represents you.
4. Colors & Finishes
You have identified the type of chandelier you want, the room it will be placed in and the sizes you can choose from - now comes the fun part! Find a chandelier that represents your personal tastes, the theme you are trying to round out (i.e., Scandinavian, Mid-Century Modern, Rustic, etc.) and the color palette you want to match. With so many colors, shapes, finishes and styles to choose from, you're bound to find just the right chandelier for your home. You may also want to check out the fixture's brightness output to know just how much light it will emit. In most cases, you can place a chandelier on a dimmer switch to appropriately tune the lighting to your mood.
5. Chandelier Installation
Finally, with the right chandelier picked out, it's time to prepare for installation. Make sure that the chandelier you choose is appropriate for your existing wiring setup and, if necessary, consult a qualified electrician for an expert recommendation.
Other Considerations
In addition to taking and structural elements into account, there are some other things to keep in mind when shopping for a new ceiling fixture like a chandelier. Installation is often pretty simple, but some styles are quite heavy, so it's imperative to have two or more people help with getting it installed. For chandeliers with hundreds of faceted crystals, keeping the fixture clean will be important and this maintenance is considered quite tedious. If you don't want to commit to a regular and lengthy maintenance schedule, it might be better to opt for a single pendant design or one without such intricate details. In either case, check out our tips on how to clean ceiling lights.
There are so many contemporary chandeliers to choose from ranging from energy-efficient LED Chandeliers to large-scale multiple pendant models. When it comes to finding the right ceiling fixture for your home, the possibilities are nearly endless.
Show Less
Related Products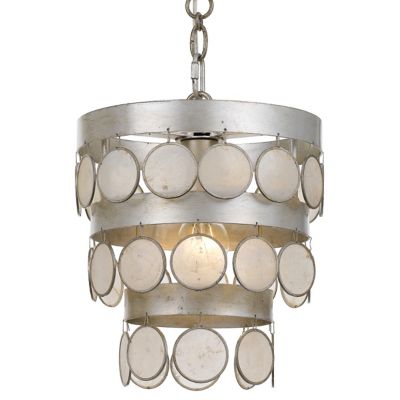 Petite yet effective, the Crystorama Coco Mini Chandelier ...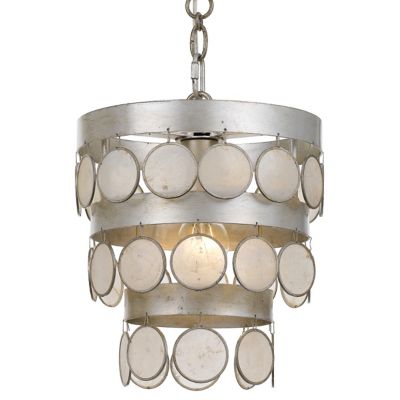 Description:
Petite yet effective, the Crystorama Coco Mini Chandelier presents a series of white capiz shells draped over shiny bands of hand painted wrought iron. Straight from the coast, the translucent shells catch the light in a unique way, creating a ...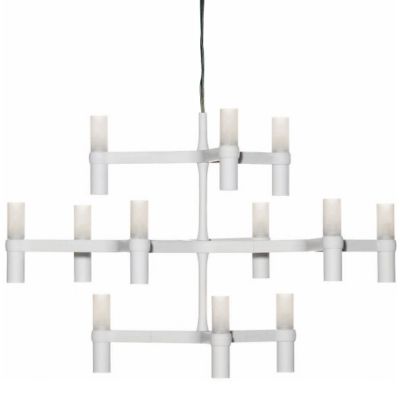 The Nemo Crown Minor Chandelier has major impact ...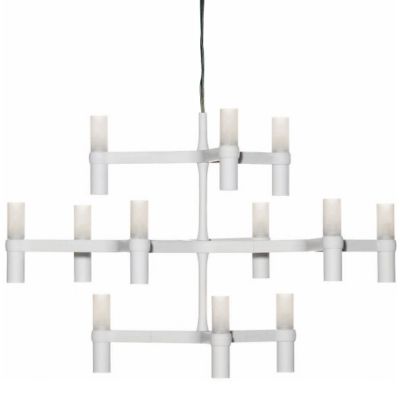 Description:
The Nemo Crown Minor Chandelier has major impact in contemporary interiors. A modern design inspired by classic candle chandeliers, Crown Minor features perfectly straight arms with 12 cylindrical shade holders and Opal White glass shades. While available in multiple finishes, ...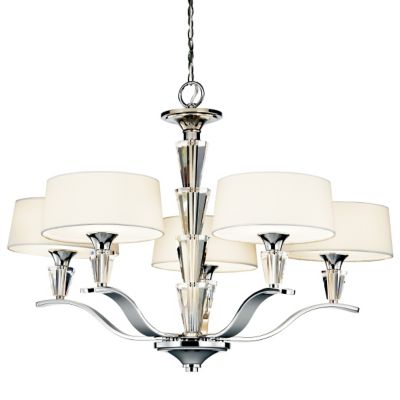 Inspired by antique crystal perfume bottles, the Kichler ...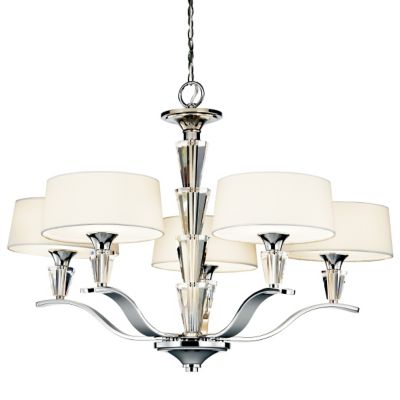 Description:
Inspired by antique crystal perfume bottles, the Kichler Crystal Persuasion Chandelier adds an element of traditional appeal without losing its edge. Thick bands of Chrome finished metal gently curve out and up to support White fabric shades, accented by columns ...