Learn More About Wall Lights
Why We Love Wall Lights
Wall lights can instantly turn a flat wall into something decorative and worth noticing. Specifically designed to add ambient lighting in a variety of spaces, more of today's wall sconces and wall lamps are specifically shaped to add dramatic up and downlighting effects, really adding depth and structure to a room. Adjustable picture and display lights draw attention to a painting or work of art, while art glass sconces can provide a splash of color and artistry and become works of art themselves.
Types of Wall Lights
The types of wall light fixtures available to you in this selection are vast and diverse. Here you will discover beautifully designed indoor wall sconces to rustic, wrought-iron works of art you can use indoors or out. Find uplights that cast dramatic shadows on the wall, helpful spotlights for task lighting, bedside reading lights, energy efficient LED contemporary wall lights, recessed wall lights (often called wall washers), crystal wall sconces and much more. Browse through each of the categories to find the fixtures that are a perfect fit for you.
Where Wall Lighting Works Best
Wall lights and sconces can find their home in nearly any space, in both residential and commercial locations. In the bedroom, you'll find a wall-mounted reading light is an ideal choice for focused task lighting or a pair of sconces on the wall will complement the overhead lighting from a chandelier, flushmount or ceiling fan with lights. Contemporary bathrooms benefit from the style of vanity bath bars and wet or damp rated wall sconces. Bathroom wall lights are available in multiple shapes and styles to accommodate nearly any bathroom's layout. Wall uplights are perfect for hallway lighting and in the living room, you'll love highlighting family photos or works of art with a picture light. In the dining room, wall lamps provide a layering element to your lighting that is immediately noticeable by your dinner guests and you will like illuminating your kitchen counters with under cabinet lighting. And provide a warm welcome to your guests with wall lights in the entryway or foyer. Finally, in restaurants, retail stores, hotels and professional offices, wall lights can offer the final decorative touch your customers will love.
A Wall Lamp For Every Style
From transitional to ultra-contemporary and retro-inspired interiors, there is a wall light fixture here to fit every aesthetic preference. In modern spaces, look to the clean lines, stylish finishes and acute shapes of the wall lighting from Modern Forms and Tech Lighting. Transitional rooms benefit from the wall lights by George Kovacs or Hinkley Lighting, while classic options from Maxim Lighting will fit homes with a traditional aesthetic. Mid-century modern wall lights from Jonathan Adler allow you to pay tribute to 1950s design and if it is a Scandinavian theme you like, you'll find plenty of options from Louis Poulsen. Look to the beautiful brass finishes found in collections from Hudson Valley Lighting or Visual Comfort. And if you support energy efficiency in your home, you'll want to take a look at the assortment of LED wall lights available. LED wall sconces have an inherent modern design, while also being eco-friendly and long-lasting.
How to Choose the Best Wall Light Fixtures
This collection of wall lamps are offered in a wide variety of shapes and sizes, including multi-light vanity fixtures, miniature wall-mounted lights and large, welcoming sconces for the entryway or front porch. Before choosing a new wall light for your home, you'll want to consider a few important questions.
What is the need for the wall light?

As discussed, wall lamps can serve a variety of functional and fashionable purposes. Do you need sconces to illuminate dim areas of the home or to act as decorative pieces of art on the wall? Understanding your need for wall lighting is essential to finding the perfect fixtures.

What size of wall light fixtures are best?

Once you have determined the purpose of the fixtures you are interested, determine the right sizes you need. Be mindful of common wall light size dimensions like height, width (how far the light protrudes from the wall) and length, as each plays an important role in the fixtures you choose.

What about installing multiple wall lamps?

If you are in need of multiple fixtures, be considerate of how far apart they are installed. The typical recommendation is to be 60 inches from the floor and at least 6 feet apart from each other. This will help ensure you are not adding too much light to a give room while still providing plenty of illumination.

What are the best mounting options for sconces?

This assortment ranges from hard-wired wall sconces that mount directly to the wall with no exposed electrical wiring to easy-to-use plug-in lamps. While the hard-wired sconces are operated with a typical wall switch, the plug-in options have a simple on/off switch. Depending on your application, you should have no problem finding just the right fixture.

How bright do I want my wall lights to be?

The simple answer is that it is up to you. Again, depending on the solution you need, you'll find wall lights ranging from those that provide ambient light to bright LED fixtures that are best for task lighting. Take a look at the light's lumen rating to get the best idea of how bright it will be. You may also consider the required bulb type to identify the fixture's light output.

Keep your personal tastes in mind.

The final step and perhaps the most important is to keep your own aesthetics in mind. Do you prefer a wall light that blends in with the color palette of the room or one that can stand on its own as a work of art? Do you prefer a traditional candle wall sconce or a retro, mid-century modern piece? There are so many designs to choose from!
If you have any questions about the wall lights and sconces featured here, please call our lighting experts at 877.445.4486.
Other Considerations for Wall-Mounted Lights
If you're in need of outdoor wall sconces for the deck, patio, front porch or flanking the garage, you'll need to make sure the fixtures are UL rated for wet or damp locations. UL Listings are a safety label of wall lights and give you an idea of how much water a light can be exposed to. Consider using any of the wall lights in this assortment as a way to layer the lighting in any given room. When paired with modern ceiling lights that have equally stunning features, you'll create a well-rounded and well-designed space. Finally, tune your sconces to your mood by placing them on a dimmer switch.
Related Products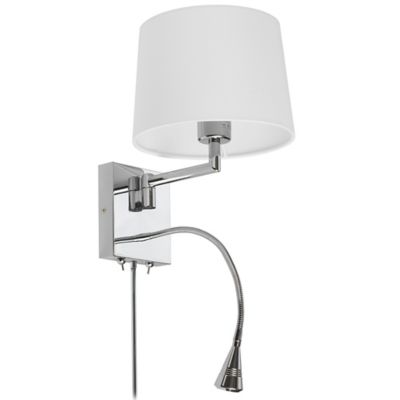 Complete a bedside with the sleek style and ...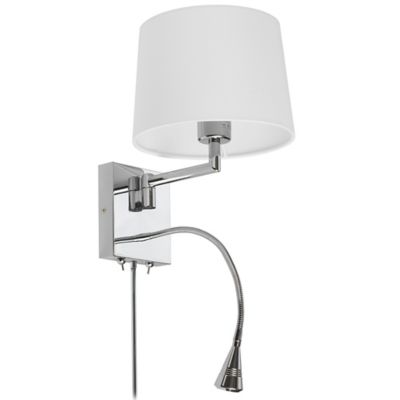 Description:
Complete a bedside with the sleek style and super functional 1 Light Swing Arm LED Wall Sconce by Dainolite. This contemporary fixture features a square backplate supporting an angled arm leading to a single incandescent bulb. A tapered fabric shade ...
The Access Lighting Cyprus LED Plug-In Wall Sconce ...
Description:
The Access Lighting Cyprus LED Plug-In Wall Sconce is the perfect companion for late night reading in bed. Multi-directional for a custom light setting, this charming wall light features energy efficient LED modules that will illuminate your personal space. The ...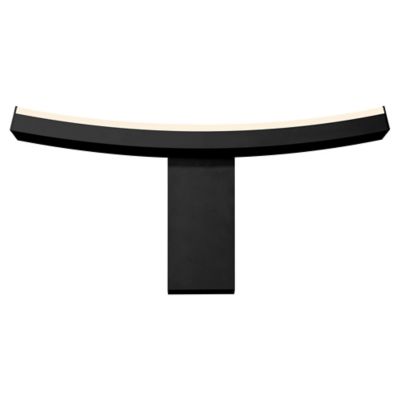 Inspired by time-honored principles and innovative technology, the ...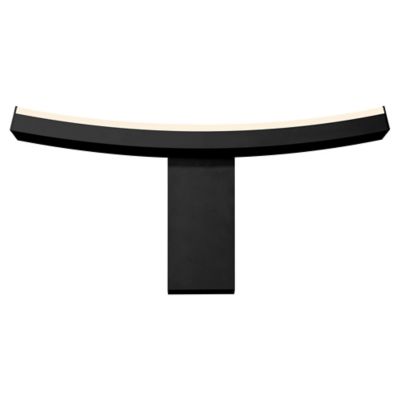 Description:
Inspired by time-honored principles and innovative technology, the SONNEMAN Lighting Dao LED Wall Sconce unites a graceful symmetrical arc balanced on a plinth with energy-efficient LED illumination. Similar in design to the SONNEMAN Tao LED Wall Torchiere yet meticulously fashioned ...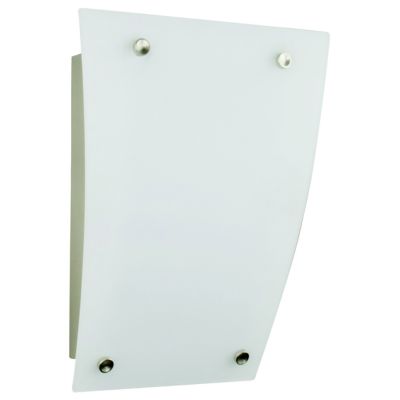 Modern utilitarianism at its most refined. The Dorset ...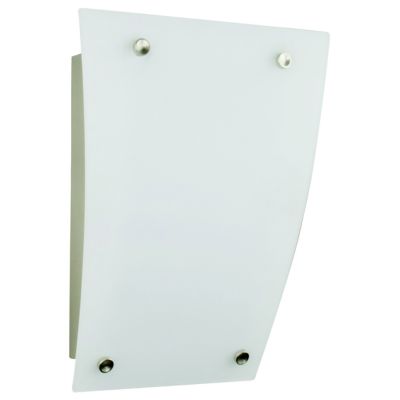 Description:
Modern utilitarianism at its most refined. The Dorset LED Wall Sconce by AFX features a Glass shade in the form of a panel, and is complemented by a more subtle Metal frame. Grommet details accent each corner of this fixture. ...
Affect a climate change in any interior with ...
Description:
Affect a climate change in any interior with the Modern Forms Glacier LED Wall Sconce. Supported by a slick Chrome wall plate, a hefty Piastra glass block is an icy, textural accent that sparkles with the light from energy-efficient LEDs. ...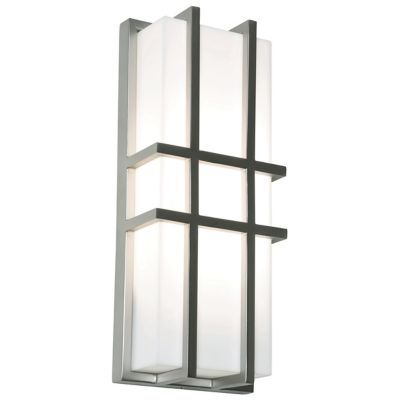 A sharp and versatile lighting design for modern ...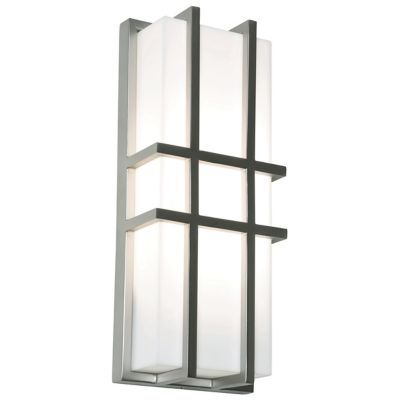 Description:
A sharp and versatile lighting design for modern interiors. The Lambert LED Wall Sconce by AFX includes a frame with crossed Metal bars that both give the piece its decorative appeal and hold the White Acrylic shade securely in place. ...