Kitchen Accessories
Learn More About Kitchen Accessories
Why We Love Kitchen Accessories
Instead of a rushed and tedious daily chore, the preparation and presentation of food and drinks should be a joy. In fact, it should be art. After all, transforming individual ingredients into a cohesive, delicious dish is not unlike creating a sculpture out of a lump of clay. The assortment of modern kitchenware and tools are just the right muse and tools you'll need to inspire you to create culinary masterpieces for friends, family or yourself. These items make cool gifts for gourmet chefs and microwave jockeys alike, encouraging even the greatest cooking-phobes to embrace their inner culinary side.
Where Kitchen Accessories Work Best
Near the stove, gleaming stainless cookware and vibrant modern kitchen tools are a necessity. They serve an essential functional purpose while also bring a fresh, modern look to the room. Meanwhile, nearby in your cabinets or on your counter tops, you can keep your ingredients sleekly organized and close at hand with the available selection of food containers. Your tabletop will love the assortment of fruit bowls and baskets and you are sure to appreciate the fun coffee and tea accessories if you are a lover of all things caffeine. Anywhere in the kitchen, you will find these decorative accessories and tools will serve a much needed functional purpose while also offering a pop of color and contemporary style at the same time.
Kitchenware, Tools & Accessories For Every Style
When working with any type of kitchen tool or accessory, you want it to be well-designed, stylish, durable and reliable. In this assortment of modern kitchen accessories, you are guaranteed to find high-quality designs that are not only eye-catching, but also ideal for the given task. Stainless steel accessories from Blomus are exceptionally useful, but can also define the kitchen as clean and contemporary. And any of the accessories found in this selection from Alessi are helpful for common tasks while also being a playful, colorful addition to the room. You'll also notice plenty of iconic designs (ahem, the Michael Graves Tea Kettle) you'll simply love adding to your kitchen. Lastly, look to iittala for all of the glassware and mugs you need for coffee time or an occasional glass of wine.
How to Choose the Best Kitchenware & Tools
To make a common work space like the kitchen uniquely you, you'll need a mix of well-chosen accessories. Begin your search for the right tools and accessory items by identifying your needs in the kitchen. Keeping utility on the list of priorities, consider what kitchen tools would make tasks easier or faster to complete? That could mean a set of new knives, organizers for condiments and ingredients or simply a cooking timer to ensure you don't burn the cookies. Next, find the items that are most representative of your own personal aesthetic. You'll find a wide, wide variety of colors and finishes to introduce to the space, and you can choose accessories that blend in or go bold and bring a pop of standout color to the room. With the right set of tools, utensils and accessories, function and fashion will come together in your kitchen. If you have any questions about the kitchen accessories featured here, please call our decor experts at 877.445.4486.
Other Considerations
Tabletop accessories will make the presentation of your food even more sleek and sophisticated during your next dinner party or for any every day occasion. You can also add to the cooking and dining experience with the comfortable and modern tables, chairs, stools and storage found in the assortment of kitchen furniture. And add a splash of style to your floors with a contemporary rug. Finally, don't forget to to keep the kitchen well lit with any of the options in the kitchen lighting selection. Whether you are following a recipe line-by-line or cleaning up the area, lighting is a key piece to getting the job done.
Show Less
Related Products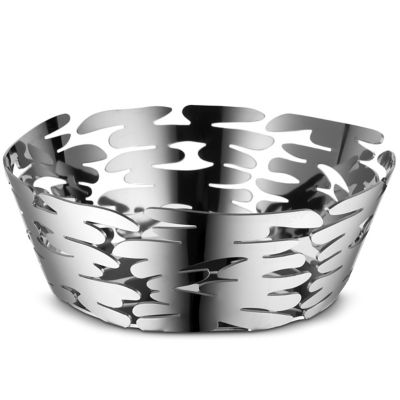 Bring a natural touch of elegance to a ...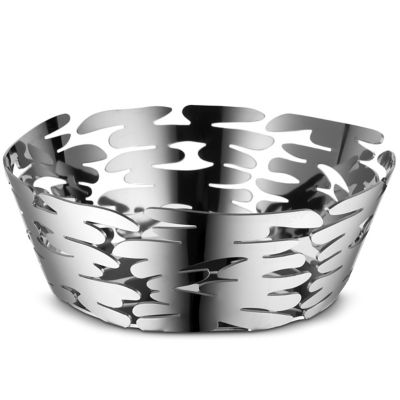 Description:
Bring a natural touch of elegance to a kitchen counter or table setting with the Barket Basket by Alessi. Designed by Michel Boucquillon and Donia Maaoui, this stainless-steel basket is inspired by the bark of trees the designers saw in ...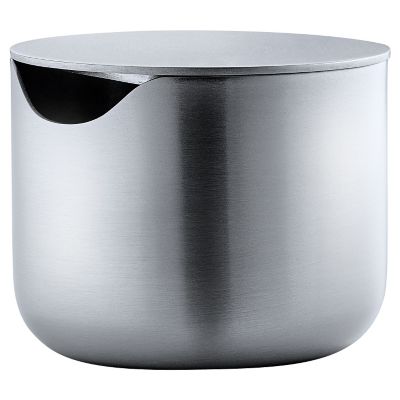 Sweet modern style for the contemporary tabletop. The ...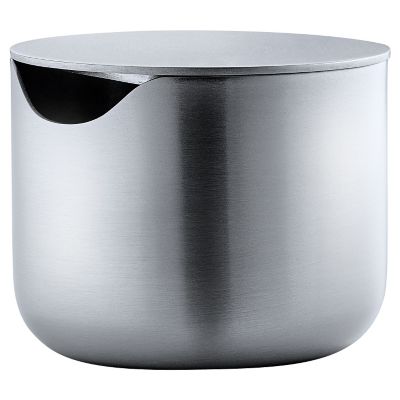 Description:
Sweet modern style for the contemporary tabletop. The Blomus BASIC Sugar Bowl features a sleek matte stainless steel bowl with a matching lid. For convenience as well as cleanliness, an opening in the lip of the bowl allows you to ...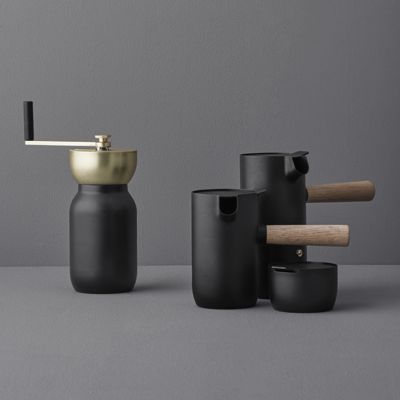 Calling all coffee aficionados! The Stelton Collar Coffee ...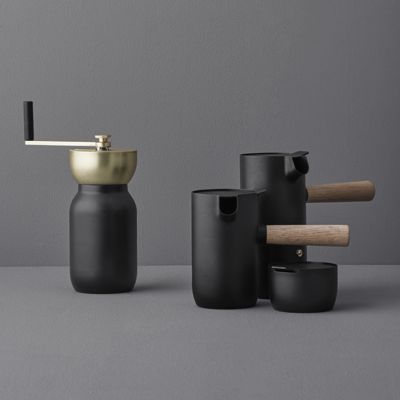 Description:
Calling all coffee aficionados! The Stelton Collar Coffee Collection pairs sleek Scandinavian design with Italian engineering that's been proven to create a full-bodied cup of coffee at home. Here, the classic Moka Pot stovetop espresso maker and complementary tools have ...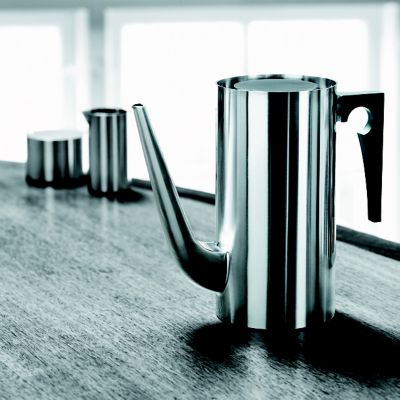 Hot coffee and tea meet cool contemporary design. ...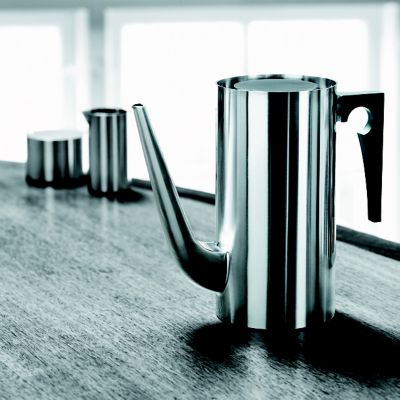 Description:
Hot coffee and tea meet cool contemporary design. The Cylinda-Line Coffee and Tea Collection makes sure your favorite brew looks as smooth as it tastes. Each piece has a cylindrical profile made out of soft, satin finished stainless steel. All ...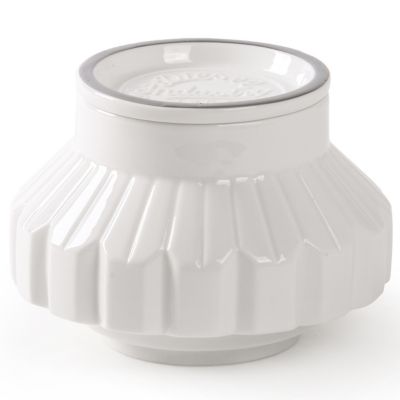 Enhance a kitchen counter top area with the ...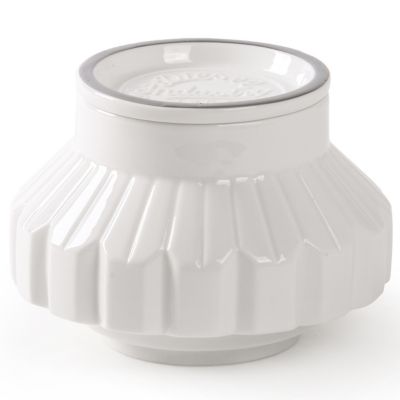 Description:
Enhance a kitchen counter top area with the Diesel Machine Jar – Silver Edge from Seletti. Provides an industrialized vibe that mimics the designs from machine gears and bolts. The porcelain jar can be used to hold small food items ...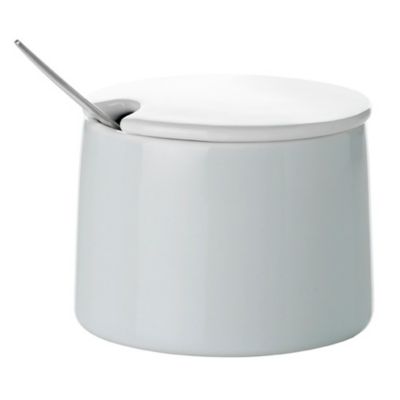 Enhance your table top collection with Stelton's Emma ...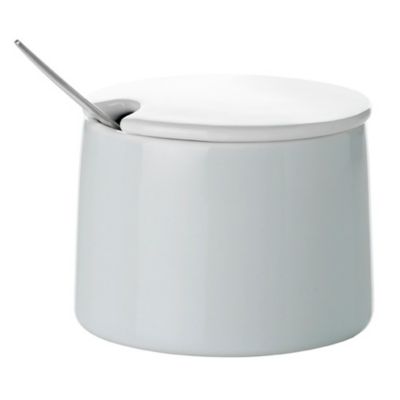 Description:
Enhance your table top collection with Stelton's Emma Sugar Bowl. Features a round bowl shaped design with a blue glossy porcelain finish that is meant to store sugar. With its simple design, this piece offers a kitchen area a modern ...