Outdoor Dining Furniture
Learn More About Outdoor Dining Furniture
Why We Love Outdoor Dining Furniture
When you are entertaining during the warmer times of the year, you'll need a place for your guests to sit, eat and enjoy the weather. Outdoor dining furniture goes beyond the traditional patio table and chairs set to add a splash of style to your outdoor living space for backyard barbecues, 4th of July parties and the occasional get-together. Take the party outside with this selection of outdoor dining chairs and tables.
Read More
Where Modern Outdoor Dining Furniture Works Best
Patio dining furniture is a necessity for proper outdoor entertaining and with these modern furniture options, you'll leave a great impression on your guests. When it's time for a barbecue or any dining occasion, you'll need an outdoor dining table to properly spread out the food and give your guests a place to set their plates. You'll find plenty of long and extended dining tables here to accommodate bigger decks and patios, as well as smaller tables for more compact patios and bar-height / cafe tables. Next, pair the dining table with a set of well-chosen patio dining chairs or a bench. If you prefer your outdoor seating to be taller, you'll find plenty of stools here too. Many of the tables, chairs and stools come from the same product family and you can choose to mix and match to your design preferences. Whatever your outdoor living area's style may be, there is an outdoor dining set here you are sure to appreciate.
Outdoor Entertaining Furniture for Every Style
Outdoor entertaining furniture should be functional and comfortable, as well as stylish to help bring out the character of your landscape. Whether it is placed on the deck, the patio or a gazebo, you'll want a dining set that speaks to your aesthetics. For ultra-modern outdoor furniture, turn to Domitalia. This Italian-made furniture collection includes a variety of dining tables, chairs and barstools. Blu Dot offers a clean and contemporary look in its assortment of patio dining furniture. And Fermob brings a splash of color to those outdoor spaces lacking a unique personality. Finally, if you appreciate environmentally-made outdoor furniture, you'll love the designs created from recycled materials.
Choosing the Best Outdoor Dining Furniture
When choosing dining furniture for your patio or deck, you'll want to take into consideration how it will work with other elements of decor in the area. You should try to choose a dining table and set of chairs what will complement the outdoor lighting and accessories you already have in place. You'll also need to measure your patio to get the best understanding of the size of the dining set you can have in the space. Once you know how big (or small) of an outdoor dining set you need, you can begin refining your options by colors, materials and other features like how easy it is to clean. If you have any questions about the outdoor dining furniture featured here, please call our experts at 877.445.4486.
Other Great Options
Allow dinner parties to continue late into the evening with a variety of outdoor and landscape lighting. Outdoor lighting, including sconces, overhead lighting and portable lamps create a relaxing presence after the sun goes down, while landscape lighting helps to brighten dim areas of the backyard. After dinner is over, why not allow your guests to relax with comfy outdoor lounge furniture? You'll find a variety of sofas and lounge chairs, with many options that can complement this assortment of dining furniture. Finally, make your outdoor dining perfect with the right outdoor entertaining accessories - salt and pepper shakers, dinnerware, flatware, tabletop accents and more.
Show Less
Related Products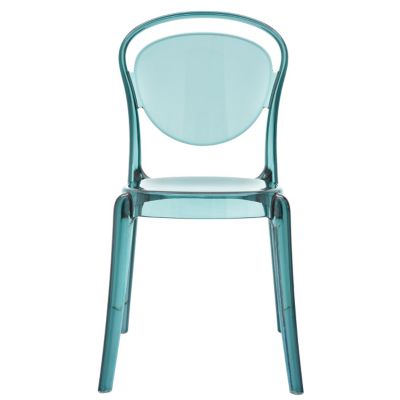 The Calligaris Parisienne Chair combines the classic form ...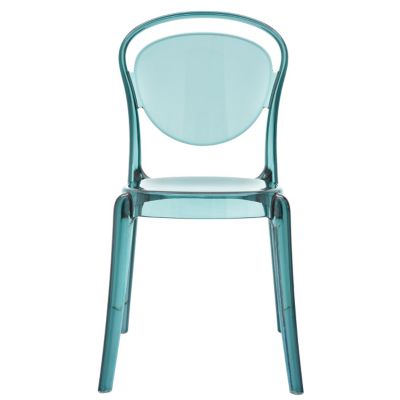 Description:
The Calligaris Parisienne Chair combines the classic form of a 19th century French bistro chair with 21st century plastic molding technology. The soft, recognizably curvy shape is made out of transparent polycarbonate. It is a material that both looks and ...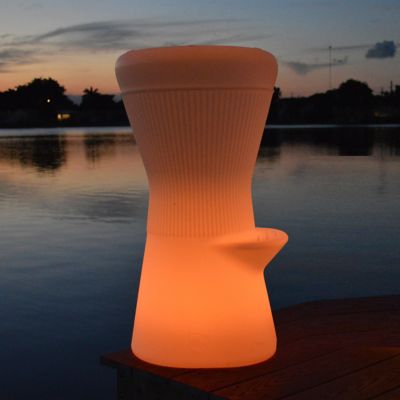 Part stool, part lamp, completely cool. The Artkalia ...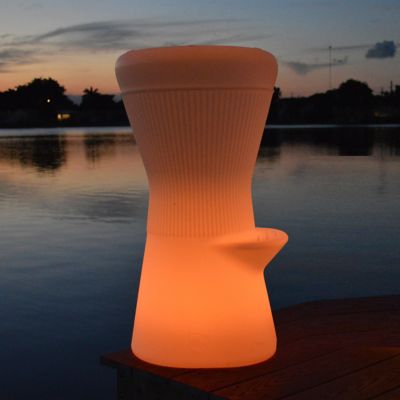 Description:
Part stool, part lamp, completely cool. The Artkalia Biarritz LED Stool is molded out of of sturdy, shock- and water-resistant polyethylene. This strong material is also the ideal diffuser for the internal RGB LED module. The various light colors and ...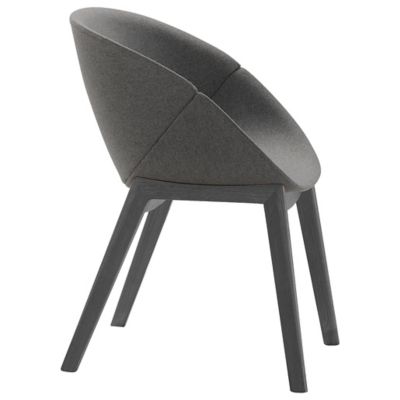 The Domitalia Coquille-L Chair has rounded curves and ...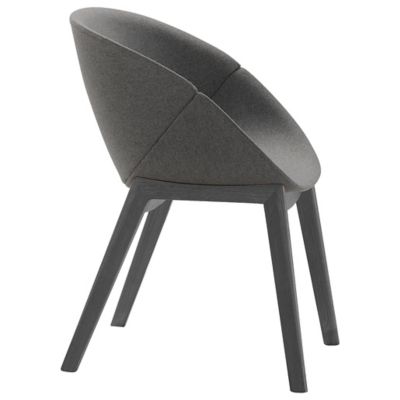 Description:
The Domitalia Coquille-L Chair has rounded curves and a two-part seat inspired by a scallop shell (or "coquille," in French). The comfortable seat starts with a shell made out of polyurethane. It's upholstered in soft Dark Grey wool and set ...