Bathroom Lighting
Learn More About Bathroom Lighting
Why We Love Bathroom Light Fixtures
Bathroom lighting can be breathtaking too. In fact, a great number of bathroom light fixture options have such a distinctive design they anchor the entire room's decor. These are bold statements, whether from amazingly colorful art glass, glittering crystal or an extraordinary shape, and can help inspire the features of the rest of the room. Aside from matching (or setting) your decor, the focus should be on having strong enough light for the space with the highest quality light available.
Read More
There's no reason for your bathroom lights to be decorative afterthoughts, especially with so many light fixture options out there. And in a room where lighting is a critical component for daily vanity tasks, having the right type of illumination is key. This assortment of modern bathroom lighting includes a variety of wall-mounted fixtures, including contemporary sconces and statement-making bathroom light bars, flush ceiling fixtures in all shapes and sizes, recessed ceiling lights to mount over the shower, lighted mirrors that are ideal when you don't have the space for wall lights and finally, a selection of chandeliers that will make you love getting ready in the morning. For any type and style of bath light fixture you may need, you are sure to find it here.
Where Bathroom Lighting Works Best
In the throne room, of course. Well-chosen and well-positioned lighting is a difference maker in the bathroom and you'll want to choose fixtures that best represent your sense of style while providing plenty of illumination. Sconces are best placed flanking either side of the mirror or consider a horizontal bath bar above the vanity mirror for a general spread of light. Bathroom ceiling lights, including flushmounts and can lights, are damp and wet rated for safe exposure to water. LED recessed fixtures are ideal for shower lighting while a flushmount is a go-to choice for any area of the ceiling. Chandeliers are not too common in the bathroom, but if you have the room, you can easily make a bold statement. Lighted mirrors are also helpful, especially when you are working in more compact bathrooms.
The fixtures included in this selection of bath lighting can be used creatively in other spaces around the house too. In the bedroom, you may consider mounting a vertical bath bar to either side of the bed for a strong decorative impact. Bath and vanity light bars also work well in the kitchen or dining room and in the hallway, bath sconces can be used in place of a traditional sconce or hallway light fixture. Finally, a lighted vanity mirror is the perfect decorative accent to welcome guests in the entryway.
A Bathroom Light Fixture for Every Style
The vanity lighting in this assortment spans a variety of interior design styles, giving you an excess of options to illuminate your bathroom. In modern bathrooms, you'll love the sleek lines in the sconces and bath bars from Tech Lighting and Modern Forms. Designs from Hinkley Lighting and Hudson Valley Lighting find their homes in transitionally styled bathrooms and if it is a wrought-iron fixture you need, look to the fixtures by Hubbardton Forge. And because finish is an important element in any bathroom's design, you will find a number of stylish finishes including brushed nickel, oil rubbed bronze, black, brass, copper and chrome. Finally, consider LED bathroom lighting for energy efficient homes. In addition to providing bright task lighting (ideal for the bathroom), an LED vanity is also long-lasting and eco-friendly.
How to Choose the Best Bathroom Lighting
Bath lights are offered in shapes and sizes meant to fit a range of bathroom layouts. From vertical bath bars and horizontal bath bars above the bathroom sink to a large chandelier to hang over your bath tub, you are guaranteed to find any size light fixture you need for your space. When choosing a new light fixture, be sure to review its dimensions including height, width and weight to gauge just how it will fit in your room. You'll also want to check out its mounting options (for both bathroom ceiling lights and wall lights), and its available light bulb requirements (incandescent, fluorescent, LED, etc.). Lastly, look to the light fixture's lumens chart to identify how brightly it will illuminate your bathroom. If you have any questions about the bathroom light fixtures featured here, please call our lighting experts at 877.445.4486.
Other Great Options
Bathrooms don't always have to be about getting in and out as fast as possible, and contemporary bathroom lighting can reflect this. If you are up for a long soak in the bath tub, an elegant flush mount light fixture can set a relaxing mood, plus you can put the fixture on a dimmer to further enhance the relaxing element of the room. You may also enjoy scattering a series of candles or tea lights throughout the room for a peaceful touch. Last but not least, to put a luxurious element on display, check out the available crystal bathroom lighting in the form of sparkling wall lights and chandeliers.
Show Less
Related Products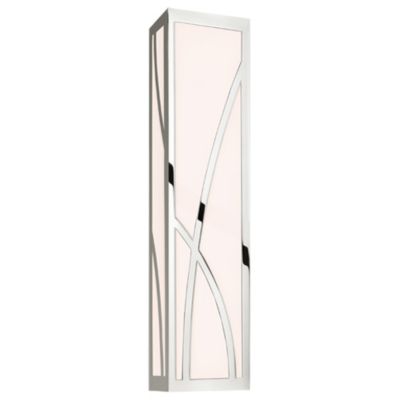 Organic and clean, minimal embellishment, stunning modern style. ...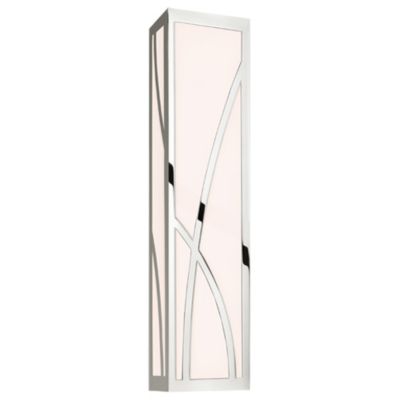 Description:
Organic and clean, minimal embellishment, stunning modern style. The Sonneman Haiku LED Bath Bar pairs a linear silhouette with delicate metal tracery arching over pure White glass. Warm white light shines from the energy-efficient LEDs, flatteringly diffused by the White ...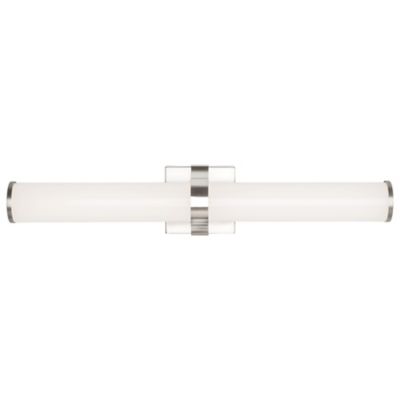 The sleek, modern design of the Lynk LED ...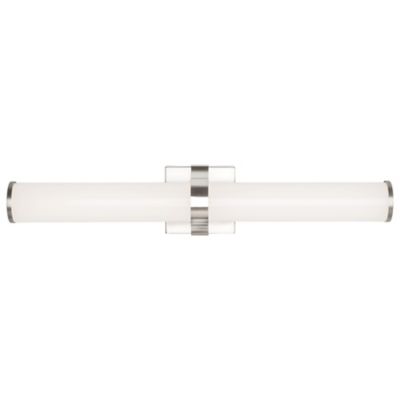 Description:
The sleek, modern design of the Lynk LED Bath Bar by LBL Lighting features a rounded opal acrylic shade and rectangular wallplate. A central die cast metal band and similar endcaps give the shade definition as it offers widespread illumination ...

Inspired by the rhythmic swells of the sea, ...

Description:
Inspired by the rhythmic swells of the sea, the Sonneman Oceana LED Bath Bar brings relaxing, energy-efficient illumination to modern vanities. Waves of White Etched glass are affixed to a slim wall plate with tiny metal spot accents, allowing for ...