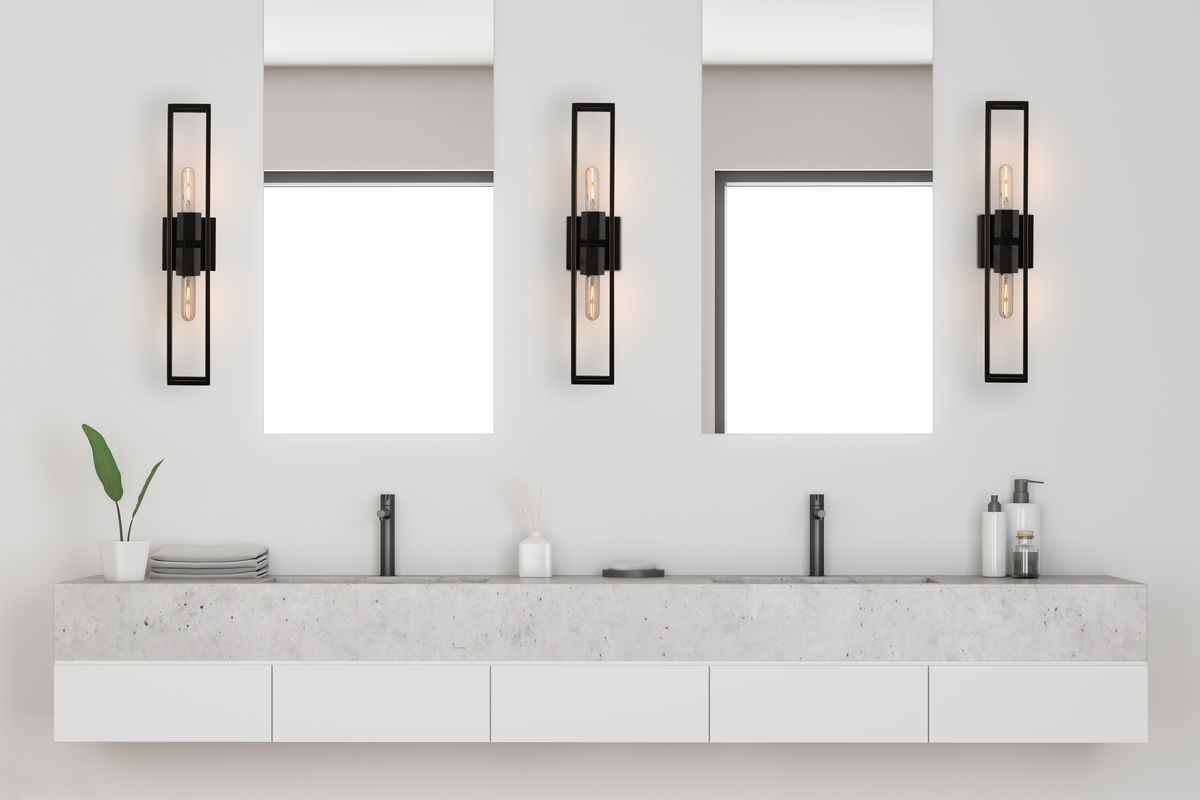 Whether you're renovating an existing bath or working with brand-new construction, vanity lighting is a crucial component of a well-designed bathroom. Some homes, especially older homes, have the conundrum of either no dedicated vanity light at all or vanity lighting functioning as the only light for the room. Neither of these cases is ideal, since the tasks performed at a vanity (grooming and hygiene) require more consideration than an ambient light used for general illumination. 
Though there is a bit more to think about with vanity lighting over general lighting, the guidelines are straightforward. Proper lighting for the tasks at hand and safety when using electrical fixtures in a potentially wet environment are the key issues we'll tackle here.
Vanity Lighting: Defined
Vanity lighting comprises any light that is installed over a bathroom sink, commonly on either side of or above a mirror. The sink may or may not have a vanity cabinet surrounding it, and the mirror might be installed against the wall or part of a functional medicine cabinet; the lighting needs remain the same.
Ideally, the vanity will be only one component of a bathroom lighting scheme. Like any other room, the bath benefits from layers of light: ambient, task and accent lighting. While some smaller or under-designed bathrooms rely solely on an overhead light (often a flushmount), others may have only the vanity lighting to illuminate the space. The latter is preferable, since you can have vanity lights that function as both task and general lighting. 
Fixtures: How Many Lights You Need
The bathroom vanity lighting you select depends on the size and layout of the vanity you're working with. For a single-sink vanity, use a pair of wall sconces to flank the mirror for the most even lighting. The American Lighting Association recommends wall sconces be mounted about 28" to 30" apart, and about 60" to 70" high from the bottom of sconce to the floor (approximately eye-level). This layout ensures the most even (and flattering) lighting for all vanity tasks. 
Whether by necessity or by design choice, a vanity light over the mirror is another option. In this case, the ALA suggests the light fixture be about one-third the width of the mirror, and never longer than the mirror itself. For double-sink vanities or those with wider countertops, a multi-light vanity fixture above mirror can be a good solution—choose a configuration of two, three or four lights—and ensure the light is about three-quarters the width of the mirror or no wider than the cabinet, regardless of how the mirrors are installed. Alternately, two vanity lights of the same kind can provide a symmetrical look with one over each sink. The standard height for a light installed above a bathroom mirror is about 75" to 80" from the floor.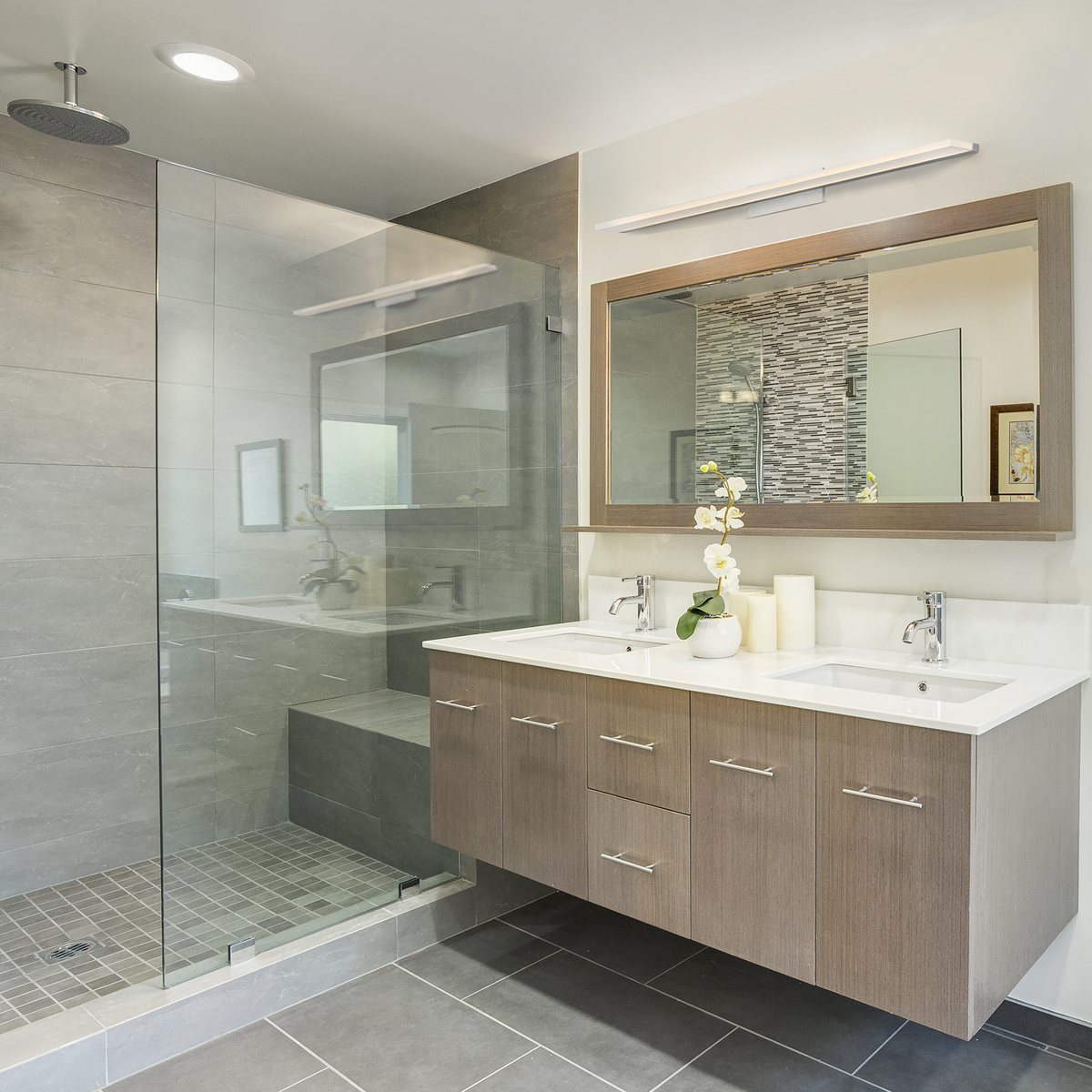 Style: What Kind of Lights You Need
The style of vanity lighting you select is largely down to aesthetic preference, and there are nearly endless choices. Bear in mind that lights mounted along the sides of a mirror provide more even lighting than those on top of mirrors, and asymmetry creates shadows. Skip overhead lighting when possible, especially recessed lights, to avoid shadows that can make vanity tasks more difficult.
For difficult architecture or limited wall space, consider mounting lights directly on the mirror's surface, abiding by the ALA's recommended measurements. Hanging a pair of pendants on either side of the mirror acts like wall sconces without the wall mount required. Frosted bulbs, globes or glass offers even more light diffusion to counter any shadowplay that's unwelcome at the vanity. Finally, in half-baths or powder rooms, or anywhere the sink is set into an alcove with no wall space on the sides, try mounting sconces on the walls perpendicular to the sink, set back toward the mirror. 
Lighted Mirrors
If space is limited in the room or a more minimalist look is desired, look to lighted mirrors that contain built-in LEDs. Typically placed near the frame or around the perimeter, these lights can be hidden to the eye when not in use, creating a cleaner look that cannot be achieved with vanity lights or wall sconces. The LEDs provide the same full glow as other fixtures, but have the advantage of remaining out of sight until needed. 
Lumens: How Much Light You Need
For the tasks that are usually performed in front of the bathroom vanity mirror, adequate lighting ensures no detail is missed. And as with any task lighting, the level of brightness matters. The ALA recommends a minimum value of approximately 1600 lumens for vanity lighting (for reference, one 60-watt incandescent bulb yields about 800 lumens on its own), although there is one important consideration that can alter this number: If the fixture you choose has an integrated LED light source, the added efficiency means you can get the same effect with a lower output (down to 1200 lumens) so bear that in mind when selecting lighting fixtures. Alternately, go for the higher end of lumen output and install dimmable fixtures on their own switch, so anyone can control the light level as needed. 
Ratings: What Type of Lights You Need
Depending on building codes where your project is, there may be specific requirements for lighting you should be aware of. For instance, in some jurisdictions, lighting fixtures within 6 feet of a bathtub or shower must be wet rated. This is a safe rule of thumb for bathroom lighting, although most well-ventilated bathrooms are not considered wet environments.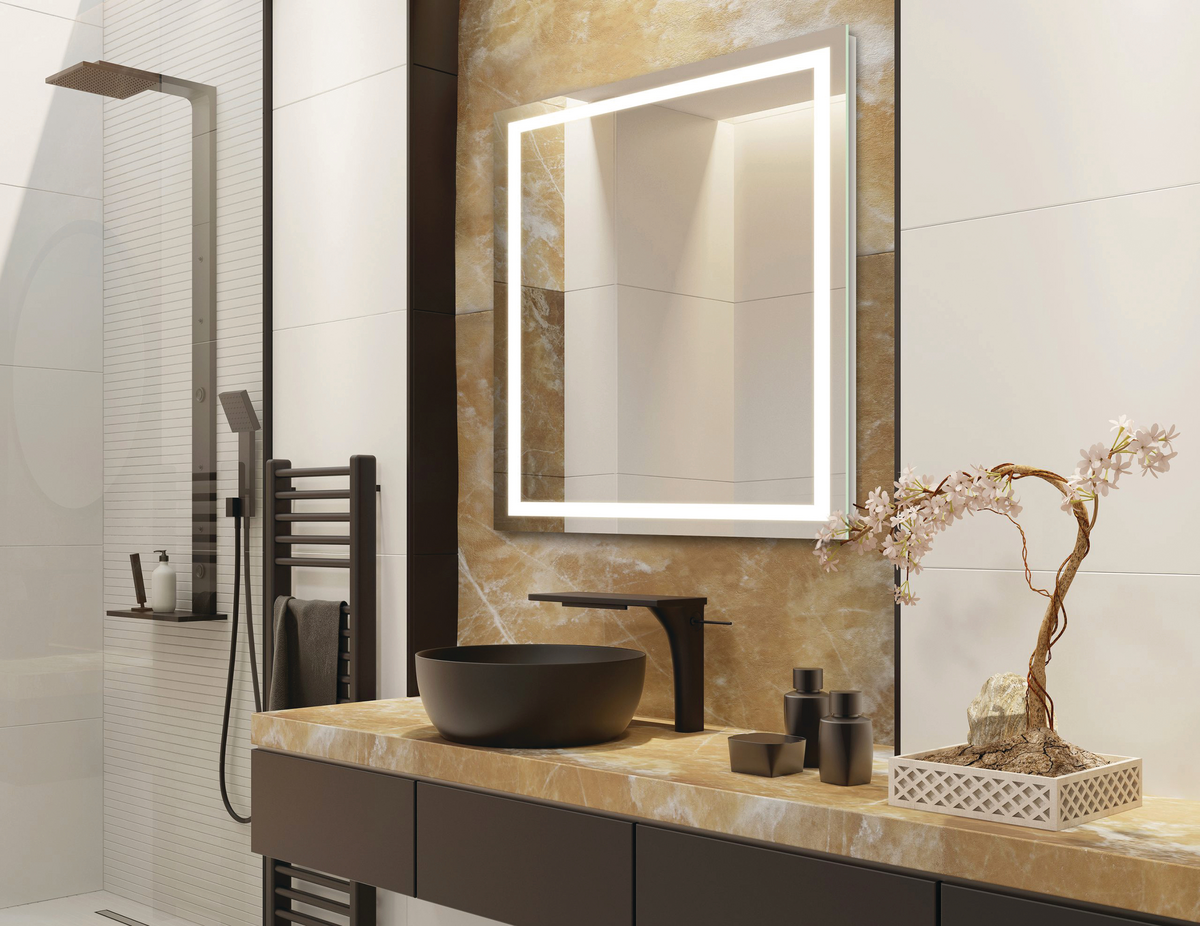 Specifics: Important Considerations for Bathroom Vanities
Many modern bathroom vanity lights use LED as the primary light source, which is great for energy efficiency, performance, longevity and design considerations. However, with great technology comes greater amounts of technical specifications. Pay attention numbers like the Color Rendering Index (CRI) and Color Temperature (Kelvin) ratings. Briefly, CRI refers to how well the lighting renders color to your eye: Look for a higher CRI (at least 90) to see the truest skin, makeup and hair color in the mirror. Color temperature is rated on the Kelvin scale and refers to how warm or cool light appears (warmest being firelight, coolest being blue light). For most indoor applications, LED lighting should be about 2700K to 3000K, and not over 3500K. This is the closest rating to a standard incandescent light bulb, which our eyes are accustomed to. Our LED Lighting Buyer's Guide goes into more depth on this topic. 
Finally, it's important to note that electricity on its own can be hazardous, and when water is nearby it can be even more dangerous. We highly recommend using a certified electrician for all bathroom lighting installations. Not only will a licensed and bonded electrician be the expert on practical installation matters, they will also know the legal requirements and local codes.
With these guidelines in mind, proper vanity lighting is within reach for any project. And as ever, our ALA-certified lighting experts are always ready to help with further technical questions or design assistance.
(Visited 5,811 times, 7 visits today)