Ceiling Lights
Learn More About Ceiling Lights
Why We Love Ceiling Lights
The days of boring ceiling light fixtures are gone. Today's modern ceiling lights come in an impressive array of options that are suited to both indoor and outdoor spaces. No longer limited to minimalist flush mounts, today's ceiling lights range from sleek single-light pendants to bold industrial-style flushmounts. In addition, formal and informal chandeliers, linear suspensions, and pendants are also a part of the ceiling light category of fixtures.
Read More
Where Ceiling Light Fixtures Work Best
Ceiling light fixtures are one of the most versatile light fixtures available because they are adaptable to a variety of spaces. Typically, ceiling lights are ideal for rooms that benefit from bright overhead lighting such as kitchens, dining areas, and conference rooms. Additionally, bathrooms are a great place to install a ceiling light for concentrated task lighting. Industrial and minimalist fixtures work well in workshops and craft rooms. The right ceiling fixture can be just the finishing touch you need to take a room from average to amazing.
Iconic Ceiling Lighting You'll Love
When choosing a ceiling light for your space, you should not only consider the décor of the space but also your personal style. Stunning fixtures are available from several iconic lighting manufacturers and designers, including Jonathan Adler, Kichler, and Artemide. The unmatched lighting options you'll find here means that no matter what look you're going for, you're sure to find the perfect fixture. Iconic celling lightning choices include ceiling flushmounts with frosted glass shades that give off soft ambient lighting as well as statement-making LED fixtures with ultramodern shade designs.
You'll have access to an unparalleled selection of contemporary ceiling lights that are sure to make a breathtaking statement in your home. From chandeliers and suspensions by Visual Comfort to elegant ceiling lights by Feiss Lighting, the possibilities are almost endless.
How to Choose the Best Ceiling Lights: Sizes, Finishes & Installation Options
When you first start your search for a ceiling light, the number of choices can be quite overwhelming. You will be presented with a range of choices with literally hundreds of sizes, illumination levels, finishes, and installation options. Brushed nickel, antique brass, and weathered iron are the kinds of finishes you can expect to find in modern ceiling fixtures. These finishes are often combined with glass shades that are treated in various ways that affect how light is cast. For example, ceiling lights with patterned, frosted glass shades provide bright LED lighting while casting eye-catching patterns on surrounding surfaces.
Other Considerations
Apart from deciding where you're going to install your new ceiling light, there are a few other things to keep in mind. Maintenance of the fixture should be considered before purchasing, as some fixtures are more complicated to maintain than others. You will also need to keep in mind that not all ceiling lights are suitable for all spaces. Specifically, sloped ceilings are not ideal for flushmount lighting to pendant lighting, recessed lights, and chandeliers should be used instead.
Recessed lighting looks great in spaces like family rooms and bedrooms while track lighting is more suited to kitchens and areas that need concentrated illumination. Also, you may want to install your ceiling light in an outdoor or semi-outdoor space like a patio, so you'll want to make sure the fixture you choose is suitable for outdoor use.
Whether you're searching for kitchen lighting that makes a statement or looking to swap out an old fixture in your dining room for a modern ceiling lamp, the possibilities are virtually endless.
Show Less
Related Products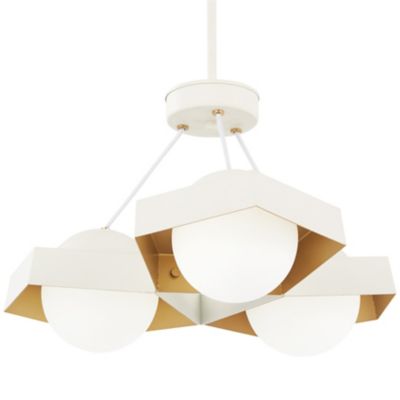 Introduce your living space to the chic, industrial ...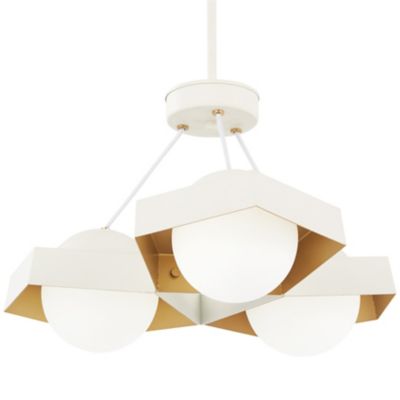 Description:
Introduce your living space to the chic, industrial style of the Five-O LED Pendant / Semi-Flushmount by George Kovacs. The etched white glass globes sit beneath pentagon-shaped shades with goldtone interiors and emit a soothing glow that's sure to relax ...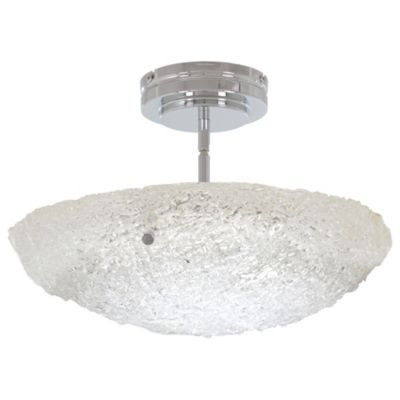 Freeze a moment to admire the Forest Ice ...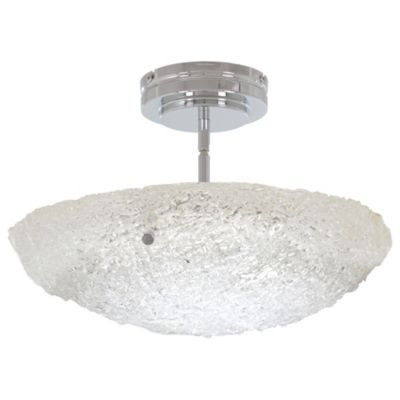 Description:
Freeze a moment to admire the Forest Ice LED Pendant/Semi-Flushmount by George Kovacs. The dome shade is frosted glass with a textured design that glistens and shines for an icy effect and contemporary glamour. When installed with a dimmer (not ...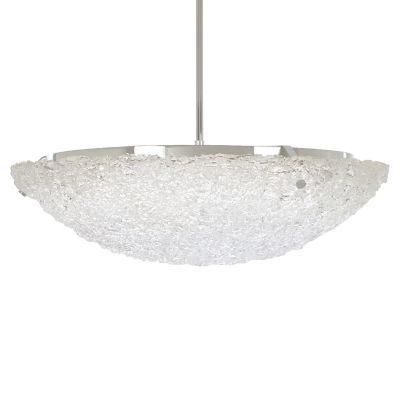 Bring cool sophistication to home décor with the ...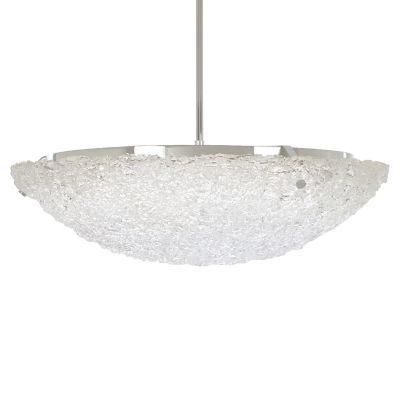 Description:
Bring cool sophistication to home décor with the Forest Ice P1389 LED Pendant/Semi-Flushmount by George Kovacs. The frosted glass dome shade is textured to create a glistening effect that brings contemporary glamour to interiors. With a round canopy and a ...