Why We Love Dinnerware
Any dining and entertaining occasion requires a well-chosen selection of small plates, salad bowls and dinner plates, especially when serving a traditional 3-course meal. But this collection of modern dinnerware serves more than a functional purpose by becoming noticeable decorations for your kitchen or dining table. Creative patterns, eye-catching colors and high-quality design makes this dinnerware a must-have for your dining space. You'll enjoy these items for everyday use or keep them stored and waiting for those extra special occasions.
Where Dinnerware Works Best
Modern dinnerware sets are an incumbent fixture of any successful dinner party. To put your culinary creations on display and serve them in a fashionable manner is an important aspect of entertaining friends and family. Give appetizers and pre-dinner delights an exquisite exposition with small plates and platters. Decorative salad bowls highlight your taste for good design and healthy ingredients. And when it's time for the main course, large platters and dinner plates make for a well-rounded dining experience. After all, the dinnerware should be just as tasteful as the meal itself. Finally, if cake or pie is on the menu, look to a selection of dessert plates and bowls to properly serve your sweets.
Dinnerware Sets for Every Style
While this assortment of dinnerware is intrinsically modern, you'll find it's easy to incorporate into a variety of interior decorating styles. Traditional surroundings will appreciate the porcelain white dinnerware collection from the Italian Design Factory, Alessi. Alessi's complete kitchen and dining collection allows you to decorate your space with one consistent, sophisticate look. Add a splash of color to your dining table with plates and bowls from Iittala. You'll also find intricate patterns and designs from the Finnish glass experts at Iittala. You can also take fashion inspiration from Diesel and combine it with the recognized home accessory designer Seletti for a collection of contemporary dinnerware with an industrial edge. Whichever dinnerware you choose, you'll be delighted with its elegant presence in your entertaining landscape.
Choosing the Best Dinnerware
Finding the right dinnerware for your purpose really comes down to a choice of personal aesthetics. Do you prefer a solid color in your dinner plates and bowls? Here you will find everything from vibrant decorative patterns to transparent colors to solid hues. Or is it a matter of material that is important in your dinnerware choice? This collection is comprised of gorgeous glass creations, ceramic designs, hardy plastic and even bone. If being able to use your plates and bowls in the dishwasher is a requirement, simply refine your choices by dinnerware listed as dishwasher safe. Lastly, be sure to browse complete product families to cohesively upgrade all of your dining accessories in one fell swoop. If you have any questions about the dinnerware featured here, please call our home decor experts at 877.445.4486.
Other Considerations
Pair your new dinnerware with equally well-designed glassware. For wine, whiskey or water, the modern glassware category has just about everything you need to serve beverages in style. Complete the dining experience with the utensils found in the flatware selection. Look to a new dining room table if you need a place for your new plates and bowls, and be sure to see the shelving and storage category for an optimal spot to keep your dinnerware when it is not in use.
Related Products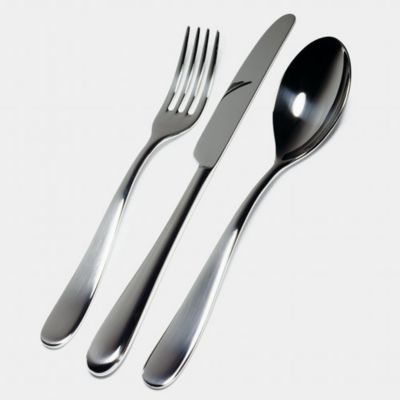 Designed by Ettore Sottsass, the Nuovo Milano 24-piece ...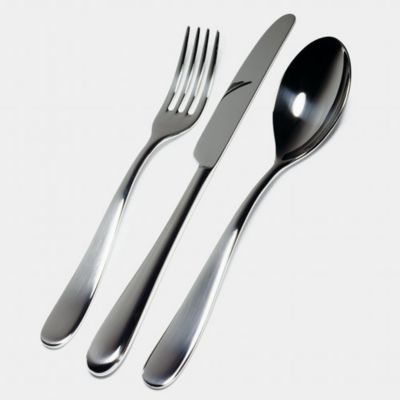 Description:
Designed by Ettore Sottsass, the Nuovo Milano 24-piece Cutlery Set is smooth as sea-polished stones. A winner of the Premio Compasso d'Oro in 1989 and the Bio 12 st the ljubljana Biennial in 1988, this flatware is pleasant to hold ...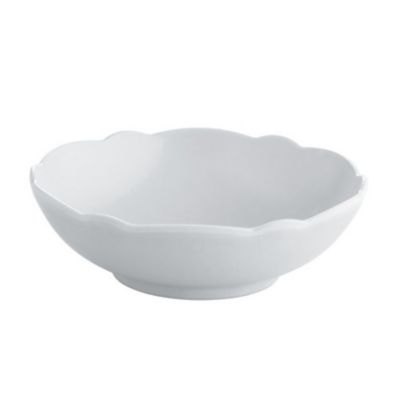 The Dressed Air Small Bowl, Set of 4 ...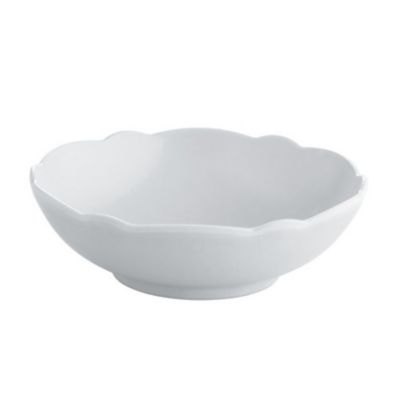 Description:
The Dressed Air Small Bowl, Set of 4 by Alessi is a simple, elegant collection of dishware from designer Marcel Wanders. Aimed for use in the outdoor world and answering the need to eliminate disposable plastic, this melamine set of ...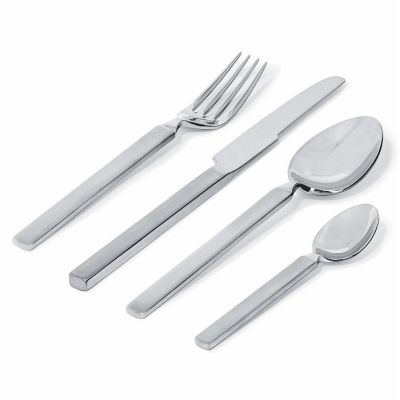 The Dry 24-piece Cutlery Set 4180S24 from Alessi ...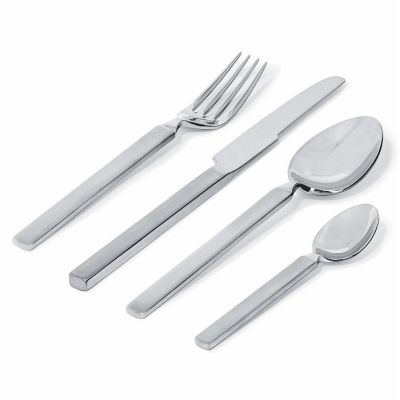 Description:
The Dry 24-piece Cutlery Set 4180S24 from Alessi is essential silverware with designer flair, created by the groundbreaking Italian architect and designer Achille Castiglioni. Six forks, knives, tablespoons, and coffee spoons make up the fine set; each one is made ...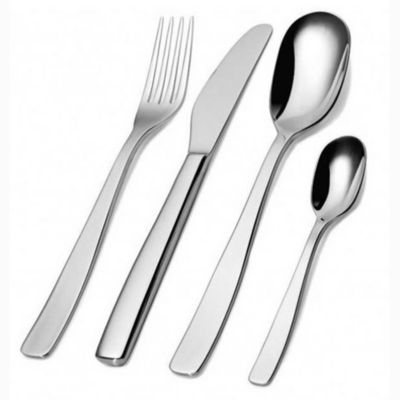 The Alessi KnifeForkSpoon 24 pc Monobloc Cutlery Set, ...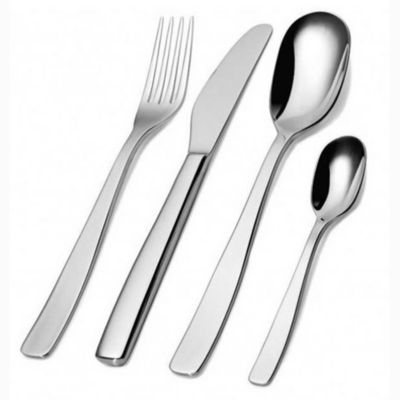 Description:
The Alessi KnifeForkSpoon 24 pc Monobloc Cutlery Set, designed by Jasper Morrison, is based on the attempt to reduce the "item of cutlery" to its ultimate essence, to its purest, most common form, defined but tentatively and deliberately stripped of ...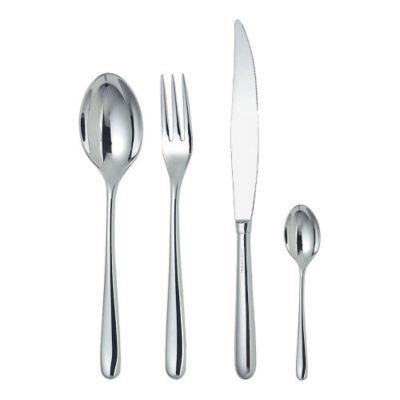 Originally designed in 1938 and presented in silver ...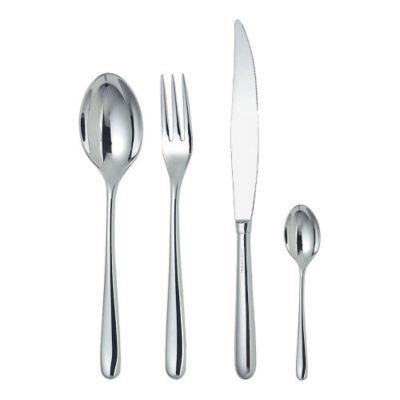 Description:
Originally designed in 1938 and presented in silver at the 1940 Triennale, the Caccia series of cutlery won praise for the balance it struck between an image of craftsmanship and the industrial future of household objects. "Caccia" was reissued by ...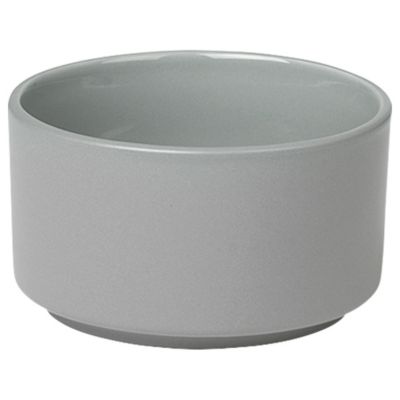 The piece every tabletop needs. Blomus's MIO Bowl ...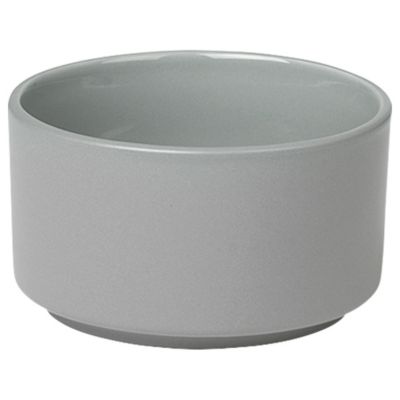 Description:
The piece every tabletop needs. Blomus's MIO Bowl Set of 4 showcases a beautifully round matte bowl that can make any dish look appetizing. Made from stoneware materials with a lovely glazed inside finish for easy cleaning. Available in a ...