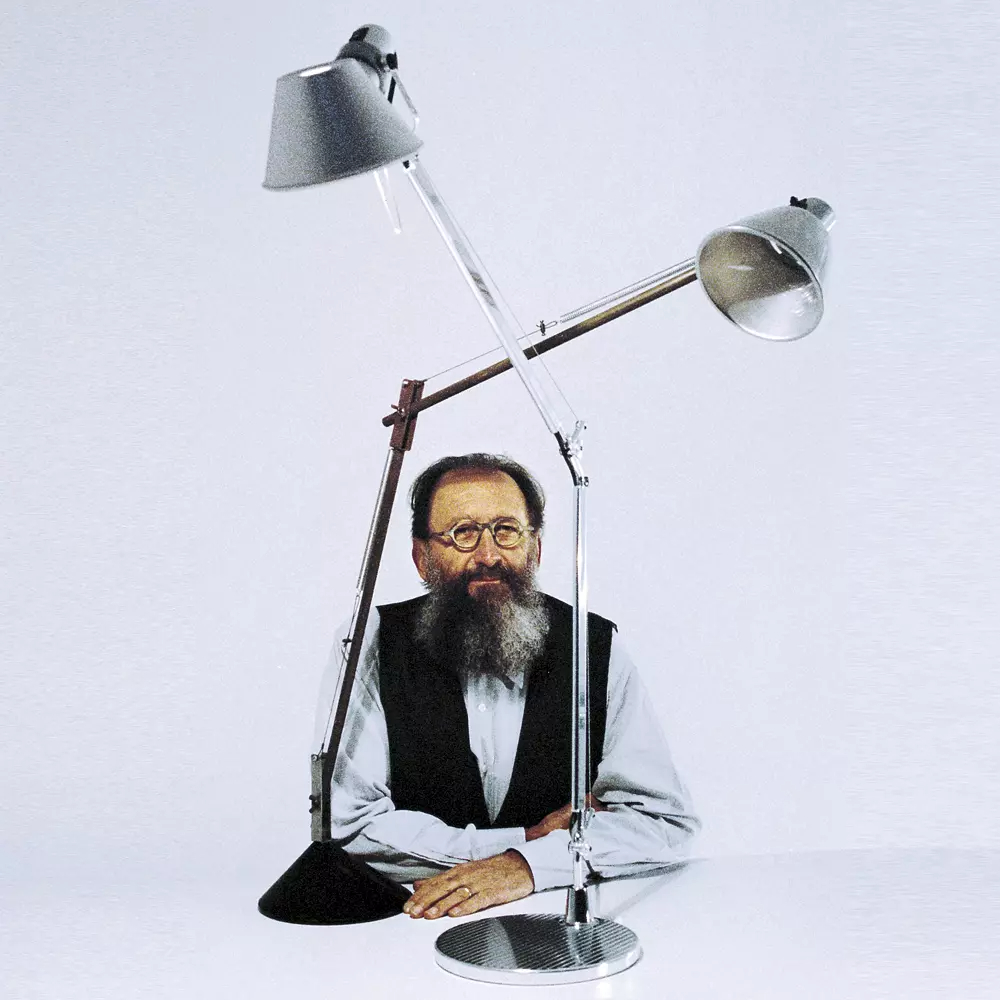 Born in Ferrara in 1951, Michele De Lucchi studied architecture in Florence and during a period of radical, experimental architecture in Italy, the designer became a prominent figure in movements like Cavart, Alchimia and the Memphis Group. Throughout his career, De Lucchi designed lamps and furniture for iconic Italian and European design firms, as well as buildings and architectural projects around the world. His professional work has always fit side-by-side with his personal exploration of design, technology and crafts, and in 2000 he was appointed Officer of Italian Republic by President Ciampi for services to design and architecture. We caught up with De Lucchi to talk about his ever-popular table lamp design from 1987, Tolomeo.  
The History of Tolomeo
In Italy's design-scape, Artemide's Ernesto Gismondi and De Lucchi seemed destined to collaborate, and in 1987, the two came together for De Lucchi to create the Tolomeo lamp with Giancarlo Fassina, a design still sold by Artemide today. At the dawn of the tech era, Tolomeo brought high design to the desks of architects and design professionals as well as the burgeoning dot-com industry offices, and quickly became a bestseller.  
Inspired by traditional balanced arm lamps like the famous Naska Loris, De Lucchi's challenge was to combine an iconic and "domestic" form with innovative technologies and materials while adapting the design to a wide variety of uses and settings.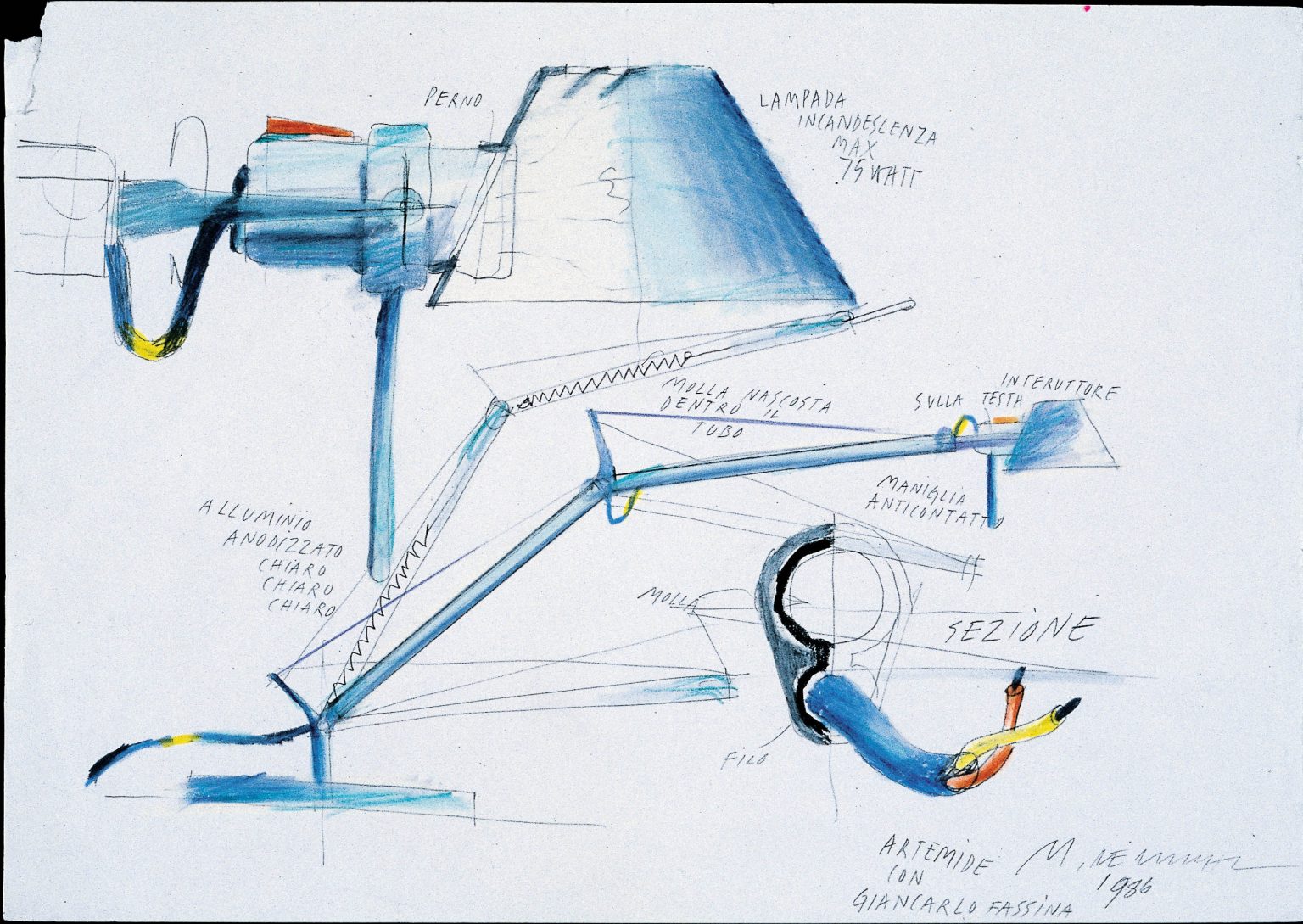 Its simplicity of form belies a painstakingly thoughtful design process that aimed to ensure ultimate adjustability and comfort for the user—and 30 years later the lamp comes in a nearly-endless variety of sizes, finishes in a rainbow of colors, lamping, base and shade options that are a testament to the design icon's enduring versatility and usability.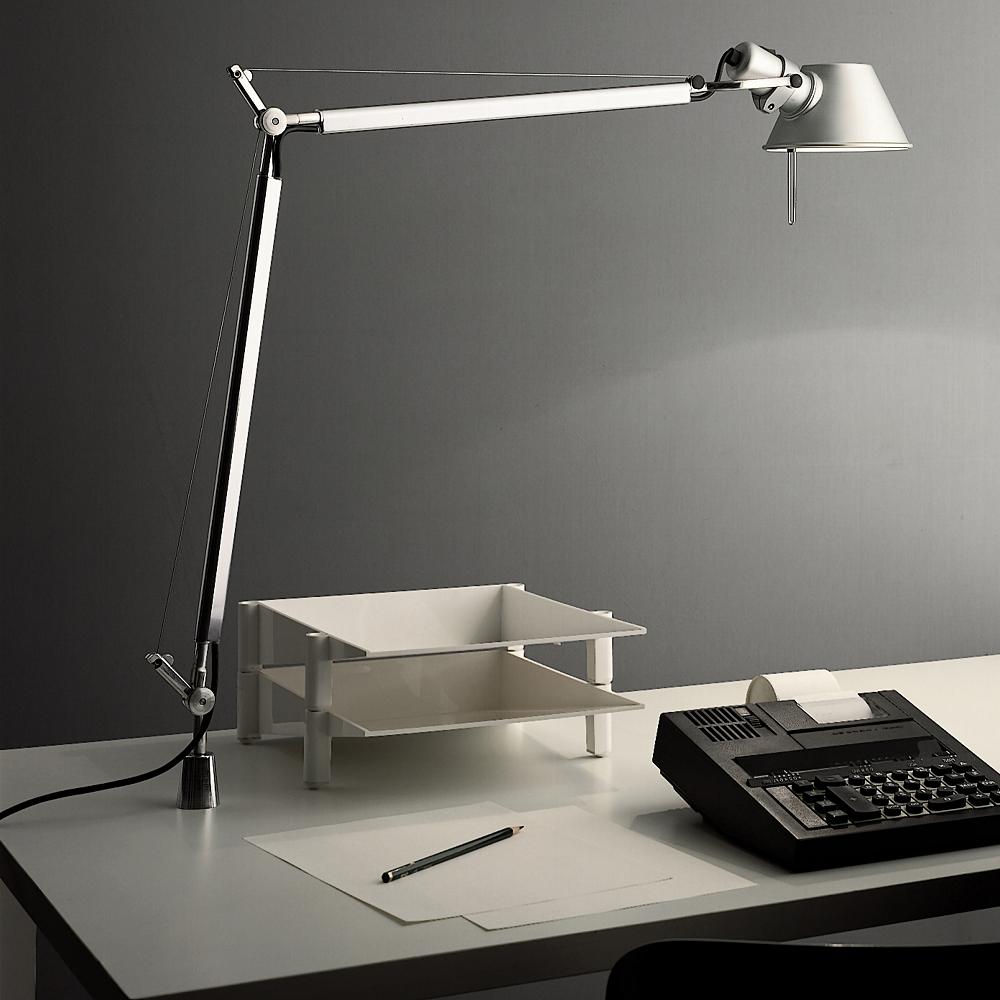 With a background in both architecture and industrial design, De Lucchi favors a craftsman-like approach. "I designed the Tolomeo in 1987," the designer said. "Perhaps I ought to say that I invented it, as in point of fact the idea for a new mechanism came before the lamp was created."
Tolomeo's Inspiration 
Sitting at his desk for many hours a day, De Lucchi wanted to a create a simple lamp that could illuminate his drawing board—one without screws that would be held together by tension produced from an interior string. Tolomeo (Ptolemy) seemed the most suitable figure to represent the lamp since he was an astronomer and mathematician—a name perfectly suited to a design inspired by a scientific mentality.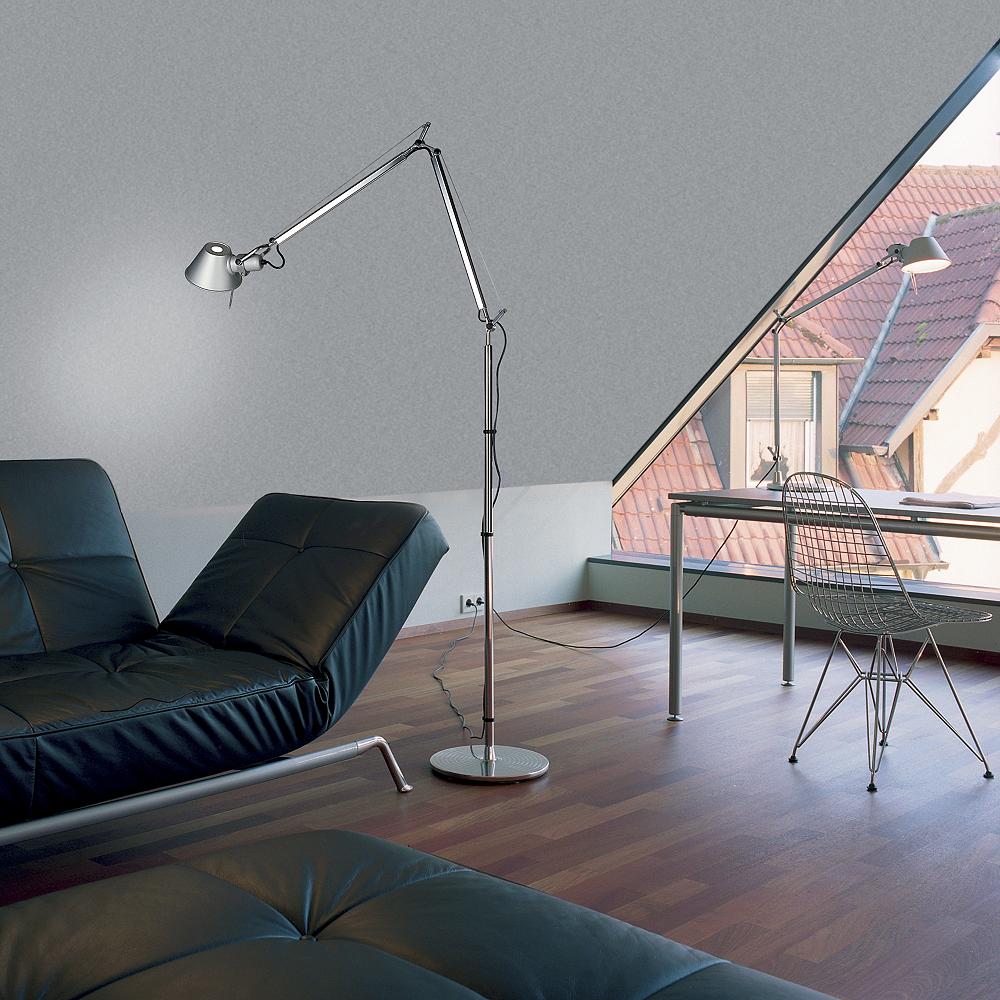 In De Lucchi's Words 
"There was a very simple reason for the choice of a spring mechanism for the Tolomeo," said De Lucchi. "I wanted to make a lamp that would work with incandescent bulbs and not just with halogen ones. The Tizio, designed by Artemide in 1972 by Richard Sapper, had no wire, whereas I had the problem of having to run a wire through it. I didn't want the wire to be visible, but to be integrated into the lamp." 
Once he'd concealed the wire, De Lucchi realized that he could also conceal the spring. "In reality," he said, "the idea for the mechanism came from watching anglers fishing with a line…the old fishing machines used mostly in Puglia had arms that supported the net and were held by a series of ropes. It seemed a clever idea to use a small lever arm and a length of wire to suspend a rod to which something could be attached. That was what I had in mind when I designed the Tolomeo."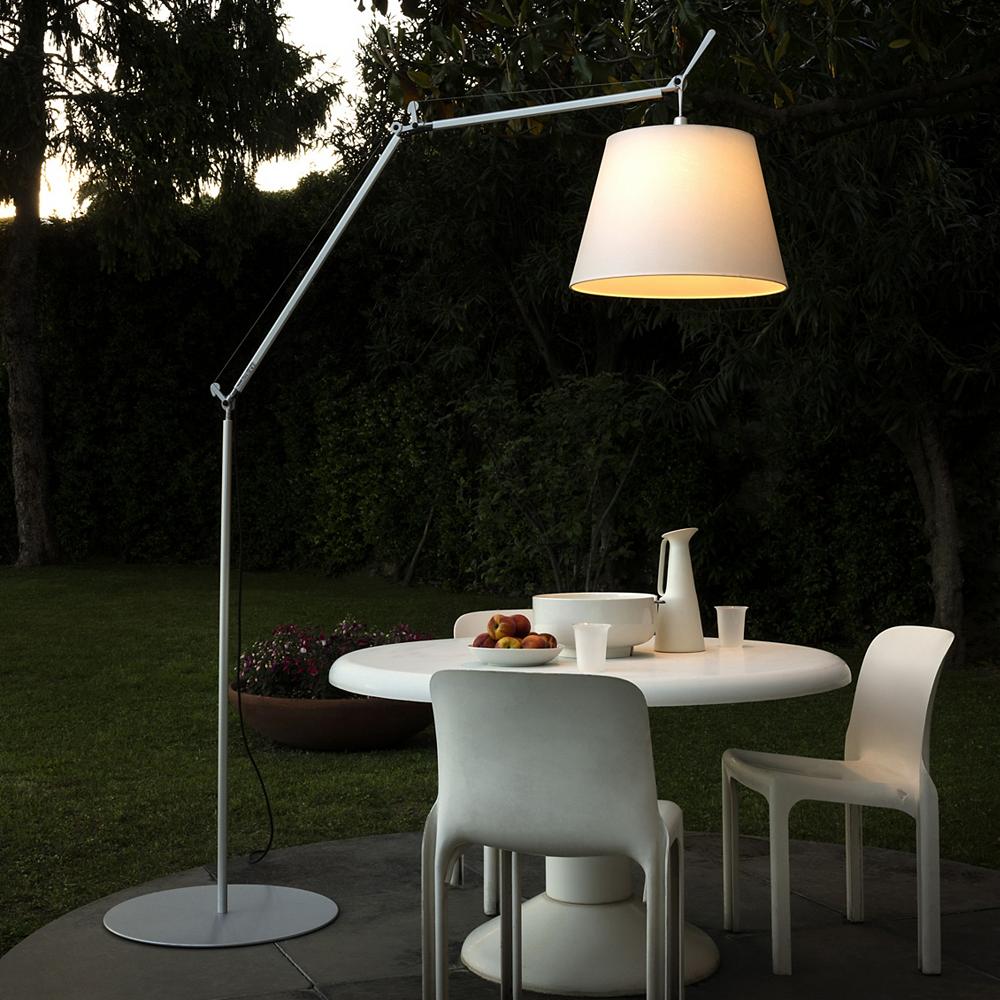 The Legacy of the Tolomeo Design
De Lucchi and Artemide's collaboration has continued from the first Tolomeo in 1987 to today, working with new technologies and design environments to develop new editions of the fixture. Rather than a lamp, De Lucchi considers Tolomeo to be a formula—a philosophy of the product itself. Over time, the lamp has evolved to adapt to new settings, like a model that used heads in the form of lampshades made of paper or fabric for a design that was better suited to homes rather than office spaces.  
And in recent years, the lighting technology has also been radically modified. "Not only has the light source been replaced," said De Lucchi, "but the whole mode of its conception has changed. And that's precisely what makes it so surprising and almost miraculous that the Tolomeo has been able to adapt to these changes."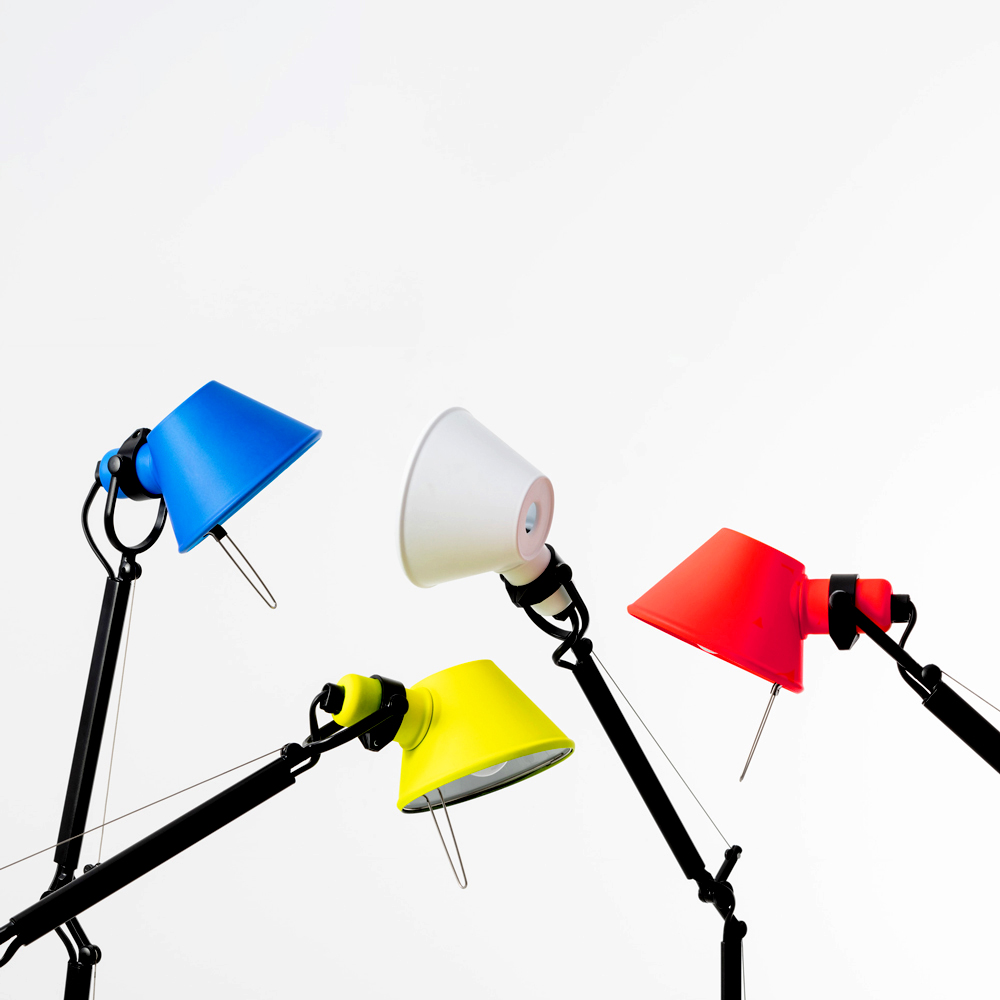 Originally, the lamp was designed for the traditional incandescent bulb. "But then we made numerous other versions," recalled De Lucchi. "Halogen, gas discharge, energy-efficient bulbs, compact fluorescent bulbs with long tubes. As light sources emerged that seemed to have potential, we tried to adapt the head of the lamp to the new kind. The latest is undoubtedly the LED bulb, and with LEDs the starting point for the design of a lamp is no longer the bulb, but the effect of the light in space."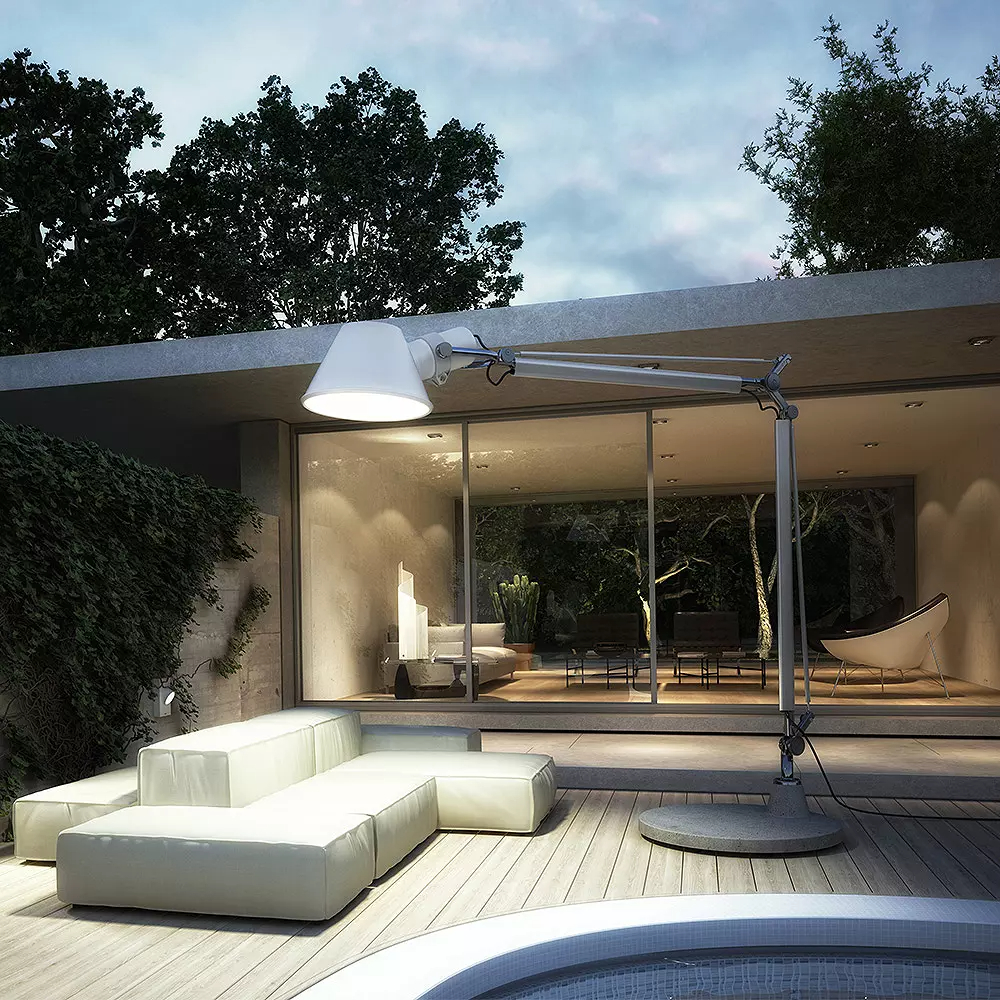 The Tolomeo collection features a lamp for every design need: The classic table lamp comes in a range of colors and bases to work seamlessly with any desk at home or in the office. Floor lamps with a classic diffuser provide focused reading light, and a large parchment diffuser in a "mega" size adds contemporary style. Wall spots and wall lamps with a flexible arm find themselves at home in the bedroom as a bedside lamp. Tolomeo Suspension fixtures come with or without a parchment shade, in unique off-center configurations. A design that can appeal to the tech-savvy, the scientific, the artistic and all points between—Tolomeo is a modern iteration of a Renaissance-man, in lamp form.