Learn More About Desk and Table Lamps
Why We Love Desk & Table Lamps
Regardless of whether your tastes are traditional or tend toward more contemporary table lamps, you'll find what you need right here. The lighting and decorative opportunities presented in our selection of desk lamps and table lamps are infinite. They range from highly decorative providers of ambient light to sleek, functional and adjustable task lighting. These desk and table lamps come in sizes appropriate to any table or desktop surface and can either sit directly on those surfaces or get clamped to the edges as a clamp lamp or shelf light. For portable and adjustable lighting, there's no better option.
Where Desk & Table Lamps Work Best
Due to their versatility, desk and table lamps can offer style and a helpful light source in almost any space. Accent table lamps are ideal for providing ambient light and an eye-catching decorative element in living rooms where warm illumination is welcomed. Meanwhile, on bedside tables or desktops, desk lights provide focused light ideal for reading, paperwork and other tasks. Most of the desk lamps featured here also offer great flexibility and adjustability, including adjustable arms and light dimming controls, allowing them to become the perfect source of light for any task you may have on your plate. Or, consider clamp lamps in the office for adjustable lighting that mounts to your desk area. Finally, in kitchens and dining rooms, look to a console lamp to place atop buffet tables. You'll appreciate the added accent light from a buffet lamp and the extra decoration in the room.
A Desk or Table Lamp for Every Style
Whether your style is traditional or ultra-modern, you're guaranteed to find the perfect portable lamp here. And because desk and table lamps are so easy and convenient to introduce to any room, you'll have no problem finding a lamp for each room of your home. For Scandinavian design enthusiasts, look to the collection of lamps by Arne Jacobson for Louis Poulsen. Mid-century modern themed rooms will appreciate the 1950s inspired table lamps from Flos Lighting or Gubi Lighting. These decorative lamps look as if they were pulled straight from the middle of the century. And modern LED desk lamp designs from Koncept or Luceplan will ensure your space is contemporary and energy efficient. For any space in your home, you'll be happy to introduce the flexibility and portability of a desk or table lamp.
How to Choose the Best Lamps
The first thing to consider when shopping for a new desk or table lamp is the lamp's intended purpose. Is it needed for decoration or to help you accomplish a given task by providing exceptionally focused and bright light? Once you determine its purpose, you can then begin looking to different sizes of lamps to fit your bedroom, living room or office. Remember to thoroughly review a lamp's height, weight, width and adjustability options to get the best idea of how the lamp will fit into your space. Keep in mind many of the lamps feature adjustable arms and will require additional space in any room they are placed. Look the lamp's lumen chart to identify how bright it will be and check its bulb requirements to be prepared with the right light bulb when the fixture arrives. If you have any questions about the desk and table lamps featured here, please call our lighting experts at 877.445.4486.
Other Considerations
If you love this selection of contemporary desk lighting, then you should also love having something on which to put them. Find such surfaces in our selection of tables, as well as modern office furniture. Whether it is bedside table, a buffet table in the kitchen, an end table for the living room or a storage desk for the home office, you'll enjoy introducing stylish furniture to your home. And you will also want to see the selection of floor lamps that typically pair well with any of these desk and table lights. Many of the floor lamps, table lamps and desk lights come from similar product families, allowing you to mix and match to meet your interior design preferences.
Related Products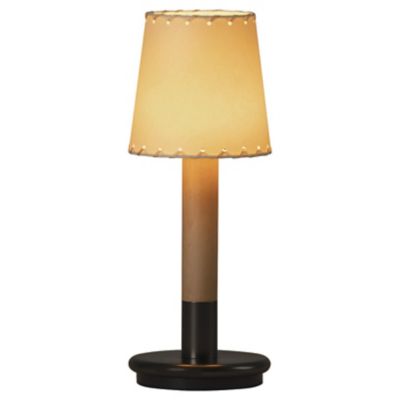 Give your decorative arrangement a Spanish design sensibility ...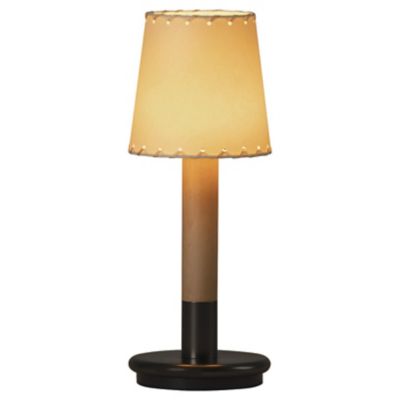 Description:
Give your decorative arrangement a Spanish design sensibility with the Basica Minima Battery Lamp by Santa & Cole. Santiago Roqueta combines years of experience in the field of Spanish craft with a desire to integrate modern technology. The Basica Minima ...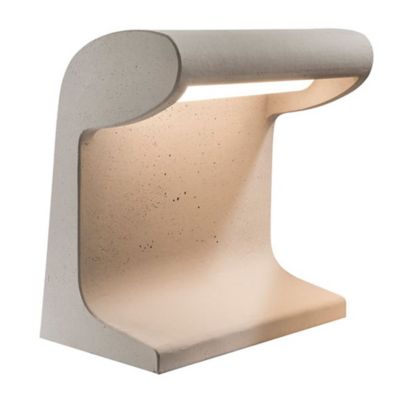 Designed by iconic French architect Le Corbusier, the ...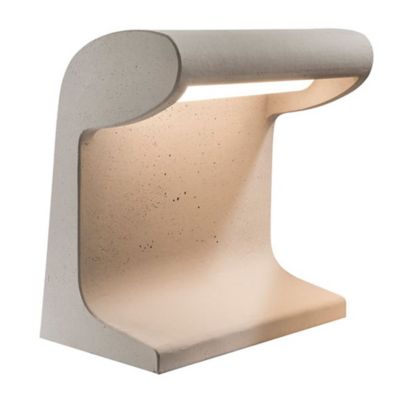 Description:
Designed by iconic French architect Le Corbusier, the Borne Béton Petite LED Table Lamp from Nemo speaks to one's contemplative setting with a smooth concrete form glazed in inviting light. Created originally for housing and dam projects in the mid-20th ...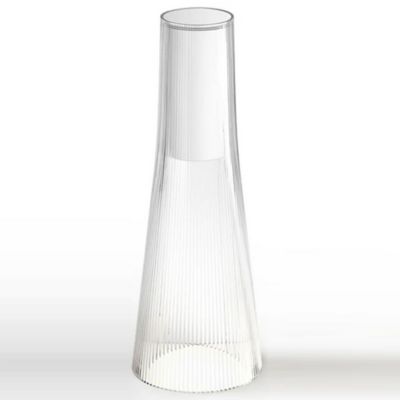 Enhance indoor and outdoor environments alike with the ...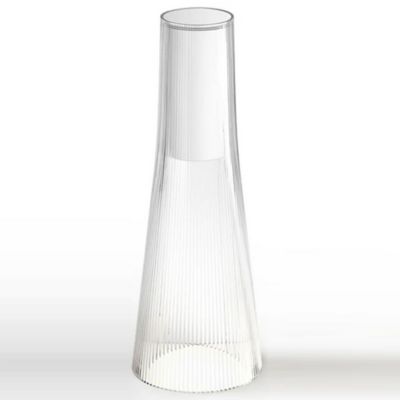 Description:
Enhance indoor and outdoor environments alike with the refined, sculptural lines minimalism of the Candel LED Table Lamp from Pablo Designs. A brainchild of Venezuelan-born designer Pablo Pardo, its elegantly simple construction seats a cylindrical and touch-sensitive LED lamp inside ...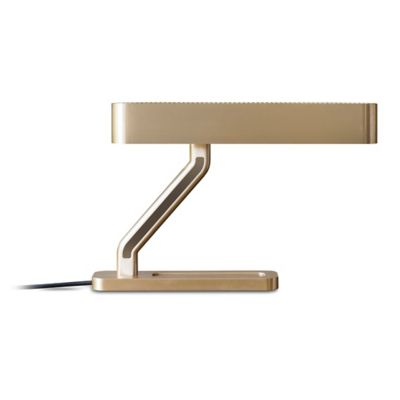 The ruggedness, power, and beauty of British-made racing ...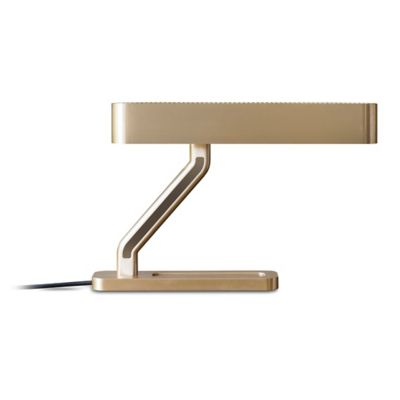 Description:
The ruggedness, power, and beauty of British-made racing car machinery translated into a functional art piece. The Colt LED Table Lamp from Bert Frank is a sophisticated task or ambiance setting lamp with elegant details inspired by the racing grilles ...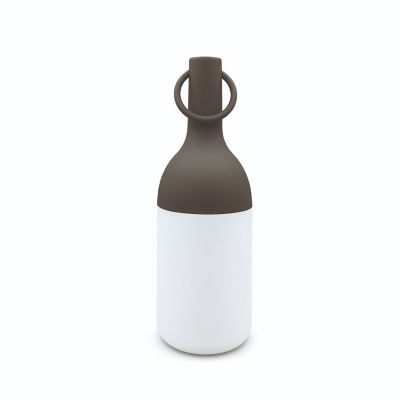 Get on the go with the powerful and ...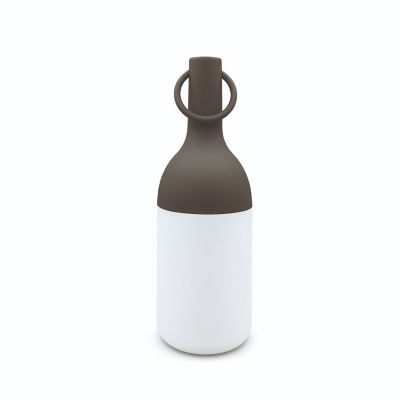 Description:
Get on the go with the powerful and palm-sized ELO Baby Rechargeable LED Table Lamp from DesignerBox. A Bina Baitel design smaller than its larger sibling, this bottle-shaped lamp spills out a pleasing ambiance through a translucent cylindrical diffuser, while ...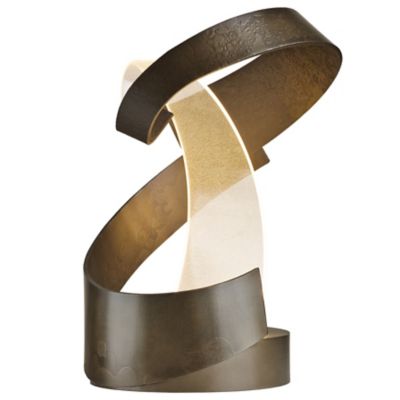 The Hubbardton Forge Encounter LED Table Lamp embodies ...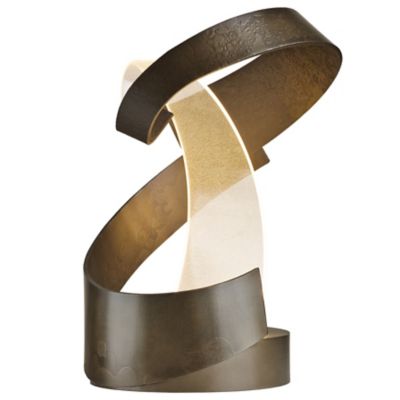 Description:
The Hubbardton Forge Encounter LED Table Lamp embodies dynamic curves, a juxtaposition of materials and energy efficiency through innovative technology all in one. The curved ribbons of steel wrap around the hand bent acrylic light guide, which has a functional ...