Modern Tables
Why We Love Tables
Tables are much more than just flat hard surfaces. In the home or office, they are social network sites, places where people come together, where they share a meal or cup of coffee, connect and communicate. In the process, these modern tables can't help but make a noteworthy aesthetic statement. Round, square or rectangular, tall or short, metal, plastic or wood, and with drawers for storage or sleekly without, tables are there to serve in more ways than one.
Read More
Where A Well-Designed Table Works Best
In the living room, an accent table is the piece around which chairs, sofas and other furnishings are arranged. After all, what is a living area without a good looking coffee table? And what good would a dining room be without a modern dining table? Not only does the right dining table give your guest a place to sit at your next dining and entertaining occasion, they help define the style of the room. Outdoors, a patio table is a necessity to enjoying summer weather, barbecues and occasional get-togethers. Bar and bistro tables transform your kitchen into a contemporary cafe and look to an entryway table to give your guests a much-appreciated welcome the second they walk in the front door. Finally, along the sides of a sofa or bed, petite side tables provide an additional useful surface, storage and decorative pop you can't help but notice.
A Table For Every Style
For every situation, a table provides a functional and fashionable use. Here you will find a widespread collection of tables to fit just about any purpose and just about any interior design scheme including traditional wood dining tables to sleek, ultra-modern coffee tables. Blu Dot offers a contemporary solution for almost every use case including the dining room and kitchen, living room accent tables and a patio set you'll be sure to enjoy. Classic good wood looks are accomplished by the selection from Saloom Furniture and consider introducing fine Italian craftsmanship to your home with a table from Calligaris. Kartell infuses modern design with the durability of plastic to help create a dining space for indoors or out. If it's a mid-century theme you are trying to meet, look to the the tables from Gus Modern. The Gus collection includes well-designed dining tables, retro-inspired coffee tables and much more. Lastly, look to British designer Tom Dixon for elegant and luxurious marble topped tables to use in the dining room, kitchen or living room.
How to Choose the Best Table
When introducing any piece of contemporary furniture to your home's layout, you must be cognizant of its size. These tables are meant to accommodate a variety of interior decorating needs and are therefore made available in numerous shapes and sizes. Begin your search by simply measuring the space in your home where you plan to position a table. Looking for common dimensions like width, height and length will go a long way in helping you to find just the right table. You'll also need to consider the tables construction and materials. You'll find everything from wood tables and glass-top tables to patio designs constructed from recycled materials. When considering the kind of table you want, also try to select a table with a finish or color that easily blends into your existing color scheme. With a size and style in mind, you're all ready to find a new modern table to add to your home's furniture. If you have any questions about the tables featured here, please call our furniture experts at 877.445.4486.
Other Great Options
If you love these contemporary tables, then you'll love the entire line of modern furniture available including sofas, lounge chairs and options to spruce up your outdoor living area. If you could use more organization or need a modern table on wheels, check out the selection of shelving and home storage solutions. Storage is always welcomed and appreciated in highly trafficked areas of the home like living rooms and kitchens. And surrounding your new table, an assortment of modern chairs underneath a decorative chandelier will complete the room's arrangement.
Show Less
Related Products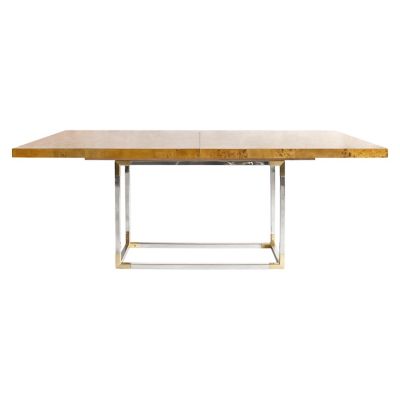 Expand the glamour of your dining area--as well ...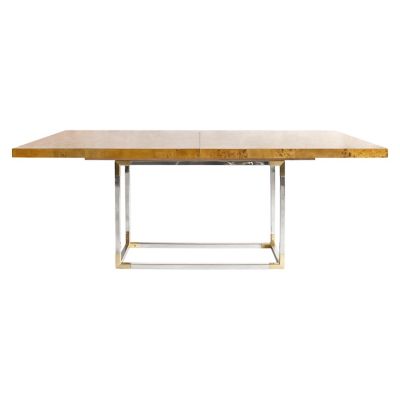 Description:
Expand the glamour of your dining area--as well as its seating capacity--with the Jonathan Adler Bond Extension Dining Table. The extendable top and coordinating removable leaf are made out of uniquely textural burled mappa wood veneer. The warm Honey finish ...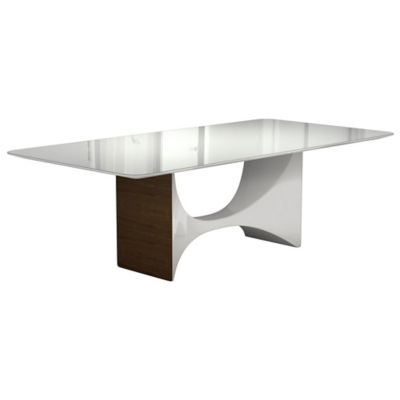 A distinctly different look for your distinctly unique ...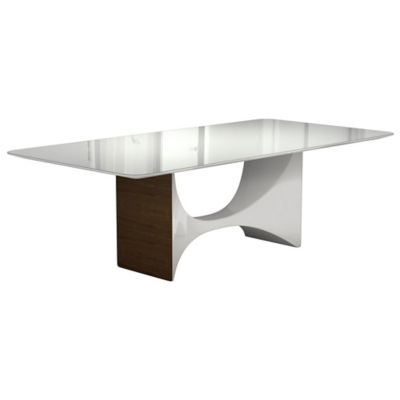 Description:
A distinctly different look for your distinctly unique home. The Modloft Camden Dining Table features a high-profile architectural design with its dual-tapered half-moon pedestal base. The tables underside has a high gloss lacquer which matches the primary base finish, adding ...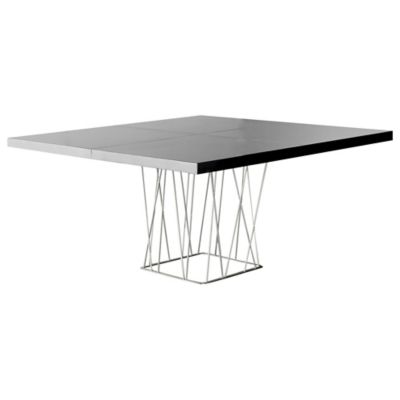 Chic and luxurious, the Modloft Clarges Dining Table ...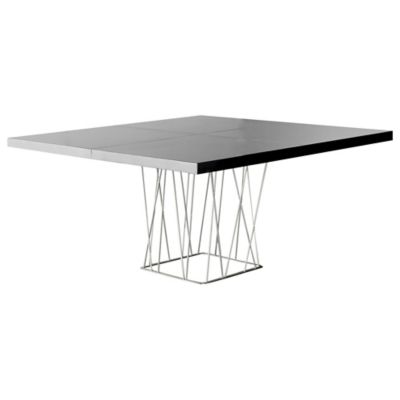 Description:
Chic and luxurious, the Modloft Clarges Dining Table is an unforgettable piece. Its geometric base is crafted with wiry stainless steel tubing which provides a handsome contrast to its large top. Its tabletop is cut into a perfect square and ...