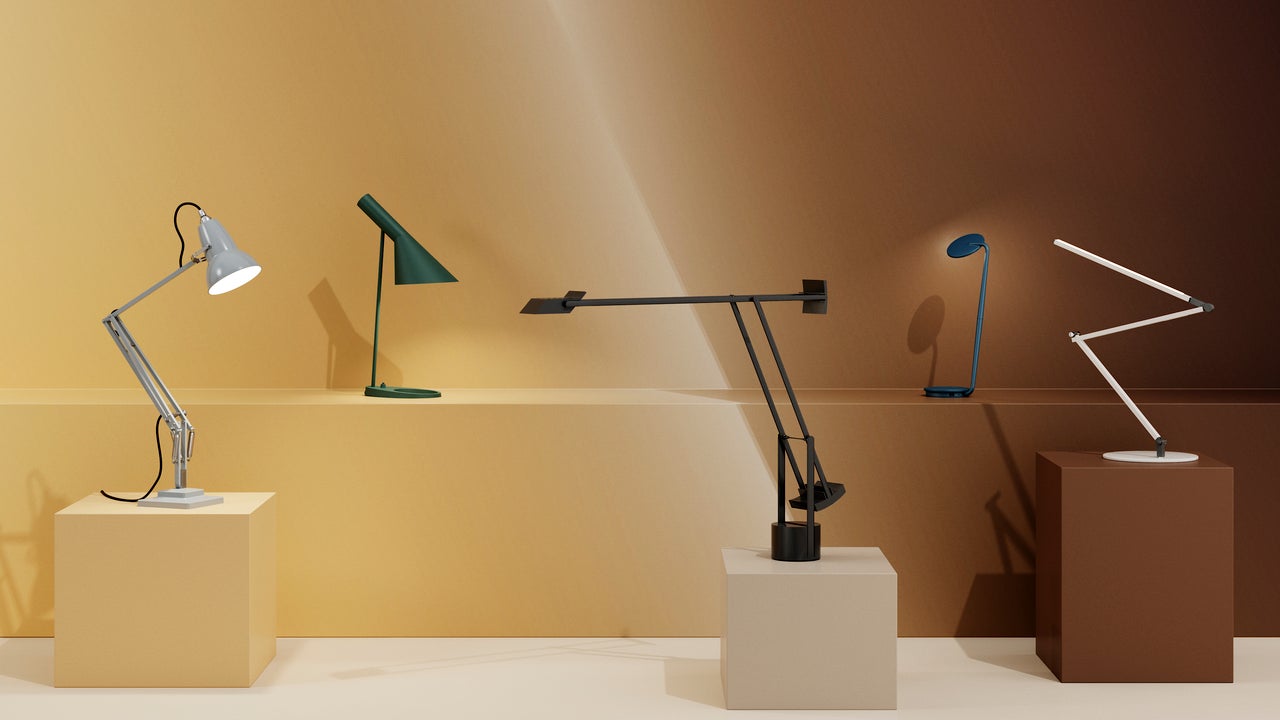 A far cry from the shadow-casting flame that once illuminated desks and workspaces around the globe, the modern task lamp has evolved to include intelligent features like touch-responsive dimmability and wireless induction charging. From the first adjustable, electric desk lamps in 1921 to the latest—and slimmest—smart designs on the market, the evolution of task lamps is deeply tied to their very function: the desire to shed a better light on the task at hand.
1921: DCW Editions' Lampe Gras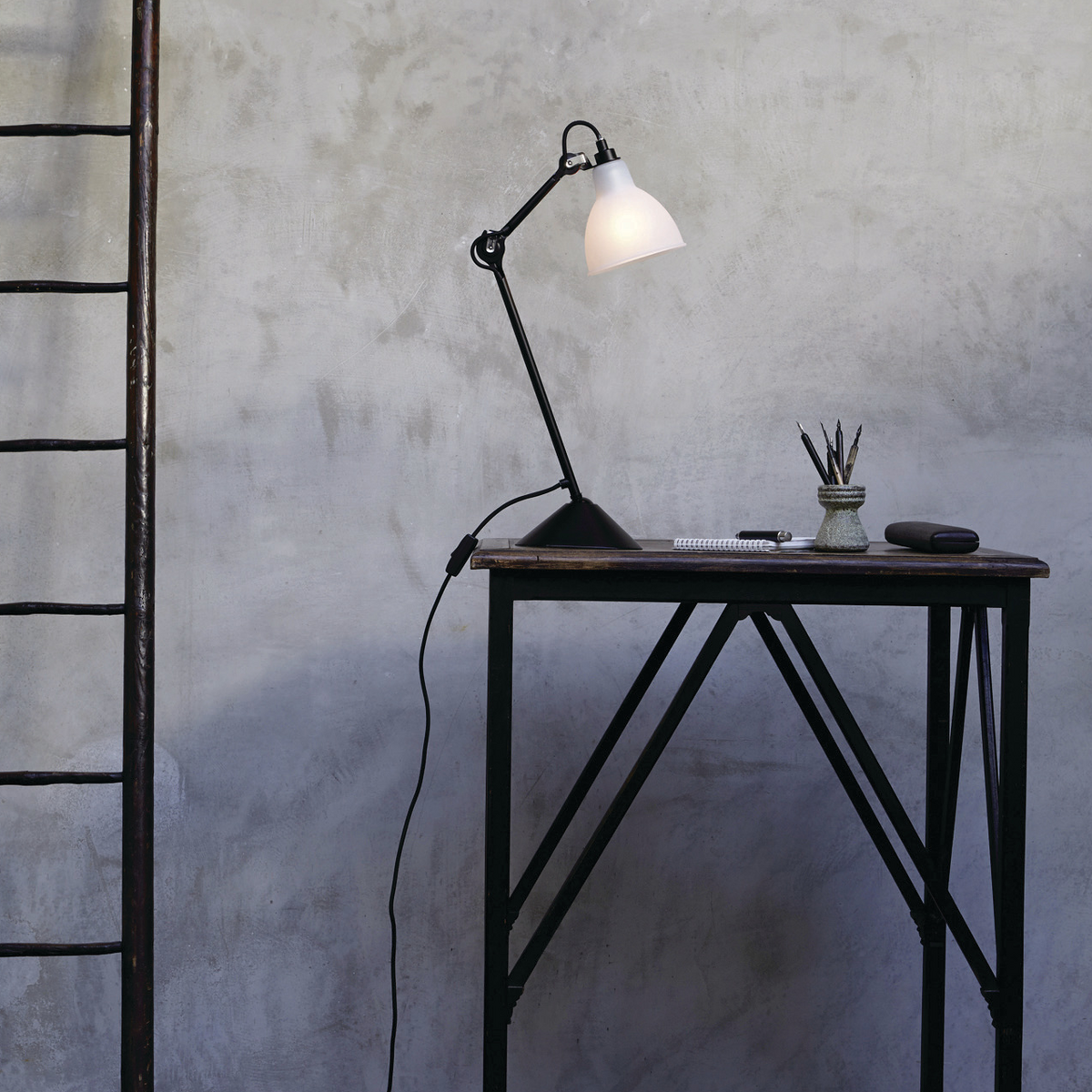 With electric lighting still a relatively new phenomenon, Bernard-Albin Gras' Lampe Gras task lamp was easily ahead of its time. While many lighting fixtures of the era were still designed based upon those that required flame to illuminate, the Lampe Gras introduced the concept of adjustable—and electric—lighting. Simple and ergonomic in form, Gras' creation required no screws or welded joints. Not only could the Lampe Gras be adjusted to fit into the layout of any given room, but once placed, the light could be further adjusted to suit the needs of its user thanks to the lamp's meticulously detailed arm, stem, bracket and base design. An early supporter of the early task lamp, Le Corbusier loved the user-friendliness of the Lampe Gras, and placed many of the fixtures in his offices and architectural projects, giving way to the pioneering technology's residential and professional popularity.
1931: Anglepoise's Original 1227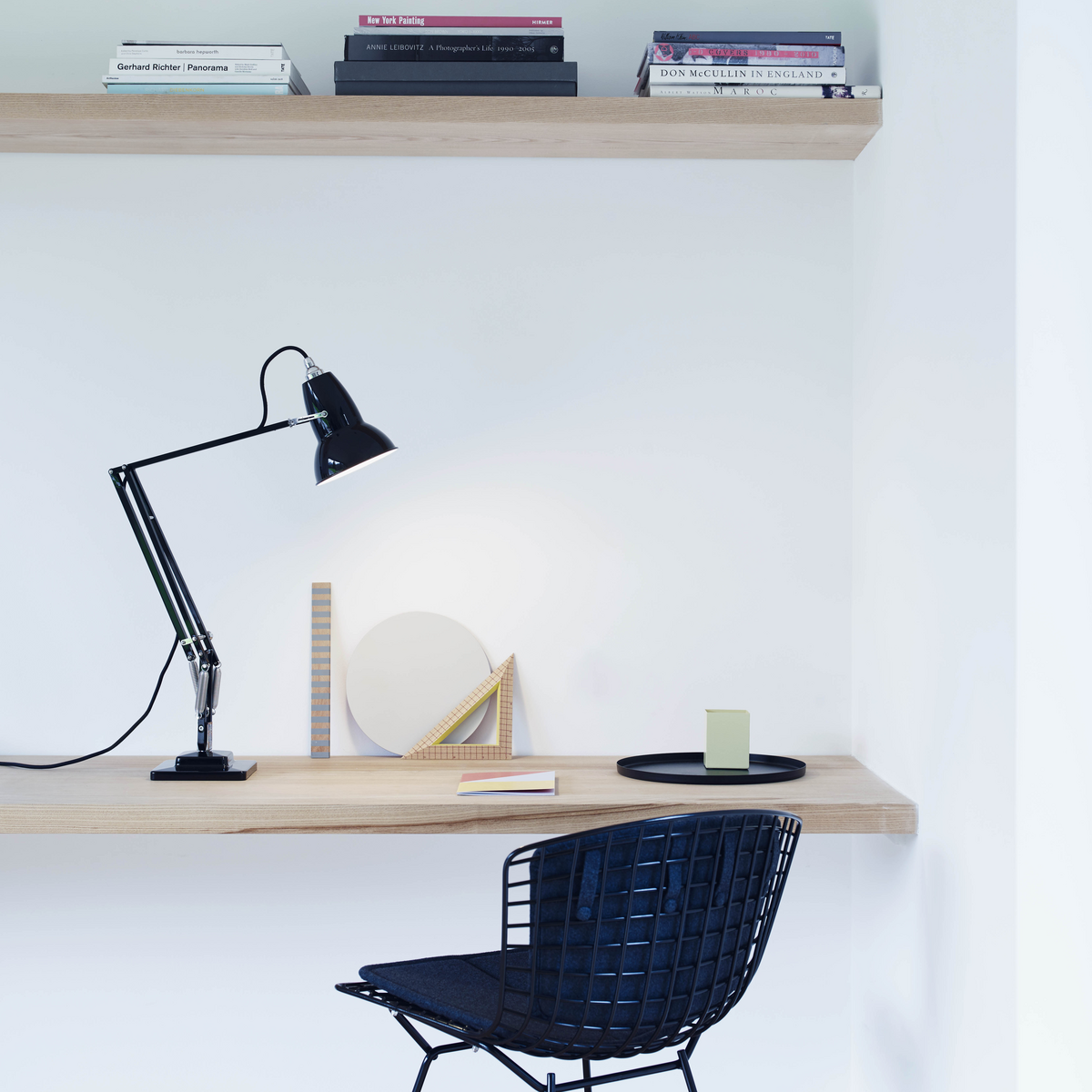 Reviewing his sketches for a new car suspension system, George Carwardine stumbled upon the next great advancement in task lighting: A constant spring system that would allow a light to move without needing to be clamped into place. Carwardine's Original 1227 Task Lamp—while the second iteration of his original creation—is still the fixture produced today, nearly a century later. The innovative spring mechanism allowed for the fixture to be easily repositioned, directing the light wherever it was needed. The original four-spring mechanism light was a hit with surgeons and military aircraftsmen during WWII who needed to be able to see exactly what they were doing, and since the light's base, spring and joint system offered perfect balance, they needn't worry about the light moving once it had been placed. With a slight adjustment from four to three springs, the Original 1227 Task Lamp was introduced to the general public—and even marketed as the "ideal blackout lamp" during WWII—and remains one of the most iconic task lamps to date.  
1957: Louis Poulsen's AJ Table Lamp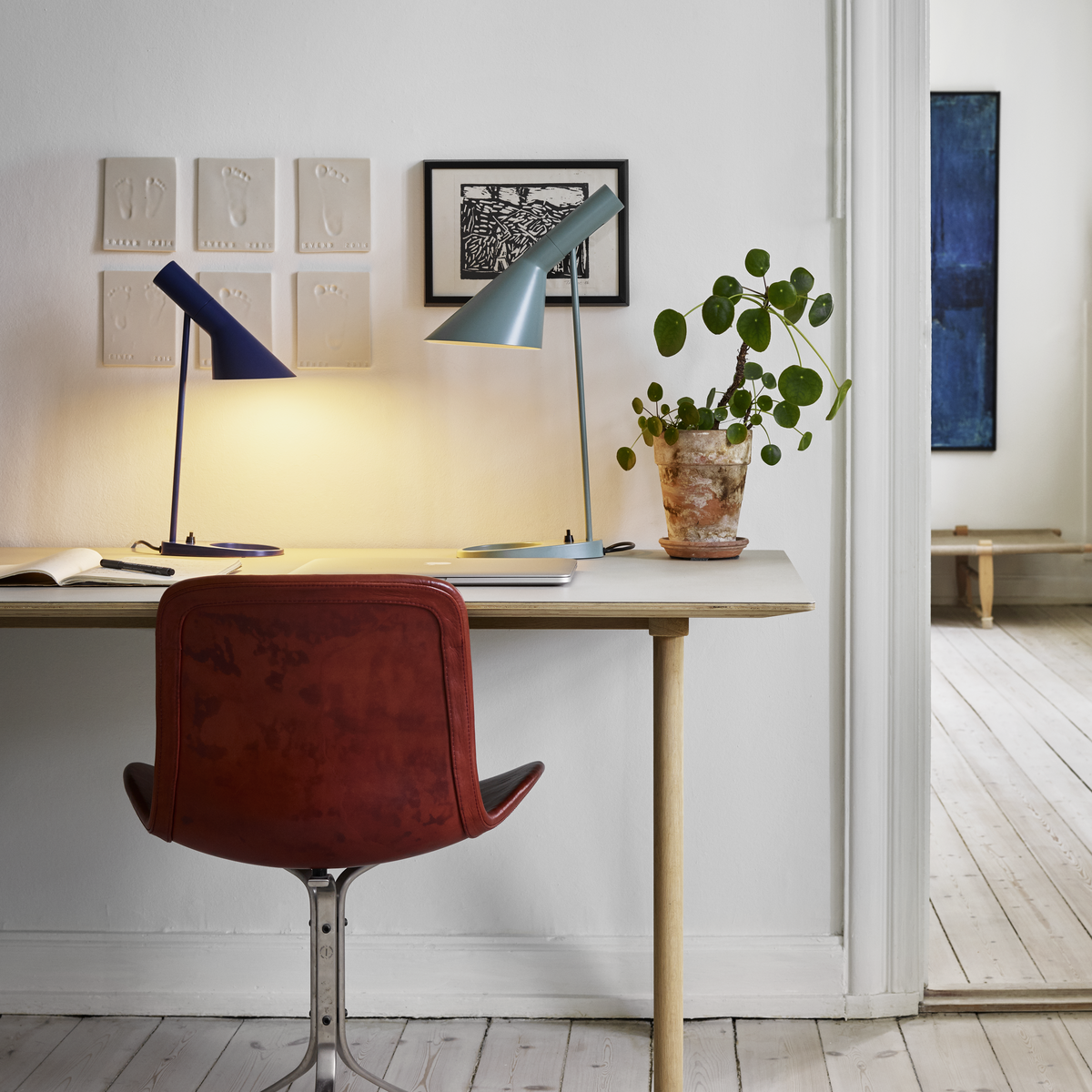 Tasked with the all-encompassing design of lighting and furniture for the SAS Royal Hotel in Copenhagen, opened in 1960, Arne Jacobsen's collection of AJ Lamps illuminated each square inch of the world's first design hotel. The straight lines and oblique and right angles of the AJ Table Lamp are said to reflect the lines found in Jacobsen's hotel furnishings, as well as the geometric profile of his architectural endeavors. At the height of the mid-century modern design movement, this Jacobsen luminaire is an example of pure Danish design: Rather than an adjustable body and arm, as seen in Anglepoise's Original 1227, the iconic, angular shade—painted white on the inside to create comfortable, soft lighting—is the adjustable feature of the AJ Table Lamp.
1972: Artemide's Tizio
With a desire to redesign the standard desk lamp, Richard Sapper aimed to create a completely adjustable fixture that provided a precise and intense, but small light source, and thus, Artemide's Tizio task lamp was born in 1972.
I wanted a small head and long arms; I didn't want to have to clamp the lamp to the desk because it's awkward. And I wanted to be able to move it easily.

Richard Sapper
Sapper introduced an innovative counterweight system to the design of task lamps, which allowed the position and direction of the light's bulb to be adjusted—in four directions—as the user saw fit. Tizio quickly became an icon of high-tech design with its small base and robot-esque, crane-like appearance. Known for being one of the first uses of halogen bulbs outside the automotive industry, perhaps even more notably is Tizio's lack of wires. Two parallel arms conduct the electricity needed to power the light, which are connected with snap fasteners, eliminating the need for any sort of visible wiring.
1987: Artemide's Tolomeo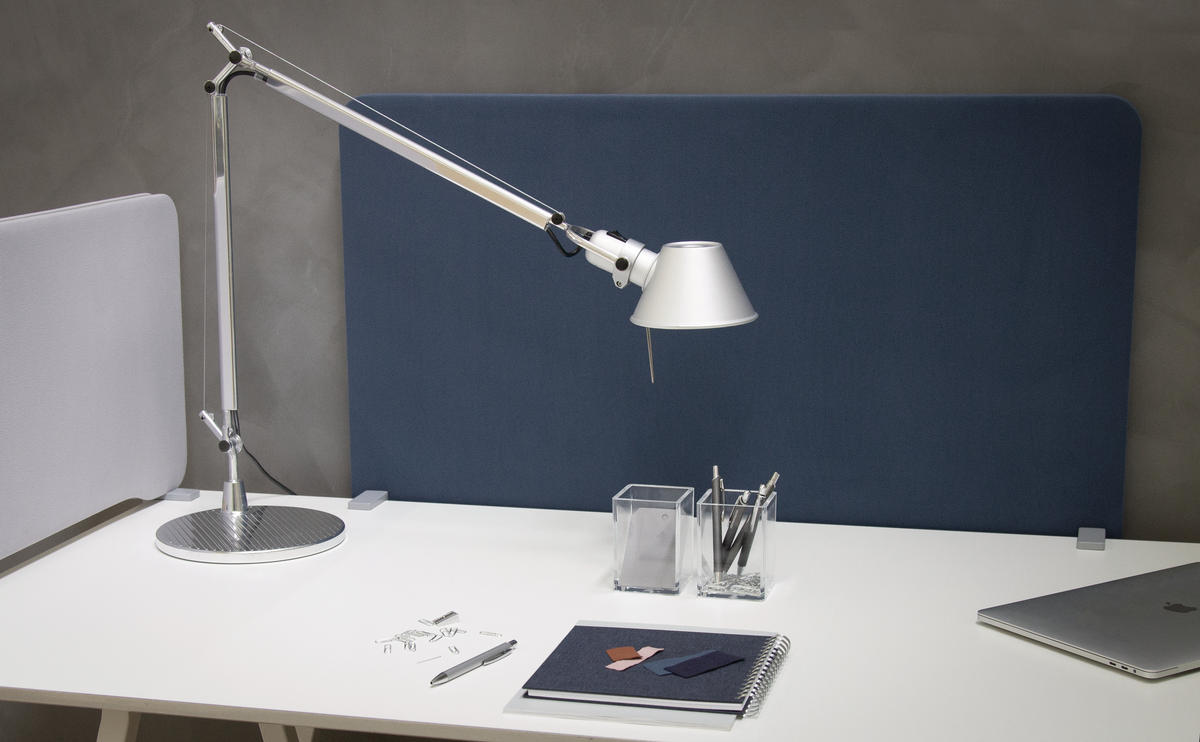 No desk lamp should make you use two hands to position it.

Michele De Lucchi
A reinterpretation of factory lamps used during the era of industrialization, Tolomeo is a study in precise design. Created by Michele De Lucchi and Giancarlo Fassina, Tolomeo's unforgettable appearance is achieved through one of De Lucchi's key contributions to lighting design: the introduction of hidden springs. These springs, hidden within the arms, are attached to steel tension cables; two arm sections and a matte aluminum reflector head that can swivel 360 degrees rise above a weighted aluminum base. Not only does the use of aluminum in Tolomeo's design add to its slender look and expression of lightness, but the material allows the task lamp—now an irrefutable symbol of Italian design—to be produced more economically.
2006: Z-Bar LED for Koncept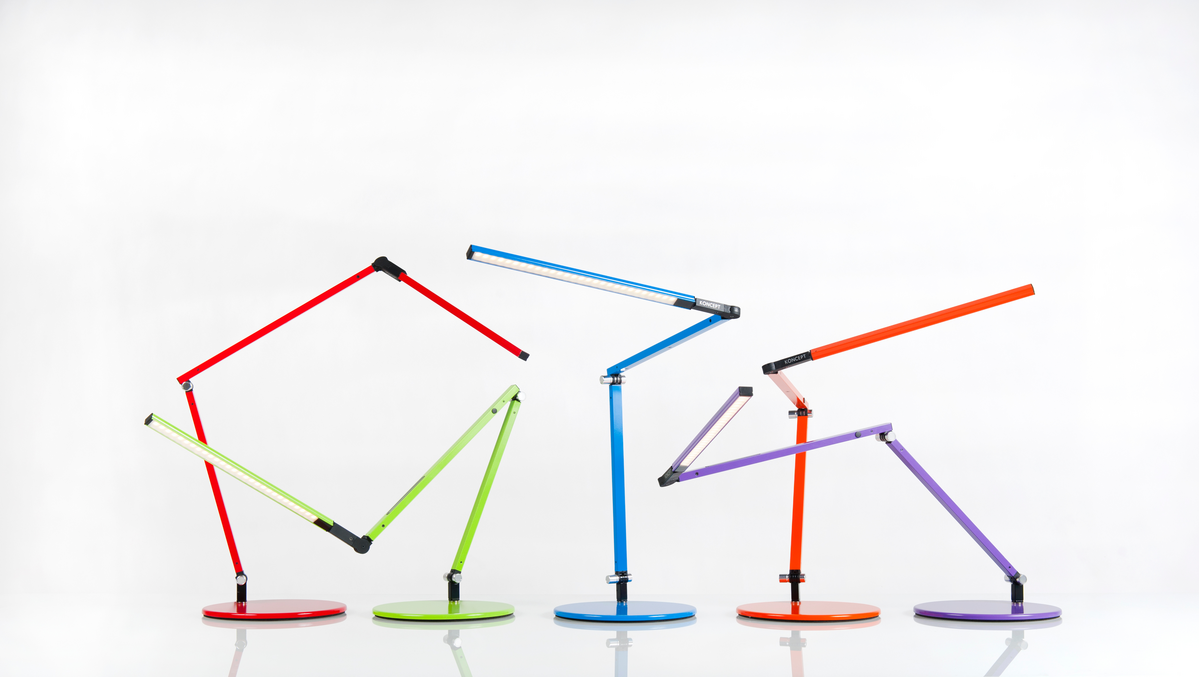 Gone are the days of traditional bulb and shade design. Peter Ng's Z-Bar—showcasing a three-bar design—was one of the first task lights to incorporate the technology of LED lighting, allowing the fixture to achieve an ultra-slim, streamlined look. Offering users extreme flexibility and range in motion, the Z-Bar can be turned on, off and dimmed with the simple swipe of a finger along the light's touchstrip. As the technology of task lighting continues to improve, so do the circumstances of production, as exhibited by the environmental considerations taken into account in creating the Z-Bar: Fully recyclable aluminum is used as well as a water-based paint, LEED credit eligibility is available for use of the fixture, packaging is FSC-certified and the LED lighting, which contains no mercury, also offers low power consumption.
2011: Pablo Designs' Pixo Plus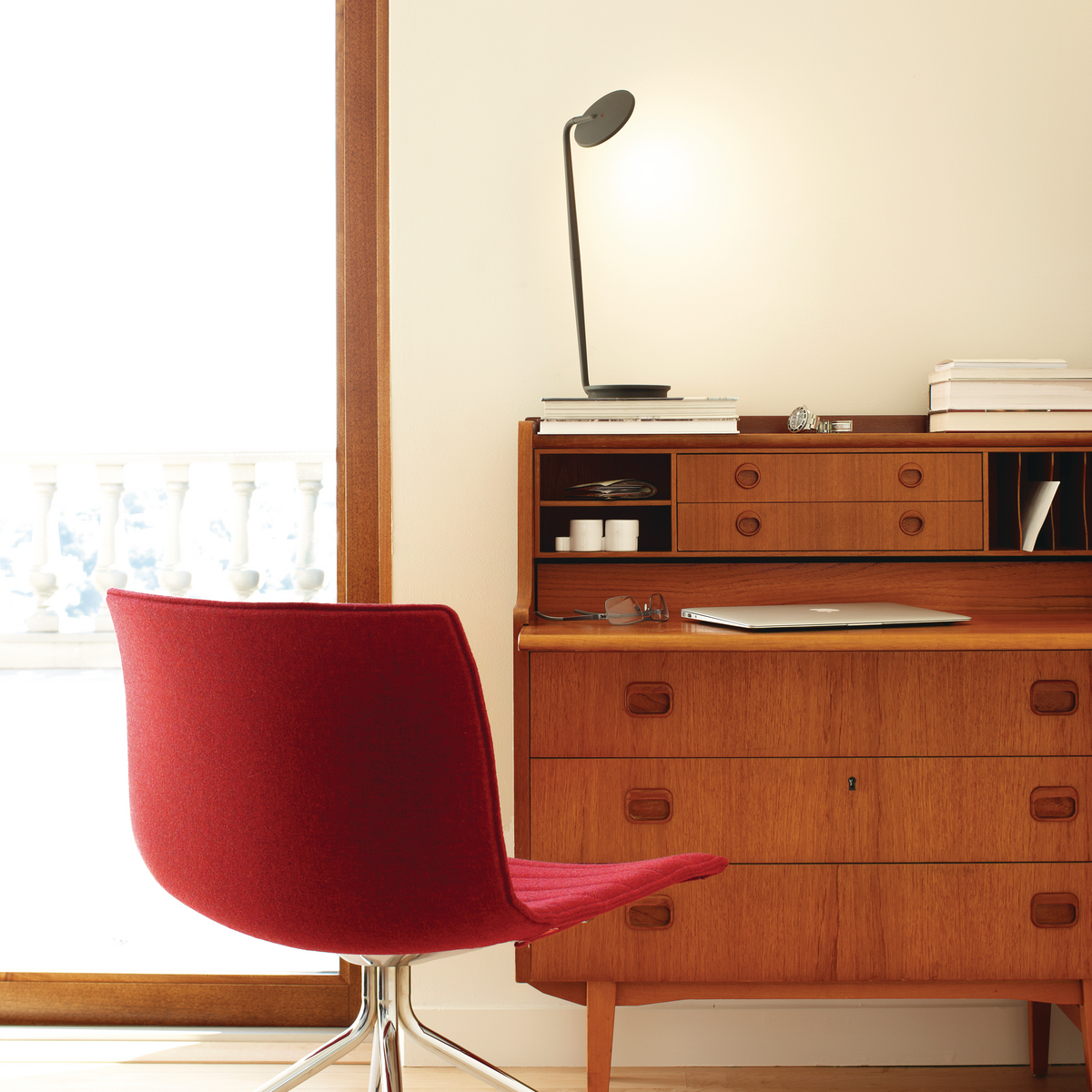 Making the most of minimal design while maintaining a high level of maneuverability is the Pixo Plus Task Lamp by Pablo and Fernando Pardo for Pablo Designs. Precision-designed joints offer fluid movement not for 180 nor 360 degrees, but 900 degrees of rotation from the head and stem of this ultra-efficient task lamp. And, not only does this fixture provide users with light—it's also equipped with both wireless and USB charging capabilities to meet all the needs of the smartphone era. Much like Koncept's Z Bar, the Pablo Pixo values innovation in sustainability as much as it does in design, and is created with 97% recyclable materials, uses just 6W of power, is built to last for 50,000 hours or 25 years of daily use and its design can be completely disassembled and appropriately recycled when the fixture does meet its (very) eventual end.
2020: Graypants' Wick LED Table Lamp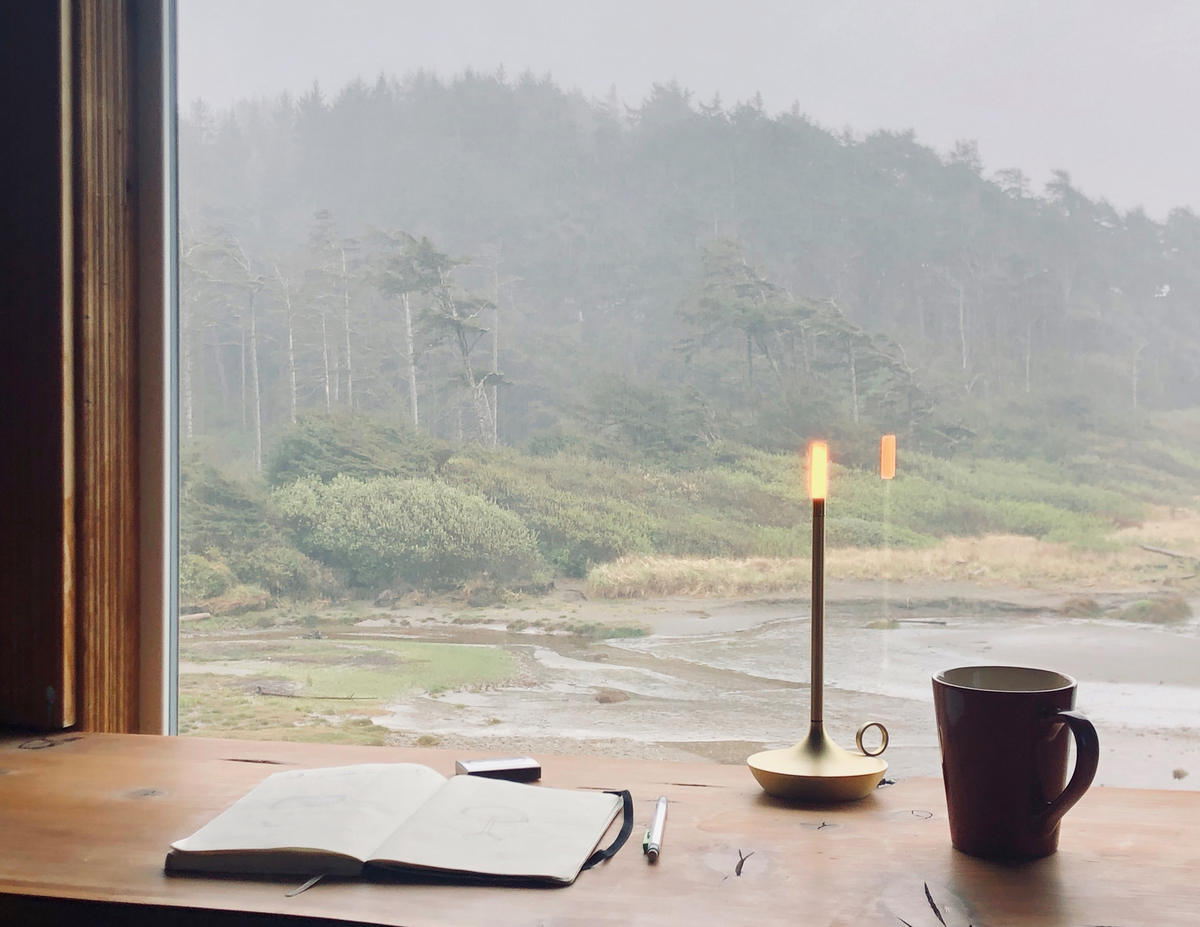 And, as some seek to return to a slower, more analog way of life amongst the hustle of the gig economy, the design of Graypants' Wick gives a reverent nod to the days of yore, when light was not readily available with the flip of a switch or a handy USB port to charge your dying devices, but required the flick of a match to light the candle that would illuminate the desk from where the next great idea could come to life. But don't worry: In line with its 21st century companions, the Wick Table Lamp is fit with LED lamping, a rechargeable lithium battery and a detachable charging cable so that whenever and wherever the creative spirit strikes, Wick is ready to light the way.
Let the omnipresent task lamp no longer be tasked with a life taken for granted, but rather one of perpetual innovation, illuminating those workspaces that are the very birthplace of new ideas, new technologies and new creations that will guide us into the next era of great design.