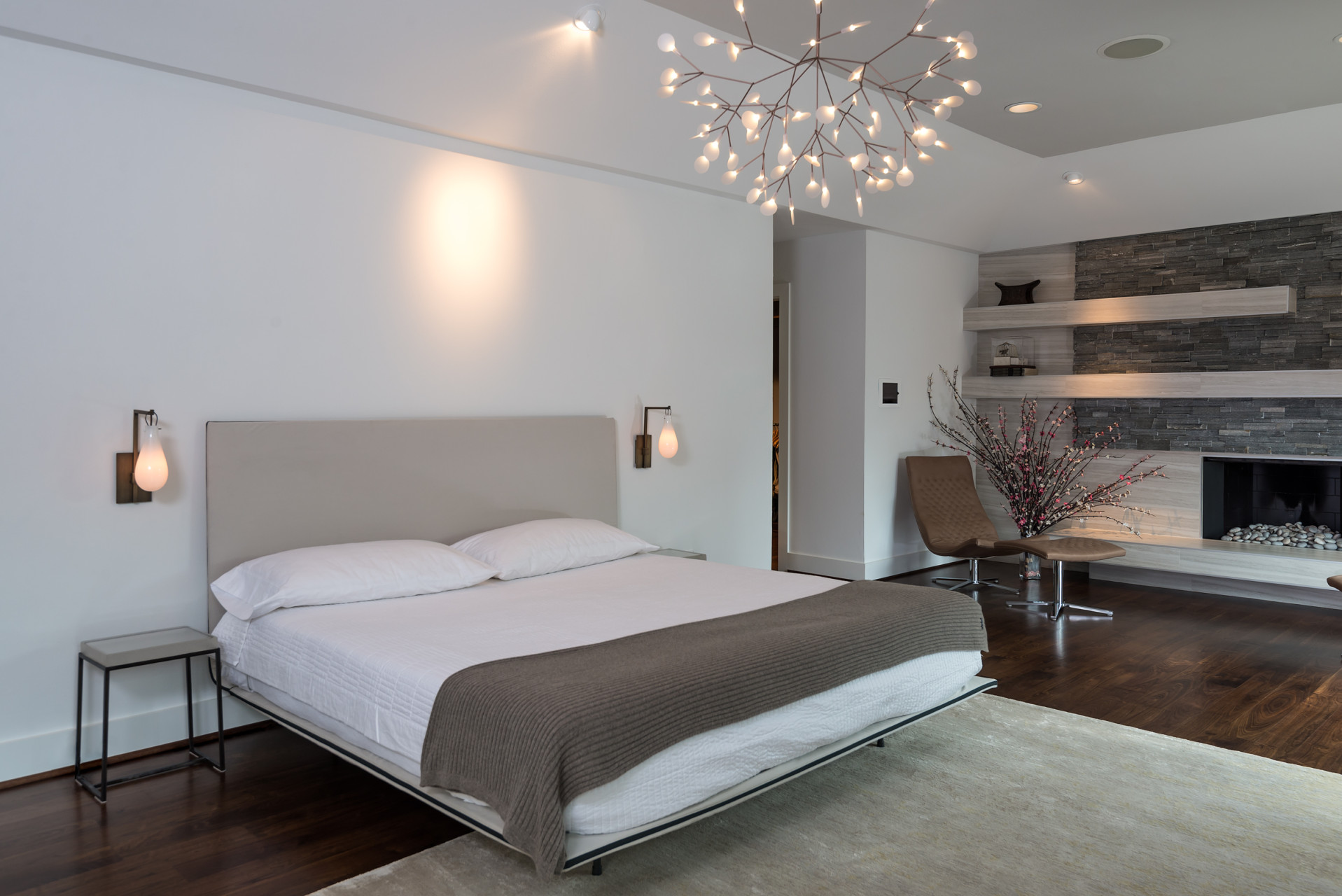 The bedroom is a place of rest and relaxation. One of the most essential ingredients to the bedroom's tranquil atmosphere is its lighting. Using layers of ambient, task and accent lighting with careful placement and dimming controls will have a great impact on the bedroom's look and feel.
In this bedroom lighting guide, we will go over basic bedroom lighting tips and how to layer bedroom lights. This includes picking the right bulbs for desired brightness and color temperature.
The second half of our bedroom lighting guide is a Q&A with Los Angeles-based interior designer Jamie Bush, recognized for his ability to combine period and contemporary decor, sharing his secrets for a well-lit, functional, and restful modern bedroom.
Layering The Lights In Your Bedroom
Knowing how to layer lighting is the key to creating the best lighting in every room including the bedroom. This means finding the right balance between ambient, task and accent lighting. By creating this balance, you will be able to create the lighting for any mood and any activity with the flick of a switch.
Ambient Lighting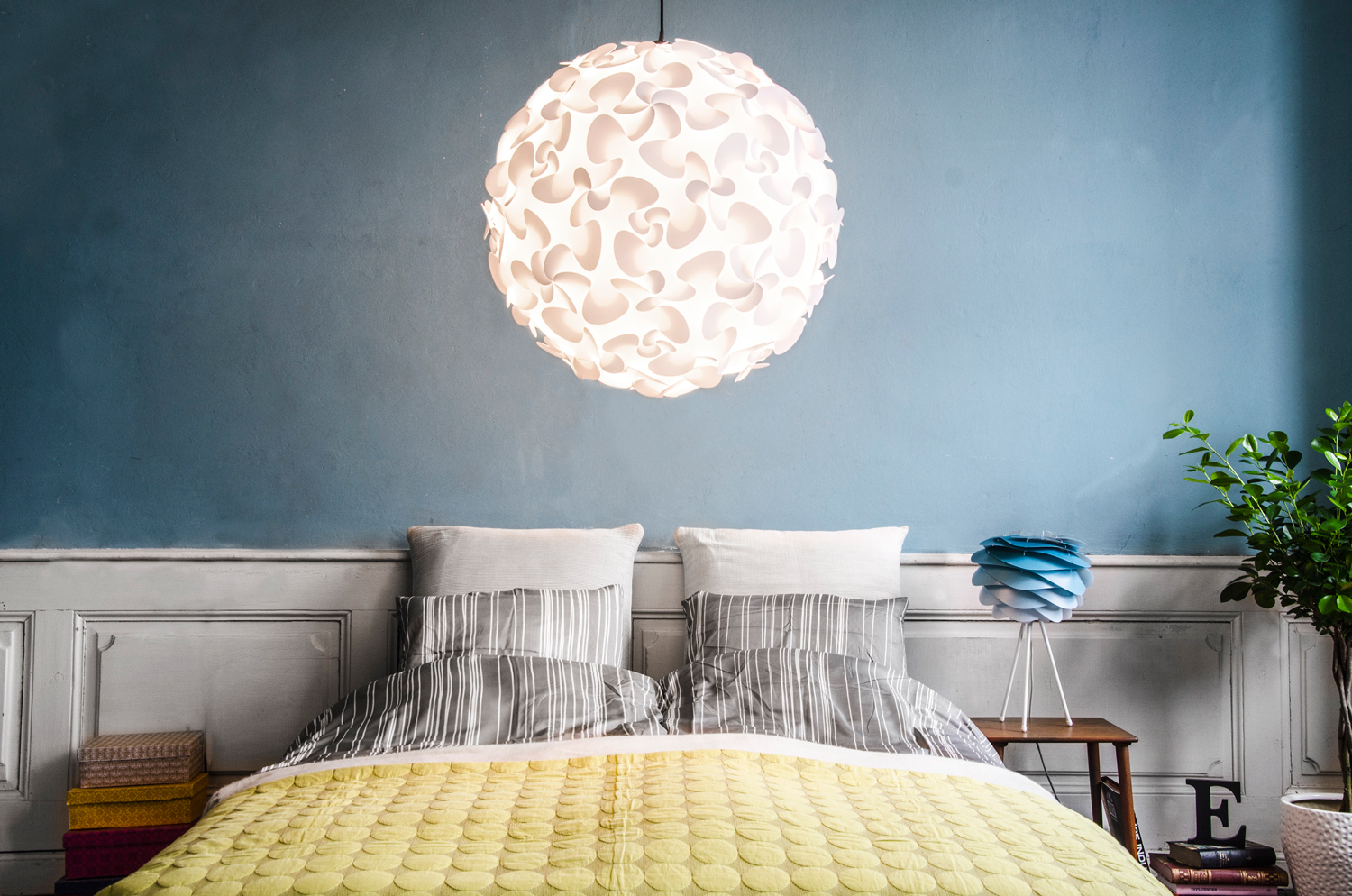 Begin with ambient lighting (also known as general lighting). Ambient light includes natural lighting via large windows or skylights, or artificial lighting—whatever provides a decent amount of lighting that enables general tasks like cleaning, folding clothes or making the bed.
In terms of artificial lighting, ambient light is best achieved with ceiling fixtures (like flush mount ceiling lights, chandeliers, pendant lights, etc.) or through portable, like floor lamps. Both lighting types will offer a sufficient amount of lighting for activities that don't require bright, focused light.
Task Lighting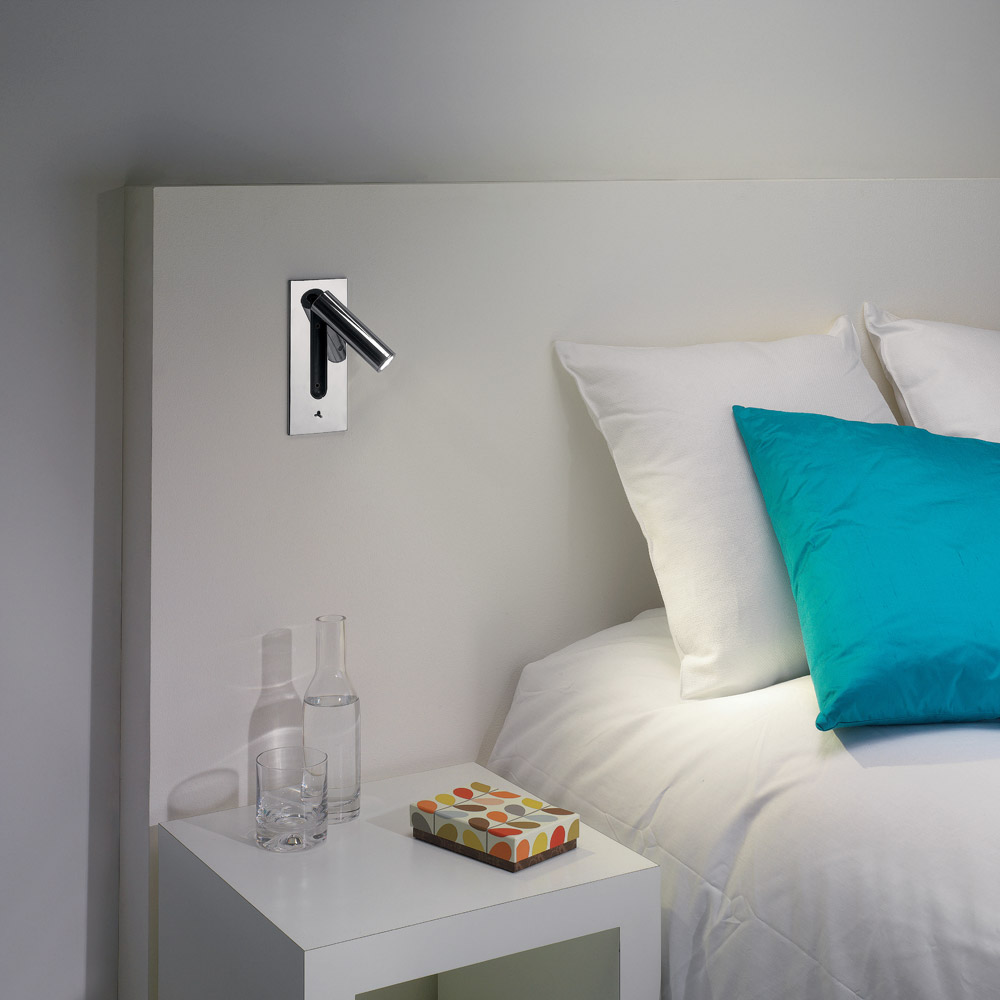 If you expect to do activities that require a bit more focus, like reading, working, grooming or applying makeup, then consider layering on top of your general lighting with task lights. Focused task lighting need not be confined to the traditional desk task light. Table lamps with light-colored shades are better for reading than those with dark shades, as a dark shade would dilute the light's brightness. Swing-arm lights are good for focused reading, whereas more artistically designed table lights or even pendants create a more ambient and soothing atmosphere. Also consider low hanging pendants on either side of the bed, sconces, wall mounted task lights on either side of a headboard or other directional lighting placed above it.
In this sense, the bedroom task light can essentially take on any form, as long as it offers ample lighting needed for sustained concentration. Apart from its design and location, a task light's functionality also resides within its bulb (more on that later).
Accent Lighting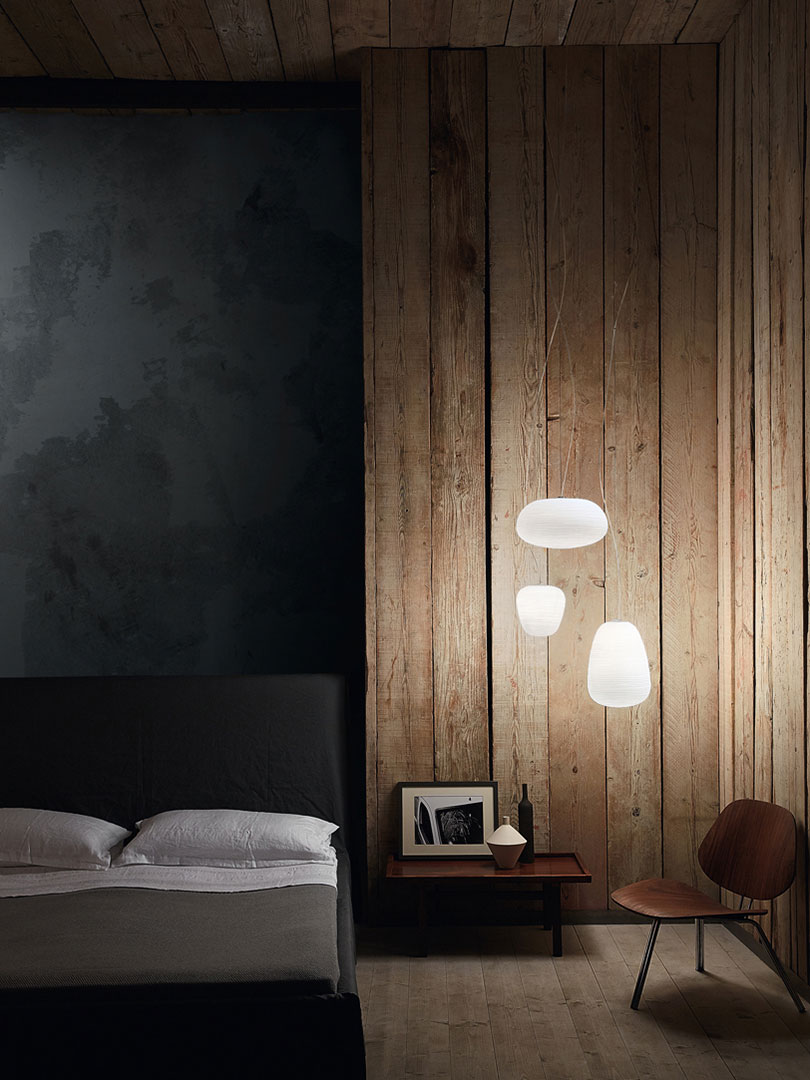 Accent lighting is typically meant to draw attention and highlight features—like artwork—within a given space. For the bedroom, accent lighting on its own can act as a subdued version of ambient lighting, giving off a pleasant glow and creating a cozy atmosphere. Utilizing recessed lighting in the bedroom, wall sconces, tape lights or creative repurposing of other fixtures are a few ways to incorporate this feature in your bedroom's light design.
Dimmers
Proper lighting/dimmers are important, because if there's only one bright light source, it's hard to transition into a relaxed sleep-mode. [With a] bedside lamp or sconce, you can ease into sleep or wake more gradually.

Leah Harmatz, Owner & Designer for Field Theory
When layering your bedroom lighting, dimmers play an important role in the grander scheme of the design. Not only do dimmers let you add an extra dimension to the room's environment, but they're inherently multifunctional. Between low lighting to full brightness, a dimmer can accommodate multiple lighting needs. At max brightness, the dimmer lends itself to general lighting, while at lower settings, the feature allows for mood setting. Because dimmers are easy to install, any lighting fixture can take on a multipurpose role. Certain bulbs, such as Compact Fluorescent Lamps (CFLs) or low-voltage LEDs, are prone to flickering and buzzing when dimmed. Take extra care to find a dimmer that matches your bulb preference.
Choosing the Right Bulb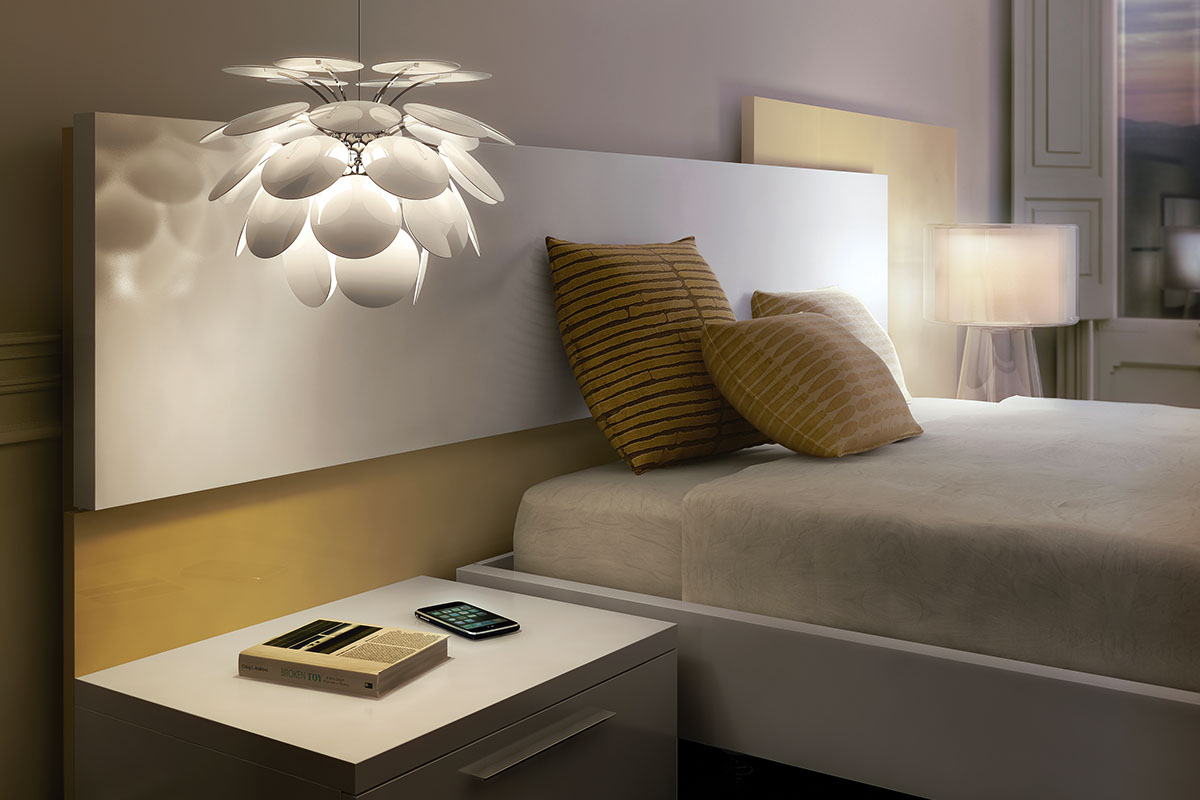 Brightness
As you layer your bedroom lighting, it's also important to consider the type of bulb you'll use for each fixture. Depending on the bulb's lighting intensity and the color it emits, it has the potential to positively or negatively affect the way you function during and after a given activity. But before you set out to hunt for any old bulb, you'll want to figure out your preferred brightness level, or lumens. While the suggested lumens for the bedroom ranges between 2,000 and 4,000, this is a subjective decision that changes based on the type of ambience you desire for your bedroom.
After settling on the maximum lumen output of a bulb, you need to consider if the bulb type you want is dimmable. CFLs (or Compact Fluorescent Lamps) are difficult to control with a standard dimmer, as are some low-voltage LEDs. In these cases, special dimmers will be needed for smooth, flicker and buzz-free control.
Color
Light color plays an important role with supporting certain activities. For starters, think about the type of bulb: incandescent/halogen bulbs typically give off a soft white glow, CFLs tend to diffuse a lot of blue (although they have evolved to include a broader spectrum of colors), while LEDs can run a range of color temperatures.
As white and blue light colors have been shown to promote alertness, lighting with such hues are best used with task or directional lighting to support focused activities. Because blue and white lights increase alertness and subsequently suppress the production of melatonin (or hormones that induce sleep), they are not ideal if you're trying to wind down and relax in the bedroom after a long day. On the other hand, lighting that diffuses warmer colors (like yellow) don't interfere with melatonin production. So, warmer lights are best for bedroom activities like reading, watching TV or simply relaxing.
With the evolving functions of the bedroom comes the need for proper lighting to support these functions. Between appropriate lighting layers, dimmers and suitable bulbs, getting these aspects right is a sure-fire way to ensuring a comfortable lighting situation in your bedroom. So, get creative and choose the fixtures you need to get the bedroom lighting scheme you want here.
Expert Bedroom Lighting Tips with interior designer, Jamie Bush
Now that we've covered the basics of layering your lighting, it's time to delve a little deeper into crafting your bedroom lighting with the expert advice of Jamie Bush.
How do you develop a modern bedroom lighting plan?
Jamie Bush: I'm trained as an architect, so we start with a furniture floor plan and measure everything out, down to where the plugs go. If there's art on the wall, we install ceiling spotlights, set 2 feet in from the wall if it's a standard 8-foot ceiling, or farther in if the ceiling is taller. You want the light to hit at eye level, where artwork hangs. If we use a pendant or a semi-flush ceiling fixture, it's usually centered in the room, often over the bed. So, we try not to hang it too low—typically 8 to 12 inches from the ceiling. I like to use fairly large fixtures—my philosophy is that fewer, larger elements in modern design makes a larger impact. I don't use many small or standardized sizes. To me they seem to lay flat, or look like tchotchkes. I prefer things with presence and size and scale.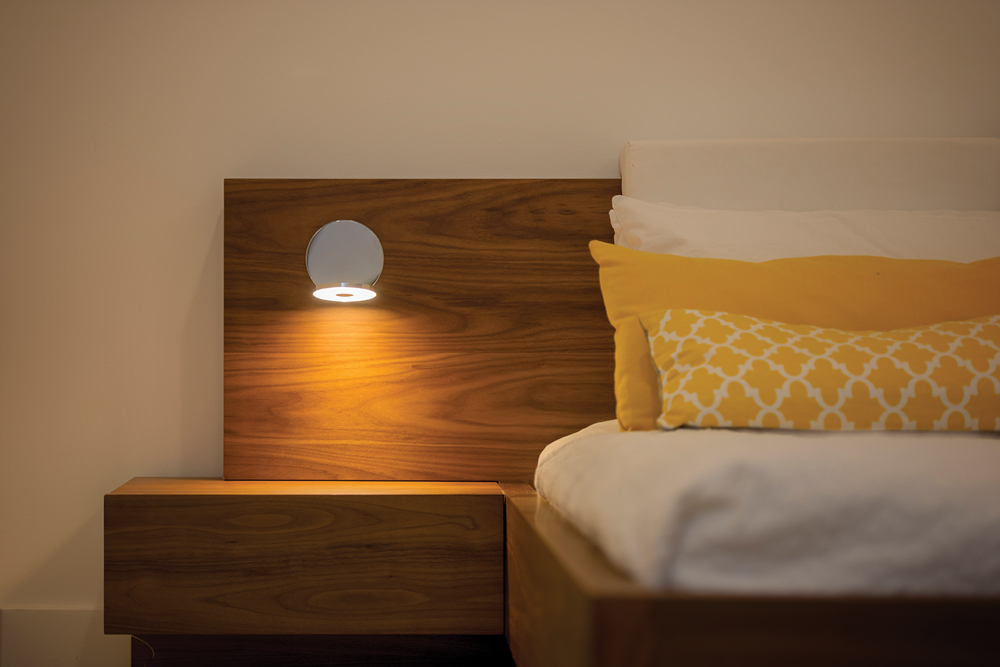 Is symmetry important with bedroom lighting?
JB: No. But balancing and layering the light is. I like multiple types of fixtures. For example, I might place a floor lamp next to a lounge chair, table lamps on either side of the bed, and a decorative fixture on a dresser. I always try to have something with a shade to give a general warm glow. Also, some source of indirect lighting—light bouncing off something—whether sconces that throw light back on wall, cove lighting that grazes the ceiling or an architectural feature, or picture lights or spots for artwork. The goal is to bring your eye around the entire room, not just to focus on the bed. Bringing light to different corners makes a space feel bigger and balanced. The goal isn't an evenly lit room, but an interestingly lit one, so your eye travels from fixture to fixture.
For great overall ambience I'd use a combination of the following fixture types: I'd put a floor lamp next to a lounge chair in a corner, and hang a pendant light about 18 to 24 inches from the ceiling as a statement piece. I'd complement those with a pair of bedside table lamps.
Nowadays, many bedrooms are more than just places to sleep—they're also places to work, read, and spend family time. How can lighting help accommodate all these activities in a single room?
JB: The key is creating flexibility, and the ability to control light levels, so if someone wants to sleep and someone wants to work, you can accommodate that. Instead of one big overhead light, use different lighting in each area. At a desk, use task lights as well as a couple overhead pins to illuminate the whole space; that way you have options.
What should one look for when choosing bedside lighting?
JB: If your reading light is a table lamp, make sure you pick a shade with a light tone. A black or dark gray shade might look cool, but if it doesn't glow with light you can't read by it. If you're a serious reader, opt for a swing-arm task light that's adjustable both vertically and horizontally for maximum flexibility. But if you don't read much, or you only read on an iPad, sharp light is less critical, so you might want something more sculptural, like a glowing blown-glass fixture. The soft glow at night would be soothing and incredibly warm.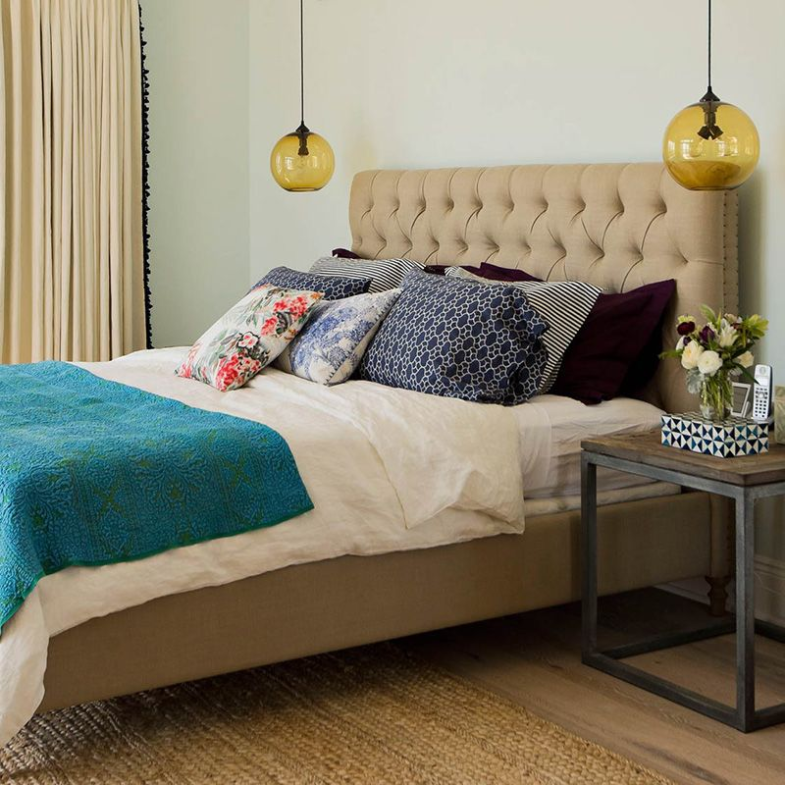 What are good alternatives to table lamps for bedside lighting?
JB: Sometimes we'll hang pendants over bedside tables—they're a good option, especially for smaller rooms, because they don't take up space on the table. It's more for mood lighting than reading, though.
Anything people should make sure to avoid when lighting a bedroom?
JB: Installing only overhead cans—or too many—is a common mistake. It flattens everything out, there's no dimension, and it's unflattering—you look older and more saggy.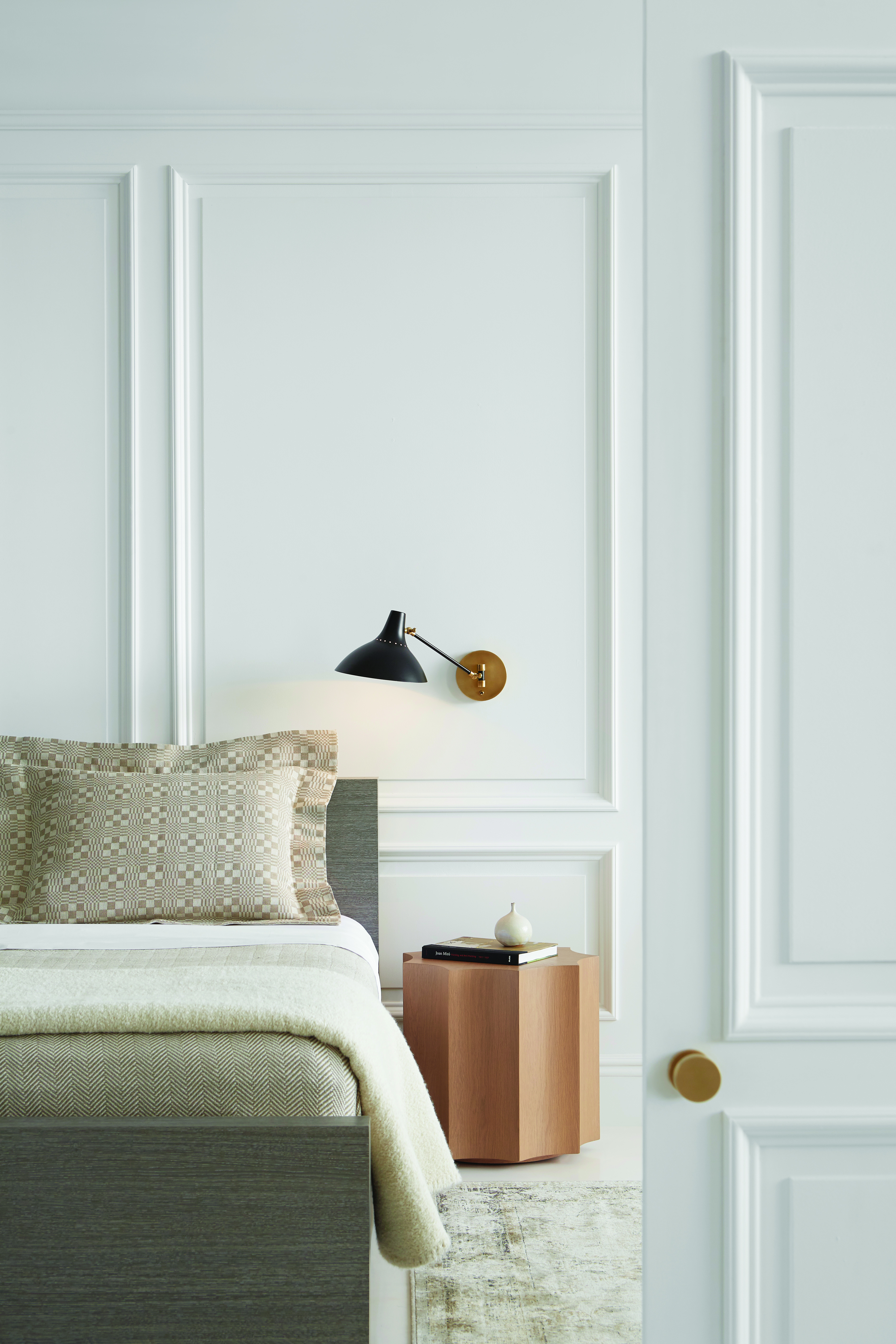 What about sconces in the bedroom?
JB: I like swing-arm sconces for reading. Sometimes I'll use one sconce to flank a doorway or an architectural feature, like a wall between two windows. They can be used along a hallway leading from bedroom to bathroom. A more sculptural sconce can stand alone as a strong design element in a room.
How would you incorporate modern lighting into a more traditional bedroom?
JB: It's all about the mix. You have two options: Either pick one big statement piece—a contemporary fixture in the center of a room that has scale and presence and is clearly an anomaly, the thing that breaks the rule. Or, introduce several modern fixtures to create a rhythm and train the eye that it's an intentional move to introduce this new design language, and not a mistake or lonely leftover. Natural materials work best, those with texture and irregularity such as woods, alabaster, natural stones, metals with patina, and linen. Chrome and white glass can look cold in that type of setting.