Why We Love Platform Beds
Unlike a standard bed frame, a platform bed elevates your mattress off the ground and allows you to avoid dealing with a traditional box spring. And because of its slight lift off the floor, you'll have plenty of room for storage under the bed too. Modern platform beds are well-designed too, easily becoming the focal point of the bedroom while also working with other furniture pieces and lighting you may have in the space. These platform beds also accommodate any mattress type, be it a standard queen size mattress or a memory foam mattress.
Why Choose A Platform Bed Frame?
In contemporary bedrooms, a platform bed frame blends in well thanks to its sleek, clean-lined form and you'll enjoy not having to bother with fitting a box spring onto your frame or finding a box spring to work with your mattress choice. However, even without a box spring, a platform bed is able to provide exceptional comfort. Because of its flat and sometimes slatted construction, a platform bed frame helps keep things firm and even to ensure you have a peaceful night's sleep. Contemporary platform bed frames are easy to decorate around too; from nightstands to clothing dressers, you'll find the right platform frame fits right in.
A Platform Bed for Every Style
Whether your bedroom's aesthetic is purely modern or fits a traditional decorating style, there's a platform bed here for you. Blu Dot's collection of platform bed frames and headboards show off contemporary style and provide the level of comfort you'll want to introduce to your bedroom. Classic wooden frames and headboards found in the Copeland Furniture assortment are made from ethically sourced lumber to the meticulous attention to detail. Or, fit a mid-century modern theme with a Gus Modern bed. Inspired by furniture made popular in the 1950s, the Gus collection combines retro color patterns with stainless steel hardware and accents that put mid-century goodness prominently on display.
Choosing the Best Platform Bed & Headboard
When searching for a new bed frame, your choices may seem endless and this especially rings true with a platform bed. Here you'll find plush upholstered options and luxurious wood designs to storage platform beds and those that are much closer to the ground. Once you have a rough idea of the style of platform frame you need, the next step is to find the right size. Despite the composition and thickness of your mattress, you'll want to choose a frame that can properly accommodate its length and width, whether it is a king, queen or full size bed. Lastly, choose fabric colors or a rustic, raw wood design that best blends in with your existing bedroom decor. If you have any questions about the platform beds featured here, please call our furniture experts at 877.445.4486.
Other Considerations
Look to a storage bed if it is a spot to store your clothing and loose accessories you need. The modern storage beds available either offer complete storage under the mattress or elegant pullout drawers on the sides of the frame. And continue decorating your bedroom with additional furniture pieces to round out the look. Modern dressers help keep the room clutter-free and consider a pair of bedside tables to hold your favorite book, reading glasses or a table lamp. With the right mix of furniture, your bedroom area is sure to be comfortable and clean.
Related Products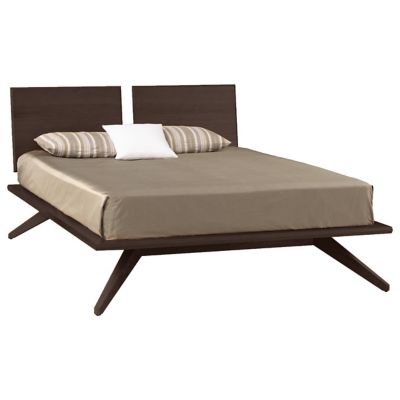 The Copeland Furniture Astrid Bed with 2 Headboard ...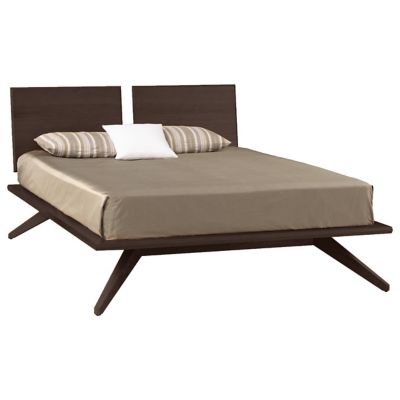 Description:
The Copeland Furniture Astrid Bed with 2 Headboard Panels features deeply splayed, cantilevered legs, an elegantly angular touch for modern bedrooms. The bed is made entirely out of solid hardwood, with the chosen finish protected by a Greenguard certified top ...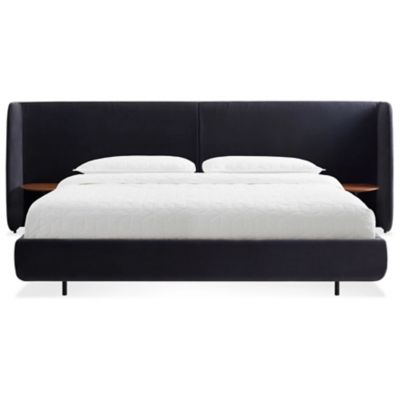 Highly creative, distinctly modern design. The Hunker Bed ...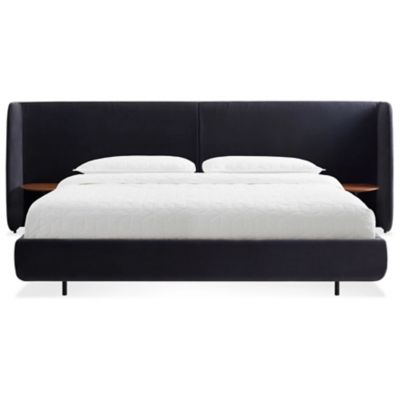 Description:
Highly creative, distinctly modern design. The Hunker Bed by Blu Dot features built-in walnut nightstands which are integrated into a curved, sleek upholstered headboard. Its padded solid hardwood and plywood frame provides ultimate comfort and support while cord management escape ...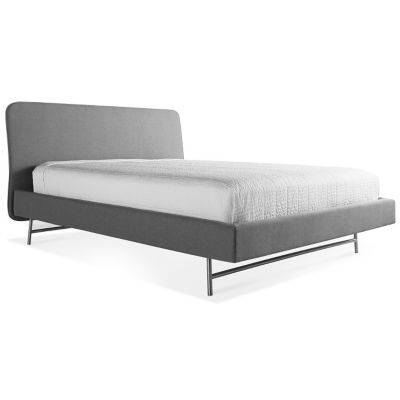 Description:
The Blu Dot Hush Bed is stealthy. A wafer thin upholstered headboard and padded side rails are supported by a brushed stainless steel base, giving the frame a sturdy yet subtle persona. Choose from several colors and sizes and turn ...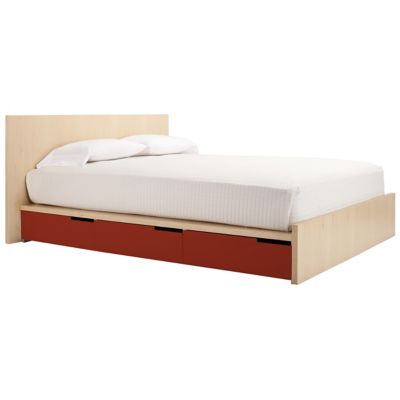 Made to satisfy the modern mix-and-matcher. The Blu ...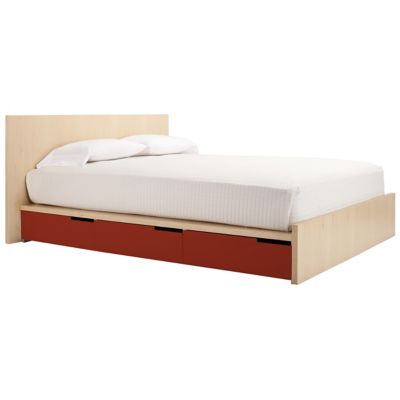 Description:
Made to satisfy the modern mix-and-matcher. The Blu Dot Modu-licious Bed allows you to choose from a number of powder-coated finishes and frame color combinations for a minimalist look with maximum personal creative input. Here's to wishing you style-saavy sleep ...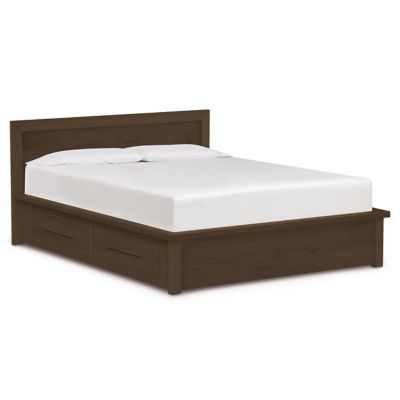 Bold symmetry enhances an already beautiful frame. Designed ...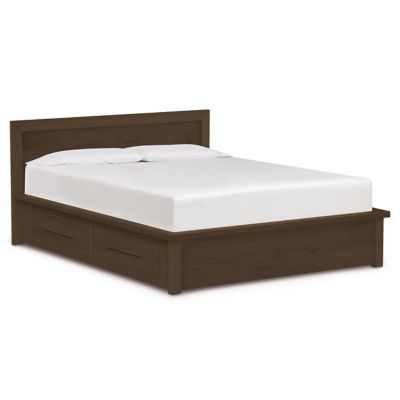 Description:
Bold symmetry enhances an already beautiful frame. Designed to impress, the Copeland Furniture Moduluxe Panel Storage Bed emphasizes its natural elegance through a dynamic frame and excellent craftsmanship. Solid Hardwood, exquisitely crafted in Vermont, delivers a natural appearance that is ...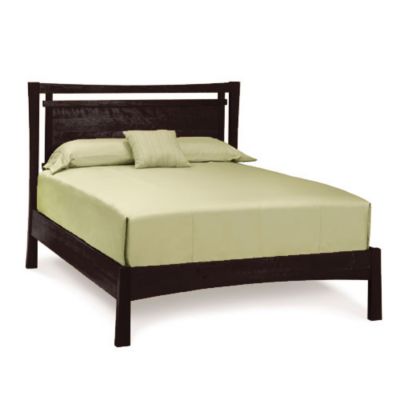 Swapping ordinary in favor of inspired. A structure ...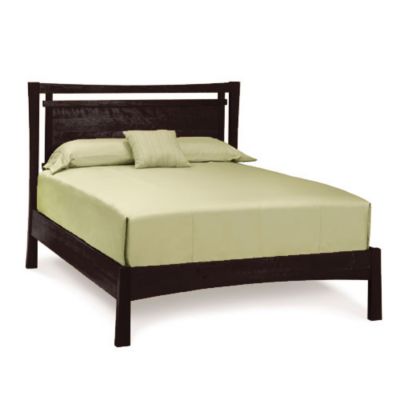 Description:
Swapping ordinary in favor of inspired. A structure that turns heads with its straightforward design, the Copeland Furniture Monterey Bed presents an uncommon elegance within its intricate frame. Handcrafted with care in the USA, the Solid Cherry Hardwood body features ...