Payment Methods
Lumens offers convenient payment methods including Klarna, PayPal, Apple Pay and all major credit cards.
Large orders and those for Trade and Contract accounts may qualify for additional payment methods, such as a wire transfer or business check. Please contact our Sales team or contact your account manager for additional information.
Shop now, pay with Klarna.
Add item(s) to your
cart and checkout.
Select Klarna at checkout
to pay over time.
Manage your orders and payments in the Klarna app.
4 interest-free payments
Split your purchase into four payments so you can spread the cost of your purchase over time. Enter the credit or debit card of your choice for automatic payments every two weeks. No interest or added fees when you pay on time.
CA resident loans made or arranged pursuant to a California Financing Law license.
Monthly financing
Apply for easy monthly financing directly in the checkout. A simple, two-step application will provide an instant decision. Once you've been approved, you'll receive reminders and can manage your payments directly in the Klarna app. Monthly financing products are offered by WebBank, member FDIC.
What happens if I make a return?​
If you need to return all or part of your order, Klarna will issue you a new statement. Follow the Lumens return instructions, making sure to take note of the tracking number. Sign into your Klarna account and select "report a return," and Klarna will pause your statement. Once Lumens has processed your return, Klarna will send you an adjusted invoice.
There's something wrong with my order. Do I still need to pay for it?
You do not need to pay for goods that are received damaged, broken or defective. Follow the Lumens dispute instructions, then sign into your Klarna account and select "report a problem" to pause your statement until the issue is resolved. Once Lumens has registered your return, your refund will be processed within 5 to 7 business days.
I have not received my order. What happens to my statement?
You do not need to pay until you have received your order. Contact Lumens for a delivery update, then sign into your Klarna account and select "report a problem" to pause your statement until you have received your order.
My statement is incorrect. What should I do?
If your statement does not match your order details, please contact Lumens directly to correct your statement. Sign into your Klarna account and select "report a problem" to pause your statement until the details have been corrected.
PayPal

Sign Up or Sign In
Sign into your PayPal account or create a new account and link your credit card or bank information to your PayPal digital wallet.

Choose the PayPal button
Pay using a linked account, PayPal Pay in 4 or Pay Monthly.

Your order is complete
No need enter further shipping or billing details.
Do I need a balance in my account to use PayPal?
You do not need to have any balance in your account to use PayPal. Like with a physical wallet, you can choose to pay for your items with any of the credit cards that are attached to your account. There is no need to pre-fund your account.
What is Pay Monthly?
Pay Monthly lets PayPal customers spread out the cost of eligible purchases between $199 to $10,000 USD into equal monthly payments over a specific term. It's offered to eligible customers during the online checkout experience.
What if my Pay Monthly purchase contains multiple items and the merchant processes/ships items at different times?
Your Pay Monthly installments won't start until the first item is processed/shipped. This item shows in your PayPal Activity and the outstanding balance of your Pay Monthly installment is equal to this amount.
If future items are processed/shipped at different times, each item is listed in your PayPal Activity, and your outstanding balance updates accordingly.
I returned items bought using Pay Monthly to the merchant; now what?
Please continue to make payments to keep your loan in good standing until the merchant processes your return.
After Lumens processes your return, a refund will be sent to PayPal for the amount equal to the returned items. At that point, PayPal will apply that amount to your Pay Monthly loan. If the amount returned exceeds the outstanding balance on the loan, the excess money is applied to your PayPal balance. PayPal will notify you via email when the refund has been processed and applied to your Pay Monthly installment loan. If a credit balance refund is due to you, we'll notify you via email when the refund is made.
What is Pay in 4?
Pay in 4 is an interest-free installment loan that lets you split your purchase into four repayments, with the down payment due at the time of the transaction and three subsequent payments made every 15 days thereafter.
How does a refund work for my Pay in 4?​
Since PayPal paid the merchant for your Pay in 4 purchase, the merchant would refund the Pay in 4 loan, in full or partial. Whether the refund satisfies the Pay in 4 loan in full or partial determines if you have further repayment obligations. Check your PayPal account to ensure the loan balance is marked as completed.
ApplePay

Setup in seconds.
Apple Pay is simple to set up. Add your credit or debit card to the Wallet app on your iPhone. You'll still receive all your card's rewards and benefits—so you won't miss out on any hard-earned points or miles.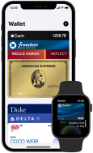 Apple Pay is already on your device.
Apple Pay is built into iPhone, Apple Watch, Mac and iPad. No separate app to download, no complicated processes to complete.
How do I set up Apple Pay?
Add a credit, debit or prepaid card to the Wallet app on your Apple devices. It works on iPhone, Apple Watch, Mac and iPad.
How does refund work with Apple Pay?
When Lumens processes your refund, it is automatically applied to your payment card.
Major Credit Cards
Credit Cards




Lumens accepts Visa, MasterCard, American Express and Discover cards. Earn points, cashback and exclusive offers based on the terms of your cardmember agreements. Your card's fraud protection, guarantees and rewards are applied automatically by the issuing company.