Chandeliers & Linear Suspension
Learn More About Chandeliers & Linear Suspension
Why We Love Chandeliers & Linear Suspension
If nothing else, chandeliers and linear suspension finally offer a compelling reason to look up at the ceiling. But there's so much more to love about this style of ceiling light. Chandeliers and linear ceiling fixtures are the statement pieces of the lighting world, a way to suffuse a space with sytle and personality, as well as illumination.
Read More
These modern light fixtures also offer the opportunity to play with the scale and dimension of a space. Modern chandeliers are typically regarded as round fixtures and may be more appropriate for small rooms while linear suspension lighting takes on a rectangular shape, making them ideal for larger areas or suspended over kitchen islands.
Where Chandeliers & Linear Suspension Work Best
This collection of chandeliers and linear suspension lights can find their home almost anywhere. While most often used for entryway and foyer lighting, dining room lighting or kitchen lighting, no one will stop you from hanging a decorative chandelier anywhere in the house. In the entryway, a chandelier or linear ceiling light makes a noticeable statement that will leave a lasting impression on your guests. Over the dining table, you will love the ample illumination a linear fixture provides for casual or intimate dinner parties. In the kitchen, look to a linear chandelier as island lighting. While some kitchen islands benefit from the use of a cluster of mini pendant lights, a linear suspension will provide optimal lighting coverage from a single light source. Chandeliers can even be used in bedrooms and bathrooms where enough ceiling space is available. Wherever you choose to place a chandelier or linear fixture, you are guaranteed to be happy with its decorative impact.
A Chandelier or Linear Suspension for Every Style
Chandeliers and linear lights are available in a variety of design styles including contemporary, transitional, purely functional, retro-inspired and much more. For an ultra-modern chandelier or linear suspension, you will want to look to the fixtures available from renown designers like Luceplan or Moooi. Traditionally styled homes benefit from chandeliers and suspensions by Hudson Valley Lighting and you will want to check out the variety of crystal chandeliers if you are in need of a piece that will speak to your sense of luxury. Irrespective of your choice of home decor, you are sure to find a chandelier style here that will match it.
Choosing the Best Chandelier or Linear Suspension
Do you need a small chandelier? A large chandelier? What length of linear suspension is ideal for your dining table? Properly measuring your space is especially important when buying a chandelier or linear suspension. Because these fixtures are often large, it's important to get the best gauge of the light's width, height, weight and cable suspension length before having it installed in your home. Look to the specific details on a product page to best understand the chandelier's dimensions before buying. Next, try to incorporate a new ceiling light fixture that seamlessly blends into its surrounds. That could mean its color pattern, finish and shape. If you have any questions about the sizes of the chandeliers and linear suspension fixtures feature here, please call our lighting experts at 877.445.4486.
Other Considerations
In addition to chandeliers and linear suspension as your primary source of ceiling lighting, you can complement and layer the overall light in the space with portable lamps and wall sconces. Consider placing a couple of wall uplights or floor and table lamps near your chandelier to ensure a well lit room. And due to their rectangular shape and size, a linear fixture is a great choice of lighting to hang over a pool table.
Show Less
Related Products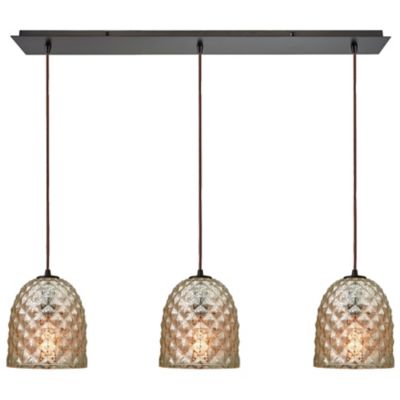 Packed with personality. From its aged finish to ...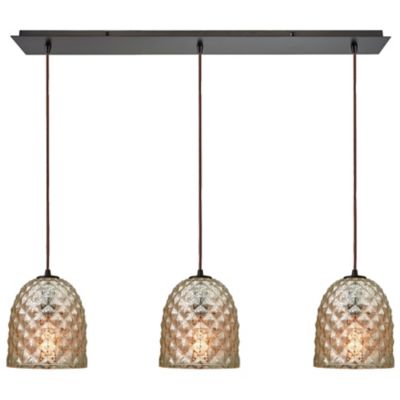 Description:
Packed with personality. From its aged finish to its handsome mercury glass shades, the Brimley Linear Suspension by ELK Lighting takes its most distinctive cues from early 20th century design language. Modern sensibilities underpin the vintage motifs, making this fixture ...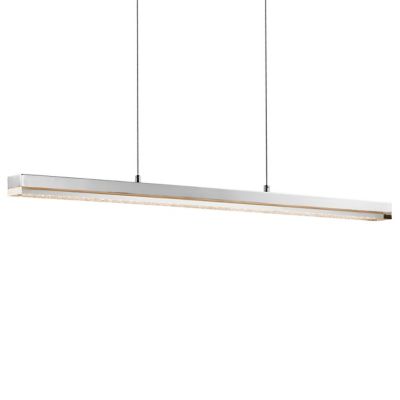 Elegant minimalist design meets modern function with the ...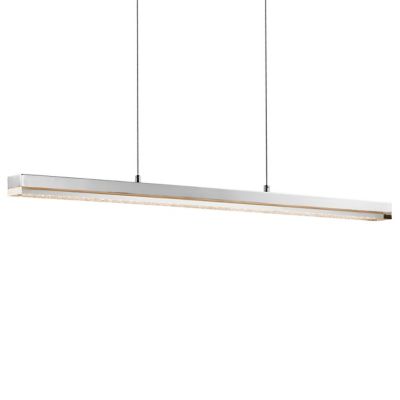 Description:
Elegant minimalist design meets modern function with the Gorve LED Linear Suspension by Elan Lighting. Its long, geometric form consists of a Chrome body and a Clear Cubic Zirconia shade. Once lit, an integrated Warm White LED shines through the ...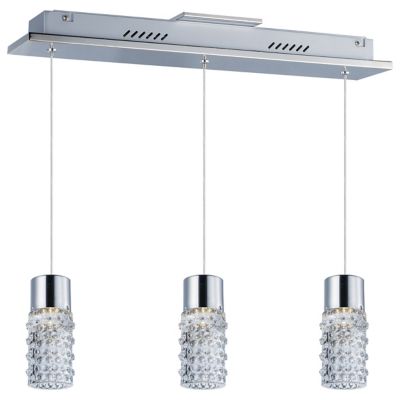 The elegant, yet modern Polka Linear Suspension by ...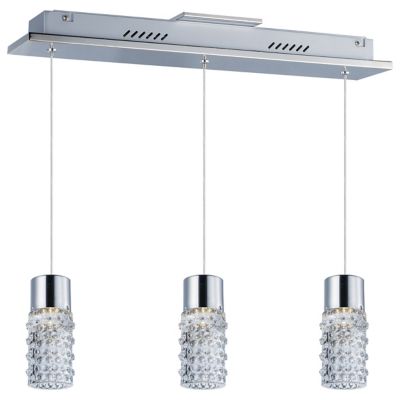 Description:
The elegant, yet modern Polka Linear Suspension by ET2 Lighting features several dimpled clear glass shades suspended beneath a Polished Chrome linear canopy. The shades' textured glass refracts the light from integrated LED light sources, creating soft, ambient illumination as ...