Learn More About Wall Decor
Why We Love Modern Wall Decor
The functional and decorative uses of modern mirrors and associated wall decorations are pretty impressive. Primarily useful as personal grooming aides, strategically-placed mirrors have also been proven to actually make rooms look bigger and improve the sense of flow. And they look great doing it. Decorative wall mirrors come in a wide range of styles to complement the decor of any room in which they reside. You can go anywhere from understated and minimalist to grand and gilded. And you can further dress up your bare walls with neon letter art, a decorative clock and more.
Where Wall Decor & Mirrors Work Best
This assortment of decor and mirrors fit perfectly on the wall, of course. And whether these decorative accents are placed in the living room, bathroom, bedroom or entryway, you'll find they provide noticeable character in any space. As the primary area for grooming and getting ready in the morning, the bathroom pretty much requires a vanity mirror. Bathroom vanity mirrors are typically mounted over the sink and/or vanity area (and best in sizes proportional to such areas). Lighted vanity mirrors are also a go-to choice when you need a little bit of extra illumination in the bathroom. Entryways also benefit from the addition of a mirror as it can immediately speak to your decorative tastes or provide a quick reflection before you head out the door for the day. And what would the living room be without a bit of life on your walls? Living room mirrors instantly add to the overall decor of the space, while illuminated neon letters spell out your decoration sense for all to see. In any space with a naked wall or two, you'll enjoy dressing them up with any of these designs.
Wall Decor for Every Style
Despite you living room, bathroom or bedroom's style, there's wall decor here you can use to give it a quick refresh. Full-length mirrors from Blomus and Kartell go perfectly in the bathroom or bedroom and reveal your whole ensemble all at once. The collection from Blomus focuses on elegant stainless steel finishes, while Kartell's celebrated mirror collection includes designs from Philippe Starck and Roberto Palomba. For a lighted vanity mirror, be sure to check out the assortment from Tech Lighting. Lastly, if it's the cool neon art letters and numbers that has your interest, you'll want to see the variety from Seletti.
Choosing the Best Wall Decor
Modern wall decor only brings an impact to a room when it can seamlessly blend in with the room's decor. You'll want to select mirrors, art letters and other decor meant for the wall in accordance with the colors and finishes already present in the space. By successfully blending the colors of your rooms with the colors of the decor featured here, you'll be able to easily create a well-rounded look. And don't forget about size! Mirrors are offered in a variety of different shapes and sizes including round mirrors to thin, full-length mirrors. Depending on your space's layout, there will be a different choice for you. If you have any questions about the wall decorations featured here, please call our decor experts at 888.445.4486.
Other Considerations
For wall decoration in the form of a light fixture, look to the selection of sconces. From plug-in wall lamps to uplights and energy efficient LED wall light designs, you'll find plenty of enlightening ways to decorate your walls. Consider a wall clock to elegantly put time on display. Mid-century modern clocks in the George Nelson collection are an interior design lover's favorite or look to the QLOCKTWO for a clock that will literally tell you the time.
Related Products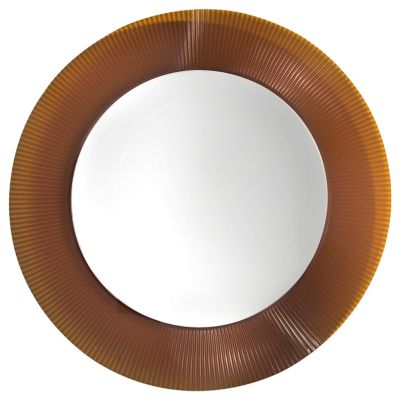 A heavenly modern mirror. The Kartell All Saints ...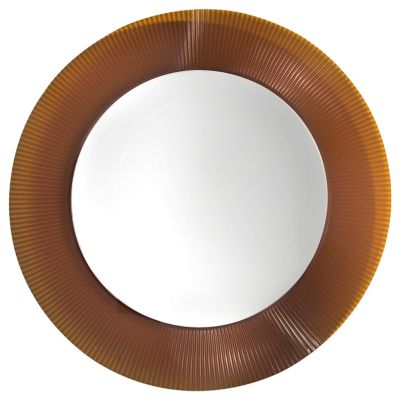 Description:
A heavenly modern mirror. The Kartell All Saints Mirror takes its design inspiration from the Baroque styling of the Bourgie Table Lamp. Its round plastic frame has an intricate pleated texture that allows it to sparkle and refract light, creating ...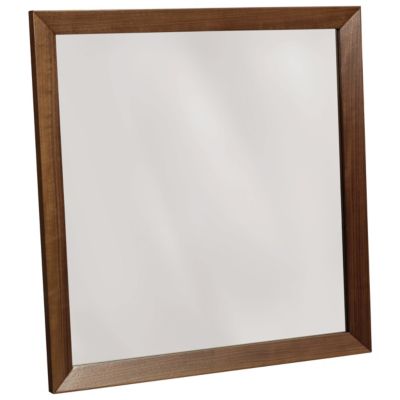 The Copeland Furniture Catalina Wall Mirror is the ...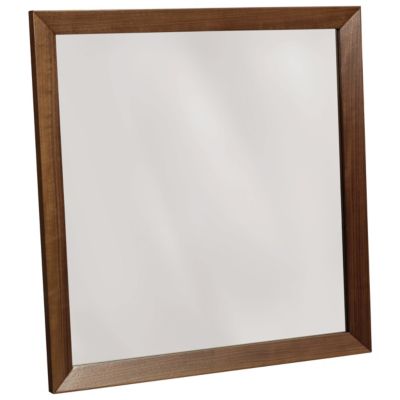 Description:
The Copeland Furniture Catalina Wall Mirror is the ideal finishing touch over a dresser or mantle. This simple square mirror is framed in solid hardwood, in a variety of wood tones to complement surrounding decor. A Greenguard certified lacquer top ...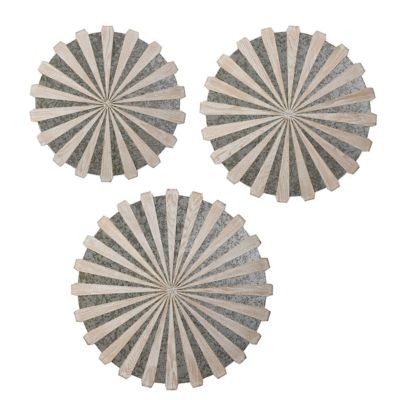 Blend a delightful floral arrangement into your wall ...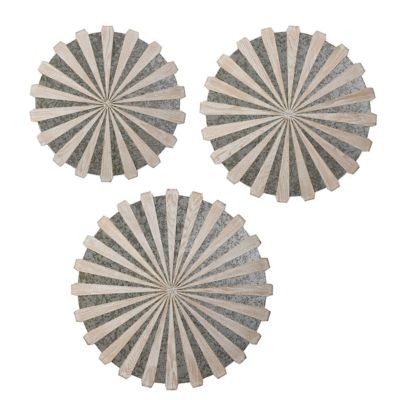 Description:
Blend a delightful floral arrangement into your wall spaces with the Daisies Mirrored Circular Wall Decor, S/3 from Uttermost. A contrasting mixture of antiqued mirror discs embellished with alternating wedges of smooth ash veneer, each rounded metal piece is slightly ...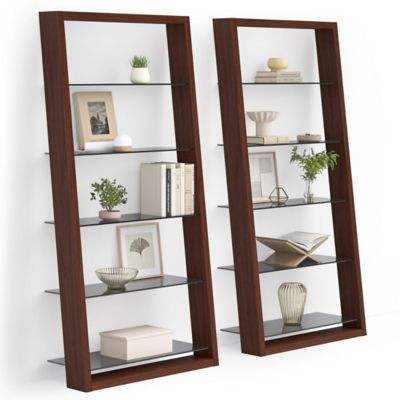 Give your favorite books and knickknacks a cool, ...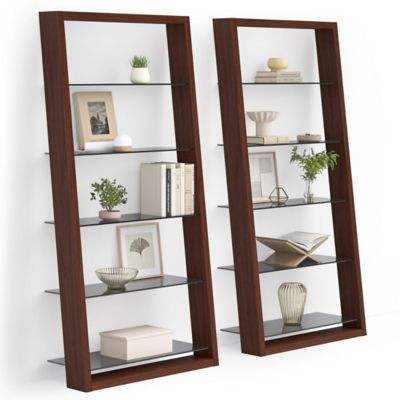 Description:
Give your favorite books and knickknacks a cool, laid-back place to hang out on the BDI Eileen Shelf. It features a precisely angled wood frame that leans securely against the wall, with five grey-tinted tempered glass shelves in increasing depths ...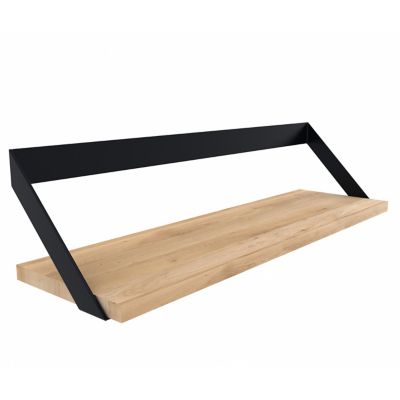 A simple design with an artistic "bow" on ...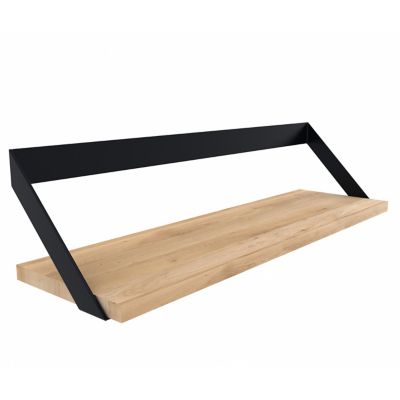 Description:
A simple design with an artistic "bow" on top, the Oak Ribbon Shelf ties in well to Studio Kaschkasch's essentialist philosophy. Instead of something as flimsy or mobile as ribbon, steel framework, in a variety of colors, suspends the dense ...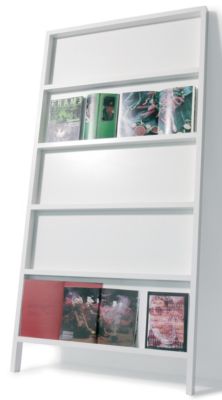 The Moooi Oblique Leaning Shelf allows you to ...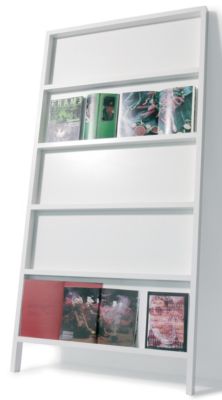 Description:
The Moooi Oblique Leaning Shelf allows you to display your favorite publications, company magazines, booklets, guides or photos in the chicest way possible. It's the mood board of your lifestyle. Made of solid oak and MDF; available in Black Stained ...