Cat ID : 583
Why We Love Modern TV Stands
Modern television stands offer sleek styling and thoughtful details that make these furnishings even more useful around the home. The many styles and finish colors make for lots of stunning upgrade possibilities to the places where you like to relax around the home. Modern TV stands enhance the look of these areas while also adding a helpful element of organization. These pieces allow you to keep unsightly cords tucked away and needed accessories always at arm's reach. Most modern home theater furniture also includes a place to safely stow your movies and other media items without cluttering up the surrounding spaces.
Where Entertainment Centers & TV Mounts Work Best
Wherever you like to relax and watch television or movies in your home, you can bet a piece of modern home theater furniture will enhance the experience. Create a sanctuary of relaxation in your family room, keeping the area free from tangled cords and visible media equipment and electronics. Consider adding modern TV stands to the den or finished basement as well, organizing your media related items for optimal enjoyment. Your personal home theater deserves a robust media entertainment center to accommodate all of that glorious technology, and even your bedroom suite could be a bit more organized with a suitable tv stand.
An Entertainment Center For Every Style
No matter if you prefer something grand or more understated beauty, you can find just the right piece of furniture to suit your entertainment needs. Modern TV stands have come a long way since decades past, with sophisticated pieces suitable for any style of home décor. Spacious choices by IonDesign embrace versatility, offering a selection of styles boasting drawers, doors and cubbies for creative storage opportunities. Lovely dual-tone finishes and slatted textures bedeck designs by BDI Furniture, giving plenty of storage space amid true sophistication. Gorgeous wood tones and sturdy designs set off Copeland Furniture's selection of modern home theater furniture.
Choosing The Best TV Stands
When it's time to shop for modern TV stands, it helps to know exactly where you would like to set up your media center. Existing furniture and home décor can easily coordinate with a new piece of home theater furniture as long as you consider finish color, size and dimensions prior to making your purchase. Take some measurements to ensure your new piece fits the available space and map out which pieces of equipment and what accessories will go where in the cabinet, ensuring you'll choose a unit that has enough space. View the extensive selection of modern TV stands to find the one that best fits your needs and design preferences. If you have any questions about the entertainment centers and TV stands featured here, please call our furniture experts at 877.445.4486.
Other Considerations
If you like the way modern TV stands can improve the flow of your home, you may also appreciate similar furniture choices for other rooms of the house. Consider contemporary credenzas as another way to keep your home office and media room organized. Other versatile storage furniture pieces can also benefit the look and feel of your favorite spaces, keeping clutter to a minimum and relaxation and entertainment to the maximum. Finally, consider other furniture pieces like accent tables to pair with your new TV stand to create well-rounded space.
Related Products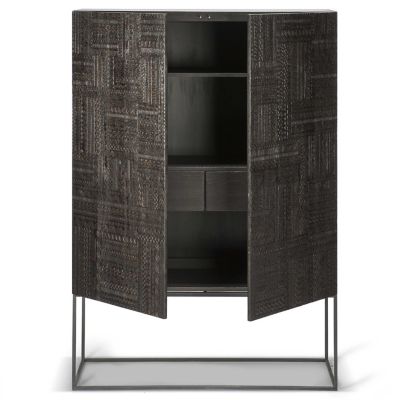 Inspired by the Central African Tabwa culture, the ...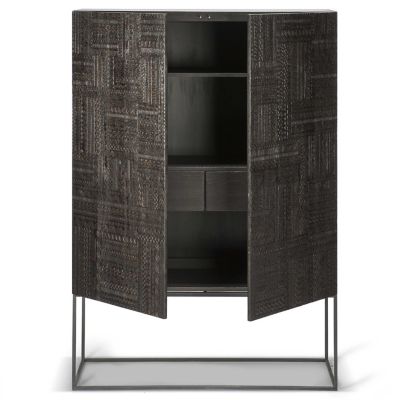 Description:
Inspired by the Central African Tabwa culture, the Ancestors Tabwa Storage Cupboard by Ethnicraft takes influence from their love for straight, geometrical concepts. Crafted out of teak wood and painted in an oak veneer, the doors of the storage cupboard ...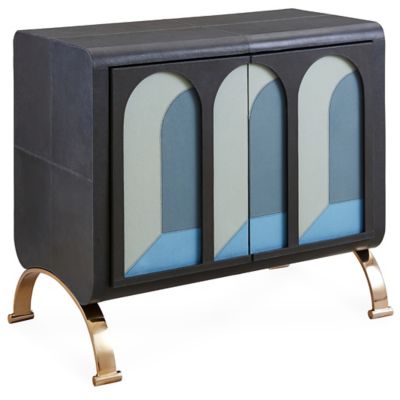 Stay organized with Arcade Cabinet by Jonathan Alder. ...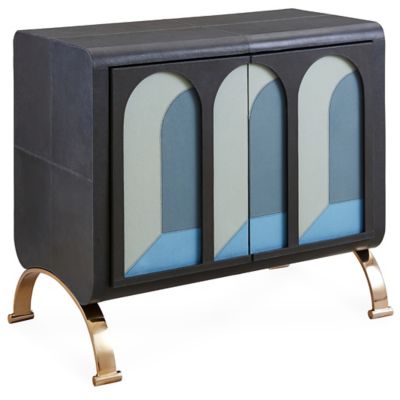 Description:
Stay organized with Arcade Cabinet by Jonathan Alder. This decorative piece of furniture boasts lovely topstitched leather that is accented by an arching panel design that is neatly displayed. Dual looping brass legs give this piece the support needed to ...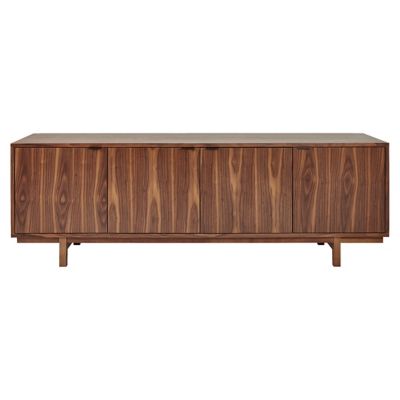 The Gus Modern Belmont Credenza has a simple ...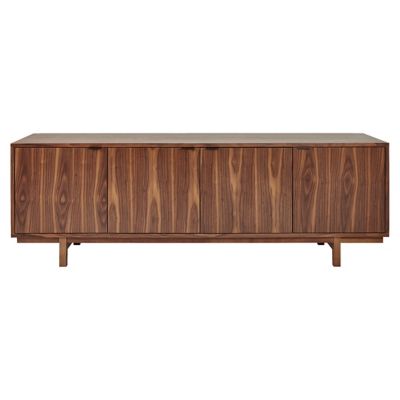 Description:
The Gus Modern Belmont Credenza has a simple architecturally inspired design featuring the natural beauty of fine wood. Inside are three storage compartments, each with an adjustable shelf for adaptable storage space. Black metal door pulls contrast against the wood ...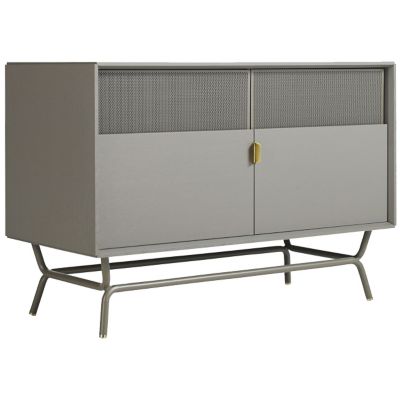 The Blu Dot Dang Media Stand is no ...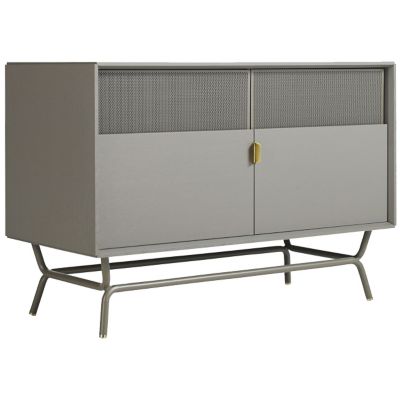 Description:
The Blu Dot Dang Media Stand is no cause for frustration--on the contrary, its perforated doors allow the use of remotes without having to keep the doors open, avoiding annoying visual obstructions. Bright brass handles bring a bit of bling ...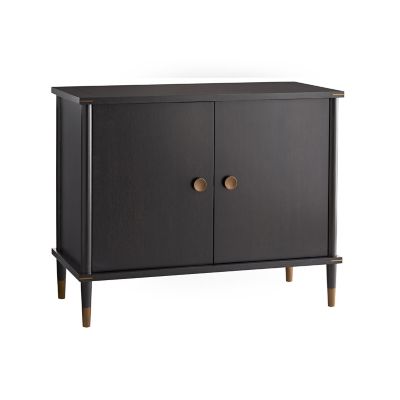 Add stylish storage to your indoor living areas ...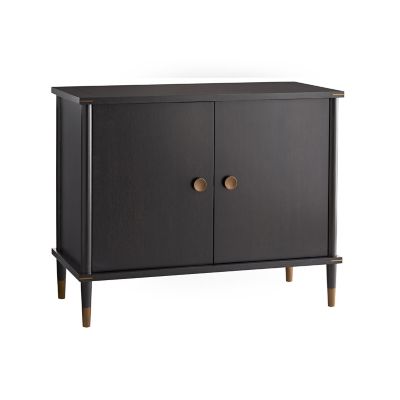 Description:
Add stylish storage to your indoor living areas or foyer spaces with the sleek, appealing lines of the Jobe Cabinet from Arteriors. A rectangular assembly of smooth-grained oak balanced atop bronze-shod, telescoping legs, it uses subdued circular pulls to open ...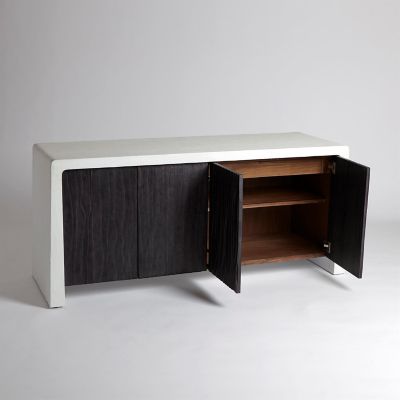 Designed as a tribute to the late Karl ...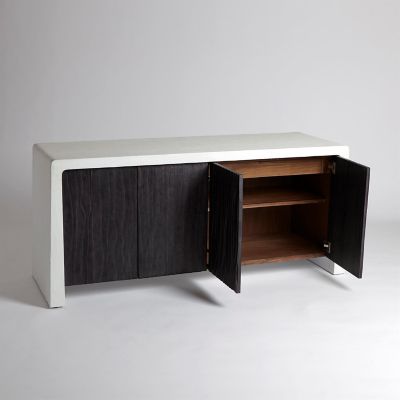 Description:
Designed as a tribute to the late Karl Storms, the Karl Cabinet from Global Views visualizes the revered man's hard exterior and soft, true nature. Simple is a key aspect of Storm's character, and one shared in this minimalist piece. ...