Learn More About Mid-Century Modern
Mid-Century Modern at Lumens
In the mid-twentieth century, the design world changed forever. Fueled by advancements in mass production and innovative new materials (think plastics and molded plywood), designers began to radically experiment with shape, color and function to create some of the most iconic designs we now know today. Here you will discover a wide variety of mid-century modern and retro themed lighting, lamps, ceiling fans and furniture.
Why We Love Mid-Century Modern Designs
Iconic mid-century designers like George Nelson and Arne Jacobsen incorporated intense colors, organic silhouettes, seductive curves and bold geometric shapes in their pieces, which continue to remain highly sought after by mid-century enthusiasts. And even today, lighting designers continue to include many mid-century elements, both funky and highly ingenious. In the collection pendants and chandeliers found here, you'll see influences from the 1950s. Table lamps and highly decorative floor lamps also feature that retro-inspired touch. The assortment of mid-century furniture includes well-known lounge chair and dining chair designs, sofas and sectionals with throwback appeal and accent and coffee tables. Finally, you'll find plenty of mid-century modern ceiling fans to help round out the look of your home.
Where Mid-Century & Retro Designs Work Best
On the ceiling, Sputnik styled pendants, chandeliers and flushmounts are without a doubt representative of mid-century design. This classic Sputnik choice was prevalent in many homes of the 1950s and brings an exceptional amount of character in the recreations found here. Pair your retro ceiling lights with equally stylish wall lamps and sconces. The unique shapes and inclusion of brass features make these wall lights the perfect fit in living rooms, dining rooms and bedrooms. And what is a living room without mid-century modern furniture? And look to retro furnishings for just the right amount of accenting implements. Mid-century modern isn't exclusively an indoor theme, have fun matching mid-century modern outdoor lighting and mid-century modern outdoor furniture.
Iconic Mid-Century Modern Designers
You can't speak to the mid-century aesthetic without considering the late and great George Nelson. His collection of iconic clocks (now made available via Vitra) make him a true master of mid-century design. And of course, George Nelson Bubble Lamps are must-have for any well-designed mid-century modern space. Jonathan Adler excels at retro-inspired lighting fixtures with several product families that look like they are straight from the 1950s. Louis Poulsen features lighting collections from mid-century greats Poul Henningsen and Arne Jacobsen, and look to FLOS for an iconic portable lamp like the Arco Floor Lamp.
How to Choose the Best Mid-Century Modern Designs
Whether you are in the market for a retro-inspired table lamp or a mid-century bench to occupy your dining room, there are a lot of options to consider. First, begin your search by identifying exactly what your rooms need. From portable lighting to accent furniture and decorative accessories used to round out the look of your home, you'll find every mid-century piece you need. Size is another important consideration, especially when choosing furniture items like sofas, lounge chairs and coffee tables. Be sure to measure for height, width and depth to choose the best furniture piece for your situation. Lastly, try to incorporate colors and finishes that will work with the existing decor of your home. Or, opt for a vibrant splash of personality with striking colors meant to stand out among neutral hues. If you have any questions about the mid-century modern offering featured here, please call our design experts at 877.445.4486.
Other Considerations
Gus Modern is almost a household name for mid-century styled sofas, sectionals and chairs. Be sure to browse the Gus assortment for well-designed contemporary furniture pieces your home will appreciate. And for another highly preferred interior decorating style, check out the selection of Scandinavian designs. Similar to this collection of mid-century and retro designs, you'll find everything from lighting to furniture to unique accessories, all with that special Nordic touch.
Related Products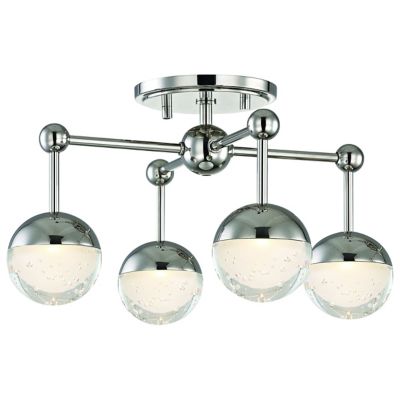 The Hudson Valley Boca LED Semi-Flushmount is a ...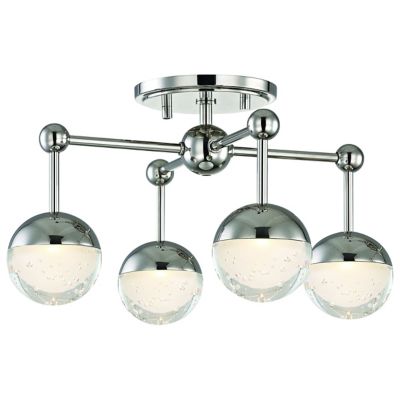 Description:
The Hudson Valley Boca LED Semi-Flushmount is a futuristic piece featuring orbs of glass suspended with a minimal frame. Inside each glass shade is a modern LED light source, illuminating the space with an energy efficient alternative to traditional bulbs. ...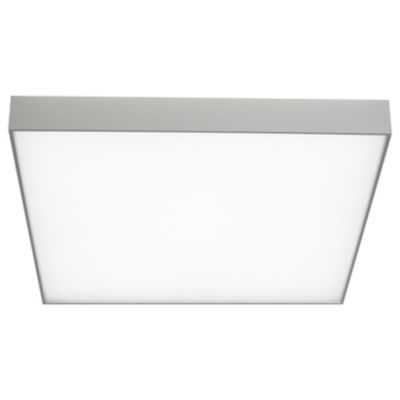 Give your home or office that updated contemporary ...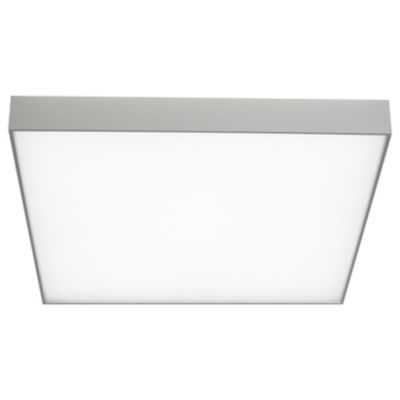 Description:
Give your home or office that updated contemporary look with the Cadan LED Flushmount by Bruck Lighting. Its square-shaped design features an Aluminum body (finished in Matte Chrome) and an Opal polyurethane shade. An integrated LED light source shines from ...
Evoking the personality of mid-century modern design, the ...
Description:
Evoking the personality of mid-century modern design, the Clevo LED Semi-Flushmount by Elan Lighting is a striking addition to home decor. Inspired by wire sculptures, this artful fixture features a metal dome-shaped shade that curves downward over a satin etched ...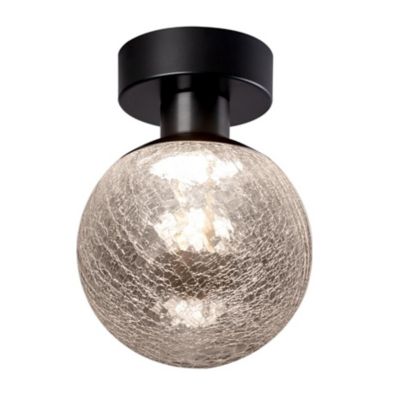 Bring an uplifting and clean silhouette to your ...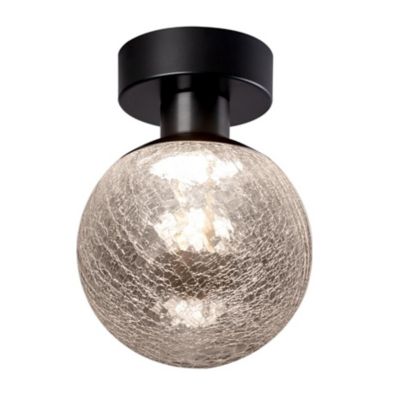 Description:
Bring an uplifting and clean silhouette to your home with the Essence LED Semi-Flushmount from PageOne Lighting. Providing a sense of elegant charm and familiar sensibility, this piece consists of smooth aluminum and steel and a rounded base that connects ...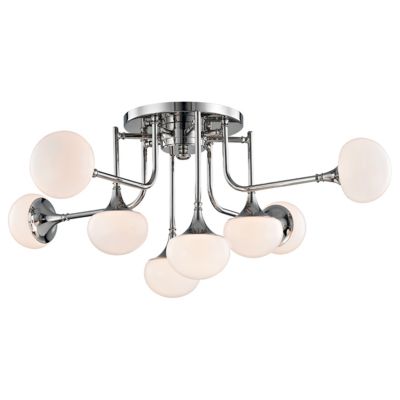 The Fleming LED Semi-Flushmount by Hudson Valley Lighting ...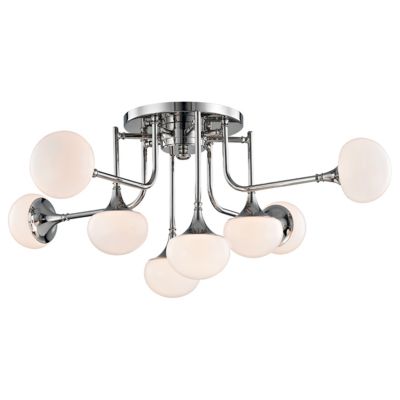 Description:
The Fleming LED Semi-Flushmount by Hudson Valley Lighting features a stunning assortment of Opal Glossy glass shades supported by an intricate, multifaceted frame. Each luminaire has a unique orientation with respect to the canopy, collectively producing a widespread ambiance that ...
An innovative sense of motion. The Hoopla LED ...
Description:
An innovative sense of motion. The Hoopla LED Semi-Flushmount by ET2 sports multiple rings arranged like hula hoops suspended at a frozen moment in time. Lighting is integrated seamlessly into this artful fixture design, featuring LEDs around the interior surface ...