Entryway & Foyer Furnishings
Why We Love Entryway & Foyer Furnishings
Entryways and foyers can elicit lasting impressions of a person's home. Some homes have luxurious chandeliers, while others have a simple, elegant rug guiding your way inside. Few, however, remember the essential utility of an entryway or foyer. Though the setting may be beautiful, if there is no place to hang your coat or put your umbrella, your guests could end up feeling the exact opposite of welcome, no matter how brilliantly that chandelier might shine.
With a selection of well-designed and well-placed accents, you can create that welcoming environment the entryway or foyer of your home begs for. Simple additions like a coat rack by the front door or an slim accent table to toss your keys on all play a role in the design of the space. You'll also happily welcome the helpful, utilitarian role these home furnishings add to the space too. The entryway is your first impression on guests of your home, so why not leave them feeling undoubtedly welcomed with a handful of modern accents?
Where Entryway & Foyer Decor Work Best
As the first impression to the layout and design of your home, you need to ensure your accent pieces are place appropriately in the entryway or foyer. This may seem obvious, but people don't like to socialize with full pockets weighing them down. With accent tables placed near the entryway, your guests will be able to unload their keys, wallet, cell phones and finally be able to focus on your wonderful home and pleasant hospitality. Entryway and foyer mirrors are also a good idea to have in the entry area when you're expecting company. Everyone wants to look their best, and a well-placed mirror would offer visitors that precious last look. Umbrella stands add an accenting touch while also reminding you to be prepared on a rainy day. Last, but certainly not least, you can dress up your bare floors with a modern rug or floor covering.
Foyer Furnishings for Every Style
Depending on the layout and aesthetic of your entryway, your selection of accent furnishings will differ. In colorful foyer areas, you'll appreciate a popping floor covering from Chilewich. These vibrant rugs not only offer a healthy amount of color for the space, they also help ensure your floors stay clean and covered. Blu Dot offers a wide selection of slim console tables that can be placed near the front door and you'll also find plenty of round tables for larger foyers. Kartell brings modern reflection to the entryway with an assortment of mirrors and look to Blomus if you love the contemporary nature of stainless steel accents.
Choosing the Best Entryway & Foyer Furnishings
Once you have determined the style of furnishings you would like for your entry or foyer area, you then need to find the appropriate sizes. For mirrors, rugs, tables and almost any accent piece you plan to place in this room, you need to review important sizing dimensions like height, width, length and weight. Once you have a thorough understanding the sizes you need, you can then refine all of your home furnishings options by color, materials (especially for any floor coverings), finishes and other important design aspects. If you have any questions about the entryway and foyer furnishings featured here, please call our home decor experts at 877.445.4486.
Other Considerations
To fully dress up your entry's appearance, you'll need to take a look at the variety of foyer lighting available. A decorative light fixture also speaks to your home's aesthetic and a well-designed chandelier, pendant or even a pair of wall sconces are necessary pieces to tying the space together. Finally, consider browsing the complete selection of modern home furnishings to find even more options to decorate your home with.
Related Products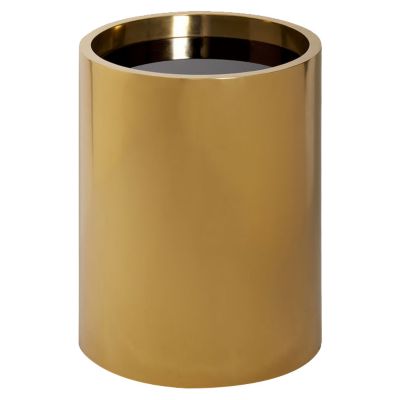 An eye-catching accent table for the Modern Minimalist. ...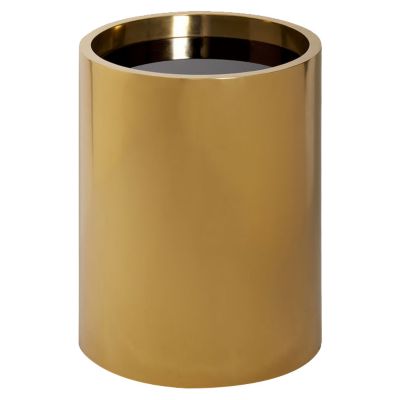 Description:
An eye-catching accent table for the Modern Minimalist. The Jonathan Adler Alphaville Accent Table has a distinctly unique design with its sleek, circular shape. Choose between a solid polished stainless steel base with smoke mirror top or solid honed brass ...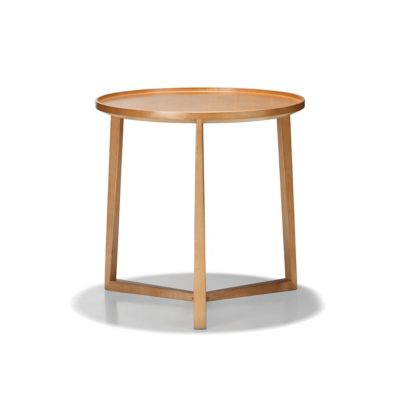 A harmonious blend of modern design and timeless ...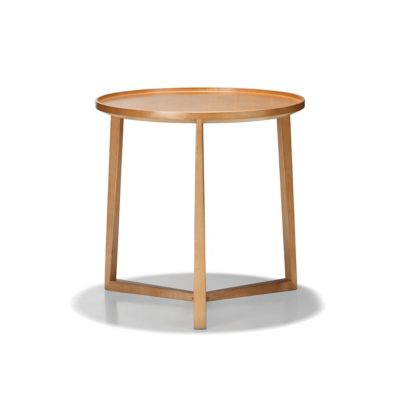 Description:
A harmonious blend of modern design and timeless carpentry. Versatile and practical, the Curio Large Occasional Table by Bernhardt Design proves to be a worthy addition to your interior setting. It boasts a round-rimmed top resting on tapering legs with ...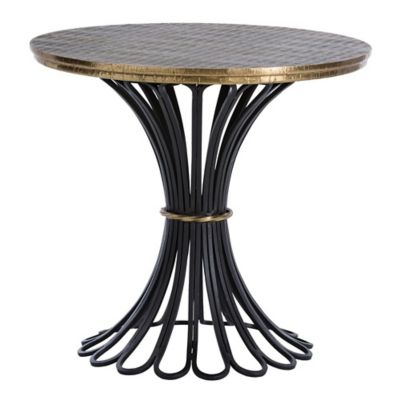 Give your home a touch of visual drama ...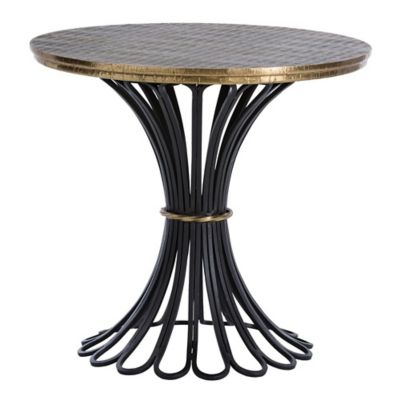 Description:
Give your home a touch of visual drama with the Draco End Table from Arteriors. This stunning piece presents an intricate design consisting of slender hand-forged iron bars looping together to form a structural base. Flaring gently, the base is ...
An artful but approachable style. Embracing genuine American ...
Description:
An artful but approachable style. Embracing genuine American craftsmanship in a mid-century minimalist style, Copeland's Essentials Round End Table lends character to your chair side. Using recovered Hardwood pieces in various lengths and colorations, the design showcases a beautiful checkered ...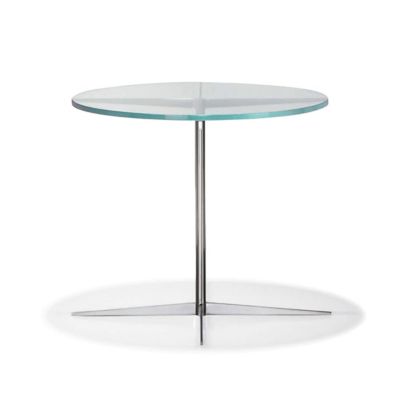 A beguiling balance of minimalism and modernism. The ...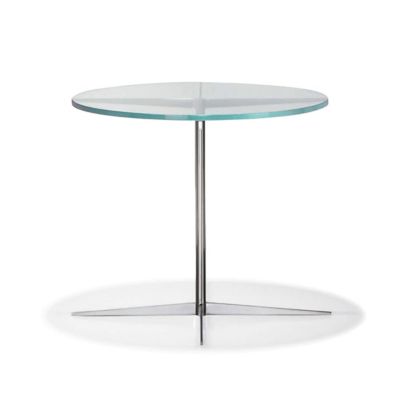 Description:
A beguiling balance of minimalism and modernism. The Facet Large Round Occasional Table by Bernhardt Design enlivens living spaces with its subtle drama. It features a half-inch thick starfire glass top that sits on a polished stainless steel frame with ...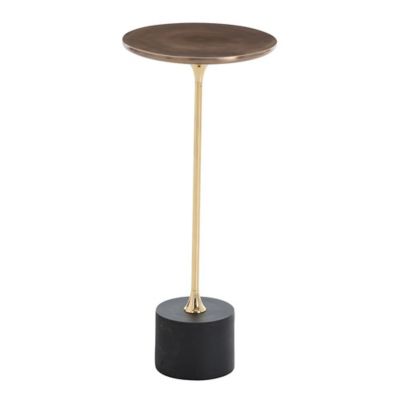 Punctuate home decor with the Fitz Side Table ...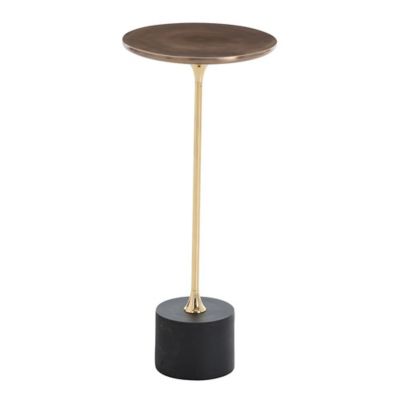 Description:
Punctuate home decor with the Fitz Side Table from Arteriors. Inspired by mid-century modern designs, this table offers a chic and functional resting place for items and drinks. Its circular brass top is supported by a slender pole that descends ...