Cat ID : 272
Refine Your Results By:
Filter
Learn More About Table Centerpieces
Why We Love Table Centerpieces
A centerpiece placed in the middle of the dining table has the ability to bring the space together. When accompanied by dinnerware, place settings and well-chosen placemats, the table centerpiece acts as the binding element of your decor. For casual dinners, weddings and more formal occasions, a modern centerpiece puts your sense of style on display. Centerpieces can be more than decorative as well, holding food items like fruit, vegetables or desserts. Center the personality of your dining room with one of these well-crafted designs.
Where Dining Centerpieces Work Best
A dining table centerpiece is welcome for almost any occasion. Whether you are entertaining during formal dinner parties or having a quiet meal by yourself, you'll be sure to appreciate the stylish impact these bring to the table. Dining rooms benefit the most from a centerpiece, however, you'll also find these gracing the surface of the kitchen table. And if you have an entryway table greeting your home's guest, make a great first impression with one of these bowls or centerpieces. Finally, consider a centerpiece or decorative bowl for a less formal table such as a coffee table or end tables.
A Centerpiece for Every Style
As a primarily decorative item you'll introduce to your dining table's mix of accessories, you'll want to choose something that successfully blends into your preferred aesthetic. Rooms needing a pop of color will appreciate any of Alessi's centerpieces. Colorful creations from the Italian Design Factory introduce an eye-catching element to any table they are placed on. Complement any stainless steel features in your rooms with table accents by Blomus. Brass bowls from the Tom Dixon collection work well on coffee tables and accent tables. And look to Bend Goods for a wire bowl or basket you can use as a centerpiece on any tabletop.
Choosing the Best Centerpiece
When searching for a centerpiece or any tabletop accessories, you'll first need to determine the purpose of the item you're choosing. Is it simply for decoration? Or does it need to be able to hold food, floral arrangements, etc.? You may also want to decide what occasion you are entertaining to. Holiday centerpieces will be vastly different than a wedding centerpiece and will require careful consideration of what you choose. Find colors or patterns that bring out the character of the space and look to the product families these centerpieces are part of to find similar items you can refresh your table with. If you have any questions about the table centerpieces featured here, please call our home decor experts at 877.445.4486.
Other Considerations
Before you can dress up a table, you may need a new modern dining table. The selection of dining tables suit small spaces like quaint kitchens and breakfast nooks, as well as larger rooms like the formal dining room. From petite round tables to rectangular extension tables, you'll find just what you need for your entertaining occasion. Consider the assortment of dinnerware for salad bowls, appetizer plates and main entree plates to serve your guests with. And look to the bar accessories category to get everything you need for after-dinner drinks.
Related Products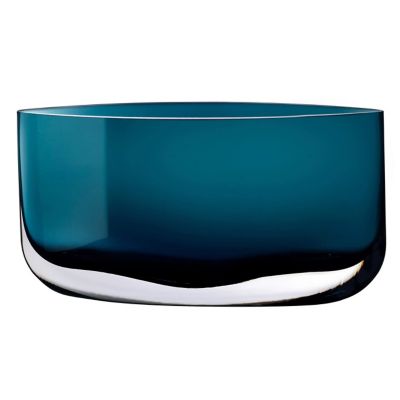 Created by the Nude Design Team and master ...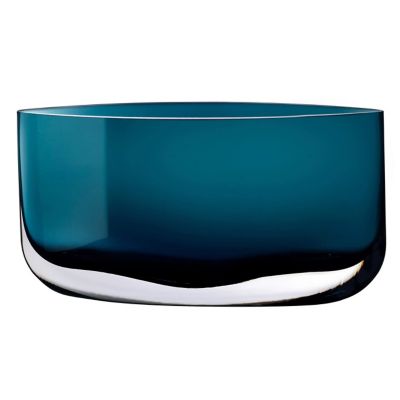 Description:
Created by the Nude Design Team and master artisans in Turkey, the Nude Blade Wide Vase offers an artful take on the traditional vase, accentuating the stems of your flowers with the unmatched clarity of lead-free crystal. With the principle ...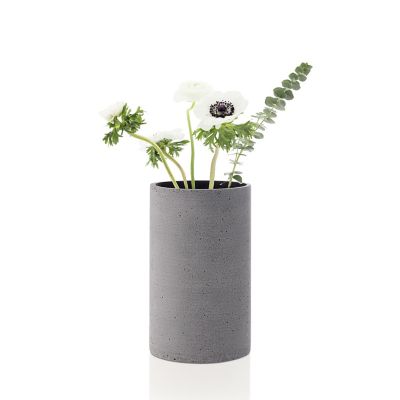 The minimalist form of the Coluna Vase from ...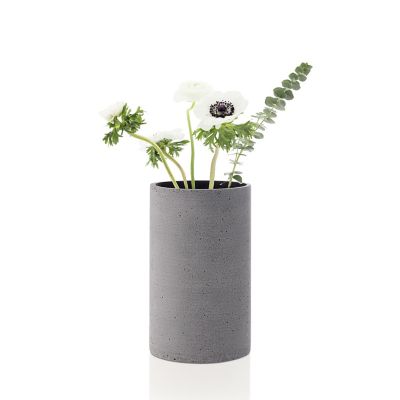 Description:
The minimalist form of the Coluna Vase from Blomus makes it an ideal contrast to colorful and elaborate floral arrangements. Whether complementing a single stem or a larger bouquet of flowers, this subtle piece can grace a sideboard, console table ...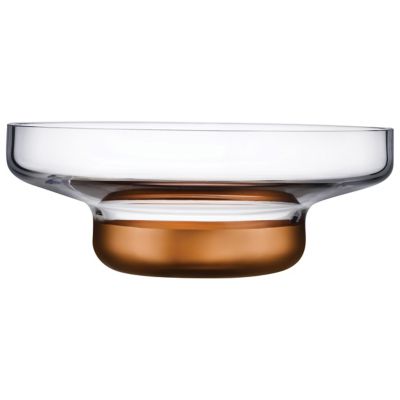 Slim and chic with the uncanny ability to ...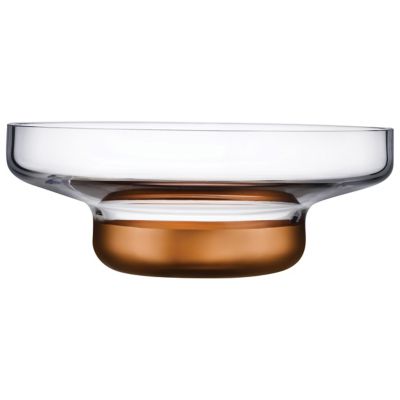 Description:
Slim and chic with the uncanny ability to stand out in its application space, the Contour Copper Centerpiece Bowl by Nude Glass brings minimalistic and rustic design aesthetics to the iconic yet humble interior décor piece. While the slimmed-down base ...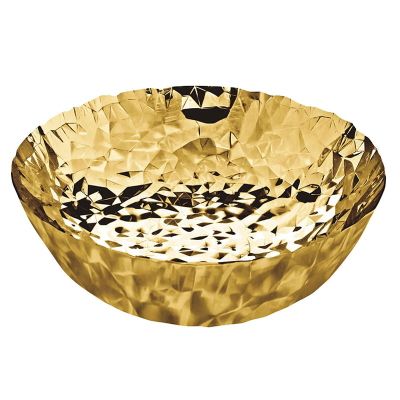 The many facets of the Alessi Joy N. ...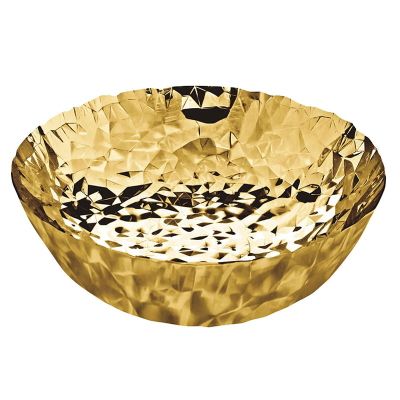 Description:
The many facets of the Alessi Joy N. 11 Gold Basket give it a reflective quality reminiscent of precious metals. In this case, the precious metal is real: 24 carat gold plating hand-applied over the entire stainless steel surface. The ...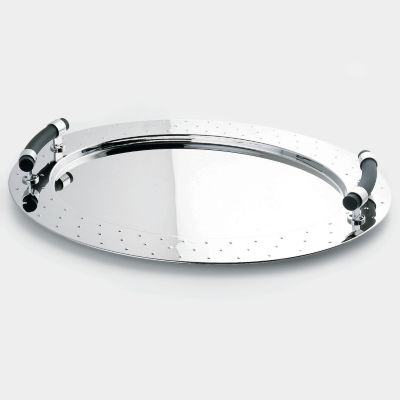 Dotted decorations and curved Black PA handles grant ...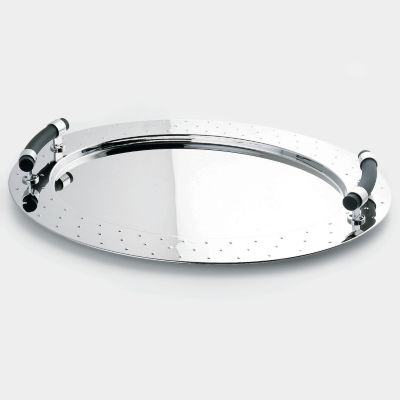 Description:
Dotted decorations and curved Black PA handles grant a sense of playfulness to the elegant Alessi Michael Graves Oval Tray with Handles. Designed as part of the popular Kettle with Bird Whistle family, this large oval serving tray is made ...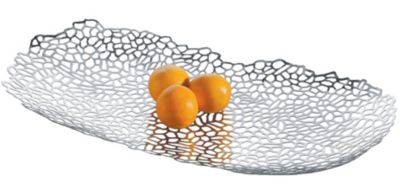 Inspired by memories of his mother crocheting, Guido ...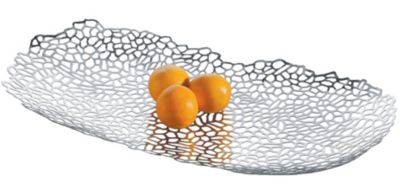 Description:
Inspired by memories of his mother crocheting, Guido Venturini designed the lacy Alessi Opus Centrepiece. It is a large piece made out of a single sheet of steel, with every perforation cut out by a laser. The intricacy of the ...