Key Features
The Fanimation Fans Levon DC Outdoor Ceiling Fan has a majestic widespread design made specifically for outdoor use. Its 8 blades have an encompassing 63" sweep that operate on 6 forward and reverse speeds, giving the right amount of airflow for any temperature. The DC Outdoor Ceiling Fan includes an LED light source with an opal frosted glass for pleasant ambient lighting. The DC Outdoor Ceiling Fan can accommodate a ceiling slope up to 30 degrees (without slope adapter.)
Back in 1984, Tom Frampton founded Fanimation in his garage in Pasadena, CA, with three ceiling fans. Today, based in Indianapolis, IN, Fanimation currently offers a range of more than 60 ceiling fans, table fans and floor fans. All employ the latest motor technology on the inside and distinctive designs, blade shapes and materials on the outside.
The Levon DC Ceiling Fan is available with the following:
Details:
Can be installed in covered, outdoor locations
Ceiling slope to 30 degrees (42 with Slope Ceiling Hanger Ball)
TR39 remote control included
Optional controls sold seperately
Longer downrod lengths available (sold separately)
Material: Metal
Number of Blades: 8
Blade Pitch: 14 degrees
Motor Type: DC
Motor Size: DC165M
Fan Speeds Forward/Reverse: 6
Control Included: Handheld
Reverse switch on Control
Energy Star Qualified
Installation Type: Standard/With Downrod
UL Listed Damp
Warranty: Limited Lifetime
Made In China
Options:
Fan Blade Finish: Black, Brushed Nickel, Natural, Weathered Wood, Washed Pine, Dark Walnut, Cherry, Matte White, White Washed
Fan Body Finish: Black, Brushed Nickel, Dark Bronze, Matte Greige, Galvanized, Matte White
Fan Blade Span (inches): 52, 64, 72
Light Kit: Yes, No
Lighting:
Yes Option: 18 Watt (1400 Lumens) 120 Volt Integrated LED
Yes Option: 18 Watt (1400 Lumens) 120 Volt Integrated LED: CRI: 90 Color Temp: 3000K
Compare Brightness:
Lumens
The amount of light that comes from a bulb, which has commonly been measured in watts. The more lumens, the brighter the bulb.
Wattage
A measurement of the power delivered to a component of an electric circuit (allowing a one-ampere current to flow through the component under the pressure of 1 volt.)
Bulb Shape
Bulb shapes are denoted with a letter, which describes the shape, and a number, which indicates the size. The number indicates the diameter of the light bulb at its widest part in eighths of an inch.
Base
The part of the bulb that connects to the fixture and its power supply. Bulb bases are denoted with the letter E, and a number which indicates the diameter of the bulb base at its widest part in millimeters.
Voltage
Indicates how much voltage a bulb can accept via the fixture it's installed in.
Light Color Temperature
The relative color from a light source, measured on the Kelvin temperature scale. Warm light is lower in color temperature (2700-3000 K) and cool, blue light is higher (5000 K).
Average Rated Life
The average amount time that a bulb is expected to last.
CRI
CRI = color rendering index. This number, which can go from 0 to 100, measures the ability of a light or bulb accurately renders colors. The higher the number, the better, with most quality bulbs these days measuring at least in the 80s.
Dimensions:
Fixture: Blade Diameter 64", Weight 26.4Lbs
Maximum Hanging: Length Adjustable From 16.27", Adjustable To 82.27"
Click for this product's energy information.
Manufacturer IDs: view
FPD7912BBN-64BN-LK FPD7912BDZ-64DWA-LK FPD7912BGZ-72DWA FPD7912BGZ-72DWA-LK FPD7912BGZ-52DWA FPD7912BGZ-52DWA-LK FPD7912BGZ-64DWA FPD7912BGZ-64DWA-LK FPD7912BBN-72DWA FPD7912BBN-72DWA-LK FPD7912BBN-52DWA FPD7912BBN-52DWA-LK FPD7912BBN-64DWA FPD7912BBN-64DWA-LK FPD7912BDZ-72DWA FPD7912BDZ-72DWA-LK FPD7912BDZ-52DWA FPD7912BDZ-52DWA-LK FPD7912BDZ-64DWA FPD7912BMW-72DWA FPD7912BMW-72DWA-LK FPD7912BMW-52DWA FPD7912BMW-52DWA-LK FPD7912BMW-64DWA FPD7912BMW-64DWA-LK FPD7912BBN-72CY FPD7912BBN-72CY-LK FPD7912BBN-52CY FPD7912BBN-52CY-LK FPD7912BBN-64CY FPD7912BBN-64CY-LK FPD7912BDZ-72CY FPD7912BDZ-72CY-LK FPD7912BDZ-52CY FPD7912BDZ-52CY-LK FPD7912BDZ-64CY FPD7912BDZ-64CY-LK FPD7912BMW-72CY FPD7912BMW-72CY-LK FPD7912BMW-52CY FPD7912BMW-52CY-LK FPD7912BMW-64CY FPD7912BMW-64CY-LK FPD7912BBN-72WP FPD7912BBN-72WP-LK FPD7912BBN-52WP FPD7912BBN-52WP-LK FPD7912BBN-64WP FPD7912BBN-64WP-LK FPD7912BMW-72WP FPD7912BMW-72WP-LK FPD7912BMW-52WP FPD7912BMW-52WP-LK FPD7912BMW-64WP FPD7912BMW-64WP-LK FPD7912BBL-72WP FPD7912BBL-72WP-LK FPD7912BBL-52WP FPD7912BBL-52WP-LK FPD7912BBL-64WP FPD7912BBL-64WP-LK FPD7912BBN-72BN FPD7912BBN-72BN-LK FPD7912BBN-52BN FPD7912BBN-52BN-LK FPD7912BBN-64BN FPD7912BBL-72BN FPD7912BBL-72BN-LK FPD7912BBL-52BN FPD7912BBL-52BN-LK FPD7912BBL-64BN FPD7912BBL-64BN-LK FPD7912BGR-72WE FPD7912BGR-72WE-LK FPD7912BGR-52WE FPD7912BGR-52WE-LK FPD7912BGR-64WE FPD7912BGR-64WE-LK FPD7912BGZ-72WE FPD7912BGZ-72WE-LK FPD7912BGZ-52WE FPD7912BGZ-52WE-LK FPD7912BGZ-64WE FPD7912BGZ-64W-LKE FPD7912BBL-72WE FPD7912BBL-72WE-LK FPD7912BBL-52WE FPD7912BBL-52WE-LK FPD7912BBL-64WE FPD7912BBL-64WE-LK FPD7912BMW-72MW FPD7912BMW-72MW-LK FPD7912BMW-52MW FPD7912BMW-52MW-LK FPD7912BMW-64MW FPD7912BMW-64MW-LK FPD7912BGZ-72BL FPD7912BGZ-72BL-LK FPD7912BGZ-52BL FPD7912BGZ-52BL-LK FPD7912BGZ-64BL FPD7912BGZ-64BL-LK FPD7912BBN-72BL FPD7912BBN-72BL-LK FPD7912BBN-52BL FPD7912BBN-52BL-LK FPD7912BBN-64BL FPD7912BBN-64BL-LK FPD7912BBL-72BL FPD7912BBL-72BL-LK FPD7912BBL-52BL FPD7912BBL-52BL-LK FPD7912BBL-64BL FPD7912BBL-64BL-LK FPD7912BGZ-72N FPD7912BGZ-72N-LK FPD7912BGZ-52N FPD7912BGZ-52N-LK FPD7912BGZ-64N FPD7912BGZ-64N-LK FPD7912BBN-72N FPD7912BBN-72N-LK FPD7912BBN-52N FPD7912BBN-52N-LK FPD7912BBN-64N FPD7912BBN-64N-LK FPD7912BMW-72N FPD7912BMW-72N-LK FPD7912BMW-52N FPD7912BMW-52N-LK FPD7912BMW-64N FPD7912BMW-64N-LK FPD7912BBL-72N FPD7912BBL-72N-LK FPD7912BBL-52N FPD7912BBL-52N-LK FPD7912BBL-64N FPD7912BBL-64N-LK FPD7912BMW-72WW FPD7912BMW-72WW-LK FPD7912BMW-52WW FPD7912BMW-52WW-LK FPD7912BMW-64WW FPD7912BMW-64WW-LK
California Residents: Prop 65 regulations
Levon DC Ceiling Fan Availability
All combinations for this product are listed below.
Related Searches and Products
Related Products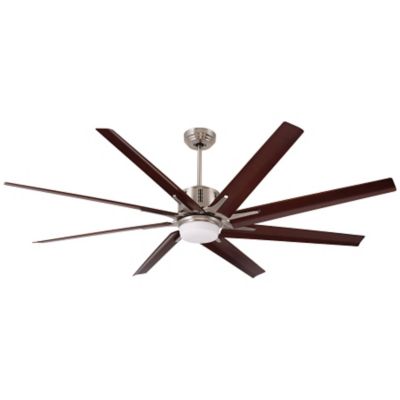 A beautiful juxtaposition of high-quality metal and wood. ...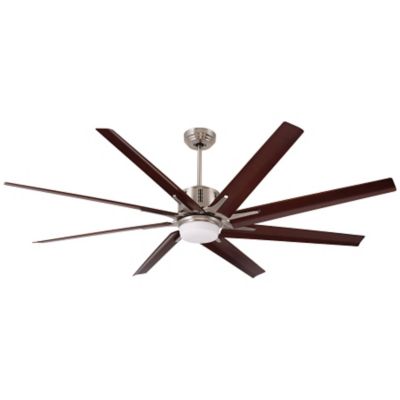 Description:
A beautiful juxtaposition of high-quality metal and wood. The Emerson Fans Aira Eco practically shimmers in your living or working space with its expansive 8-blade design and reflective metallic housing. With its 72" Walnut finished blades and Emerson's EcoMotor, this ...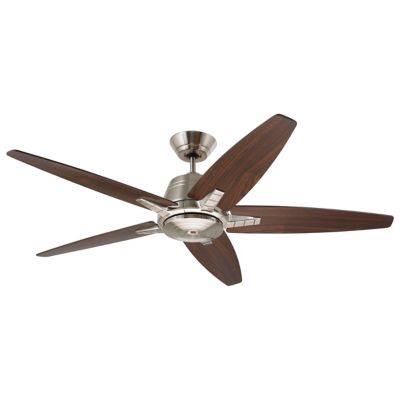 Showcasing incredible lines and impeccable build, it's no ...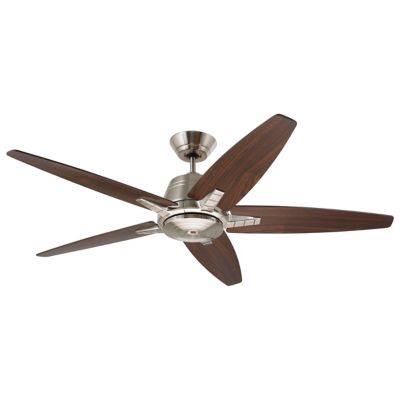 Description:
Showcasing incredible lines and impeccable build, it's no wonder this namesake exemplifies the beauty of all things geometry. The Emerson Euclid Ceiling Fan carries 5 linear blade planks that encompass a full 56" circumference. Straight-edge lines and metal accents makes ...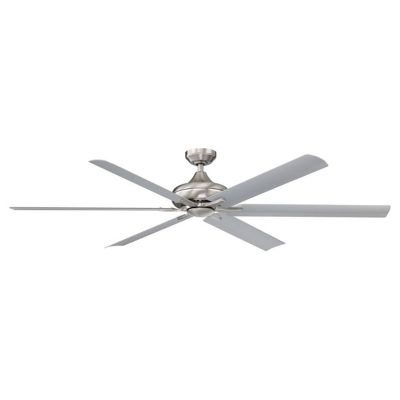 Featuring a full 70 diameter, the Wind River ...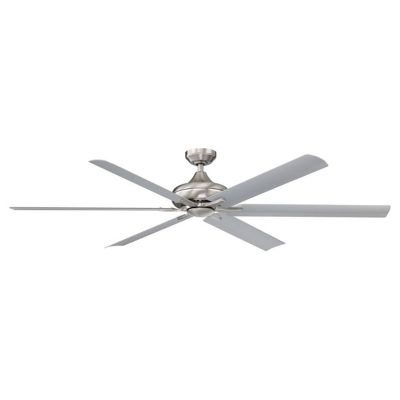 Description:
Featuring a full 70 diameter, the Wind River Exo 70" LED Ceiling Fan delivers the perfect cooling solution to warmer indoor temperatures. With corresponding and complementing metal blade finishes, this fan option offers a 6-speed DC motor for soft or ...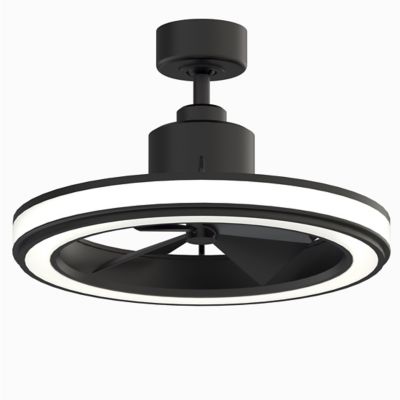 Brighten up your night with the modern stylings ...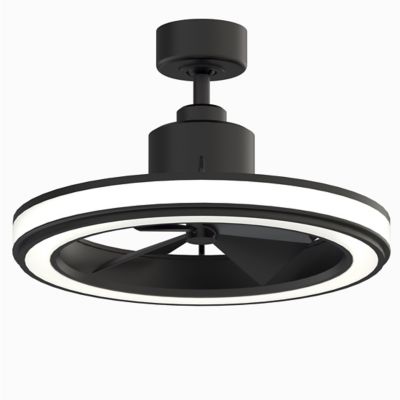 Description:
Brighten up your night with the modern stylings of the Gleam Indoor/Outdoor LED Ceiling Fan from Fanimations Fans. A short cylindrical canopy drops a small, four-bladed fan from a housing and stem arrangement. Featuring reversible blades pitched at 20 degrees, ...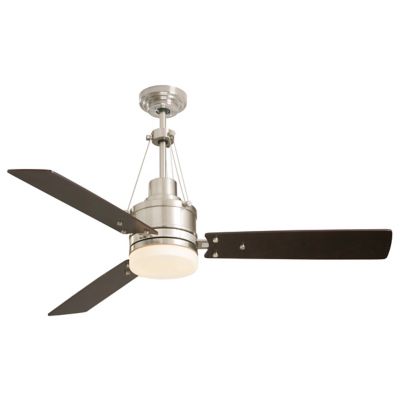 The Emerson Highpointe Ceiling Fan is a considerable ...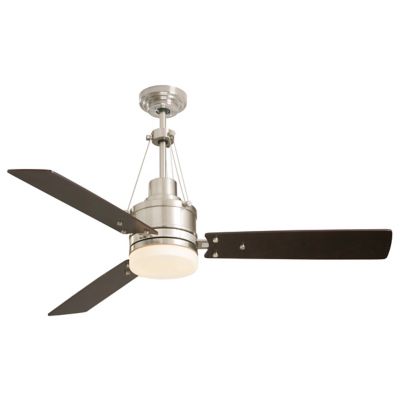 Description:
The Emerson Highpointe Ceiling Fan is a considerable industrial-style cooling system that unites ingenious function with visual sophistication and powerful air circulation. The Highpointe Ceiling Fan features three custom blades, a downlight, and removable decorative cables to accentuate its industrial ...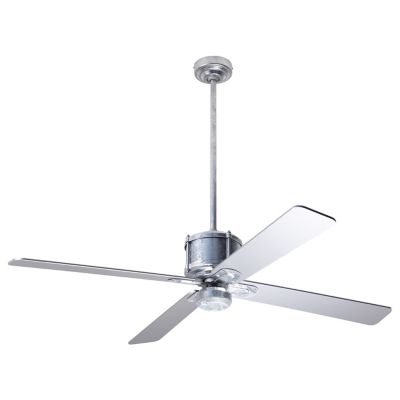 The popular modern industrial aesthetic is epitomized by ...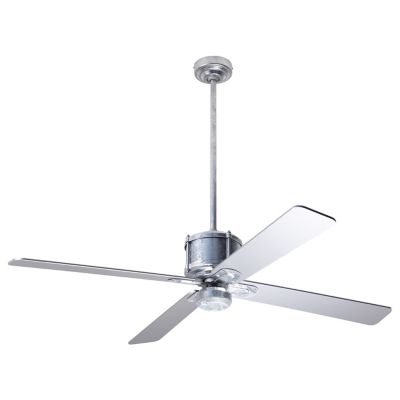 Description:
The popular modern industrial aesthetic is epitomized by the Modern Fan Industry Ceiling Fan. Its housing resembles an old fashioned milk can, with a silvery galvanized finish enhanced by a variety of blade colors. Also available with a wide range ...
YOU'RE CURRENTLY VIEWING