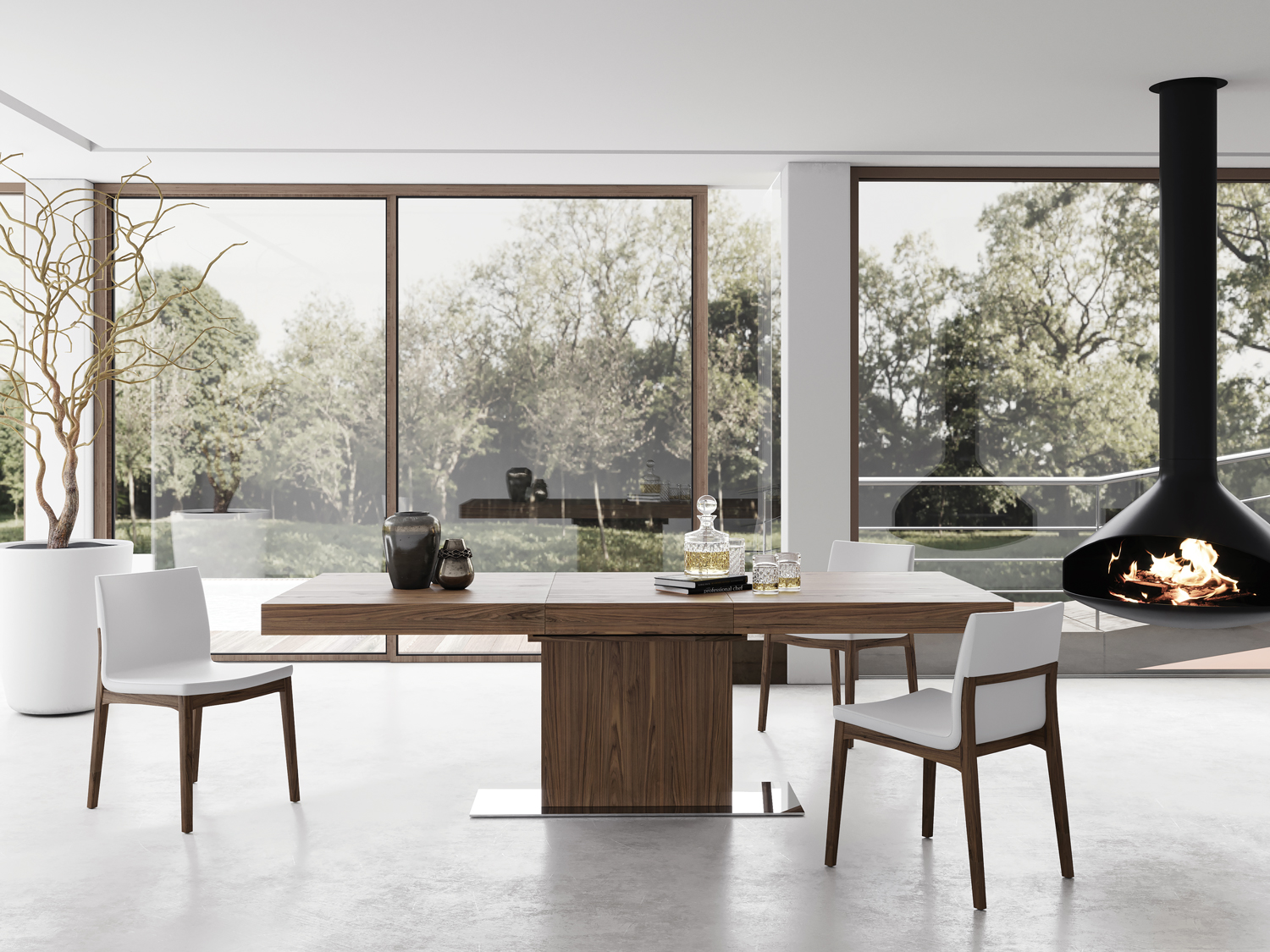 With open-concept home design becoming the norm and less traditional layouts, the dining room is not always confined to a room anymore. Luckily today's modern dining tables come in many different shapes and sizes to fit everything from a formal rectangular dining room to filling a transitional space between an open-concept kitchen and family room.
Here is a guide on how to choose a dining table based on the space it is going in as well as shape, size and more.
First, Assess the Space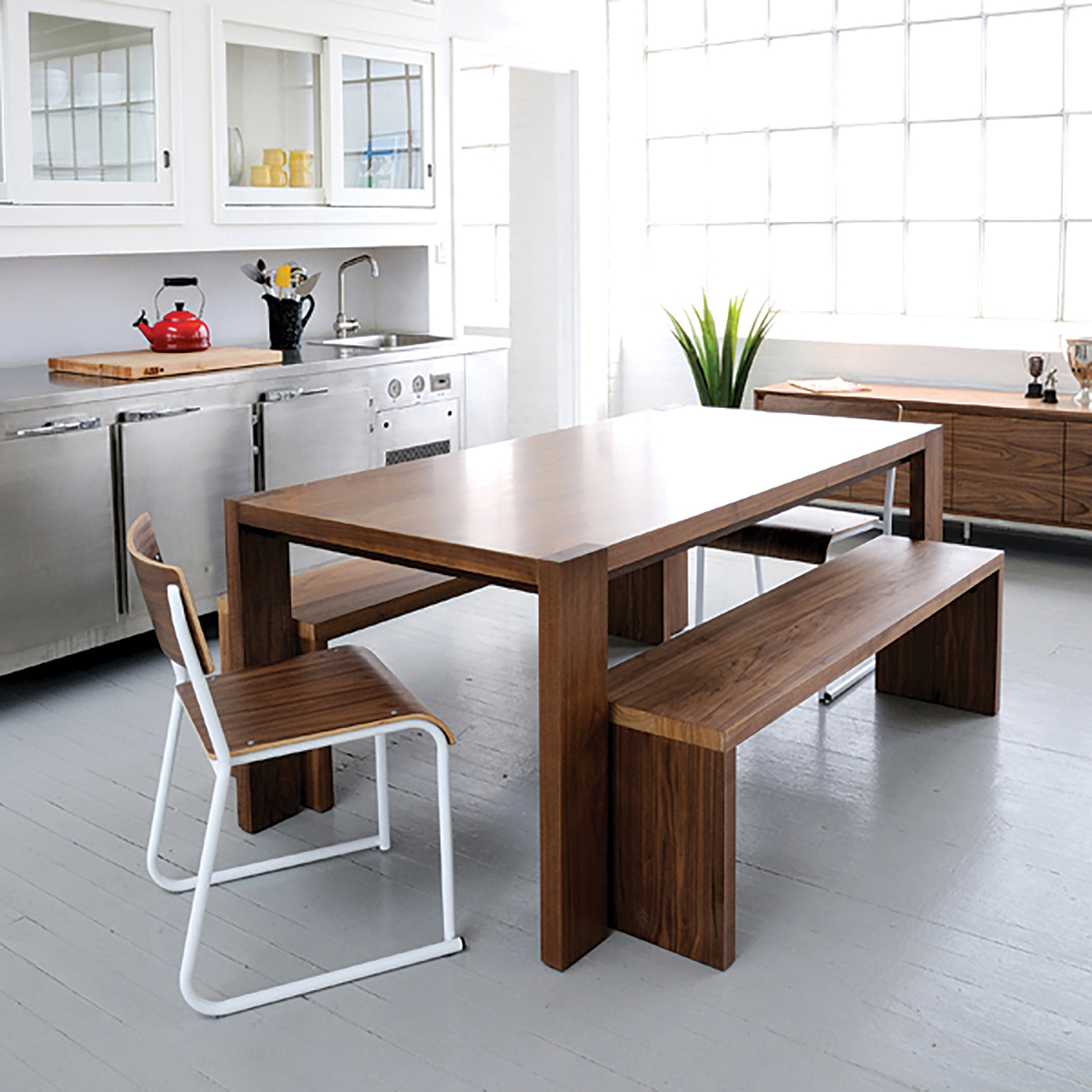 Take a look at the space. Is this a formal dining room for hosting dinner parties and during the holidays, or will this be an everyday setting for homework, crafts, and most meals? Less formal tables are often more durable while a formal table will require more upkeep. This often comes down to materials.
Dining Table Materials
Wood tables offer the warmth and comfort for daily use and won't show regular wear and fingerprints easily. Similarly, concrete, bamboo and some stone finishes are hardy without skimping on style.
Opting for higher maintenance pieces that will be used less often, look at sleek modern materials such as glass, polished marble and composite materials with interesting finishes.
Select Your Style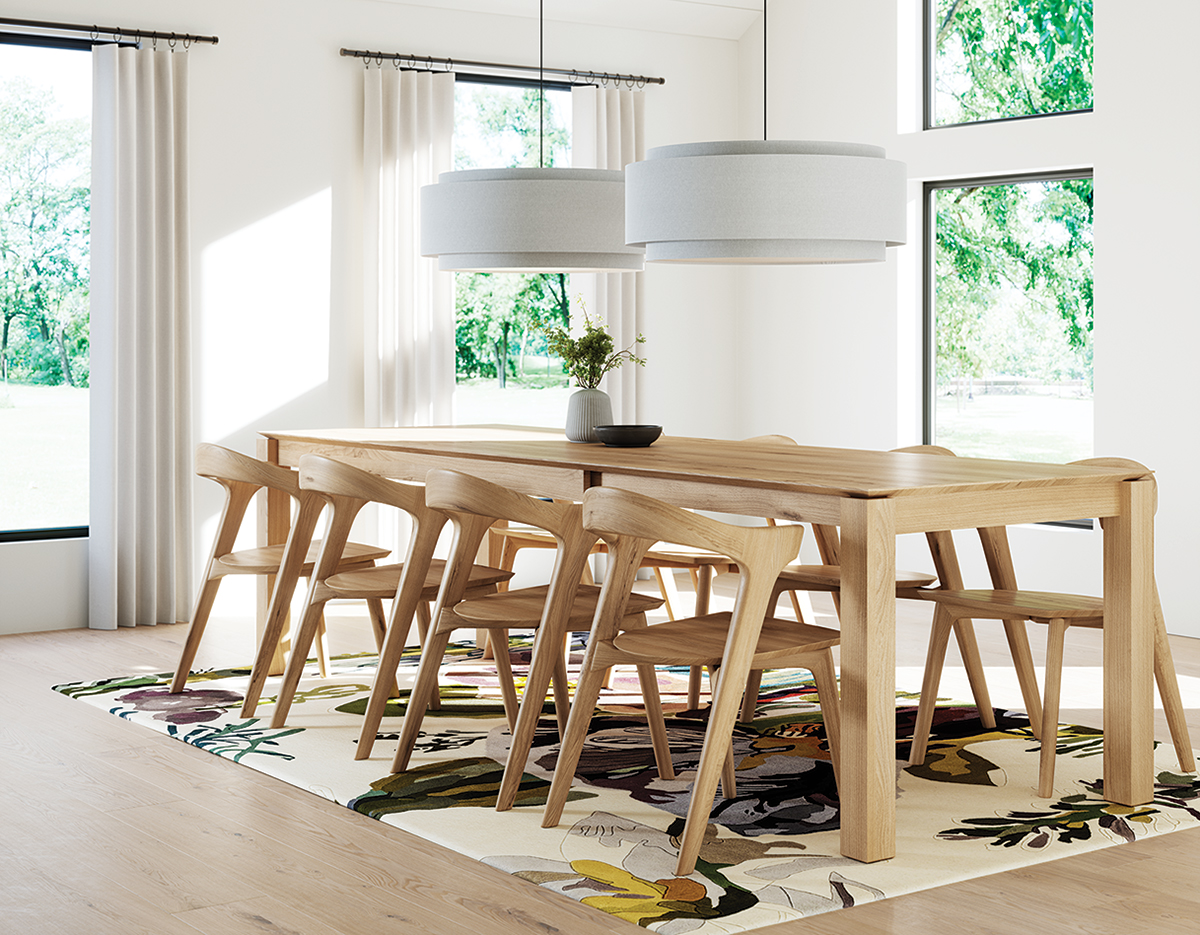 Choosing a Dining Table Shape
The four most common shapes for dining tables are rectangular, square, round and oval. Here is a breakdown of each.
Rectangular Dining Tables
The most common table shape, rectangular dining tables are great because they can seat many guests for large-scale entertaining. Their linear shape also allows for ample room to walk around the table. Ideally, rectangular tables should be 36 to 42 inches across to ensure enough room for place settings on both sides of the table. Keep in mind that a long table can be too big for tight spaces, especially once you factor in seating, but that doesn't mean you can't make it work. Simply use long benches instead of chairs, which allow you to push them under the table when not in use to create more space. 
Square Dining Tables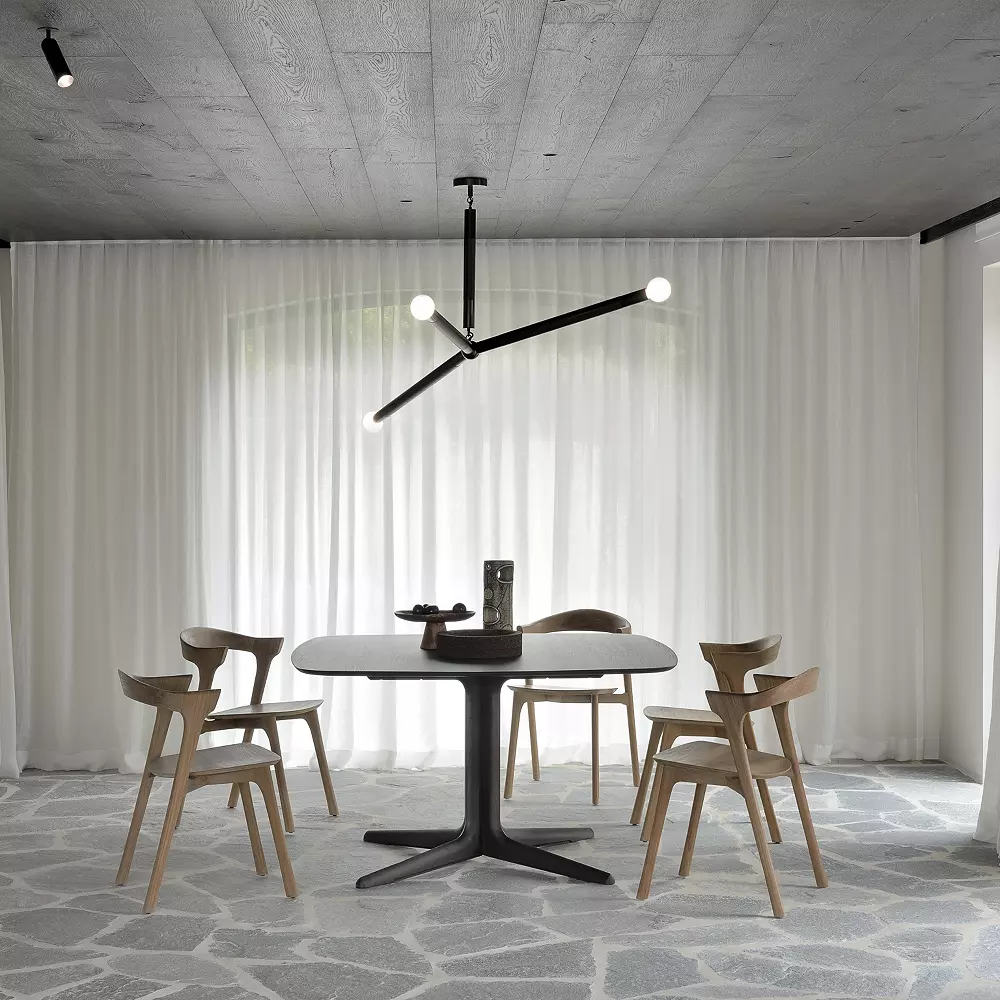 A square-shaped table is ideal for square-shaped and more compact rooms, but also this shape dining table works great if you're only seating a group of four or fewer people. If you'll be having more guests at some point, opt for a table that you can expand with extensions. Also keep in mind that you can always combine two or more square tables to create more space. One of the great benefits of this shape table is the intimacy it provides, placing everyone at the table within close, conversational distance of each other. 
Round Dining Tables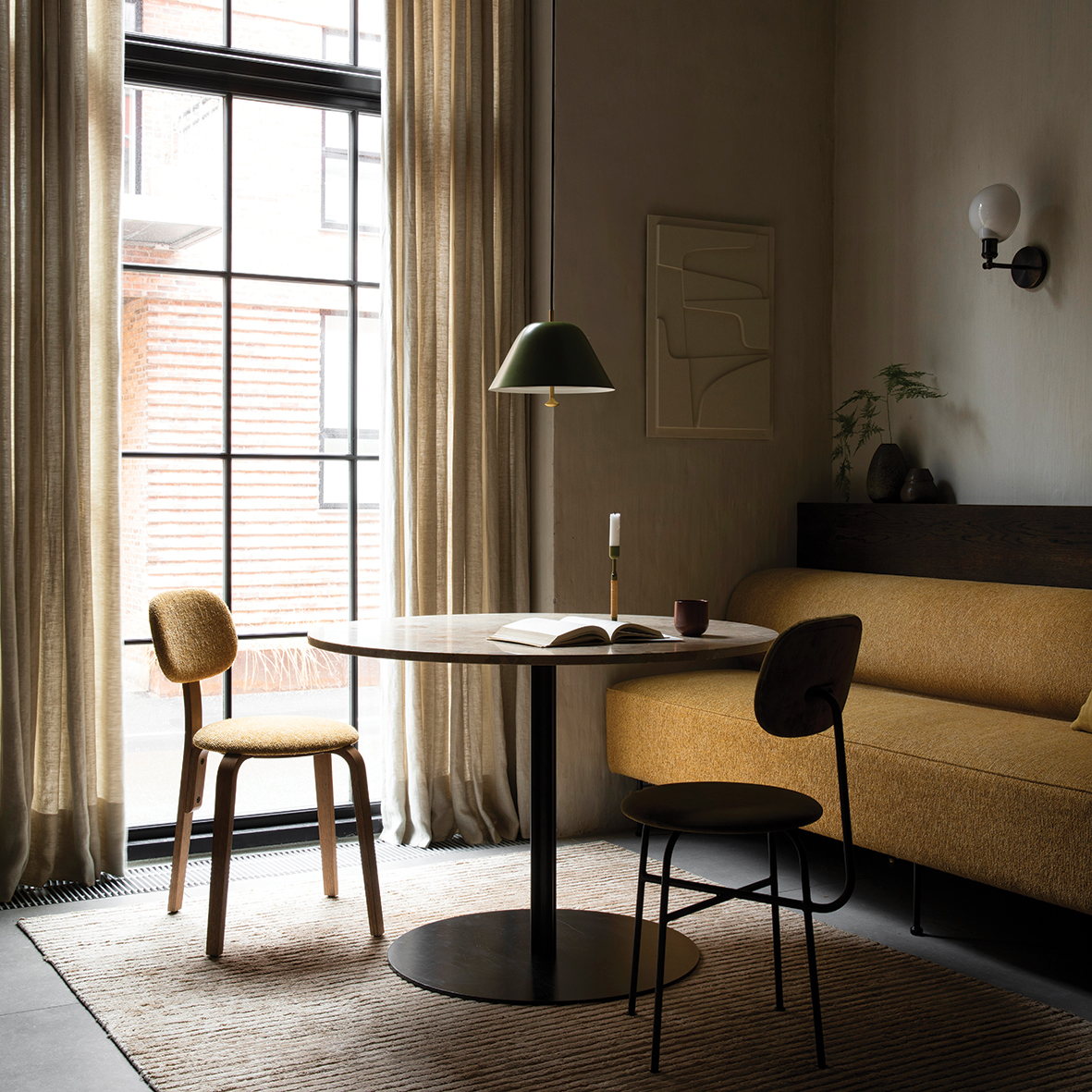 Looking for the most versatility available in a dining table? Look no further than a round one. Like the square table, round dining room tables are great for small gatherings and look good in any shaped room. Plus, round tables have two unique traits: they allow everyone at the table to see and easily converse with everyone else, and they feel casual because there is no head of the table. Round tables are not ideal for large groups unless you have a large round table—and keep in mind that large round tables can make people at the table feel far away from each other. The good news is that smaller round tables come in models that can be expanded with an extension.
Oval Dining Tables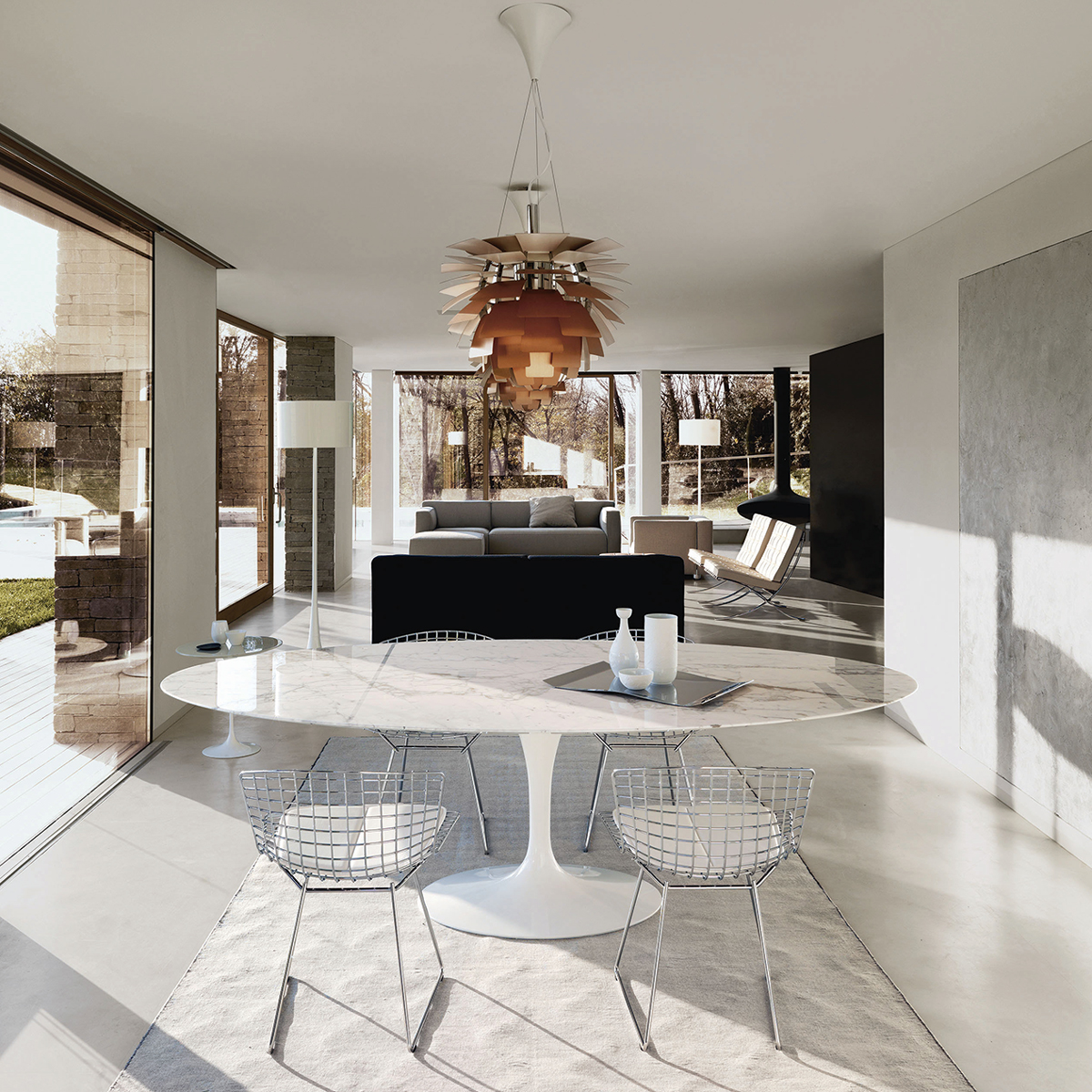 Oval dining tables excel at one thing in particular: they create unique visual interest. While they have similarities to rectangular dining tables in many aspects, their rounded corners create the illusion that they occupy less space. The curves also help to counter angular lines on other design elements within the room. Like a round table, oval tables create intimacy and flexibility. Your best bet is to use them when you need to seat several people at once in a smaller size room.
Choosing the Right Dining Table Size
How many people can comfortably fit at a table depends on the shape as well as the size. Here's a reference to help you decide what size dining table you need, once you've settled on the shape:
| | | |
| --- | --- | --- |
| Size (Diameter): | Oval & Rectangular Will Comfortably Seat: | Round & Square Will Comfortably Seat: |
| 4 feet (48 inches) | 4 people | 4 people |
| 5 feet (60 inches) | 6 people | 6 people |
| 6 feet (72 inches) | 6 people | 6 people |
| 8 feet (96 inches) | 8 people | Not a typical size |
| 10 feet (120 inches) | 10 people | Not a typical size |
Keep in mind that each person needs about 2 feet of eating space and your table needs to be at least 36 inches wide to allow enough space for food and place settings.
Extension Tables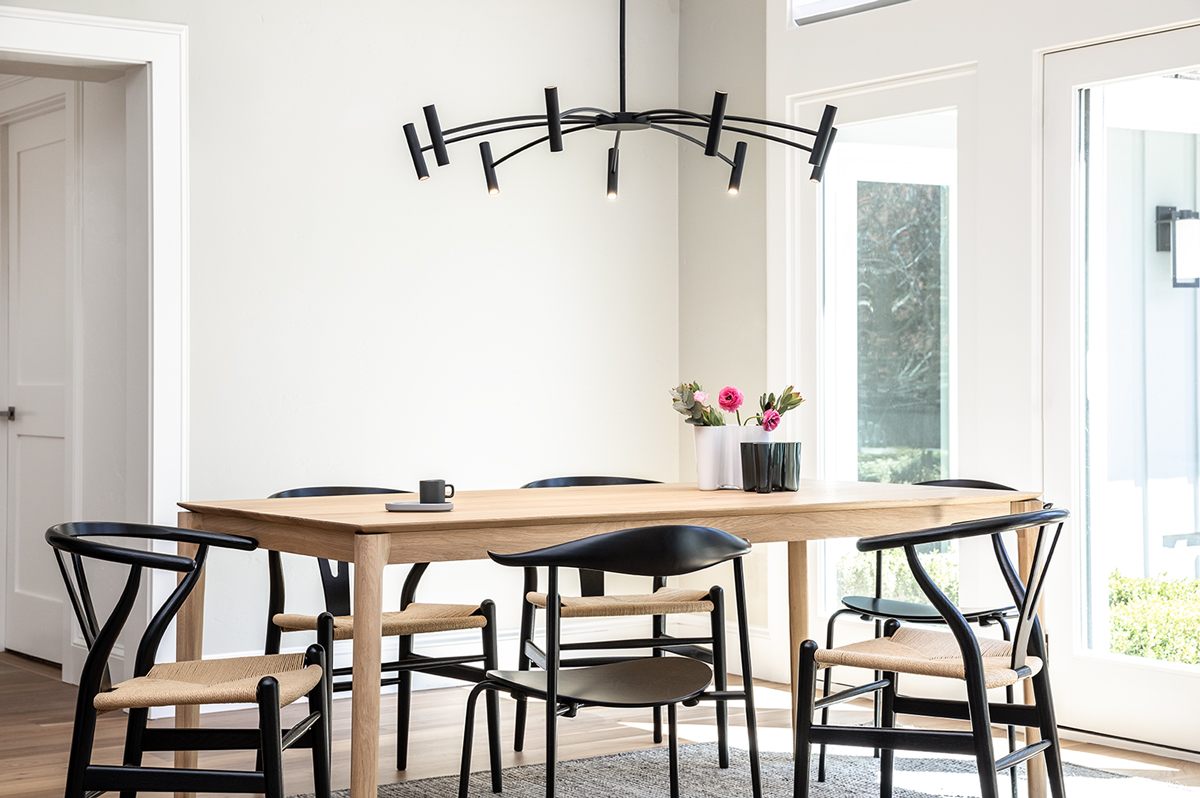 Extension tables are a good option when the table is occasionally used for large gatherings. Extension tables are often designed with self-storing leaves so they are tucked away while still easily accessible when it is time to entertain.
Table-to-Wall Clearance
When deciding on your table dimensions and size, it's important to measure table-to-wall space. The rule of thumb is to leave 42 to 48 inches between the table and walls. If there is a buffet or hutch in the dining room, the same rule applies but instead of measuring from the wall, measure from the front edge of the buffet to the dining room table. 
Just like sitting at a dining table, shopping for a dining table is an intimate experience. Cheers.
(Visited 7,060 times, 5 visits today)