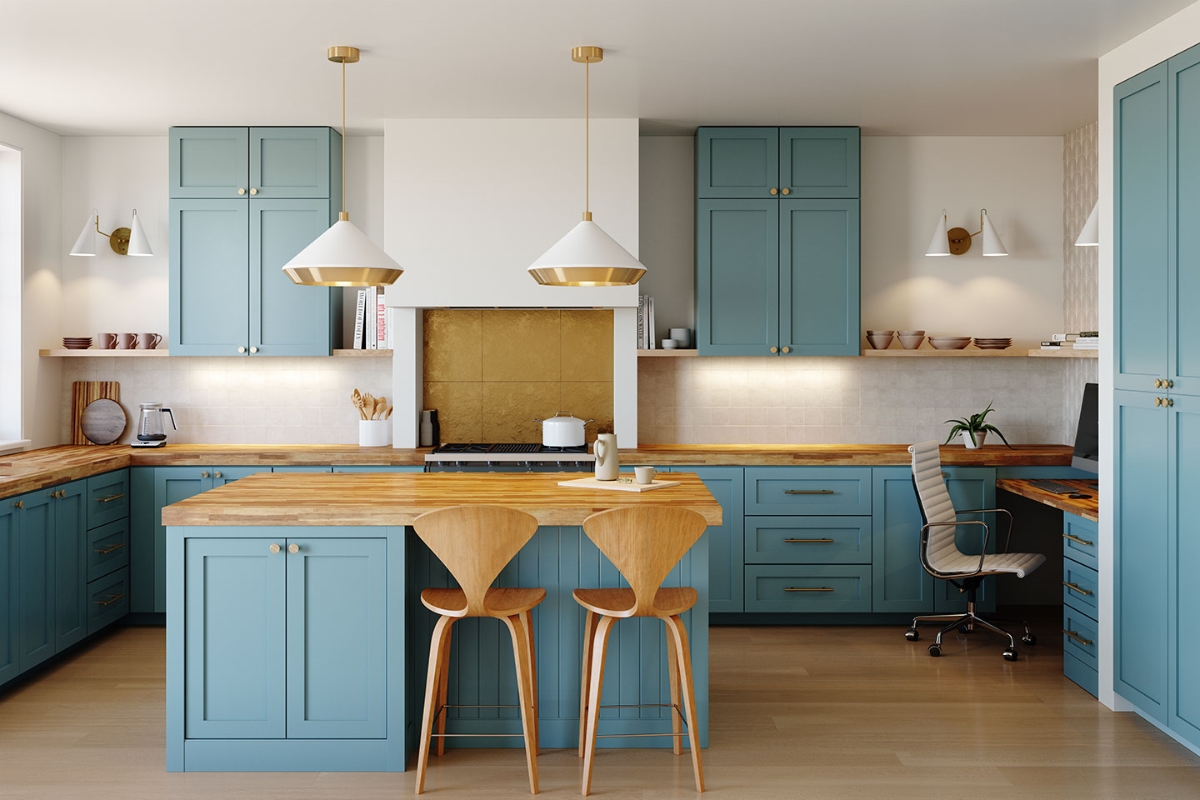 The kitchen is the heart of the home. Whether it's a weeknight in with the family or a gathering of everyone you know, we inevitably end up huddled in this space.
This space feeds our bodies and souls, and reflects our personal style in its own way. So it's no wonder that the kitchen ends up at the top of the to-do list when it comes to updating your home or taking on a major remodel.
As both a technical space for cooking and an atmospheric space for entertaining, lighting and lighting control are critical in the kitchen. And the proper lighting mix—recessed downlighting, island-highlighting pendants, under-cabinet LEDs—ensures it's fit for all of those uses.
With this guide, we'll walk you through the ins and outs of the best modern kitchen lighting fixtures.
Three Types of Lighting You Need to Know About: Ambient, Task and Accent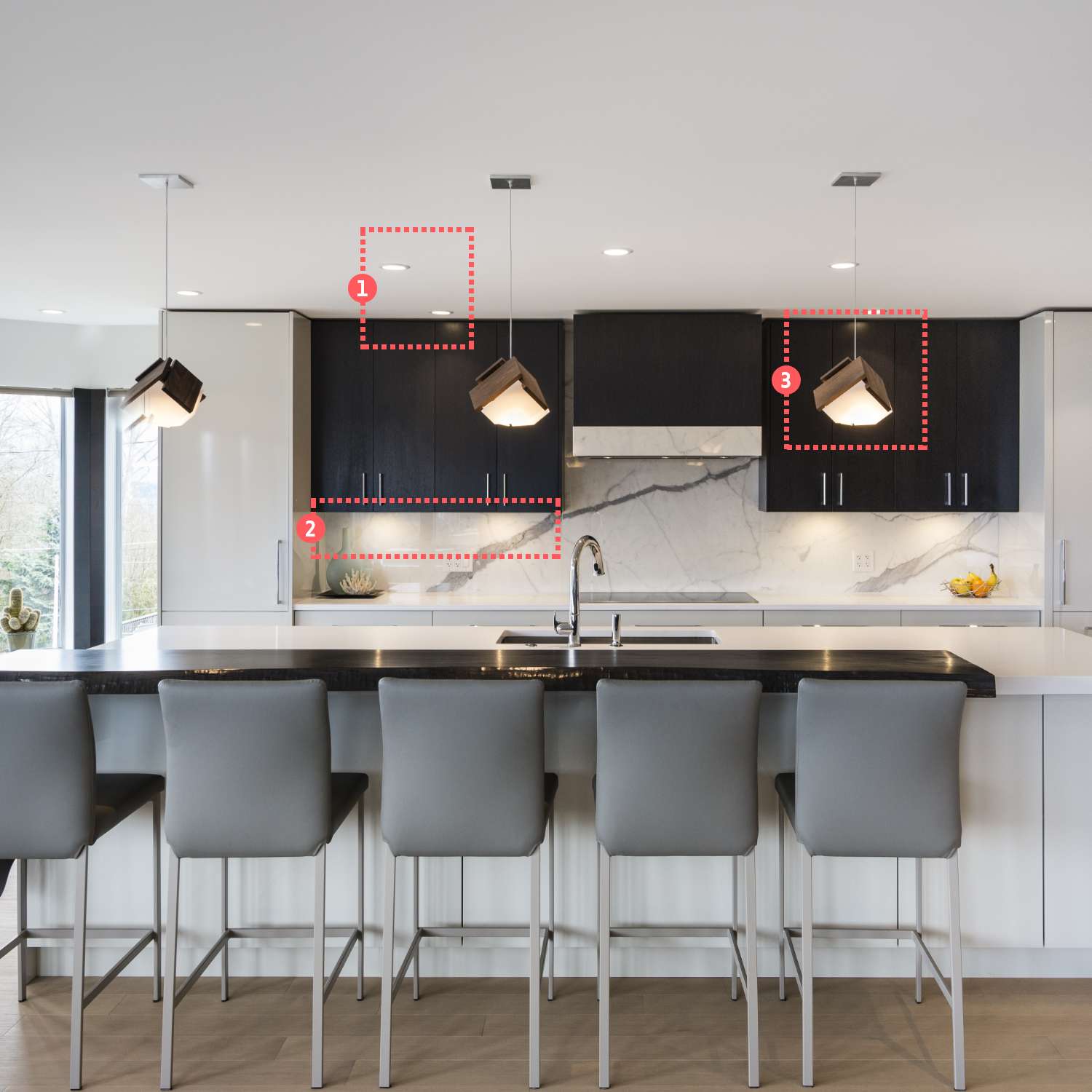 1. Ambient: This is the main source of general lighting—whether in addition to natural light or to fill in for lack of it. For comfort and safety, cast as much of it as evenly as possible from the ceiling with a combination of (but not limited to) chandeliers, pendant lights, recessed lighting and flushmounts.
2. Task: While ambient lighting lets us navigate throughout the kitchen, it often leaves shadows in areas that require more focus. With the help of task lighting, work surfaces and cabinetry are properly illuminated so you can safely prepare meals, read recipes and easily spot ingredients on a shelf. Common kitchen task lighting options include strip lights and puck lights.
3. Accent: Consider these flourishes the cherry on top of a well-designed kitchen: toe-kick lights, cabinet lights and any other light that highlights key features and favorite elements. Accent lights might also cross over into ambient and task lighting, as well.
"One of the best and quickest ways to update your kitchen is with new lighting. When I design a kitchen, I often like to keep the whole space light and neutral and add wow factor with great lights. Pendant lights are the perfect way to make a beautiful statement. They can transform an ordinary space by adding a unique, showcase element."

Designer Becki Owens
Key Lighting Areas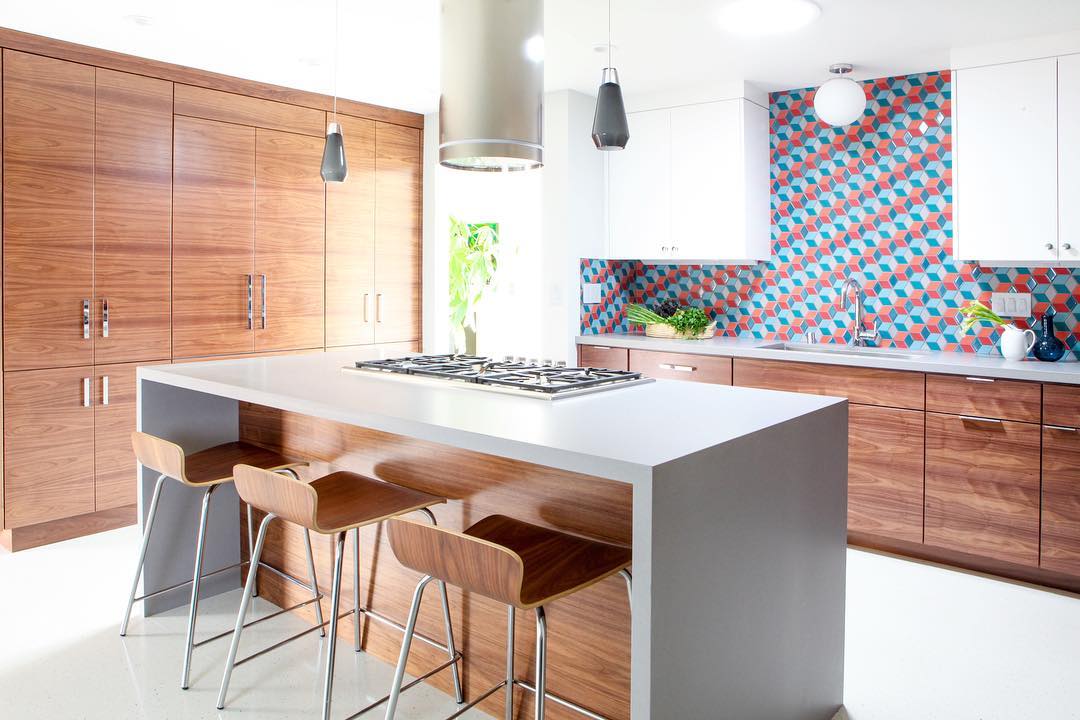 Over the Island: Task or Ambient Lighting
Kitchen island lighting depends on the island's purpose—whether your island has an integrated cooktop/workspace or is more for hanging out, it should be lit accordingly.
For task-oriented islands (food prep, recipe reading), use a mix of recessed downlighting and hanging lights. But for ambient hang-out islands (like counter seating), something as simple as mini-pendants will do: Pendants should be placed at least 30-32 inches apart and 30-36 inches above the island, with at least 6 inches from edge of island.
Option One: Pendants. When it comes to installing pendants, as a general rule, a set of two pendant lights installed over a kitchen island should be at least 30 inches from the center of the island, with 30-32 inches between the countertop and the bottom of the pendant. A set of three pendant lights should be just as high up, spaced apart evenly, and be at least 6 inches from the edge of the island.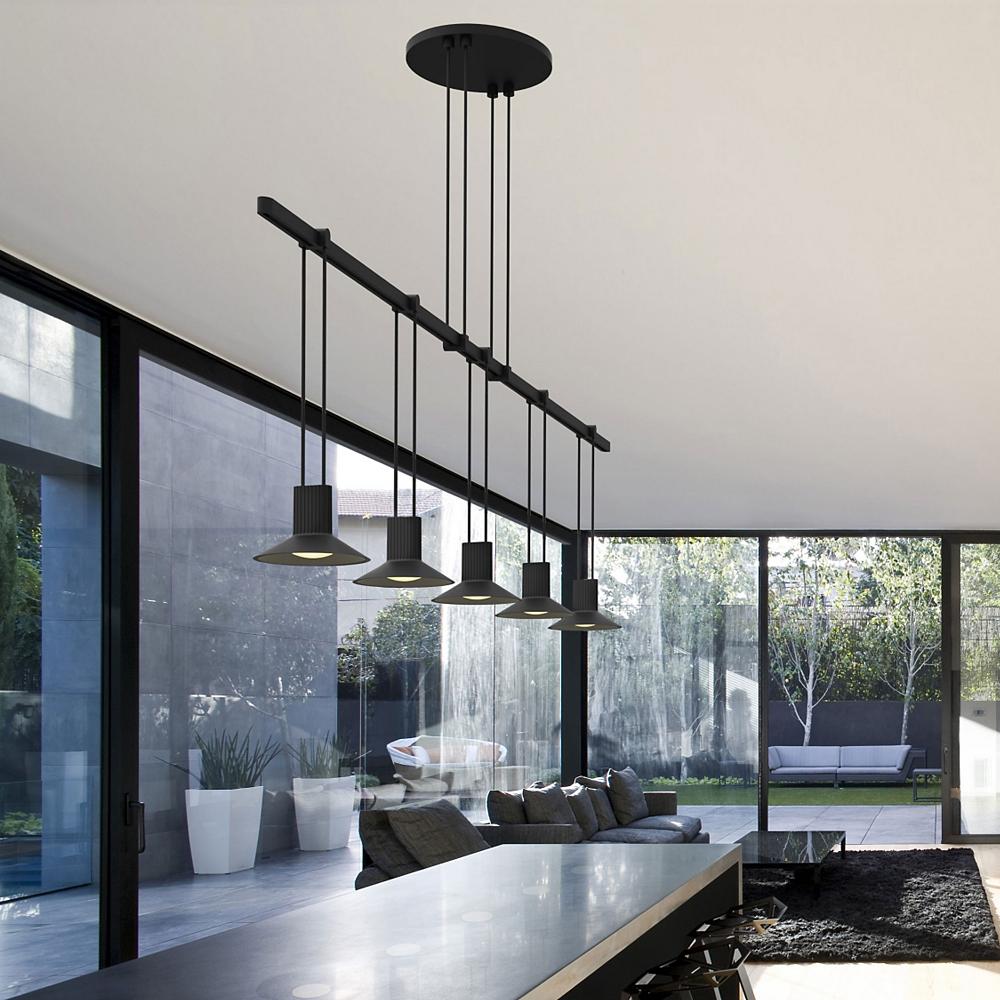 Option Two: Linear Suspension Lighting
Linear suspension lights work well in kitchens with higher ceilings and can hang at least 40" above the countertop.
Option Three: Track Lighting
If moving power around in the ceiling is proving difficult, a track or monorail system could be the solution. The trick here is to make sure the lights do not create too much glare. Use lights with wide beam spreads (instead of narrow spotlights) to keep the light from looking like an art gallery.
Undercabinet Lighting: For Tasks and Accents
The kitchen countertop is a work surface. A poorly cast shadow where you practice your knife skills can be inconvenient or downright dangerous.
Undercabinet lighting is not a fancy add-on that can be ignored, even if the kitchen's style is minimal. In fact, undercabinet lighting greatly improves the functionality and environment of a kitchen. A wide array of systems and fixtures can be added on to existing cabinets, as well as fully custom rail kits that integrate lighting and power outlets into a seamless backsplash.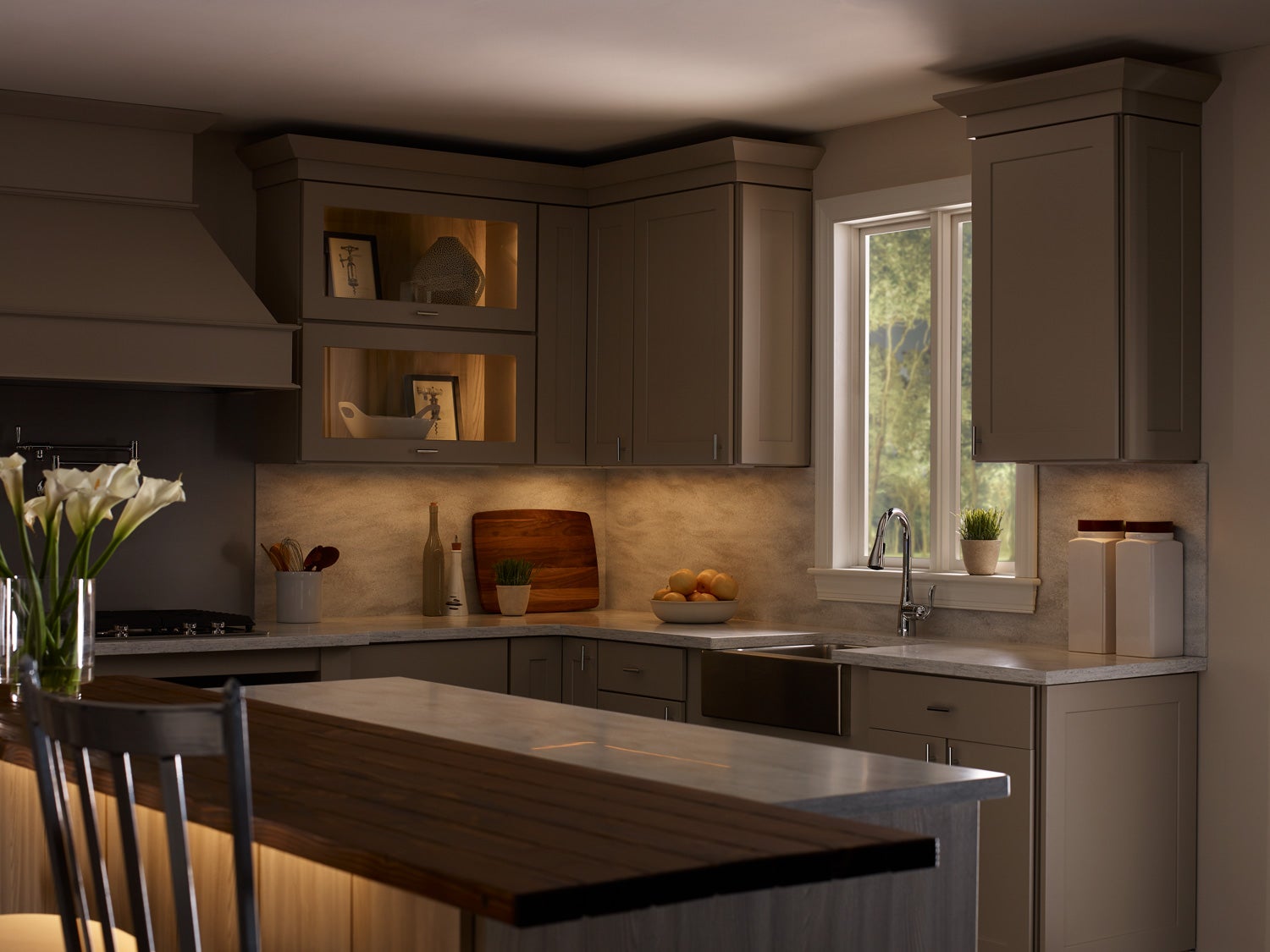 A great sales or support person can help ensure the size, material and brightness of a particular fixture are specified correctly and even map out a whole lighting scheme. Common kitchen undercabinet lighting options include
Strip Lights: Versatile and great for illuminating a cabinet's interior, especially low cabinets that hardly receive any ambient lighting. LED strip lights are also used under the cabinet to fully illuminate counter spaces.
Puck Lights: Round and oval, puck lights are great mood lights and can be used to illuminate countertops in the form of a scallop, spot or pool of light.
Focus on the Ceiling: Ambient Lighting Where You Need It Most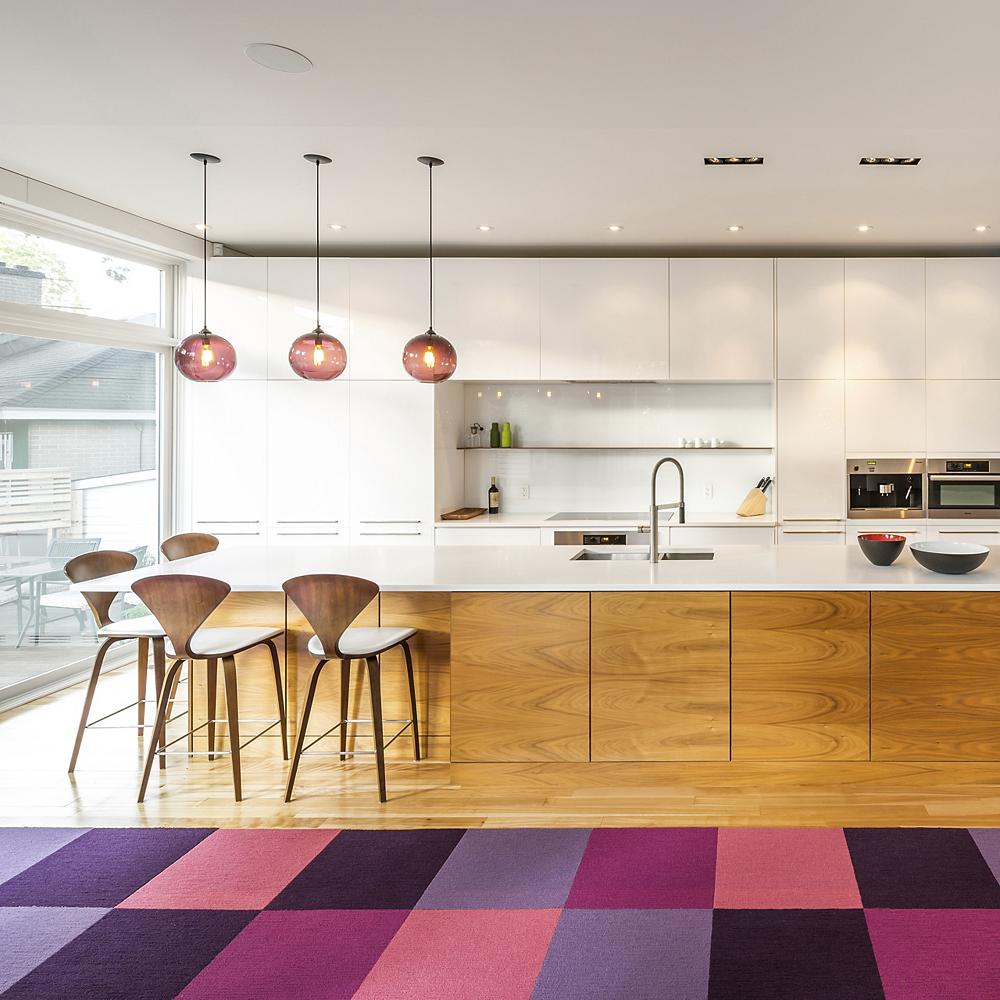 Option One: Recessed downlighting. Recessed downlighting is the sine qua non of ambient kitchen lighting. Smaller kitchens might get away with one large flushmount ceiling light in the center, but modern kitchen recessed lighting creates a more customized lighting scheme. To light the kitchen evenly throughout, with an emphasis on lighting high-use areas, grid out the lights in straight lines along the axis of the counters. Add dimmers for better control in a range of lighting scenarios.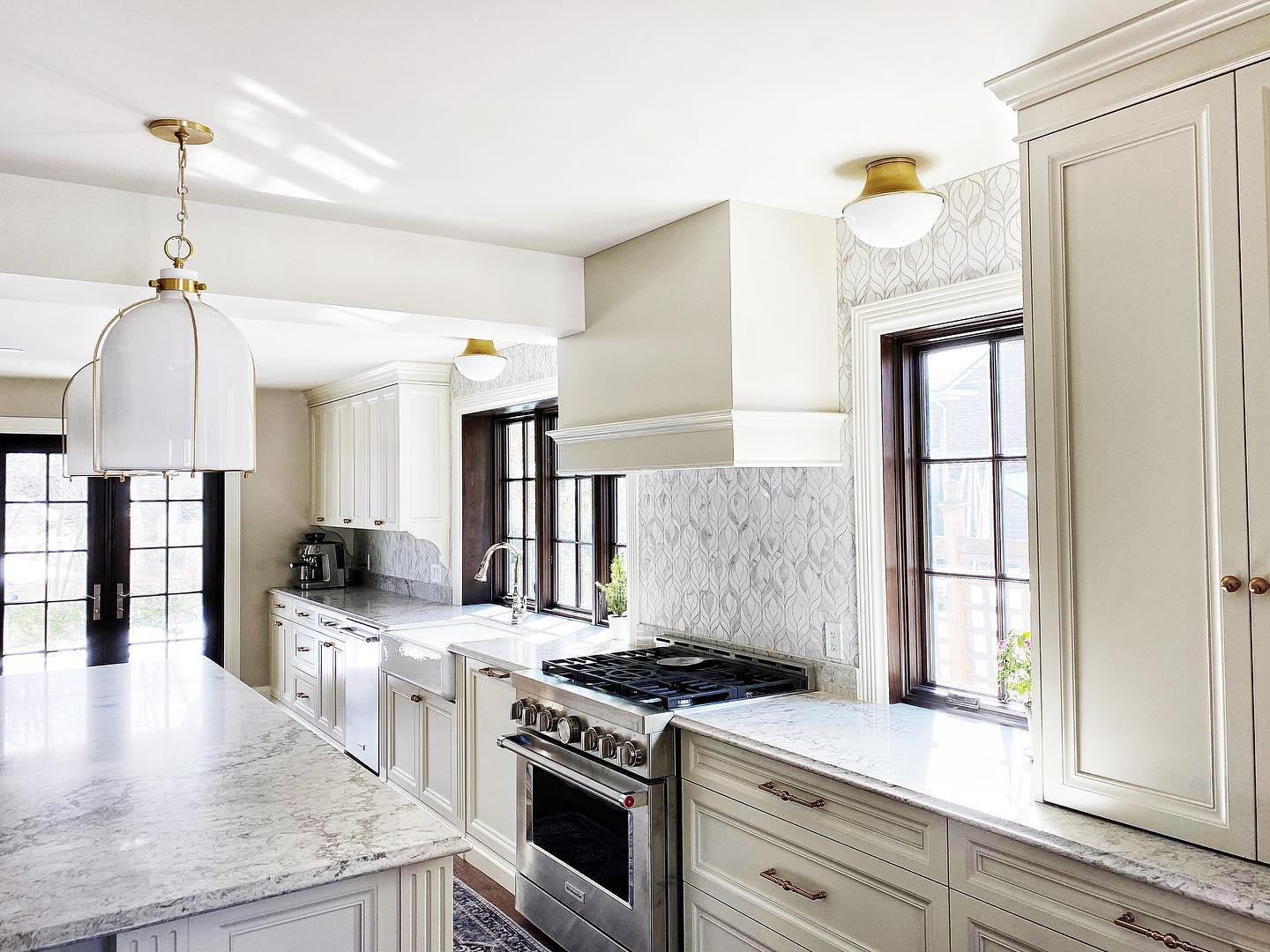 Another Option: Flushmount or semi-flushmount lighting works better in smaller spaces. And, unlike recessed lights that are hidden in the ceiling, these lights give can add more stylistic touches.
Add Accent Lighting to Improve Kitchen Lighting Design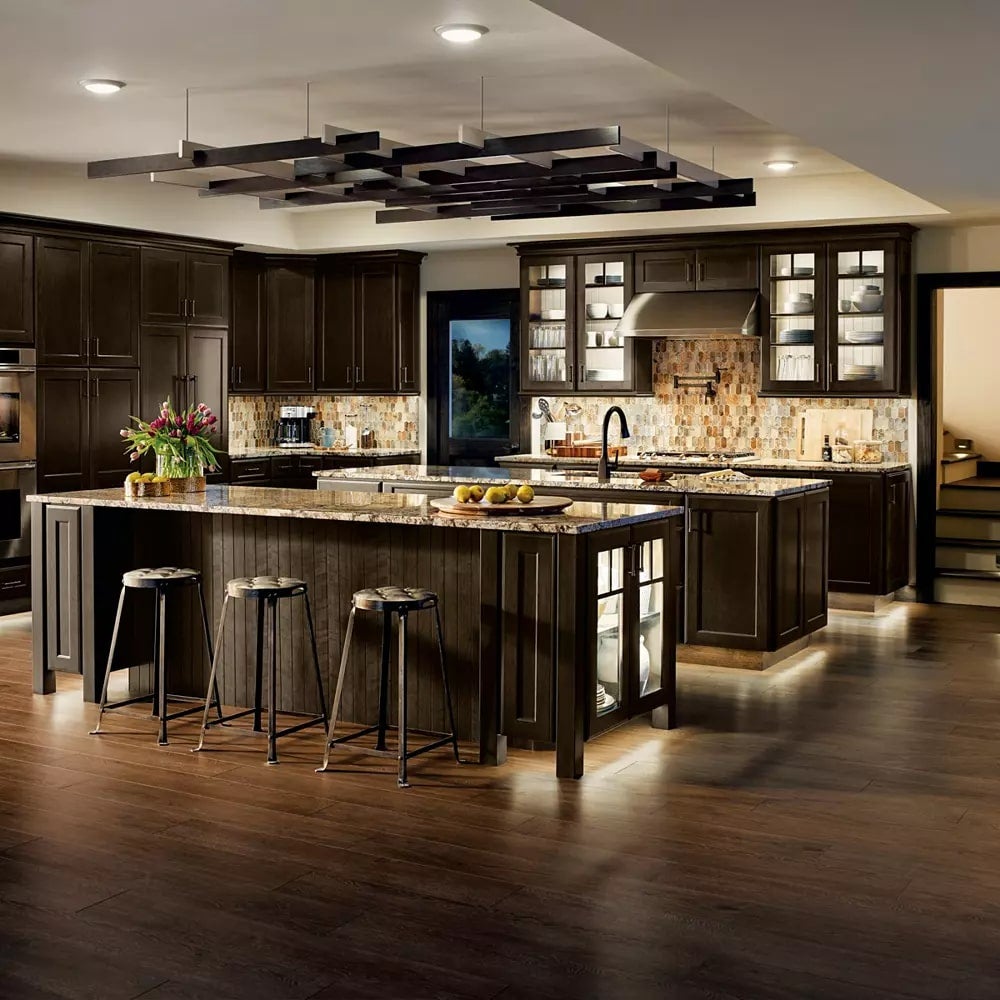 Accent lighting is where you get to play a little, with fewer hard measurements and more of a design factor than ambient and task lighting.
For islands and peninsulas, select fixtures that scale correctly to the workspace. Leave clearance on each exposed side of the work surface to avoid bumping your head. A general rule of clearance is 30 to 36 inches between the surface and fixture, but this can be adjusted based on your height and the diameter of the fixture.
Popular places for accent lighting include over the kitchen sink or table, in the case of an eat-in kitchen, and above an exposed countertop like an island or peninsula. This is a perfect spot to pop a practical little piece of jewelry for the room. For either a pendant or a wall sconce, a directional downlight provides a little extra task lighting as well.
Common kitchen accent lights include
Recessed: This type of refined, out-of-the-way lighting can go anywhere, but it's particularly useful for illuminating areas of visual interest like open shelves and glass cabinets.
Overcabinet: Placed between the cabinet and ceiling, overcabinet lights add a dramatic touch. Created with fixed components or add-on lights similar to undercabinet lighting, overcabinet lighting can provide even illumination to accent decor and architecture.
Toekick Lights: A great way to distinguish kitchens and to illuminate a pathway. Toe lighting is produced via rope lights or LED tape.
Lighting Controls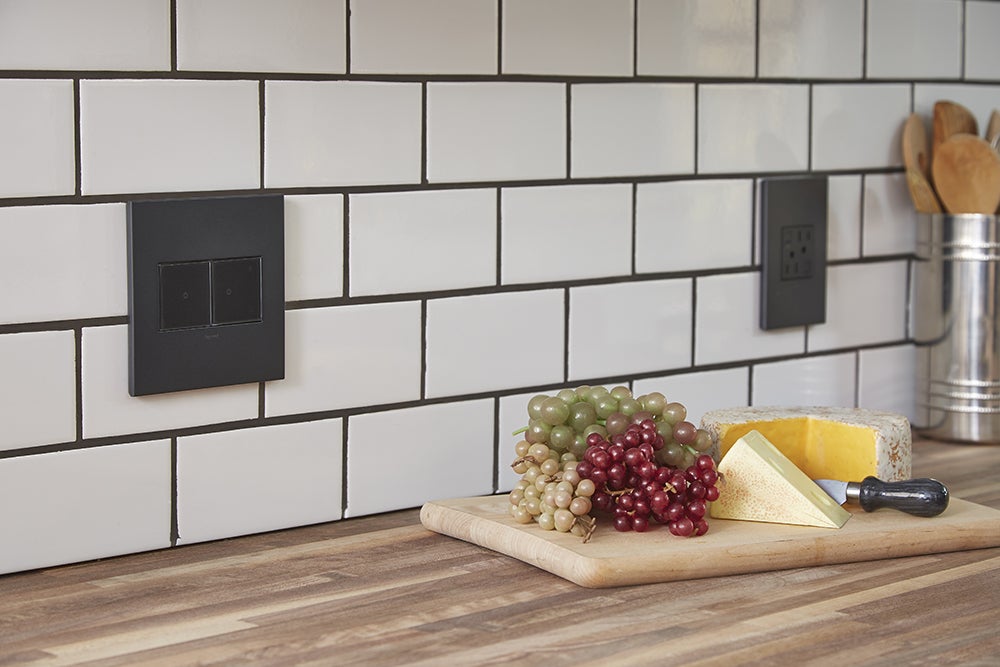 As important as it is to select the right lighting fixtures, the design isn't complete without the correct lighting controls. Switches are great, but dimmers are better; they should be used wherever possible to best control the lighting for any task or activity.
When choosing fixtures, note whether the fixture itself is dimmable. If not, select a compatible dimmer.
When rewiring or designing a kitchen from scratch, take time to carefully plan the layout of the controls. Most kitchens have more than one entry point, so ensure the most critical ambient fixtures can be controlled from both ends. For even more flexibility, look to smart home or WiFi systems that allow you to sync multiple controls without wiring them across.
Focusing on the right layers makes the most of every space and activity in the kitchen, from morning coffee to midnight snacks.