With its strong, sculptural body and comfortable cushioned seat, the Moooi Zio Dining Chair will have you dining both at ease and in elegance. The frame is made out of solid oak, with seat and back cushions in a wide array of solid and patterned fabrics. Designed by Marcel Wanders as part of the Zio dining collection.
Moooi creates modern pendant lighting, lamps, and a unique array of suspension lighting. Founded by Marcel Wanders and first presented in 2001, Moooi creates products that satisfy the customers desire for individual style, and features designers such as Ross Lovegrove and Erwin Olaf.
The Zio Dining Chair is available with the following:
Details:
Composition option features Cinnamon stain on the legs and underneath arms; White Wash stain is just on the top surface of the arms.
Boucle: 43% cotton/28% polyacrylonitrile/14% polyamide/12% viscose/3% polyester
Faux: 100% polyester
Macchedil Grezzo: 47% cotton/20% viscose/18% polyester/8% linen/5% polycarbonate
Macchedil Sottile: 49% viscose/24% polyester/21% linen/6% cotton
Manga: 29% polyester/71% cotton
Oray: 8% cotton/38% viscose/15% polyester/39% linen
Designed by Marcel Wanders in 2013
Fabric: Multiple fabric compositions
Frame Material: Solid oak
Made In The Netherlands
Options:
Color: Anthracite Macchedil Grezzo, Anthracite Macchedil Sottile, Aqua Oray, Black Indigo Macchedil Grezzo, Black Indigo Macchedil Sottile, Black White Boucle, Blue Boucle, Blue Grey Macchedil Grezzo, Blue Grey Macchedil Sottile, Blue Manga, Brown Boucle, Brown Manga, Cappuchino Macchedil Grezzo, Cappuchino Macchedil Sottile, Chestnut Oray, Copper Oray, Cream Oray, Dark Gull Oray, Dark Oray, Deepblue Macchedil Grezzo, Deepblue Macchedil Sottile, Dusk Oray, Flamboyant Oray, Gravel Oray, Green Manga, Grey Grey Macchedil Grezzo, Grey Grey Macchedil Sottile, Grey Manga, Griffin Oray, Indigo Oray, Light Brown Macchedil Grezzo, Light Brown Macchedil Sottile, Light Grey Macchedil Grezzo, Light Grey Macchedil Sottile, Metal Oray, Mineral Oray, Ocean Oray, Ochre Oray, Offwhite Macchedil Grezzo, Offwhite Macchedil Sottile, Oil Oray, Peyote Oray, Pinkish Macchedil Grezzo, Pinkish Macchedil Sottile, Rainbow Boucle, Rock Oray, Rust Oray, Sand Oray
Finish: Cinnamon, Composition, White Wash
Dimensions:
Item: Width 20.1", Height 30.3", Depth 19.7", Seat Height 18.9"
Seat: Height 18.9"
Manufacturer IDs: view
PZIODINII-M-MACCHEDILSOTTILE-BLACKINDIGO PZIODINII-S-MACCHEDILSOTTILE-BLACKINDIGO PZIODINII-W-MACCHEDILSOTTILE-BLACKINDIGO PZIODINII-M-MACCHEDILSOTTILE-PINKISH PZIODINII-S-MACCHEDILSOTTILE-PINKISH PZIODINII-W-MACCHEDILSOTTILE-PINKISH PZIODINII-M-MACCHEDILSOTTILE-OFFWHITE PZIODINII-S-MACCHEDILSOTTILE-OFFWHITE PZIODINII-W-MACCHEDILSOTTILE-OFFWHITE PZIODINII-M-MACCHEDILSOTTILE-LIGHTGREY PZIODINII-S-MACCHEDILSOTTILE-LIGHTGREY PZIODINII-W-MACCHEDILSOTTILE-LIGHTGREY PZIODINII-M-MACCHEDILSOTTILE-LIGHTBROWN PZIODINII-S-MACCHEDILSOTTILE-LIGHTBROWN PZIODINII-W-MACCHEDILSOTTILE-LIGHTBROWN PZIODINII-M-MACCHEDILSOTTILE-GREYGREY PZIODINII-S-MACCHEDILSOTTILE-GREYGREY PZIODINII-W-MACCHEDILSOTTILE-GREYGREY PZIODINII-M-MACCHEDILSOTTILE-ANTHRACITE PZIODINII-S-MACCHEDILSOTTILE-ANTHRACITE PZIODINII-W-MACCHEDILSOTTILE-ANTHRACITE PZIODINII-M-MACCHEDILSOTTILE-BLUEGREY PZIODINII-S-MACCHEDILSOTTILE-BLUEGREY PZIODINII-W-MACCHEDILSOTTILE-BLUEGREY PZIODINII-M-MACCHEDILSOTTILE-CAPPUCHINO PZIODINII-S-MACCHEDILSOTTILE-CAPPUCHINO PZIODINII-W-MACCHEDILSOTTILE-CAPPUCHINO PZIODINII-M-MACCHEDILSOTTILE-DEEPBLUE PZIODINII-S-MACCHEDILSOTTILE-DEEPBLUE PZIODINII-W-MACCHEDILSOTTILE-DEEPBLUE PZIODINII-M-MACCHEDILGREZZO-BLACKINDIGO PZIODINII-S-MACCHEDILGREZZO-BLACKINDIGO PZIODINII-W-MACCHEDILGREZZO-BLACKINDIGO PZIODINII-M-MACCHEDILGREZZO-PINKISH PZIODINII-S-MACCHEDILGREZZO-PINKISH PZIODINII-W-MACCHEDILGREZZO-PINKISH PZIODINII-M-MACCHEDILGREZZO-OFFWHITE PZIODINII-S-MACCHEDILGREZZO-OFFWHITE PZIODINII-W-MACCHEDILGREZZO-OFFWHITE PZIODINII-M-MACCHEDILGREZZO-LIGHTGREY PZIODINII-S-MACCHEDILGREZZO-LIGHTGREY PZIODINII-W-MACCHEDILGREZZO-LIGHTGREY PZIODINII-M-MACCHEDILGREZZO-LIGHTBROWN PZIODINII-S-MACCHEDILGREZZO-LIGHTBROWN PZIODINII-W-MACCHEDILGREZZO-LIGHTBROWN PZIODINII-M-MACCHEDILGREZZO-GREYGREY PZIODINII-S-MACCHEDILGREZZO-GREYGREY PZIODINII-W-MACCHEDILGREZZO-GREYGREY PZIODINII-M-MACCHEDILGREZZO-ANTHRACITE PZIODINII-S-MACCHEDILGREZZO-ANTHRACITE PZIODINII-W-MACCHEDILGREZZO-ANTHRACITE PZIODINII-M-MACCHEDILGREZZO-BLUEGREY PZIODINII-S-MACCHEDILGREZZO-BLUEGREY PZIODINII-W-MACCHEDILGREZZO-BLUEGREY PZIODINII-M-MACCHEDILGREZZO-CAPPUCHINO PZIODINII-S-MACCHEDILGREZZO-CAPPUCHINO PZIODINII-W-MACCHEDILGREZZO-CAPPUCHINO PZIODINII-M-MACCHEDILGREZZO-DEEPBLUE PZIODINII-S-MACCHEDILGREZZO-DEEPBLUE PZIODINII-W-MACCHEDILGREZZO-DEEPBLUE PZIODINIII-M-ORAY-CREAM PZIODINIII-S-ORAY-CREAM PZIODINIII-W-ORAY-CREAM PZIODINIII-M-ORAY-SAND PZIODINIII-S-ORAY-SAND PZIODINIII-W-ORAY-SAND PZIODINIII-M-ORAY-ROCK PZIODINIII-S-ORAY-ROCK PZIODINIII-W-ORAY-ROCK PZIODINIII-M-ORAY-MINERAL PZIODINIII-S-ORAY-MINERAL PZIODINIII-W-ORAY-MINERAL PZIODINIII-M-ORAY-GRAVEL PZIODINIII-S-ORAY-GRAVEL PZIODINIII-W-ORAY-GRAVEL PZIODINIII-M-ORAY-DARKGULL PZIODINIII-S-ORAY-DARKGULL PZIODINIII-W-ORAY-DARKGULL PZIODINIII-M-ORAY-COPPER PZIODINIII-S-ORAY-COPPER PZIODINIII-W-ORAY-COPPER PZIODINIII-M-ORAY-RUST PZIODINIII-S-ORAY-RUST PZIODINIII-W-ORAY-RUST PZIODINIII-M-ORAY-FLAMBOYANT PZIODINIII-S-ORAY-FLAMBOYANT PZIODINIII-W-ORAY-FLAMBOYANT PZIODINIII-M-ORAY-OIL PZIODINIII-S-ORAY-OIL PZIODINIII-W-ORAY-OIL PZIODINIII-M-ORAY-AQUA PZIODINIII-S-ORAY-AQUA PZIODINIII-W-ORAY-AQUA PZIODINIII-M-ORAY-PEYOTE PZIODINIII-S-ORAY-PEYOTE PZIODINIII-W-ORAY-PEYOTE PZIODINIII-M-ORAY-OCEAN PZIODINIII-S-ORAY-OCEAN PZIODINIII-W-ORAY-OCEAN PZIODINIII-M-ORAY-METAL PZIODINIII-S-ORAY-METAL PZIODINIII-W-ORAY-METAL PZIODINIII-M-ORAY-GRIFFIN PZIODINIII-S-ORAY-GRIFFIN PZIODINIII-W-ORAY-GRIFFIN PZIODINIII-M-ORAY-DUSK PZIODINIII-S-ORAY-DUSK PZIODINIII-W-ORAY-DUSK PZIODINIII-M-ORAY-CHESTNUT PZIODINIII-S-ORAY-CHESTNUT PZIODINIII-W-ORAY-CHESTNUT PZIODINIII-M-ORAY-DARK PZIODINIII-S-ORAY-DARK PZIODINIII-W-ORAY-DARK PZIODINIII-M-ORAY-INDIGO PZIODINIII-S-ORAY-INDIGO PZIODINIII-W-ORAY-INDIGO PZIODINIII-M-ORAY-OCHRE PZIODINIII-S-ORAY-OCHRE PZIODINIII-W-ORAY-OCHRE PZIODINIIII-M-BOUCLE-BLACK/WHITE PZIODINIIII-S-BOUCLE-BLACK/WHITE PZIODINIIII-W-BOUCLE-BLACK/WHITE PZIODINIIII-M-BOUCLE-RAINBOW PZIODINIIII-S-BOUCLE-RAINBOW PZIODINIIII-W-BOUCLE-RAINBOW PZIODINIIII-M-BOUCLE-BROWN PZIODINIIII-S-BOUCLE-BROWN PZIODINIIII-W-BOUCLE-BROWN PZIODINIIII-M-BOUCLE-BLUE PZIODINIIII-S-BOUCLE-BLUE PZIODINIIII-W-BOUCLE-BLUE PZIODINIII-M-MANGA-BLUE PZIODINIII-W-MANGA-BLUE PZIODINIII-S-MANGA-BLUE PZIODINIII-M-MANGA-GREEN PZIODINIII-W-MANGA-GREEN PZIODINIII-S-MANGA-GREEN PZIODINIII-M-MANGA-GREY PZIODINIII-W-MANGA-GREY PZIODINIII-S-MANGA-GREY PZIODINIII-M-MANGA-BROWN PZIODINIII-W-MANGA-BROWN PZIODINIII-S-MANGA-BROWN
California Residents: Prop 65 regulations
Related Searches and Products
Related Products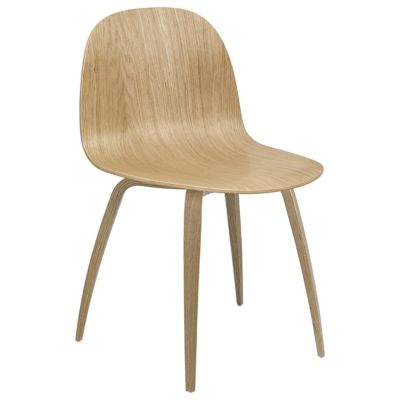 The 2D Dining Chair Wood Base from Gubi ...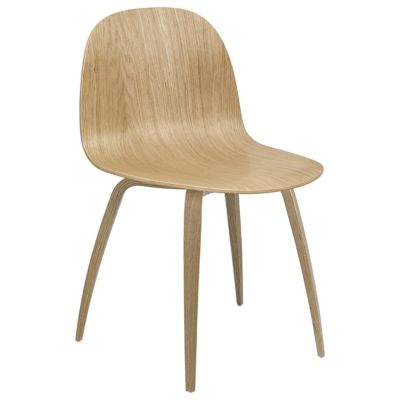 Description:
The 2D Dining Chair Wood Base from Gubi exemplifies the timeless style of molded wood furniture. With a beautiful molded wood shell and sturdy bentwood legs, this chair evokes a decidedly mid-century aesthetic with a twist that speaks to its ...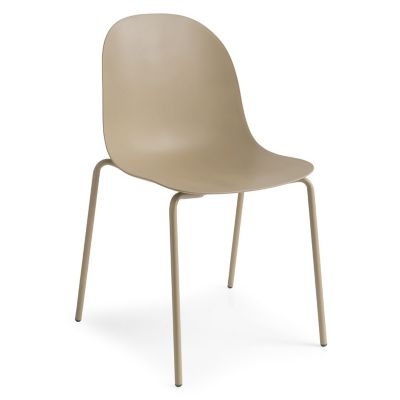 Add a dash of Italian flavor to eating ...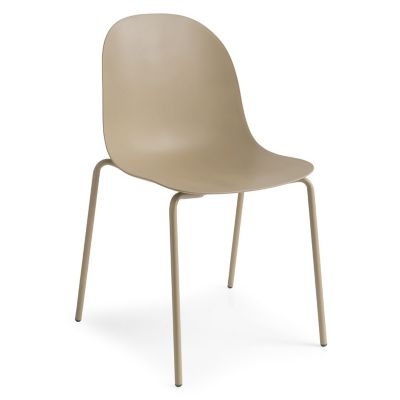 Description:
Add a dash of Italian flavor to eating or gathering areas with the Academy Dining Chair, Tubular Base, by Connubia. Featuring a minimalistic design consisting of a polypropylene shell atop sturdy metal tube legs, it offers a clean look and ...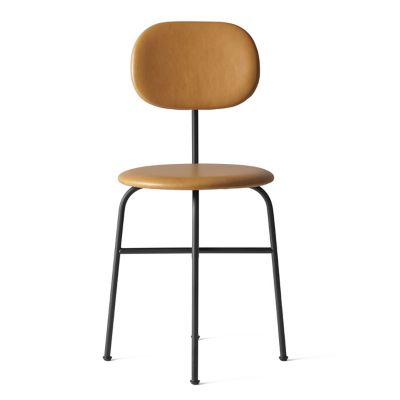 A minimalist piece designed to work with a ...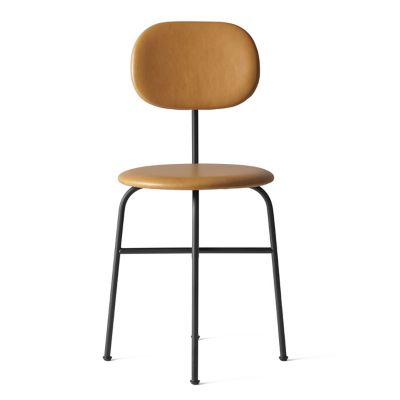 Description:
A minimalist piece designed to work with a range of home styles, the Afteroom Plus Upholstered Dining Chair unites the space with a simple, modern form. Inspired by the Bauhaus school of art, designers Hung-Ming Chen and Chen-Yen Wei deconstructed ...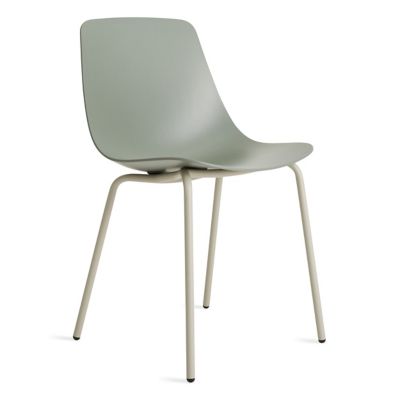 Straight-forward, but stylish. The Clean Cut Dining Chair ...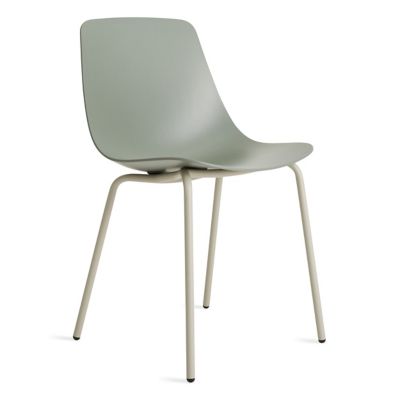 Description:
Straight-forward, but stylish. The Clean Cut Dining Chair by Blu Dot presents a minimal shell chair design with subtle touches of flair that can blend in or enhance the look of any dining space or office. 3D bent ply with ...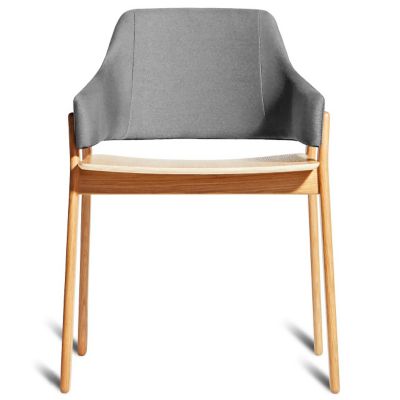 The Blu Dot Clutch Chair brings sleek comfort ...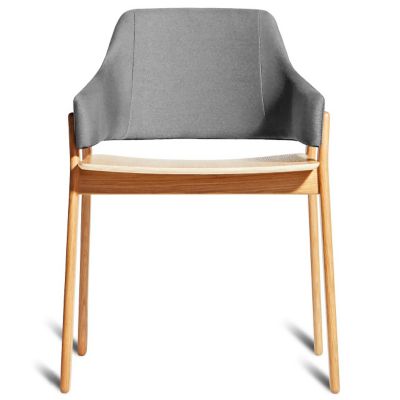 Description:
The Blu Dot Clutch Chair brings sleek comfort and sturdy elegance to the dinner table or living room. It features a white oak or Smoke-stained ash base and a plywood seat covered in a matching veneer. Above these floats another ...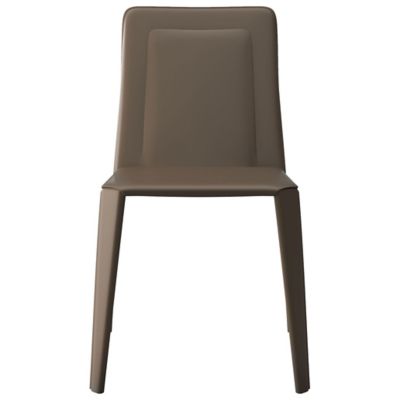 The Sedit Group never fails to produce items ...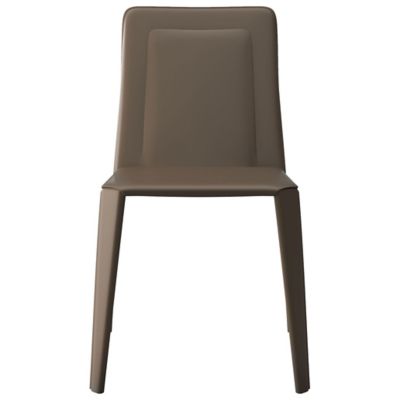 Description:
The Sedit Group never fails to produce items where detail work reigns supreme. A perfect example is the sleek and modern Modloft Grosseto Dining Chair. Covered end-to-end in reclaimed leather, Grosseto is a comfortable and sophisticated choice for seating in ...
YOU'RE CURRENTLY VIEWING