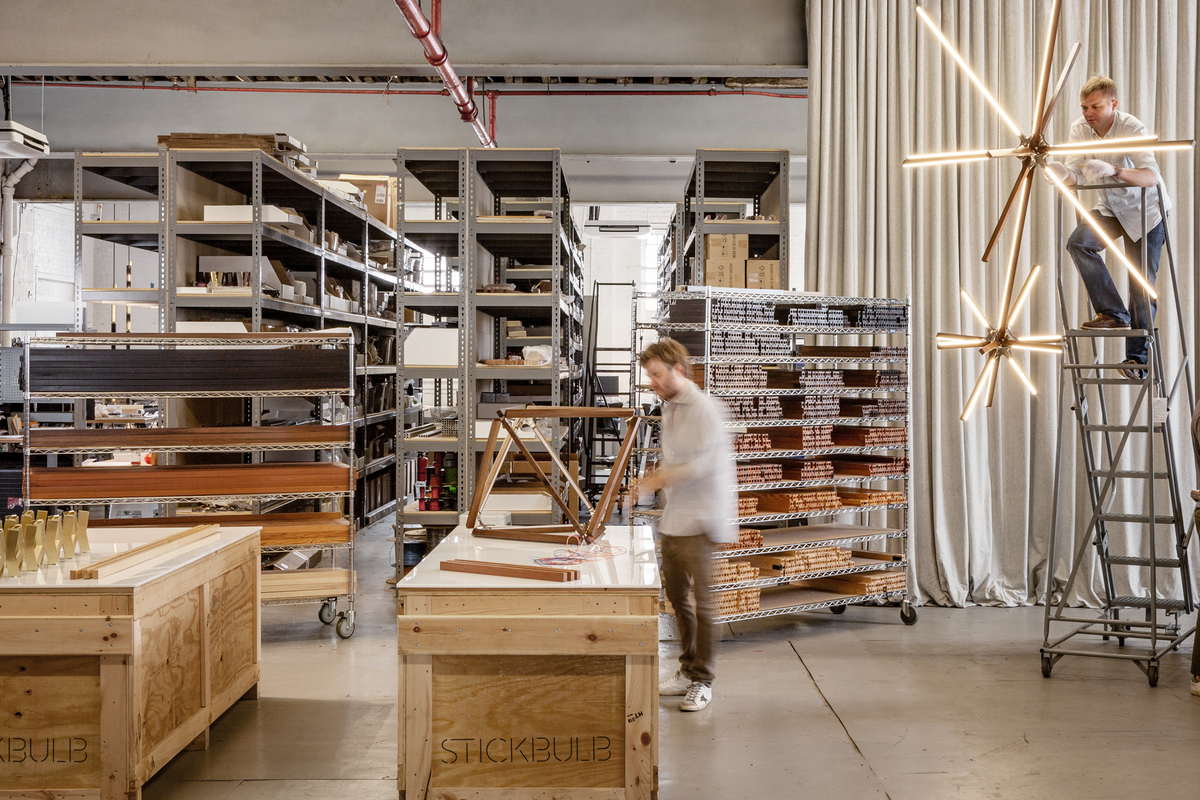 "Making the most with the least"—it sounds like a Great Depression-era maxim, but it resonates today in a world that looks increasingly toward conservation and sustainability. And it's the ethos behind Stickbulb, founded in 2012 by RUX design studio founder Russell Greenberg and managing partner Christopher Beardsley. 
The two were Yale-educated architects entertaining a dream to build with light. With the Stickbulb line they're all but living that dream every day, finding new ways to make more with less; to add to the landscape of design without taking away from the landscape outside their door. The studio originally set out to manufacture only what they could within 5 miles of their New York City office; and it also had to be affordable. Today, their reach is a bit broader, having moved fabrication and a showroom into a repurposed old factory in western Queens. The team is still tight, though, and the workplace functions collaboratively. And the old dedication to the original idea remains: Building with light, using sustainable materials and deceptively simple designs.
Even down to the name, everything Stickbulb does feels intentional—stripping down the superfluous to find meaning in the purest form. A stick. A bulb. Those two things on their own don't sound very impressive. But after one look at the Sky Bang Chandelier, a Sputnik-esque burst of handsome wood beams inset with linear LED lighting, it all makes perfect sense.
The original Stickbulb mission, which persists today, was to make light from wood, creating a modular system that functions as both innovation upon and homage for its materials. First inspired by a pile of scrap wood, Stickbulb's founders set out to see what they could do with the wood nobody else seemed to want. Stickbulb has a unique perspective on waste, using reclaimed redwood from dismantled 19th-century water towers, heart pine rescued from demolished buildings in and around New York City and even old boardwalk planks from Atlantic City to create some of their ambitious installations. And there are no veneers, here—the studio uses solid wood beams from fallen trees and sustainably forested walnut, oak and maple from nearby regional forests.
The components of each light fixture are simple: wood and metal, with LED diffusers inlaid into the wood beams to provide the illumination. Each beam fits into a metal connector piece, allowing them to be customized and scaled in almost infinite arrangements. They're also easy to disassemble for cleaning or repurposing. The designs are decidedly modern and geometrically inspired, but with a warmth imparted by the naturally finished woods that transcends a purely avant-garde aesthetic.
The brand has been lauded at ICFF, nominated for the NYCX Design Awards and World Architecture Award and won the Red Dot Lighting Design Award in 2018 for its Boom collection. In 2019 Stickbulb was one of just two companies chosen to represent the United States at the XXII Triennale di Milano exhibition, showcasing leaders in the design world's efforts to combat the global environmental crises.
We caught up with Stickbulb to find out more.
Tell us—how did Stickbulb come to be?
Founders Greenberg and Beardsley were inspired to start Stickbulb while designing a house in Miami. Surrounded by piles of long linear wooden off-cuts in their workshop, the two became obsessed with finding creative ways to use, preserve and elevate reclaimed wood. The result was a modular system of sleek, wooden, beams inlaid with LED lights that are designed to interchangeably fit within various steel hardware connectors without tools. To this day Stickbulb is made from wood reclaimed from demolished buildings, dismantled water towers, fallen trees and sustainably managed forests.
Since the founding of Stickbulb you've been at the forefront of new lighting technology and one of the original brands to introduce the sleek, minimal look of LED fixtures in long linear applications (and others have since have followed your lead). What do you think is so impactful about the design and how is Stickbulb continuing to evolve?
The Stickbulb collection pairs the warmth and organic beauty of wood with the thin form factor afforded by LED technology. The result is a modular system of sleek, wooden, beams inlaid with LED lights that are designed to interchangeably fit within various steel hardware connectors without tools. Since our founding years ago, we haven't deviated from this system. Our evolution has come from being hyper-focused on finding incredible sources for the wood material we use and on pushing the boundaries of what our system of sticks and connectors can achieve formally. We still surprise ourselves by discovering new forms.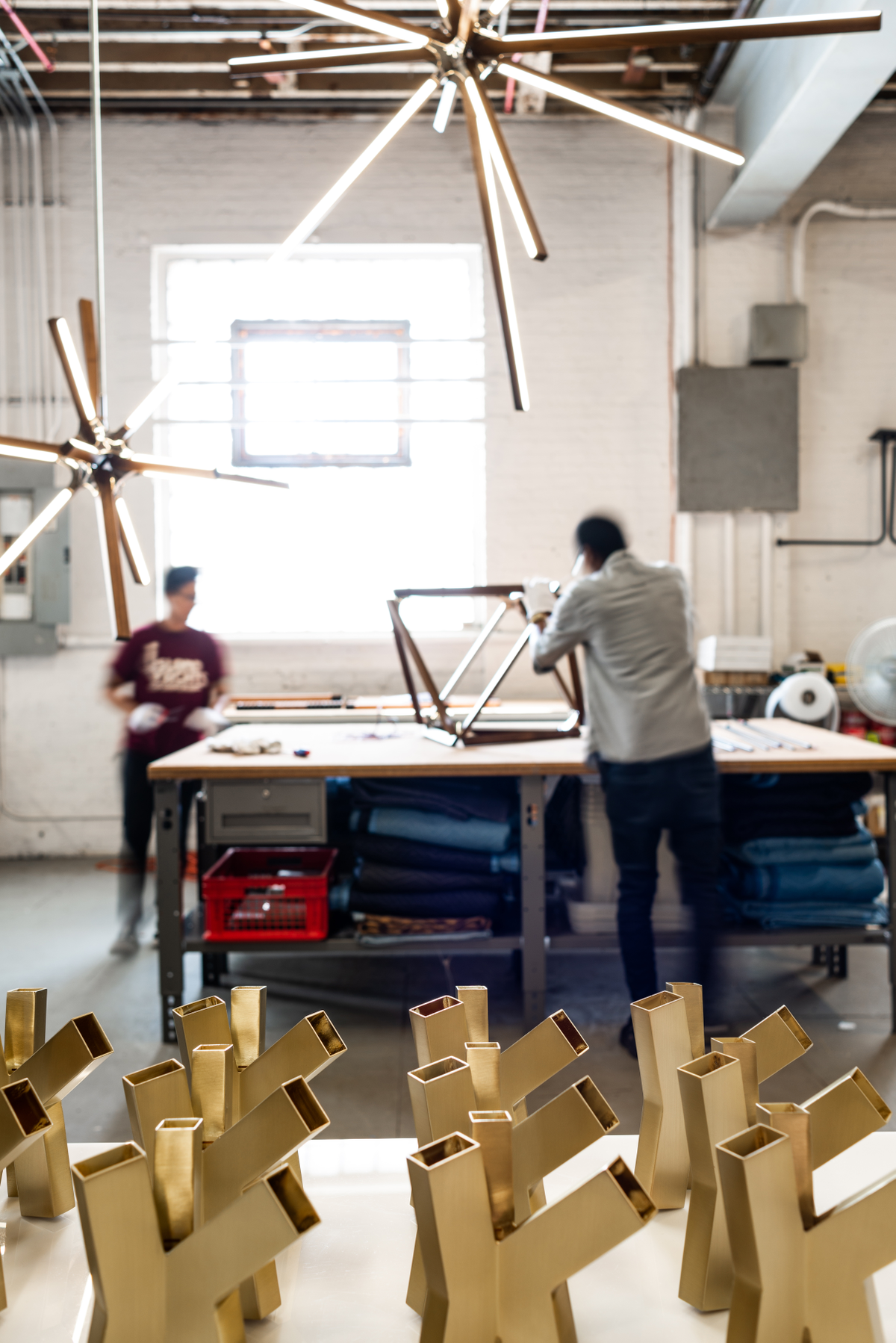 This concept must really lend itself nicely to custom work. What are some projects that have been most exciting to you?
The Stickbulb system is highly customizable. Some customization options are in the finish; a custom color stain on the stick or special metal finish on the connector. Clients also commonly customize the lengths of sticks in order for a fixture to fit perfectly over a table.
Using the modular system of Stickbulb you can also create highly custom installations. We worked with architect Rene Gonzales in a beautiful restaurant called Plant in Miami's design district to create a room-filling custom installation using our Sky Bang connector.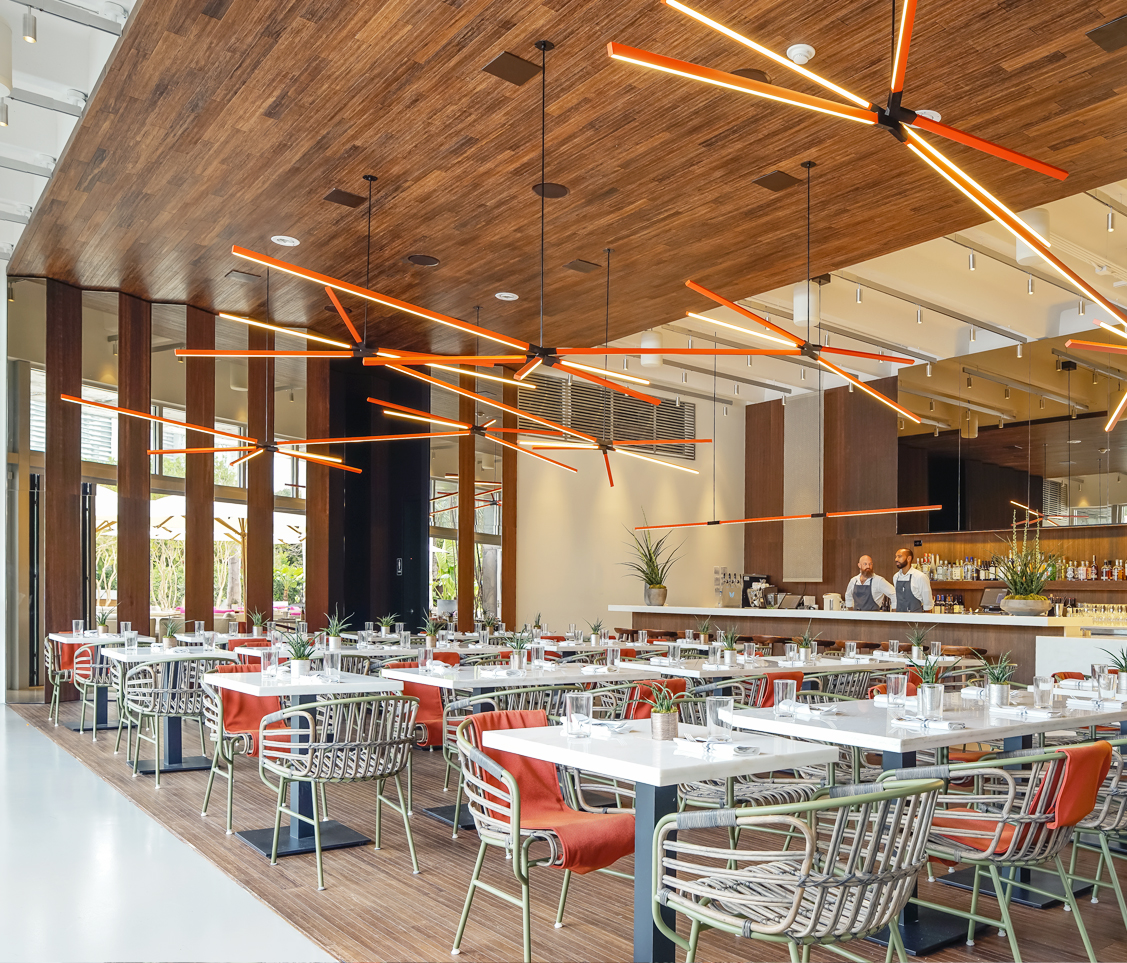 What's the one design you are most proud of and why?
The Sky Bang chandelier. It embodies the playful modular spirit of Stickbulb and has grown to become one of our most iconic designs. The Sky Bang collection is composed of 6 linear wooden bulbs that friction-fit into a central welded steel knuckle. The same central hardware piece accepts different length bulbs to create different sized chandeliers, as well as our portable Bang collection.
The versatility of the design makes it possible to create larger assemblages of Sky Bang fixtures by interconnecting the sticks. Like most Stickbulb fixtures, Sky Bang chandeliers are shipped flat-packed which saves on shipping cost and lessens our carbon footprint, a major priority for our studio.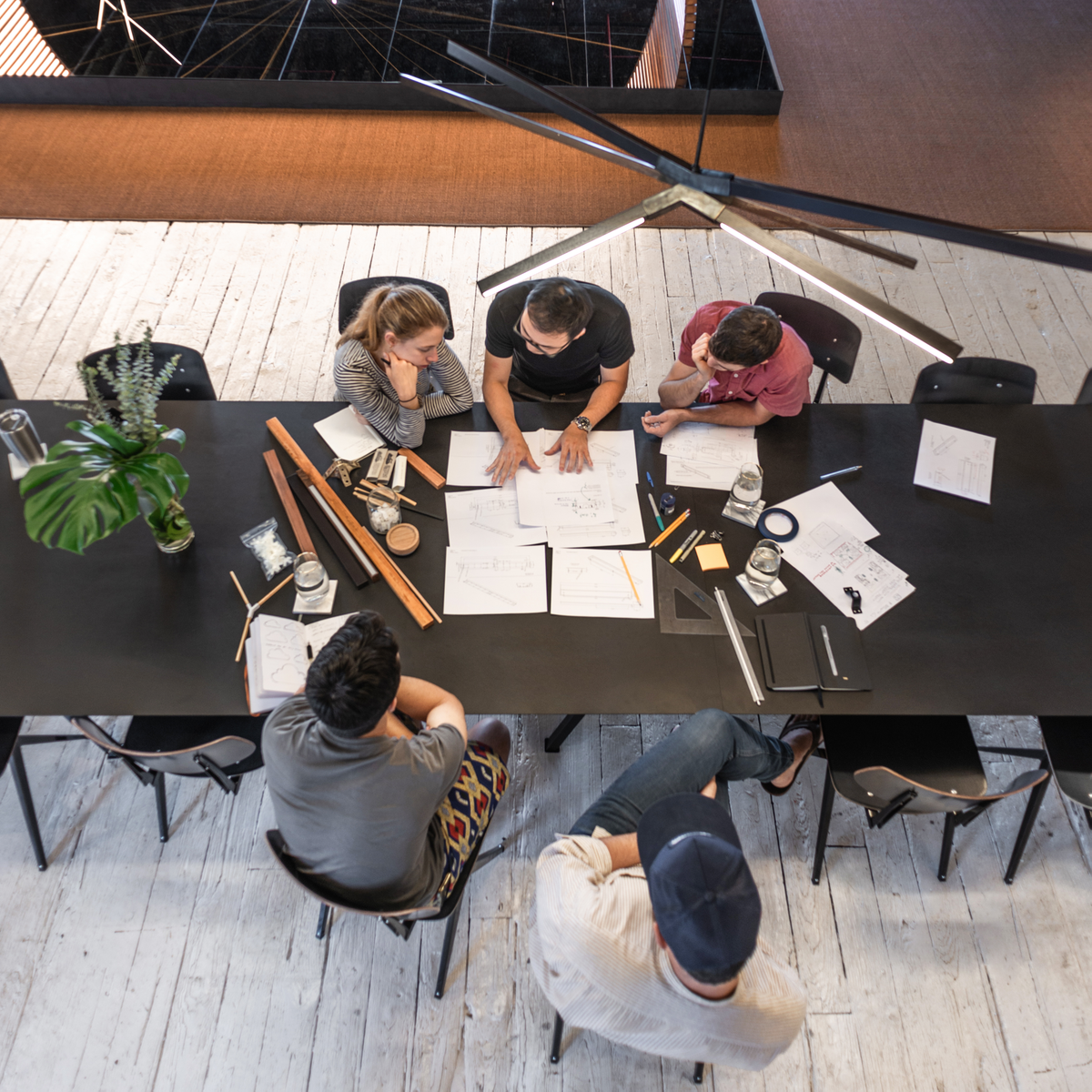 Ethical, responsible practices are an important philosophy for the brand. Why is that?
We are ethical and responsible people, and that makes us ethical and responsible designers. It is less a philosophy and more an act of common sense for us to prioritize the health and wellness of our team, our community and our world. Whereas we have relied on our intuition to drive our sustainable mission in the past, we are now taking a data-driven approach to managing our carbon footprint. We are in the process of analyzing the energy and resource consumption of our entire operation so that we can quantifiably reduce our negative and increase our positive impacts.
Any new releases you'd like to tell us about?
[The Ray LED Wall Sconce] is a back to the basics story for Stickbulb. Over the years we have come out with complex designs using more and more sticks in one product using dynamic metal connectors. Ray Sconce is simple, clean, and quiet. The design is so minimal that it draws your attention closer to the subtle details of the wood grain and the machine precision of the sconce construction.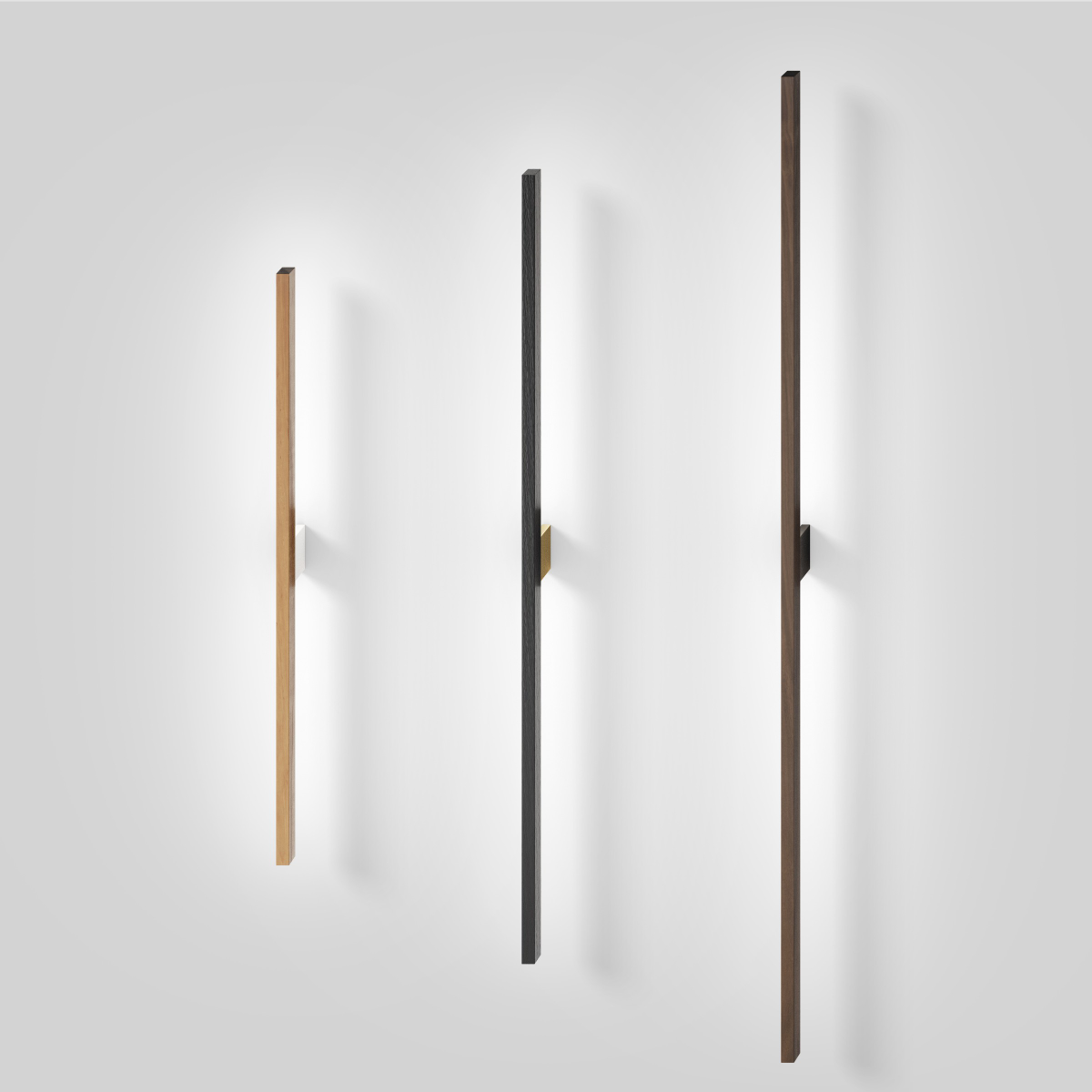 The collection is incredibly versatile, coming in lengths ranging from 18 inches through to 5 feet, as well as vertical and horizontal orientations. The light can face the wall, creating a halo effect around the sconce, or graze the wall, creating a gentle wash of light in an up, down, left, or right direction. We are really excited to come out with our most minimal product to date, Ray Sconce.
---
Stickbulb's newest Ray LED Wall Sconce is a Trade Access design, available only for Lumens Trade Advantage Partners. Another version is also available, along with the rest of the Stickbulb line, exclusively at Lumens.
(Visited 46 times, 1 visits today)