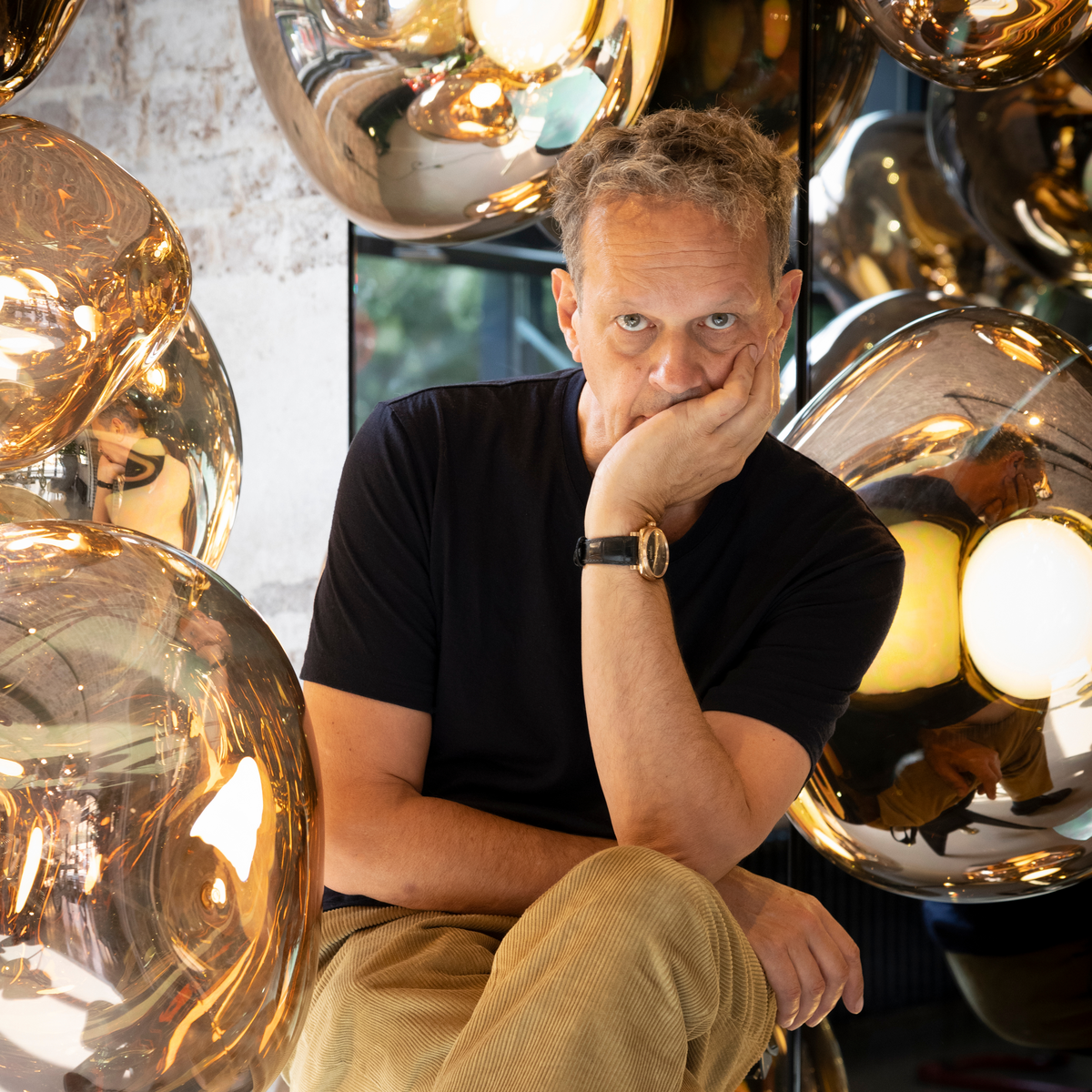 From a funk band's bass-playing backbone to designer extraordinaire, Tom Dixon has always been a bit of a rebel. The self-taught design icon jumped from performing on stage to odd jobs—like machine shop technician at the Chelsea School of Art, coloring animation film frames (by hand) and spinning records for socialite-filled nightclubs—until the mid-eighties, when he struck out into the world of design. Twenty years after founding his eponymous brand, we're taking a look at where Dixon has been and where his self-forged path will take him next.
"I didn't even realize I was a designer at the beginning."
Born in Sfax, Tunisia in 1959, Dixon moved to northern England at just a few years old. Attending the experimental school, Holland Park Comprehensive, the designer says he experienced a bit of culture shock, but in the pottery department, Dixon the Designer began to take shape. "Somewhere in that couple of years of mucking around with clay, I got the idea that you can transform materials into something more precious. That's still what I do," he says.
Fast forward past his days with British funk band, Funkapolitan, his early mornings in UK nightclubs and two motorcycle accidents that rather poetically pushed Dixon to explore new territory, and we arrive at "Space," the indie open space he created for artist and designer collaborations. It was there that Dixon began to explore metalworking, and collaborated with other up-and-coming designers like Michael Anastassiades, Thomas Heatherwick and Michael Young. From everyday found materials salvaged by the designer, Dixon began creating rugged, brutalist "design objets" without the restriction of his creations actually having to function as their form intended. But his work quickly grew popular and as people wanted to buy and use the objects he made—to have these design objets illuminate, pour, seat and so on—the designer refined his technique so that form and function worked in tandem. This work would culminate in his 1989 creation, S-Chair, produced by Italian brand, Cappellini.
The success of the S-Chair started Dixon on a path that would lead to his Creative Director position at Habitat—where he says he learned the "business side" of design—and Finnish brand, Artek, as well as national recognition in the form of the Order of the British Empire, awarded by HRH Queen Elizabeth II in 2000. Today the designer's work has been collected and displayed in museums worldwide, including the Victoria and Albert Museum, the Museum of Modern Art in both New York and Tokyo, and the Centre Pompidou.
As Creative Director at Habitat and Artek, Dixon says, "It was an amazing way to learn about what people really buy rather than what you think they buy." Combine this knowledge with Dixon's perpetual do-it-yourself attitude, and Tom Dixon the brand is born. Since 2002, the instinctive and entrepreneurial-spirited designer has engaged in all manner of design: from lighting to furniture, décor accessories and beyond.
Melt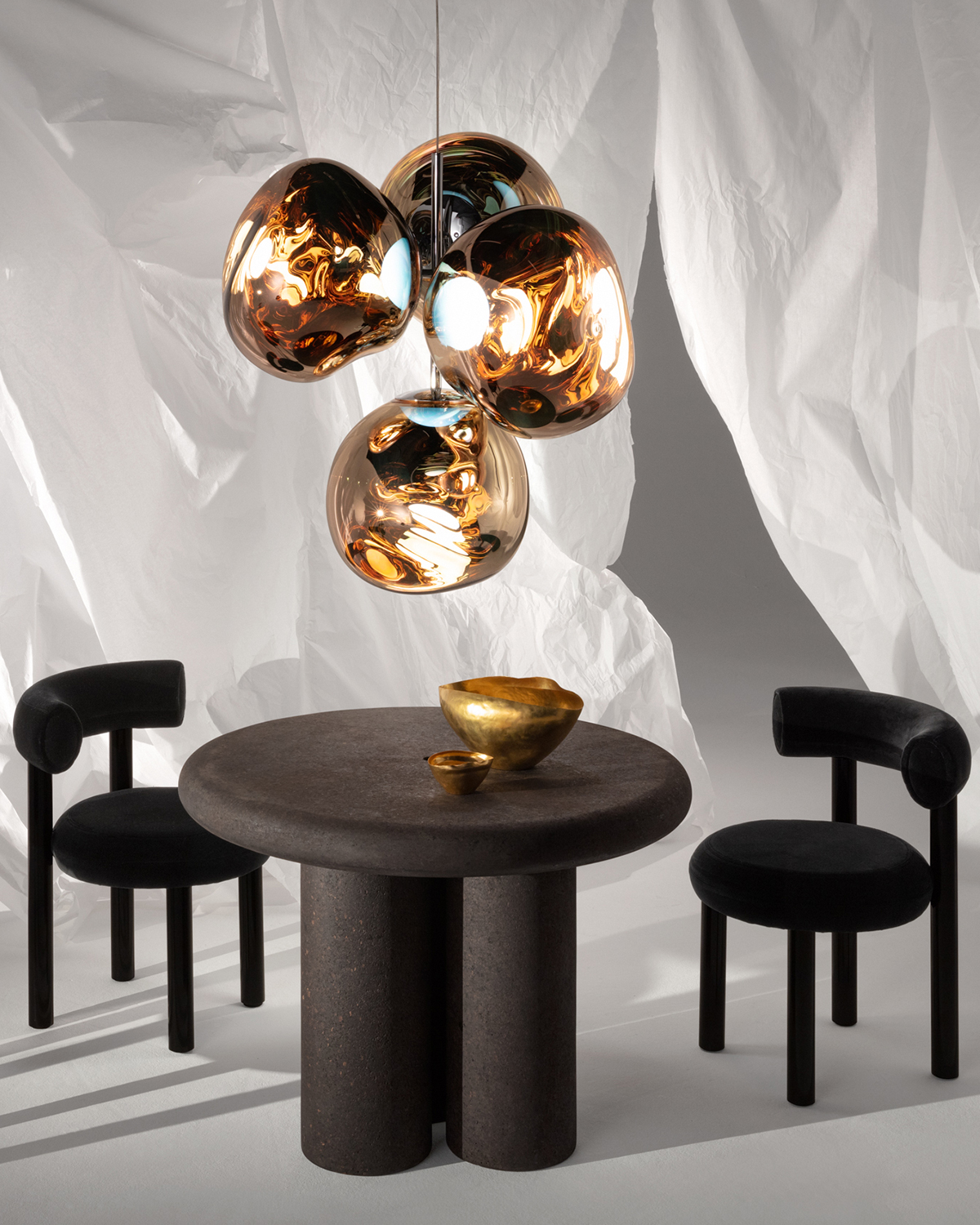 A collaboration creation with Swedish design collective, FRONT, luminaires in the Melt collection are "imperfect, organic and naturalistic lighting objects." Melt's process is slow: Blow moulding and vacuum metallization create melted orbs, each retaining its own singular, unduplicable appearance. Creating an otherworldly optical effect, Melt chandeliers, pendants, floor and table lights reflect and enhance their environments with a half-mirrored, hyper-reflective surface while transforming into a translucent color when turned on.
Fat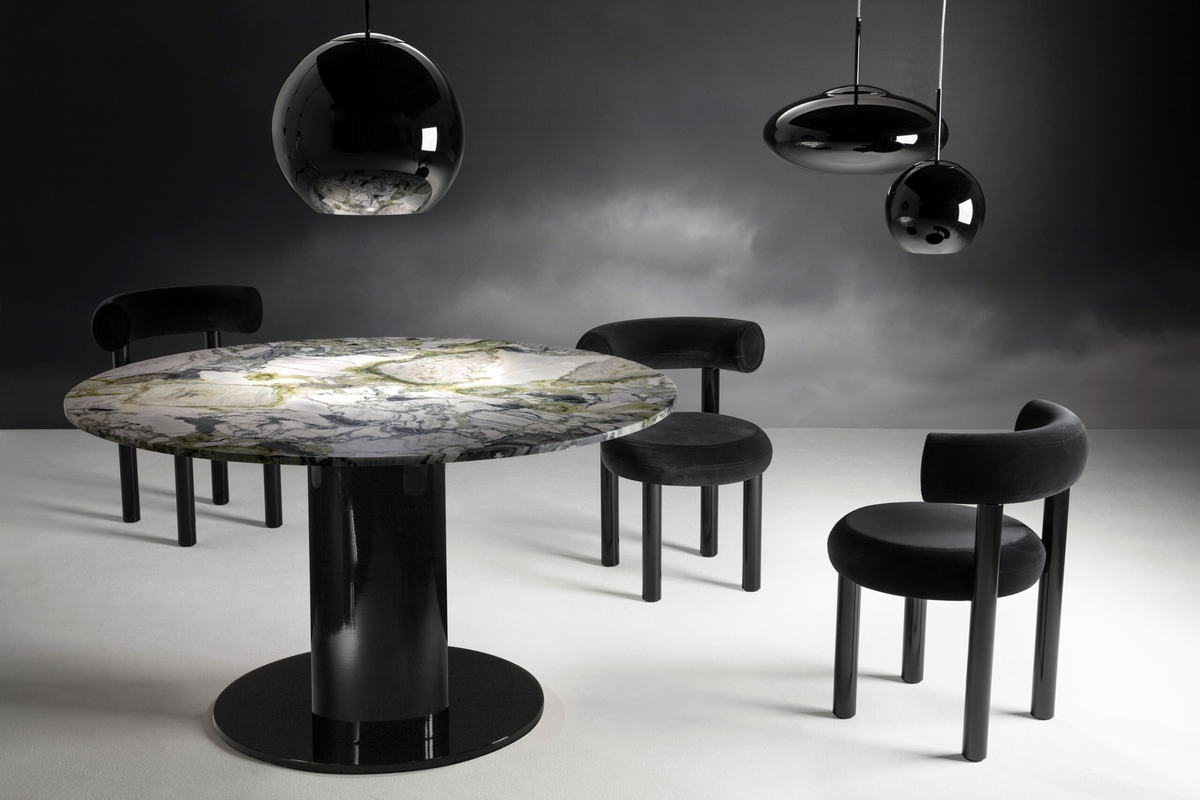 "I wanted really to try and make a chair which had the most elementary components I could think of and to try and reduce the number of elements and the complexity of elements down to the absolute minimum," says Dixon of the Fat collection. Initially tested at his restaurant in the Coal Office as well as the Manzoni in Milan, this collection is designed to hug the body while allowing for a variety of sitting positions. A testament to form following function, Fat furniture is a balancing act, combining a humorous silhouette with a reductionist aesthetic.
Beat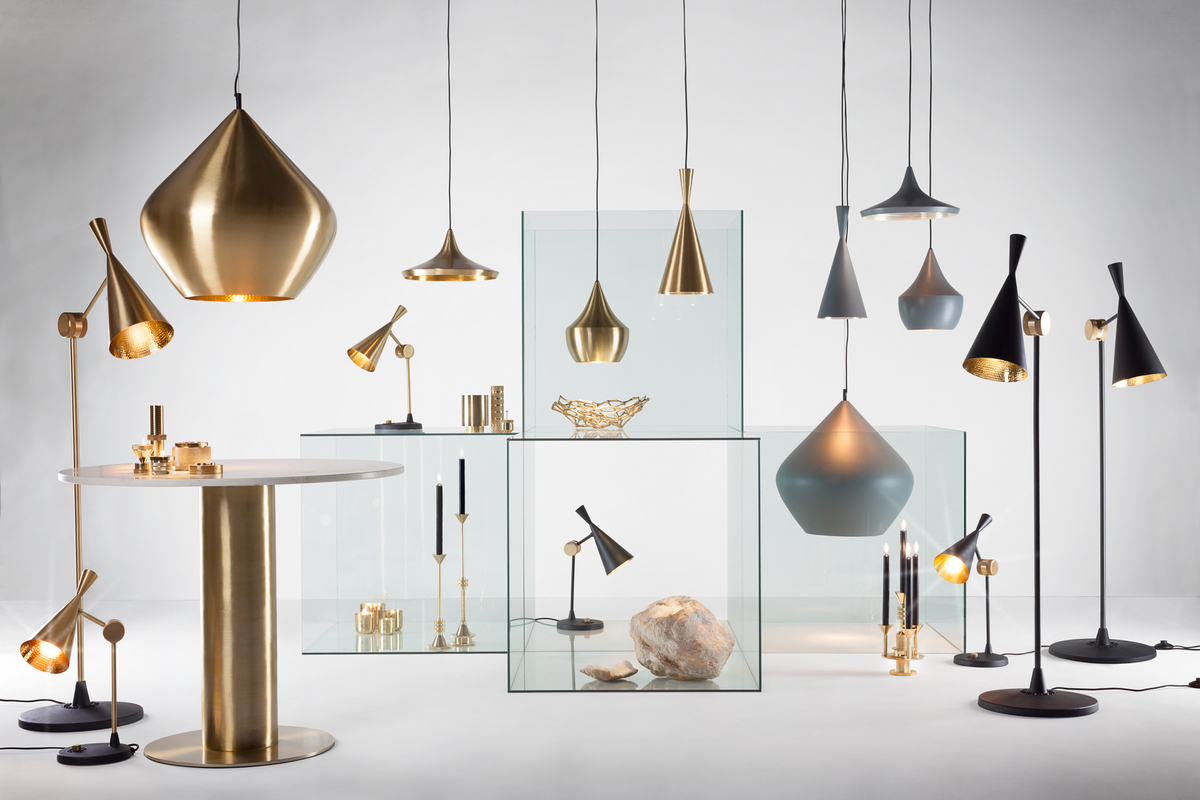 In 2002, Dixon collaborated with the British Council to develop and maintain the skills of street metalworkers of Rajasthan. What were once water vessels, Dixon re-purposed and re-envisioned the everyday piece object as a giver of light. Celebrating the beauty of handmade items, the Beat collection. is made from hand-spun brass sculpted by artisan craftsmen in Northern India. While the fixtures' polished interiors were originally intended for clean hygiene, the beaten interior also refracts and reflects soft, warm illumination.
Swirl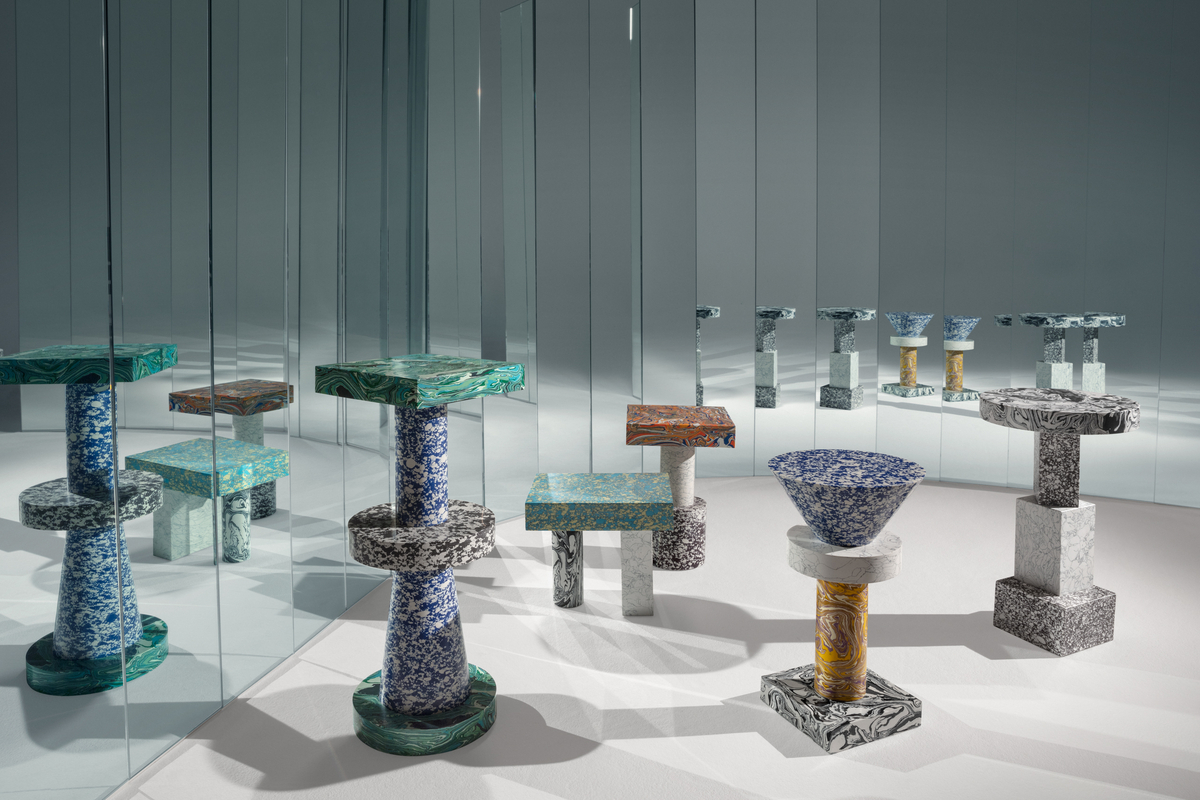 A collection of vases, tables, candleholders and bookends, the Swirl collection takes the form of functional and multidimensional sculptures. Using a process kept under wraps by the Dixon brand, each piece maintains its own unique color, silhouette and thus, personality. Resembling 3D marbled paper but carrying the weight of stone, Swirl's process involves recycling powdered residue from the marble industry, and mixing the residue with pigment and resin to create blocks that are sawn, sliced and turned on a lathe.
Spring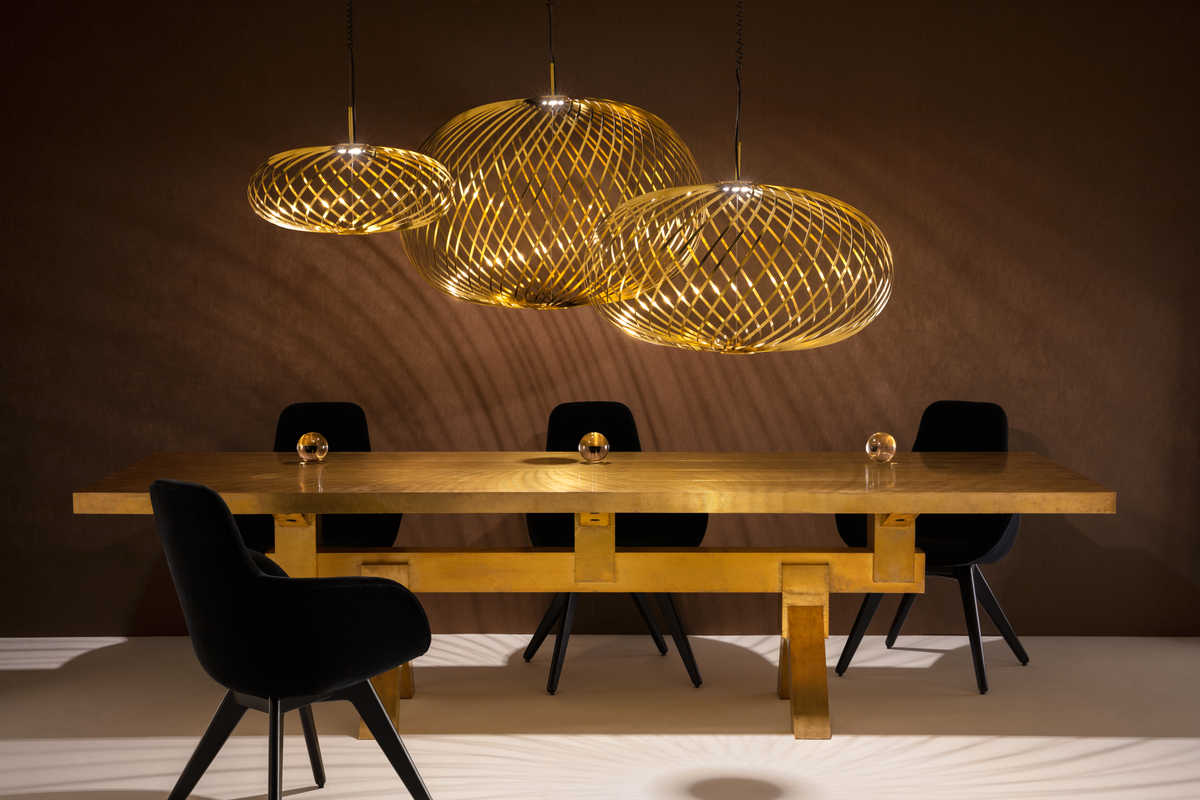 A custom-made LED by Dixon, the Spring collection features three pendants made from stainless steel strips arranged like a whisk. These steel ribbons create a semi-transparent shape that can be adjusted for a more custom arrangement, from flat like a drawing to round and voluptuous like a pumpkin. Ever seeking the latest in innovative methods, the engineering material used by Dixon for the Spring collection retains memory, dictating the final form of the steel luminaire's shade.
Tom Dixon Reflects on 20 Years
What would you tell 2002 Tom Dixon as he embarked upon launching his own studio?
Trust your own instincts and try not to listen so much to other people who try and influence you. Go with your gut!
What has changed in the 20 years since you launched Tom Dixon?
Today, the world is a much more competitive environment with many more products and brands in the sector. We still feel we're doing things in a different way so that hasn't changed, however some of the fashion brands are becoming more interested in the landscape we inhabit, which is interesting.
The brand has gone from having just 2 employees to 120, from selling only in the UK to now over 90 countries worldwide, with hubs in London, Milan, Hong Kong, New York, Tokyo, Hangzhou, Beijing and Shanghai and from having 1 product to over 500 products. Yet, it still feels like we're just beginning.
What products are you launching (or re-launching) to mark this momentous anniversary? Any new twists?
For Salone in April, we launched our TWENTY exhibition at Palazzo Serbelloni which included new and iconic collections. There were iterations on some of our recognized collections such as Mirror Ball, Melt, Fat and Wingback, as well as some upgraded versions and prototypes. We actually exhibited in two locations this year; at Sotheby's Palazzo Serbelloni as well as our own hub, the Manzoni. At the Manzoni we displayed the new products available in our range; Spring surface lights, Globe pendants, Stone tables, Spot pendants and Pebble marble tabletops.
What updates in materials and manufacturing process are you working with, any with a sustainability focus?
The TWENTY exhibition focused on innovation and materiality. We worked with sustainable materials such as mycelium as seen in the scented Mycelium towers, cork for our Cork furniture collection and eelgrass for the Bird chaise.
In the 20th Century most homes in Denmark were thatched with eelgrass, however a fungal disease wiped out majority of the eelgrass, causing residents to source the precious material from the islands of Møn, Bogø and Tærø. More recently a collaboration between Danish architects, engineers and thatchers has resulted in eelgrass being reinvented into factory-made acoustic insulation and upholstery mats that represent a real alternative to synthetic options. This wonder material also binds significant amounts of CO₂ while growing in the sea and has the benefit of serving as an efficient carbon sink when used in construction or furniture – ultimately, resulting in a highly positive climate impact.
We wanted to see if we could use it as a substitute to petrochemical-based materials in our Bird rocking chair – the bold sculptural foam providing a simple platform to test the comfort qualities of this promising new use for traditional material. To create this upgraded version of Bird, we collaborated with Danish material manufacturers Søuld, who have unlocked the benefits of eelgrass and reinvented the proven, time-honoured material for the benefit of the modern design and building industry.
What can we look forward to in the next 20 years of Tom Dixon?
More adventures in materials and manufacturing, more categories from architecture to electronics and hopefully more new friends and exciting collaborations.
"I'd learned that you could create your own business from doing music—you picked up an instrument, you learned to play it, you made your own sound and then suddenly you had a recording contract. I transferred some of that do-it-yourself mentality to what we were doing. It was never a plan, it was just an evolution. But it's always turned out slightly better than I expected, so that's possibly better than having a plan."
(Visited 368 times, 1 visits today)