Channeling elements of mid-century modern, minimalism and a bohemian touch, there's something about California style that is quintessentially cool. California Modern encapsulates the energy, ingenuity and creativity the Golden State is known for. The look is relaxed, sophisticated and inherently modern. Discover the motherlode of California Modern design as we unearth nuggets of its history—and see how this aesthetic could pan out in your home.
Origin and Influences: Striking Gold in Residential Spaces
California Modern architecture and design emerged in the mid-20th century, influenced by post-World War II urbanization and a demand for innovative residential and commercial spaces. Architects like Joseph Eichler and designers such as Charles and Ray Eames shaped the aesthetic, drawing inspiration from mid-century modern design, Scandinavian minimalism and the bohemian spirit.
Rooted in California's cultural and creative ethos, the style emphasizes simplicity, functionality and a harmonious connection with nature, all tenets which are valued in the 21st century.
Mid-Century Lines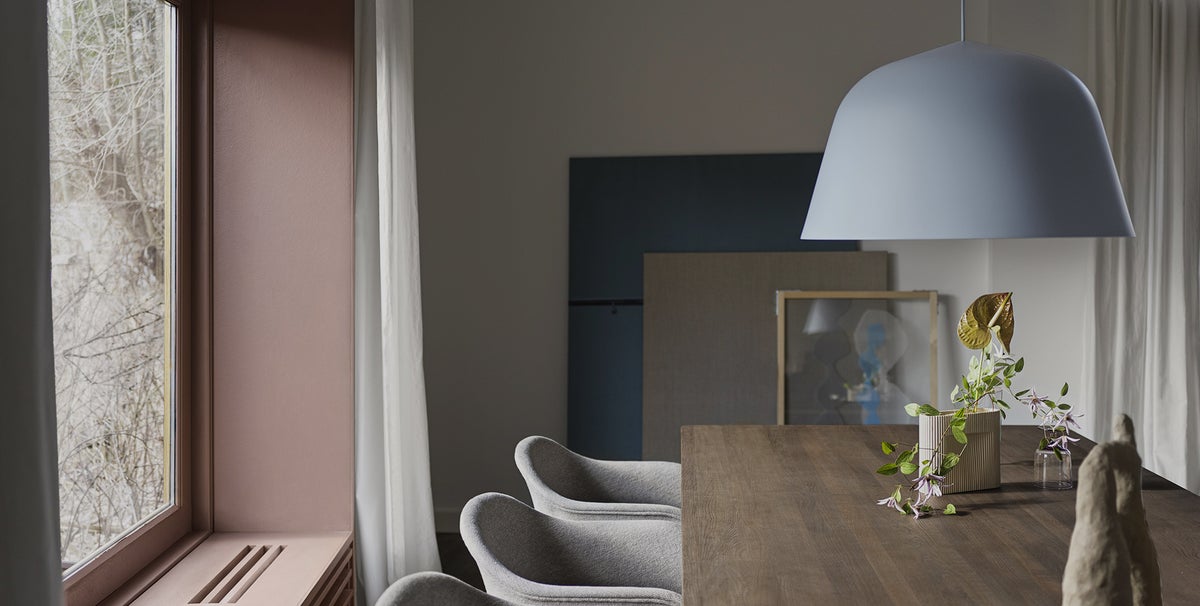 Clean lines are a foundational element of California Modern design. Inspired by iconic mid-century modern and Scandinavian styles, these sleek contours infuse a sense of simplicity and order into your space. Consider incorporating smooth domes, spheres, and drums as lighting fixtures to maintain a clean and uncluttered ambiance.
Light, Breezy Tones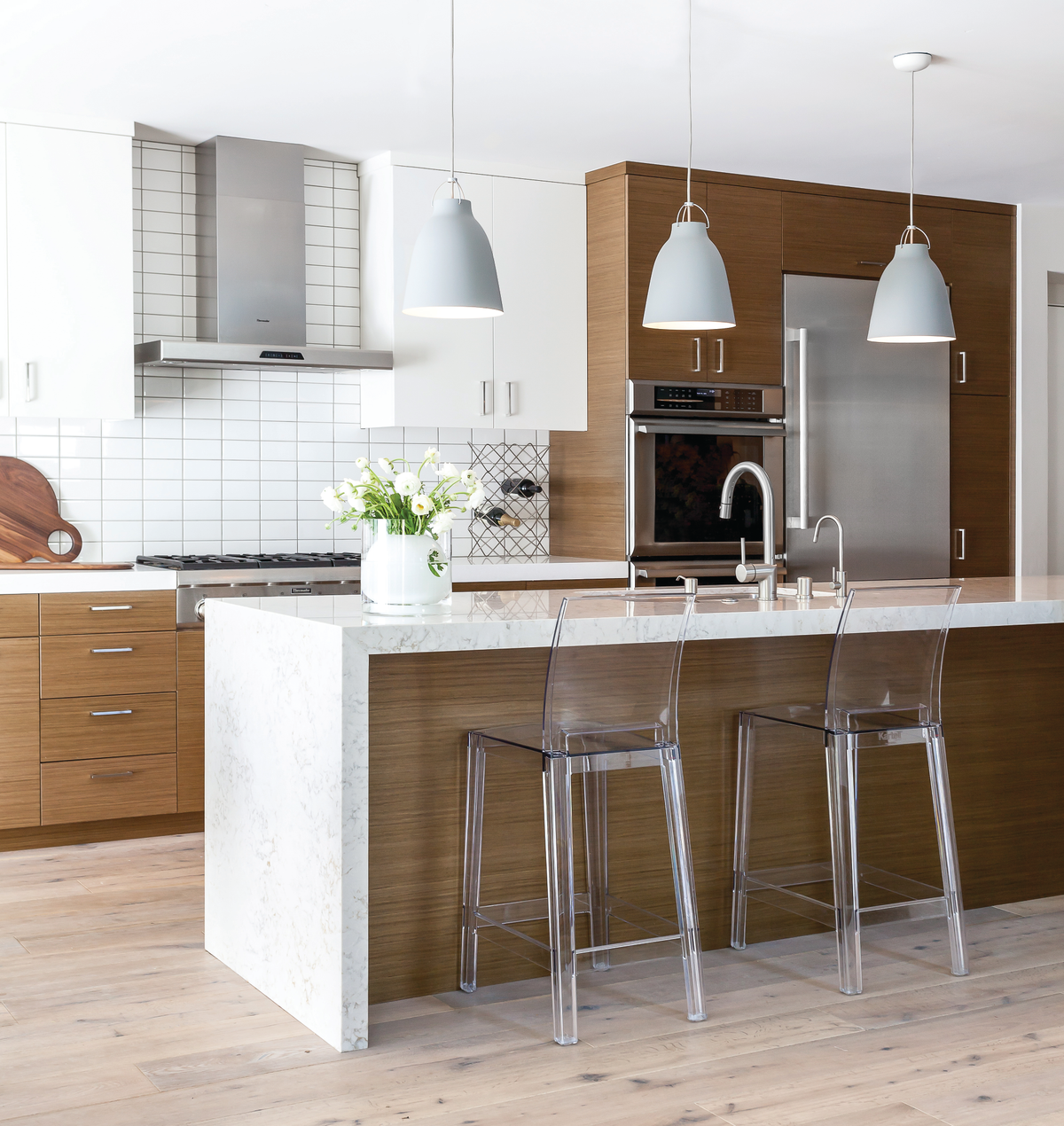 To evoke the calming feeling of a gentle coastal breeze, opt for a light and airy color scheme. Whites, grays and soft pastel tones work harmoniously with clean lines, creating an atmosphere of simple sophistication. With a predominantly lighter palette, richer accent colors can make a striking statement. Shades of yellow, orange, coral, turquoise and navy blue add vibrancy and visual interest.
Bohemian Accents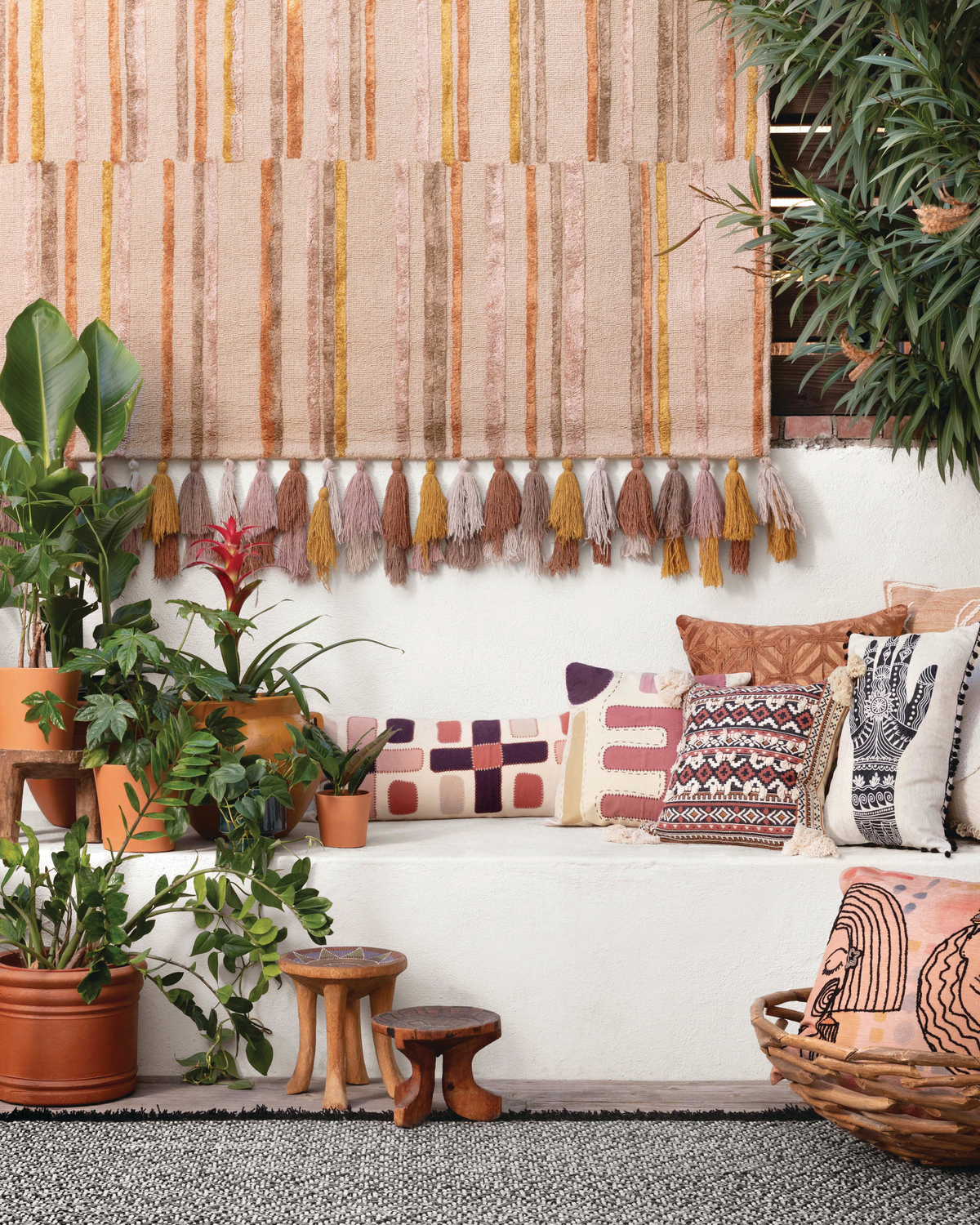 While bohemian textiles are a prominent element in California Modern style, it's important to strike a balance to maintain a luxurious and sophisticated ambiance. Select pieces that make a lasting impact rather than overwhelming the space with multiple bohemian elements. Layer these pieces with simple and minimal textiles to let them shine. Rugs, in particular, provide an excellent opportunity to introduce boho patterns and textures.
Luxe Leathers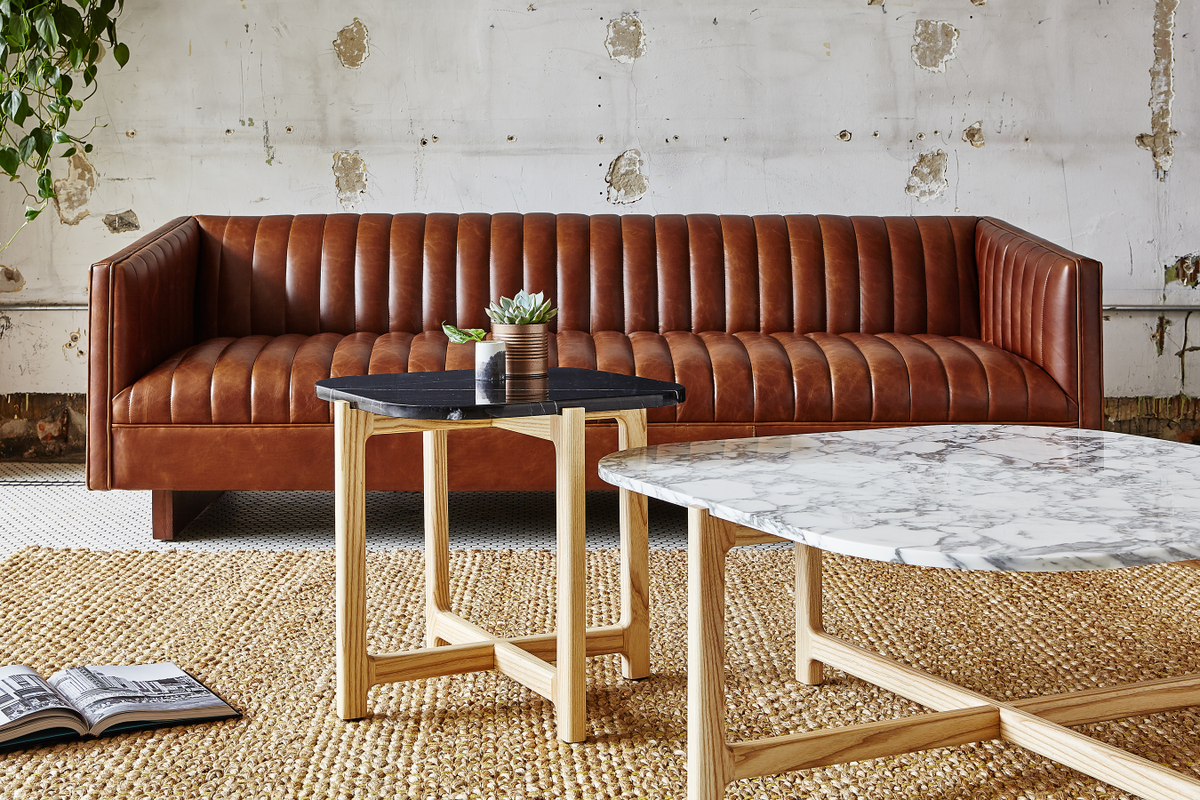 Industrial Elements
Lustrous metals introduce a modern edge to the California Modern style. Capitalize on this opportunity to showcase lighting fixtures as true focal points. Dark, factory-style pendants add an almost gritty accent to the neutral palette and the softness of the natural materials. This juxtaposition demonstrates confidence and fearlessness in personal style that is quintessentially Californian.
Natural Materials
Organic materials and vibrant greenery play a pivotal role in enhancing the warmth and depth of California Modern rooms. Incorporate woods, woven baskets, sheepskins or hides, and plants to infuse the room with an earthy-but-elevated point of view. These elements provide a striking contrast against the light and pastel colors often found in this style, creating a harmonious and balanced composition.
Indoor-Outdoor Connection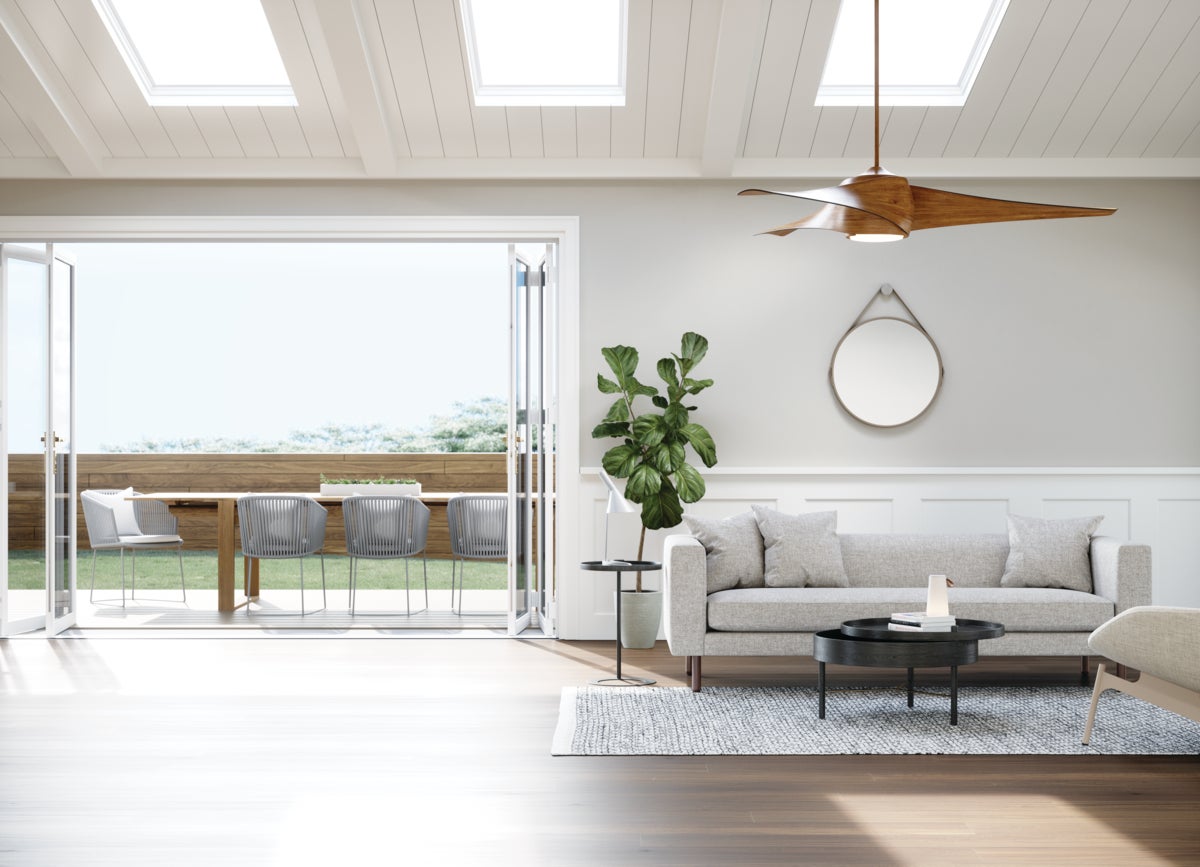 California Modern design embraces the seamless integration of indoor and outdoor living spaces. Large windows, sliding glass doors, and open floor plans are common features, blurring the boundaries between the interior and exterior. This biophilic design approach allows for abundant natural light, fresh air and a harmonious relationship with nature.
Keeping It Simple
Clean lines, minimal ornamentation, and a focus on functionality are key characteristics of California Modern style. The aesthetic is uncluttered, with an emphasis on creating open and spacious interiors. The design philosophy revolves around simplicity, allowing each element to breathe and make an impact.
Organic Shapes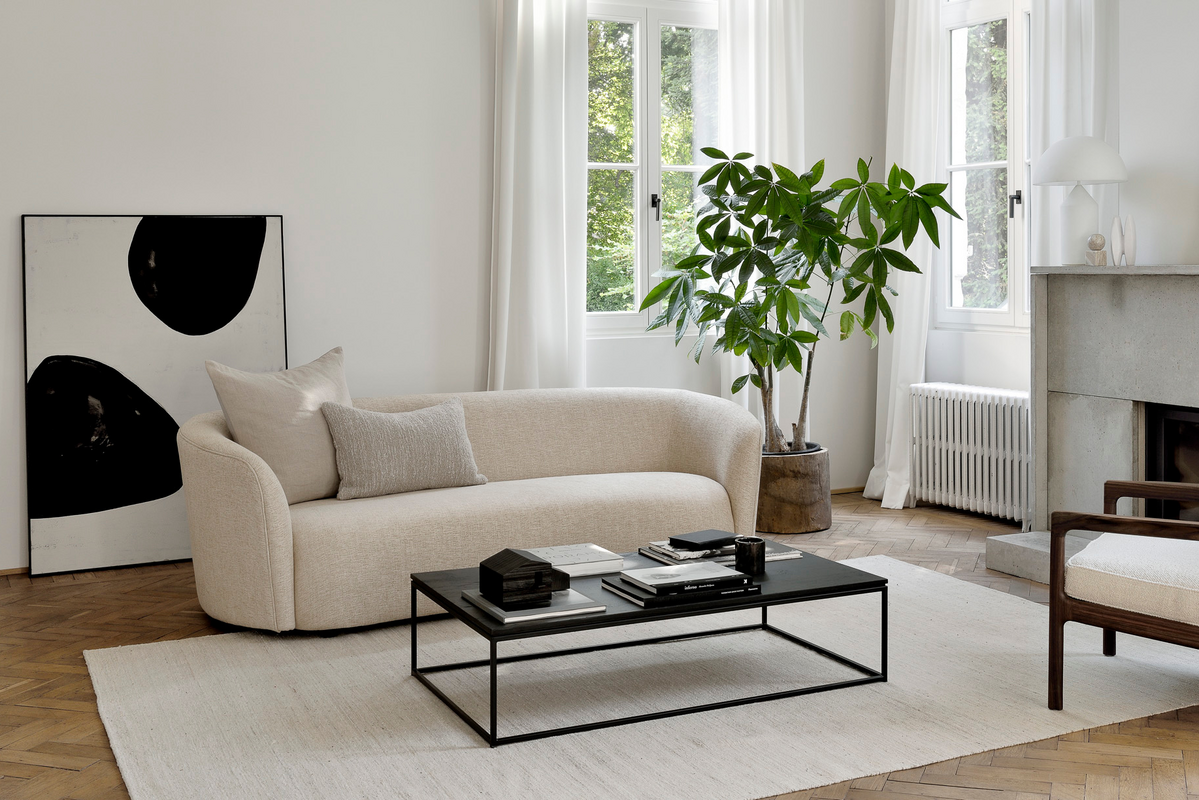 Alongside clean lines, California Modern incorporates organic and curvaceous forms. Furniture pieces often feature sculptural shapes, embracing smooth and flowing contours. These soft curves create a sense of comfort and invite relaxation.
Casual Atmosphere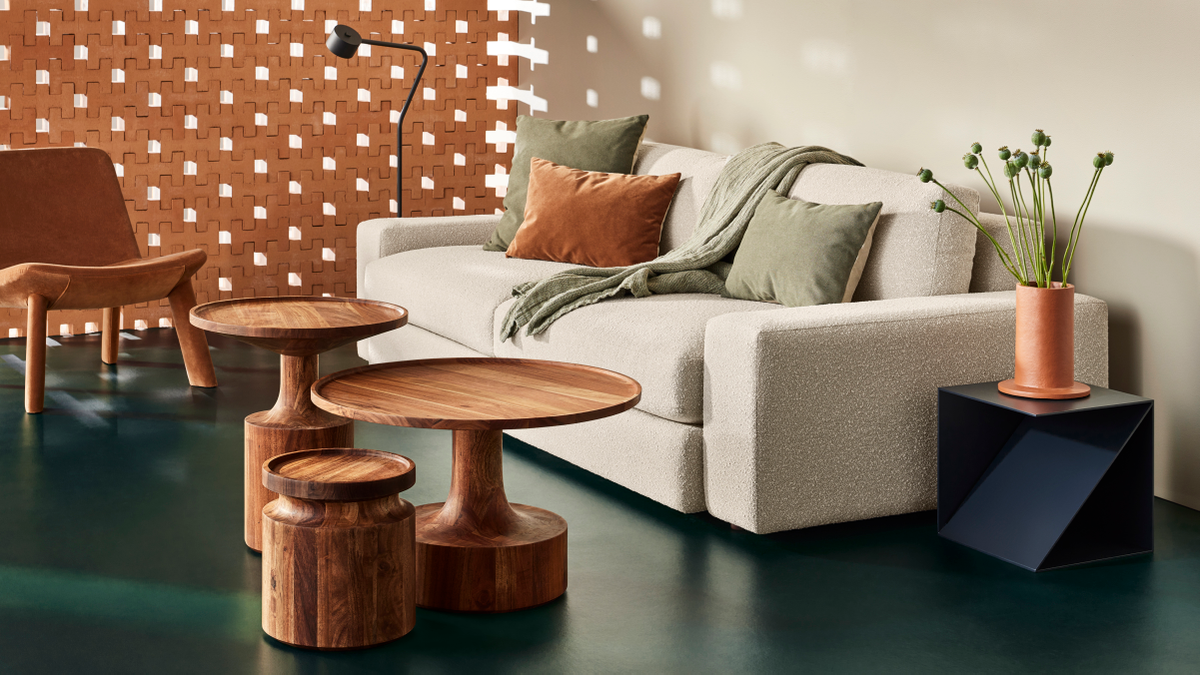 California Modern design exudes chill, seeking to create spaces that feel welcoming and comfortable, promoting a laid-back lifestyle. This style encourages a sense of ease and encourages the use of functional furniture arrangements that facilitate socializing and relaxation.
Integrating Art
Art is integral to a well-rounded California Modern design. Creative expression is a hallmark of California style, so this is an opportunity to let personality and taste shine through. Whether using wall art, sculpture or collections as a singular focal point or gallery showcase, the more personal the better.
Sustainable Design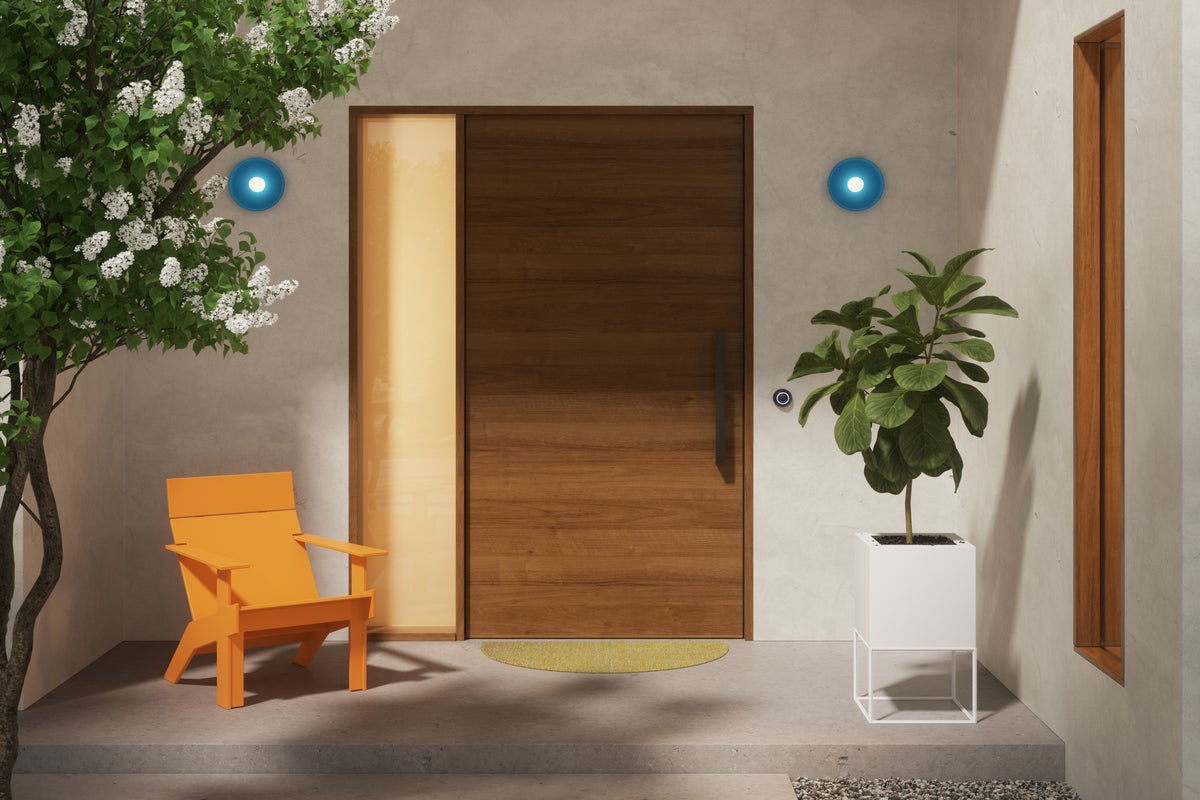 Environmental consciousness is a fundamental aspect of California Modern style. The emphasis on natural materials, energy-efficient design and the integration of sustainable practices aligns with the eco-conscious mindset that is prevalent on the west coast. The goal is to create spaces that are not only visually stunning but also environmentally responsible.
Don't Forget the Fun
The easygoing spirit of California can come into play quite literally with game tables as design elements, particularly those that moonlight as functional furniture. Flexibility and whimsy are combined, bringing a sunny sense of humor to interior and exterior spaces.
The Verdict
Achieving the California Modern style involves stepping beyond the boundaries to embrace indoor-outdoor living. Organic shapes and natural materials like wood, stone and concrete ground the look with a sense of warmth and authenticity. It's all about creating a casual and relaxed atmosphere, integrating art and personality, and practicing sustainable design; nods to California's vibrant lifestyle and design innovation.