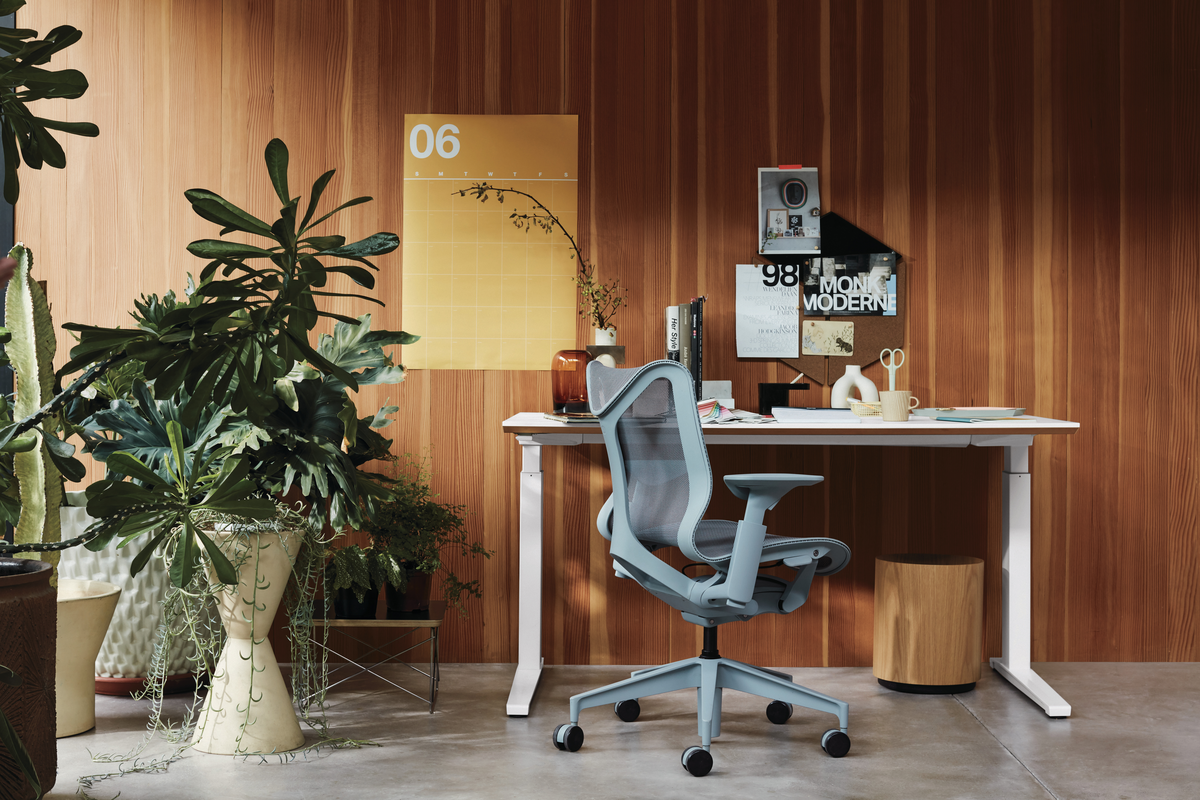 There's nothing more beneficial to your productivity—and sense of style—than a well-designed home office space. With the proper planning, design strategy and furnishings, you can improve the atmosphere of your workspace, ensuring better productivity and a better overall mindset and work ethic. Use these expert tips and tricks to assemble a home office that will charge and power your daily grind.
Healthy Home Office Lighting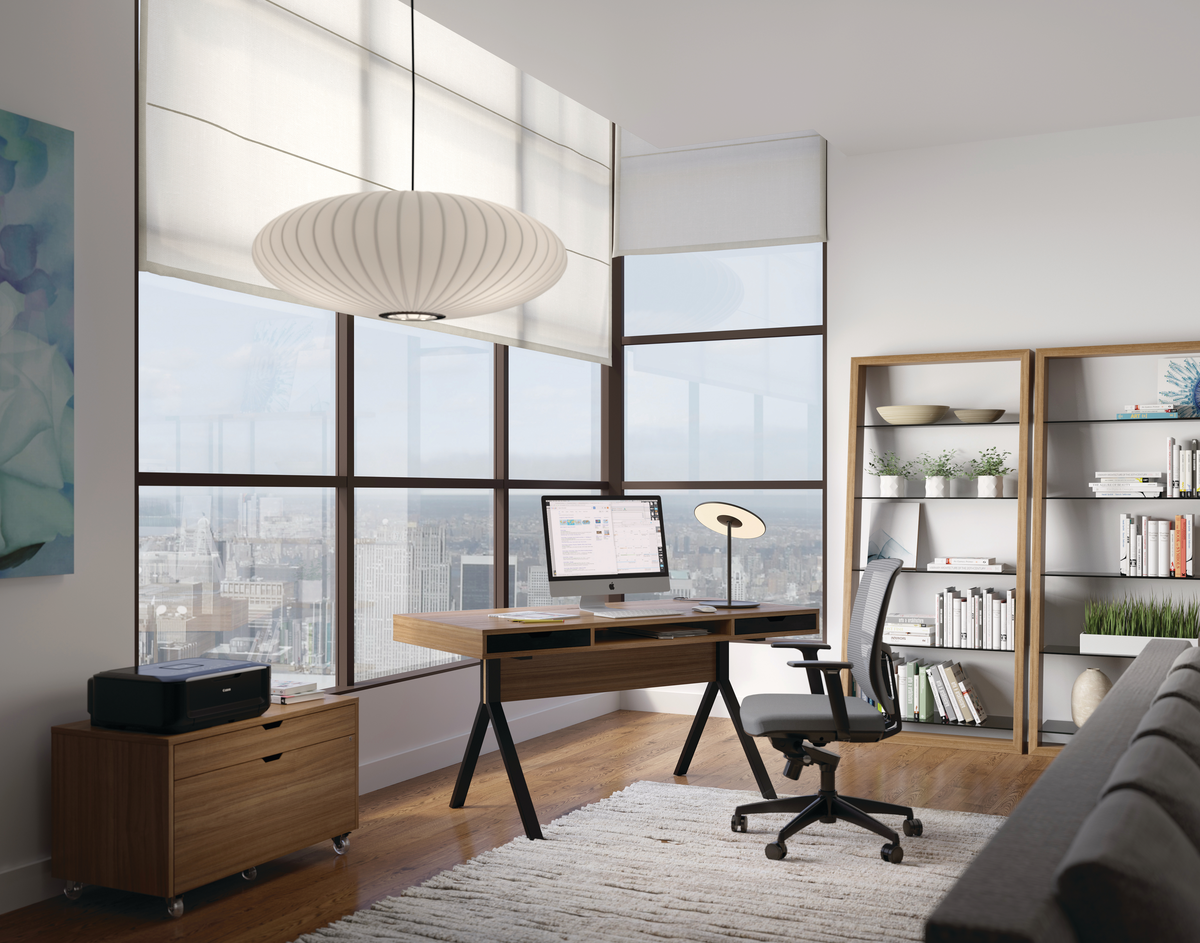 The benefits of natural light abound: Promoting good mental health by keeping stress levels low and reenergizing your mood, taking advantage of natural light can even cut costs on your utility bills, allowing you to keep your own lights off until evening falls. If you have the luxury of setting up your home office near sunlight, don't pass it by.
For home offices that can't be placed near windows with natural light, you'll want to take advantage of lighting of all kinds. A table lamp works for basic visibility, but also consider ambiance. A combination of ambient lighting and task lighting can help keep your office feeling productive during the later hours of the day. If you have dark corners, the mood will start to sag, so keep things vibrant with a mix of portable lighting, ceiling lights and wall sconces.
A flexible desk lamp is an absolute must to keep you going without eyestrain or glare. LED lamps can last for thousands of hours with cool color temperatures, helping to ward off depression with pools of white light that can often be brightness-controlled with a convenient dimmer.
Ergonomic Furniture that Works with You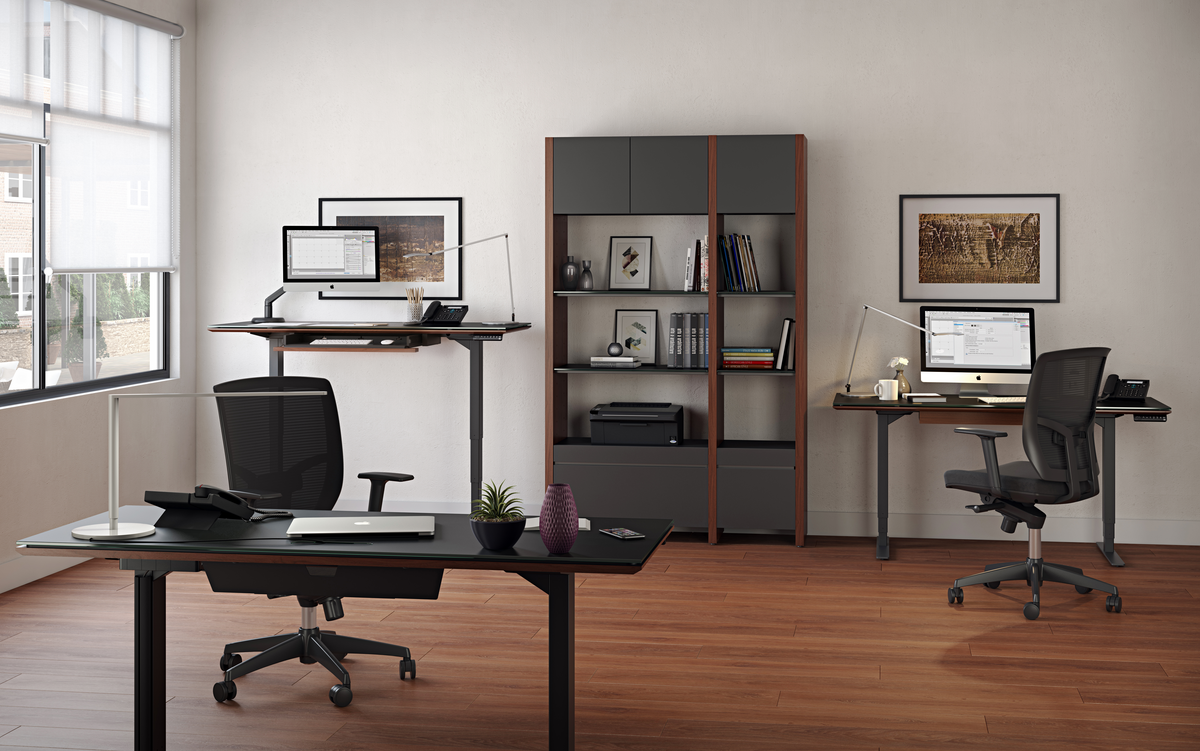 Poor posture and body positioning can lead to musculoskeletal disorders over time. Things like carpal tunnel syndrome, muscle strains or lower back injuries are just a few of the issues that can arise after extended, repetitive work in an awkward position, leading to reduced productivity (and personal comfort).
To help reduce such potentially long term problems, it's important to make sure that your desk is right for your height, whether you choose a sitting desk or a standing desk. A fixed desk that is too high can result in wrist and shoulder problems, while a desk that's too low can result in hunching. Generally, the suggested standard height of a desk is 34 inches, but a height-adjustable desk can be an excellent addition to your home office, allowing you to adjust your workspace to your preferred sitting height regardless of how tall you are.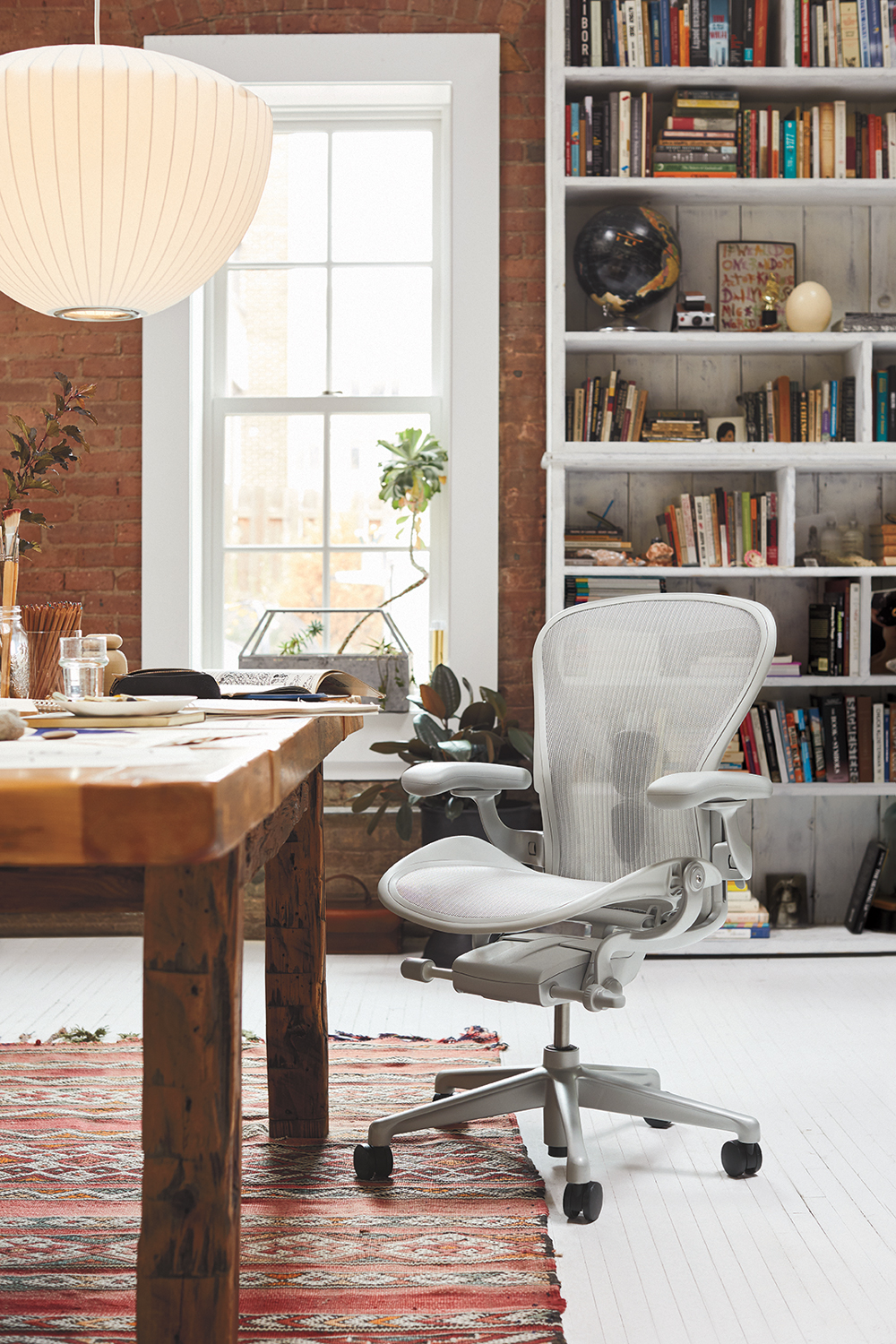 Equally important is an ergonomic desk chair that will keep you postured and focused. Your home office chair's backrest should be adjustable and allow for the shape of your spine. Adjustable height will allow you to rest your feet flat on the floor; your arms should also rest close to your body, allowing your shoulders to relax. The seat should be long enough to put two to three finger lengths between it and the knee. If possible, the seat cushion should be made out of a supportive material like memory foam to provide you with plenty of comfort as you work throughout the day.
Organize + Maximize Your Space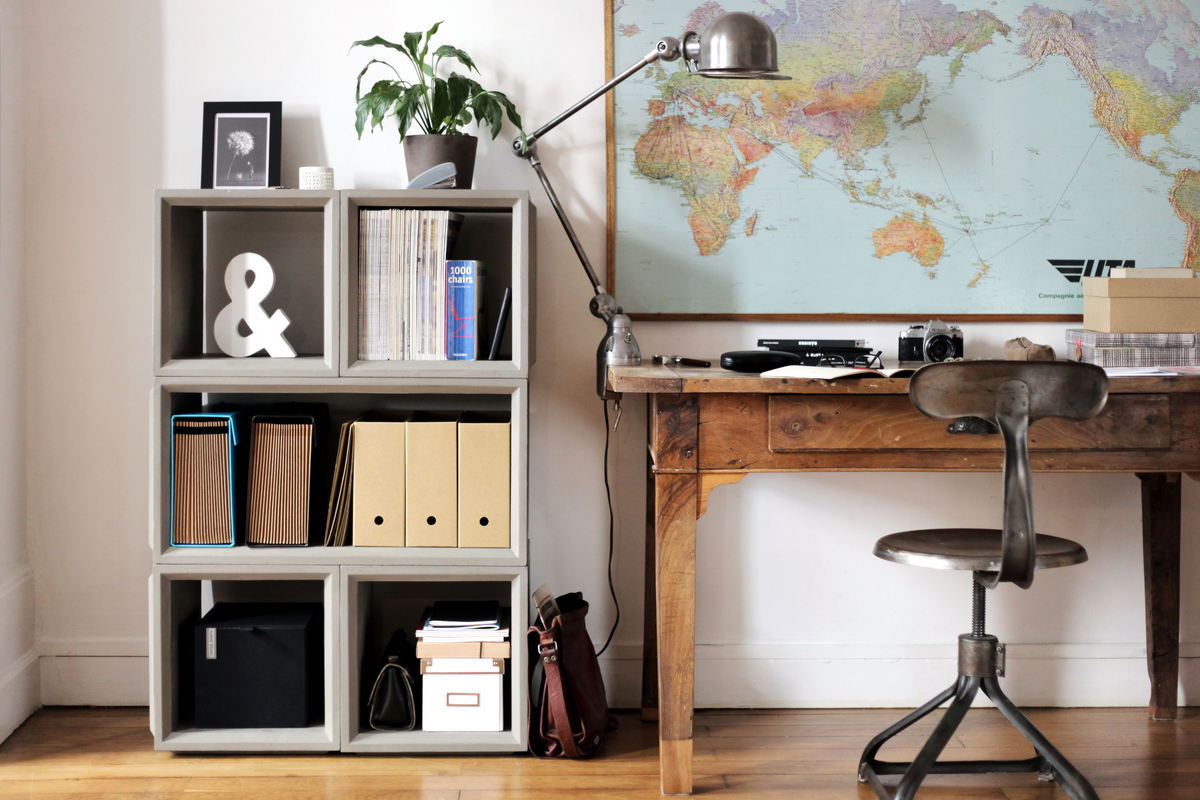 Whether it's top of mind or lagging at the bottom of your weekend to-do list, clutter can negatively affect your productivity. Keeping your home office organized and functional is critical to a successful workday—and peace of mind after 5pm. When selecting storage solutions, ensure that there's plenty of space for all of your documents and office accessories, but also be sure to account for the size of your home office. Having a dedicated room as your home office allows you to create a full executive set up, while in smaller settings where space is limited, a multi-functional mobile file cabinet is an appealing compact solution.
A Green Home Office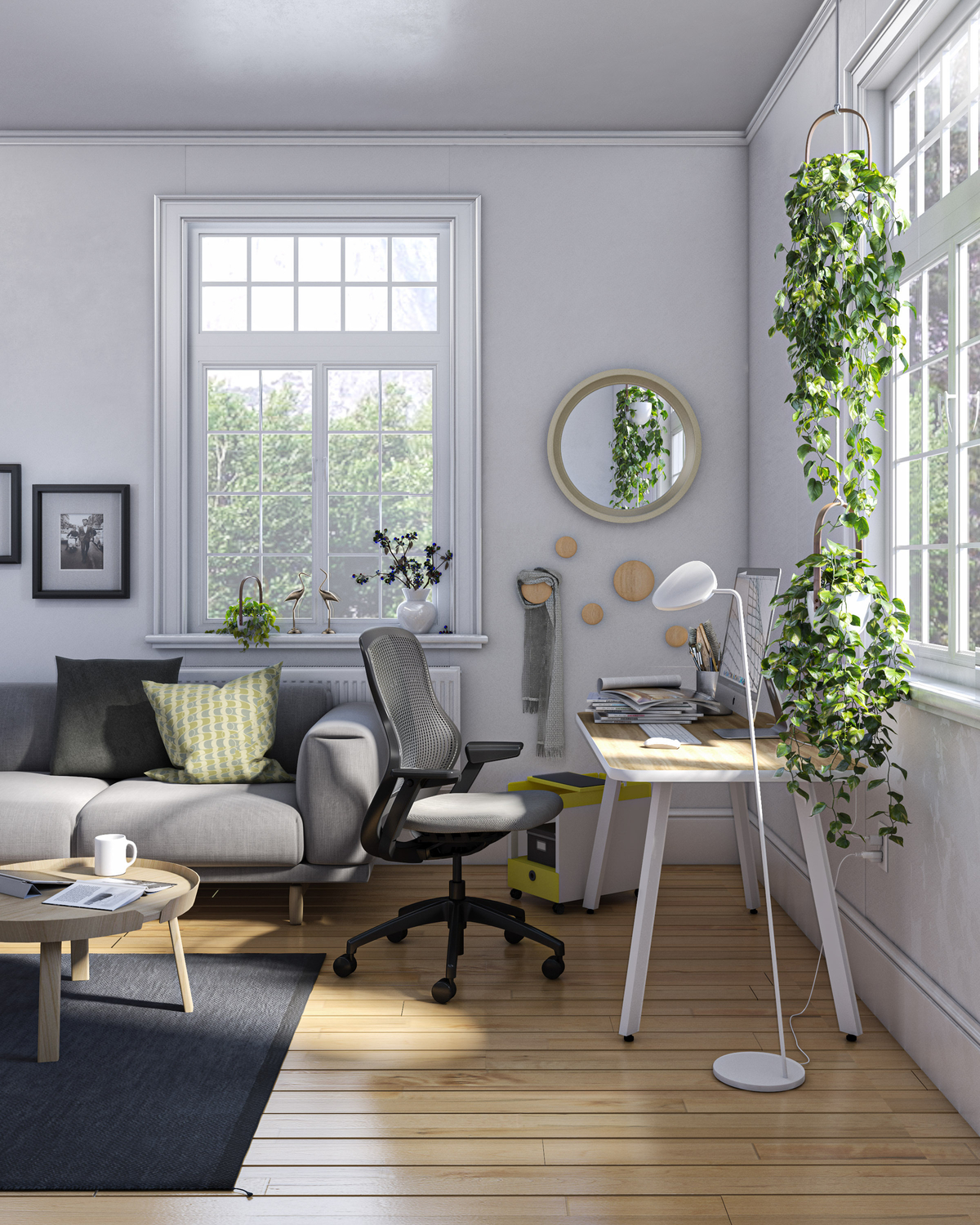 Adding greenery can bring a fresh breath from the outdoors to your home office space. Whether you're designing from the tradition of minimalism, modernism, maximalism or beyond, placing some of your favorite plants around your working space can create an actively engaging environment that boosts both happiness and productivity. After 10 years of studying this issue, Dr. Chris Knight and his colleagues concluded employees were 15% more productive with a few houseplants in the office space because they were able to actively engage with their space. Another benefit? An afternoon watering routine can get you up and moving, giving you—and your plants—just the energy you need to finish out the day.
Shared Office Spaces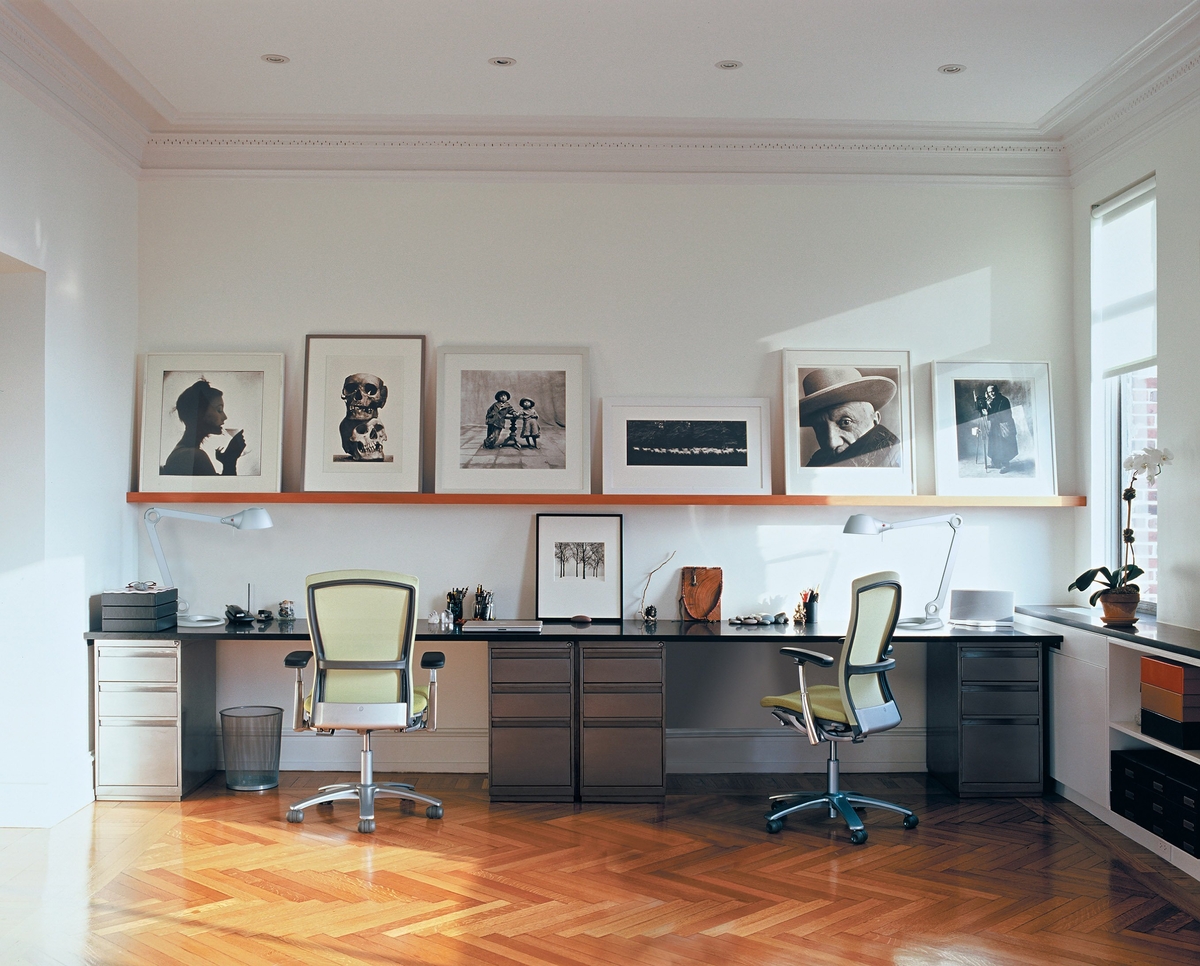 While a designated office space for each person working from home might be ideal, it's not always possible. If you don't have room for a designated shared workspace, you can also take advantage of other rooms in the home that don't see much traffic. Could you transform the guest bedroom into a spare working space? Perhaps the dining table could double as a large desk? Keep in mind that the most important thing about a workspace—especially shared home office spaces—is its functionality.
A desk may look better beside a living room window, but when sharing space, it may be a wiser choice to put it in the bedroom, where you're less likely to be distracted by other members of the household while you work. If you need help with noise levels, consider adding an acoustic light fixture. Often made from fabrics that offer noise-cancelling properties, acoustic fixtures can be placed in noisy rooms to dampen sound and reduce noise that can travel into your workspace.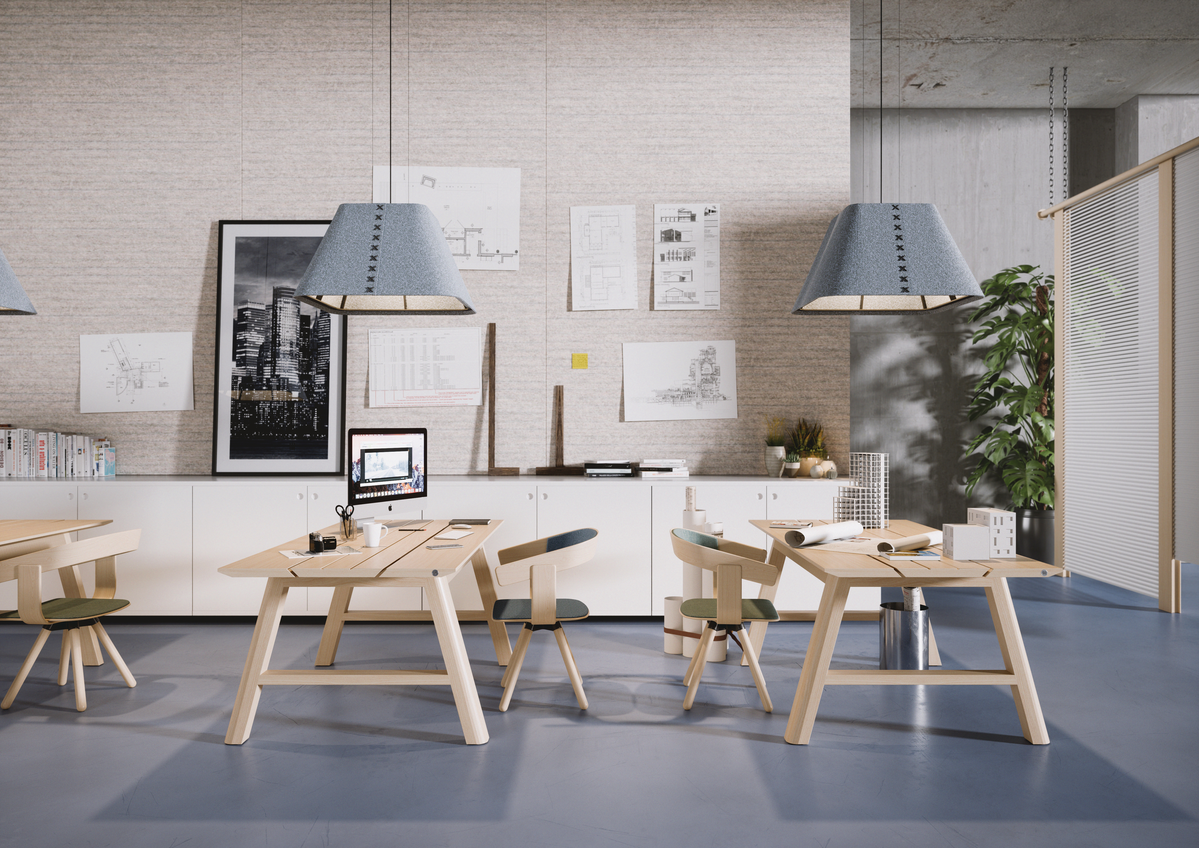 At times it can feel impossible to separate your workspace form the rest of your home. One of the best ways to alleviate this stress is to clearly define your work area from the rest of its environment. This is especially useful when sharing space with others, as it helps to make it known when you are "at work" and focused. Incorporating room dividers and privacy panels into your work area is a simple and easy way to distinguish between work and home while adding a level of privacy that will not only help with your focus but can also be a great way to keep work out of sight during off-time. A modern bookcase can even serve as a room divider, offering customizable features so you can configure the shelves to your own personal needs. If there isn't enough room for a divider inside a shared office space, placing both desks and chairs against the same wall can add a layer of separation from the rest of the room.
One of the benefits of working from home? Your home office can reflect your personal style. Sleek and sophisticated? Rustic? Industrial? The design style you choose can complement your personality while creating the kind of place where you want to spend your time. Combining design with functionality—and not to mention smart tech that improves productivity and personal comfort—can make all the difference in your work day.