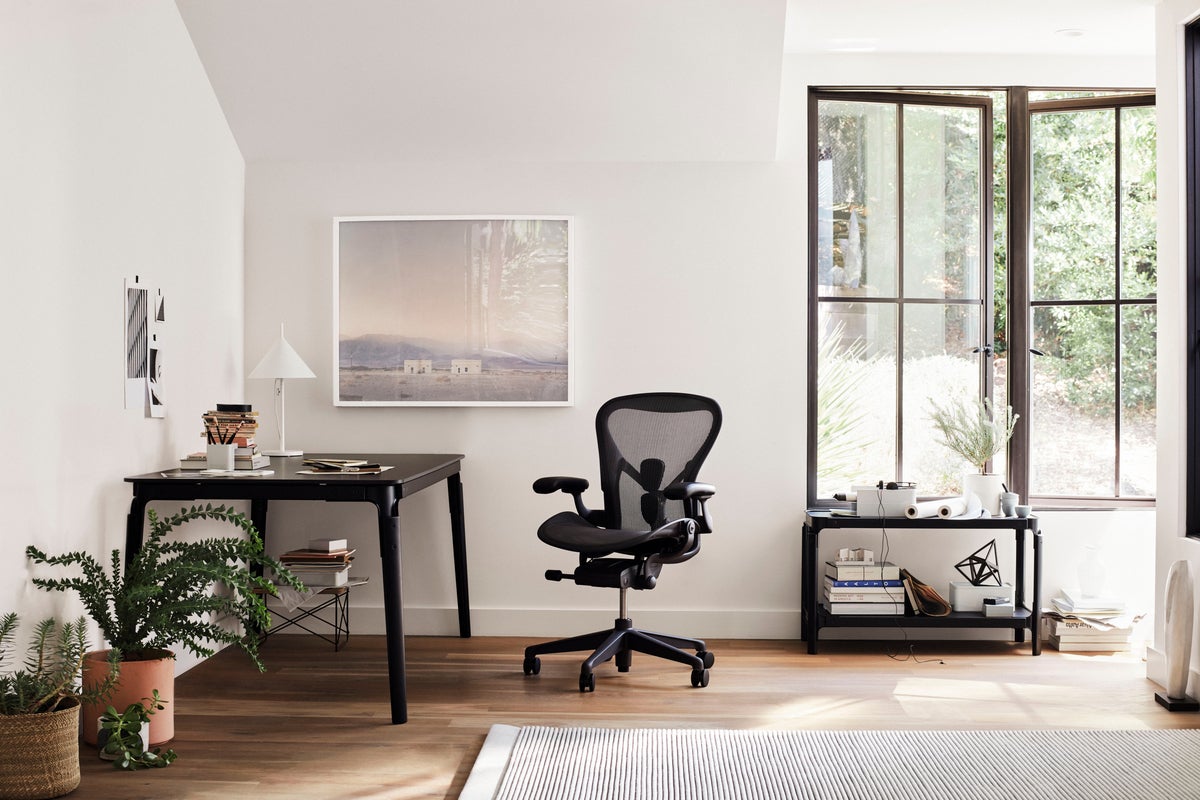 In 1994, Bill Stumpf and Don Chadwick set out to change the modern office. They may not have known it at the time, but their mission to create a healthy, inclusive, environmentally friendly chair for Herman Miller wound up exploding onto the scene and, 15 years later, becoming the most popular chair in America.
Dubbed the "Dot-Com Throne" by New York Magazine in 2006, the Aeron chair has been a mainstay in tech-boom offices from its inception to the present day. And it's no wonder why. The Aeron chair has been meticulously designed (and recently redesigned) to remain a pioneering, innovative and customizable office chair for years to come.
Improving an Icon
Don Chadwick was tasked with remastering his and Stumpf's iconic design in 2016, with a wealth of new research into the "science of sitting" from manufacturer Herman Miller. Taking into account advances in technologies and materials, Chadwick improved upon the original blueprint while retaining the classic functionality that rocketed the chair to success and a string of design awards.
The overall shape remains much the same as the original. However, Aeron has new features like 8Z Pellicle™ fabric for zonal pressure distribution and aeration, plus PostureFit SL™ for adjustable sacral and lumbar support. It is now also equipped with intuitive adjustments for optimal comfort and customization, with holistic material color palettes to fit in with and enhance modern environments. The new model also weighs 3 pounds less than the original and has achieved Cradle-to-Cradle Certified® Silver Status.
While the Aeron Chair may be a modern office staple, it is by no means a simple design. Exactly what makes the chair great is also what makes it somewhat intimidating to order. The sheer amount of choices possible (more than 400 options in one size and color alone) can be mind boggling. We're here to break down the components and help simplify your choice, so you can own a piece of design history without breaking a sweat.
Step One: Size & Color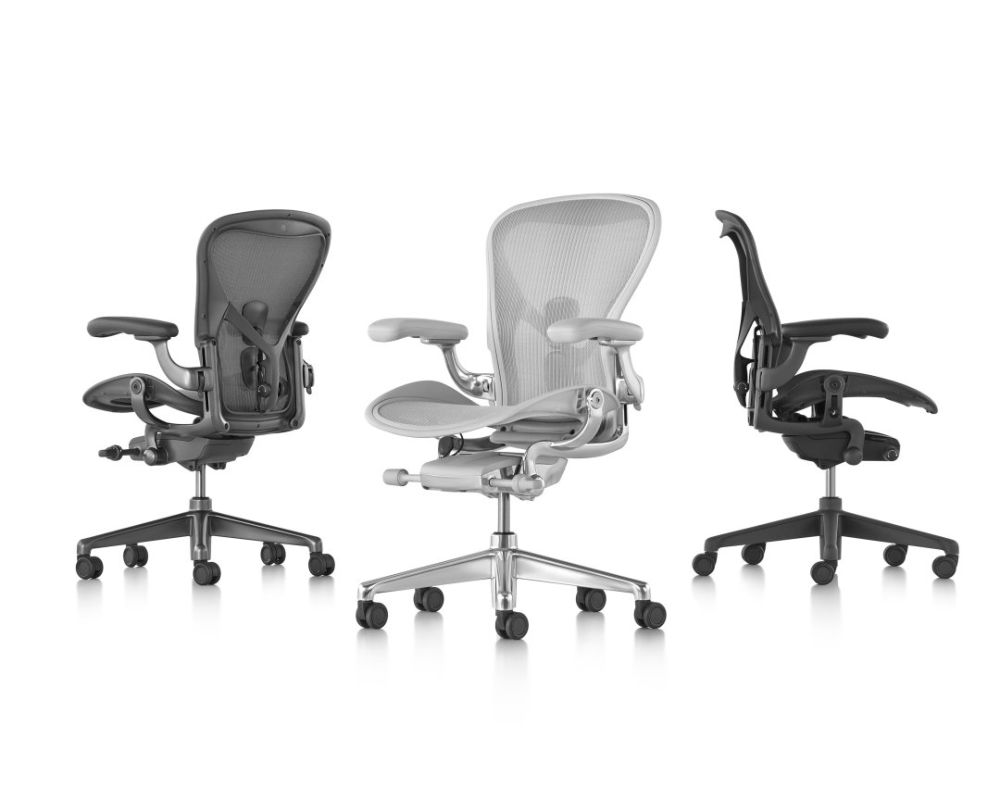 The updated color palette offers Graphite, Carbon and Mineral as your preliminary choices. Carbon is a neutral medium-gray meant to be compatible with most color schemes. Mineral is the lightest, billed by Herman Miller as ideal for open-office plans. And Graphite is darkest, and closest to the original Aeron chair color. The colorways are carefully engineered to coordinate with the chair's other components and impart a seamless look.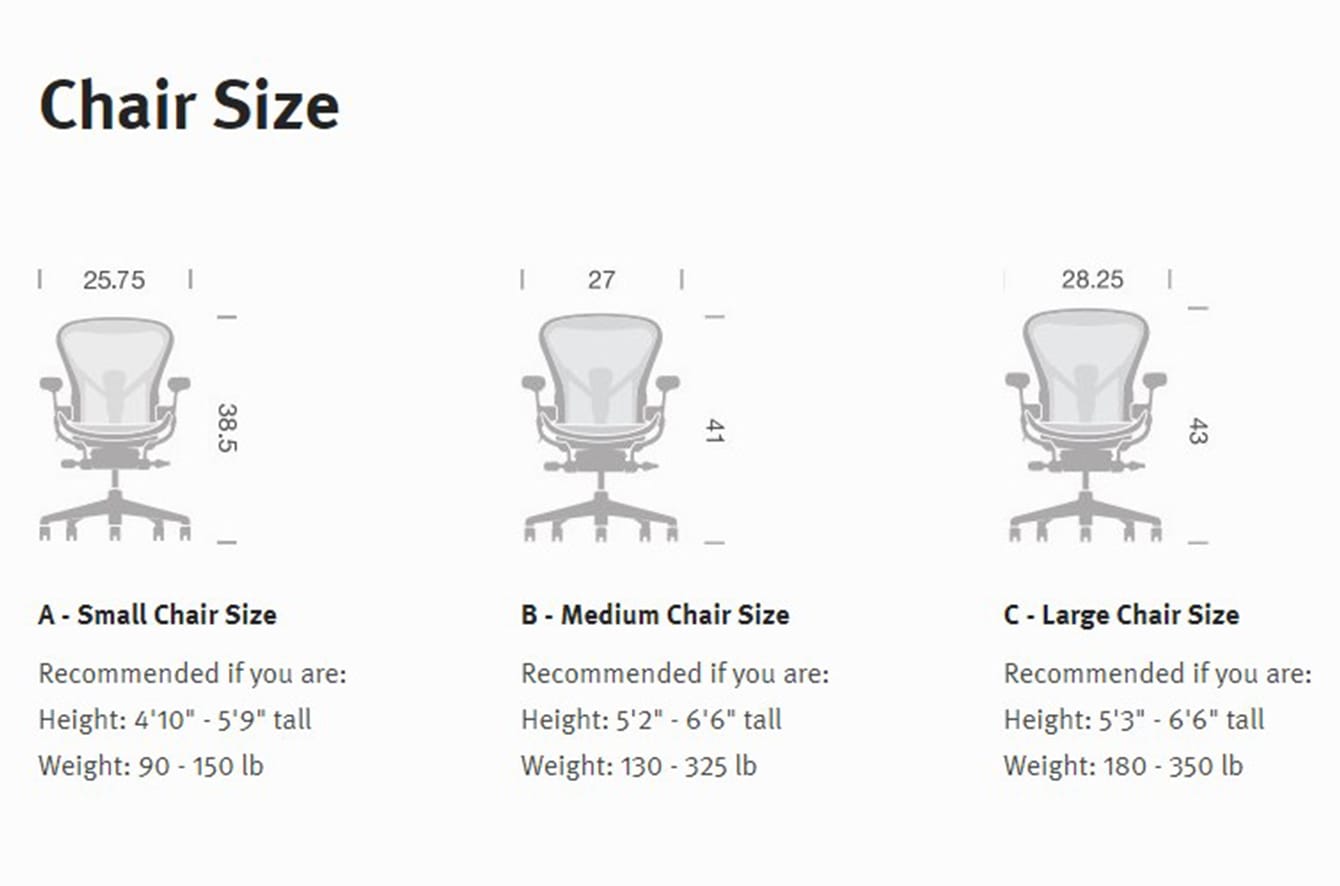 Next choice is size. Each option is fully designed to suit your ergonomic needs. This is partially accomplished with an inclusive range of sizes that correspond to the user's height and weight. You might think of the options as follows:
Size A – Small roughly corresponds to a petite or slight individual
Size B – Medium is the one-size-fits-all average most adults will select
Size C – Large is well suited to big and tall people.
These sizes are approximated to provide the most comfortable and supportive options for a range of individuals; it's just a matter of selecting the range that fits you best.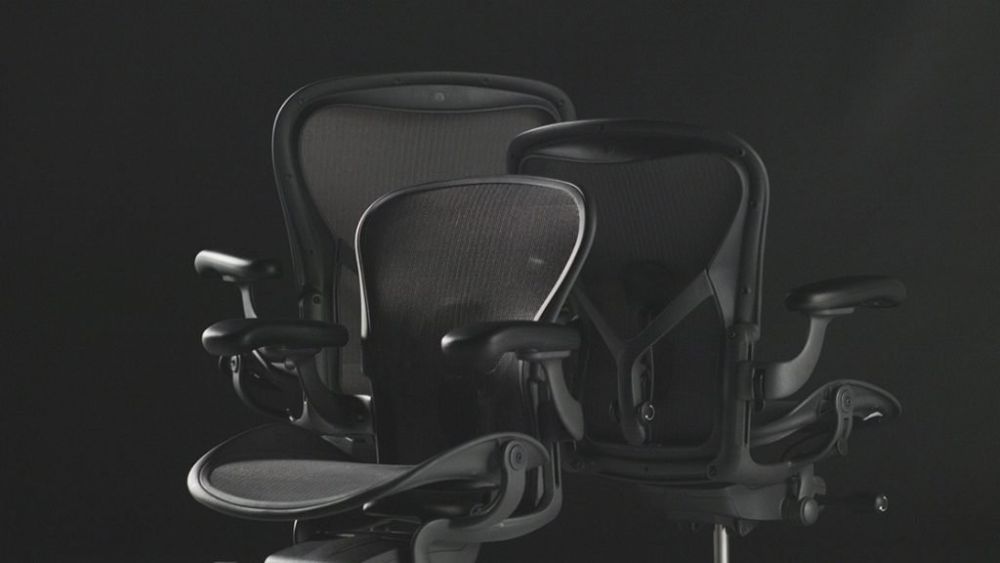 There are 9 size/color choices for the Aeron Office chair on Lumens.com. An additional two products are in the collection; the Aeron Stool – Counter Height and the Aeron Stool – Bar Height are taller options that may be suitable for sit/stand workstations.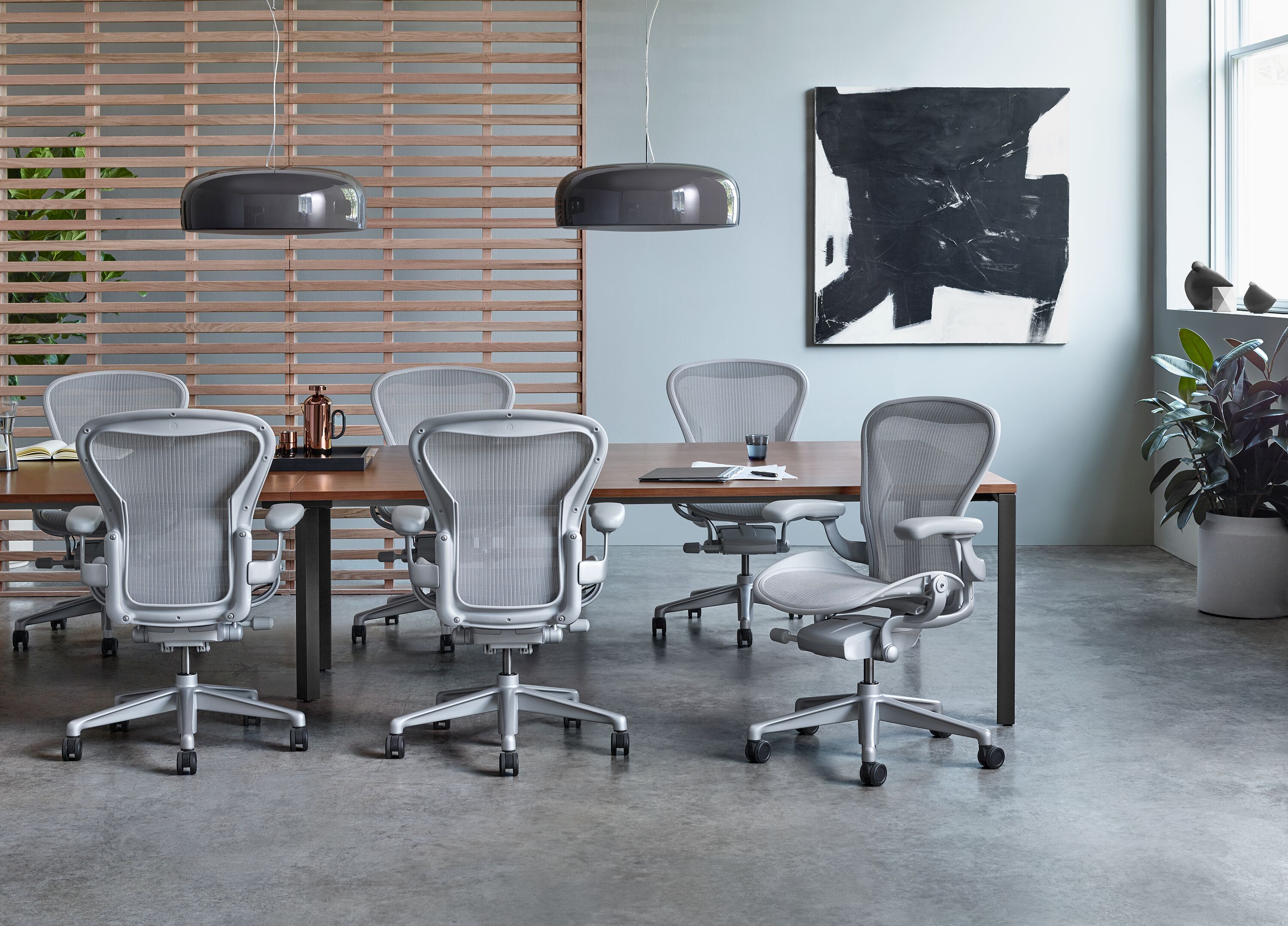 Step Two: Product Options
Once you have selected the color and size you'll need, it's time to dig into the specific product options. Let's break down each component into digestible selections.
Finish
At the top is finish. The finish refers to the hardware of the chair, whereas the color choice you already made is for the fabric part and armrests of your seat. With the first finish option shown, Satin Carbon/Dark Carbon, you'll see a slightly shiny satin finish on the arm supports and the bottom of the chair hardware, and then a more matte finish on the chair base.
The first/top color will always refer to the armrest supports and the base of the chair, whereas the second/bottom color always refers to the base of the chair. Compare the following side by side to see exactly what parts change: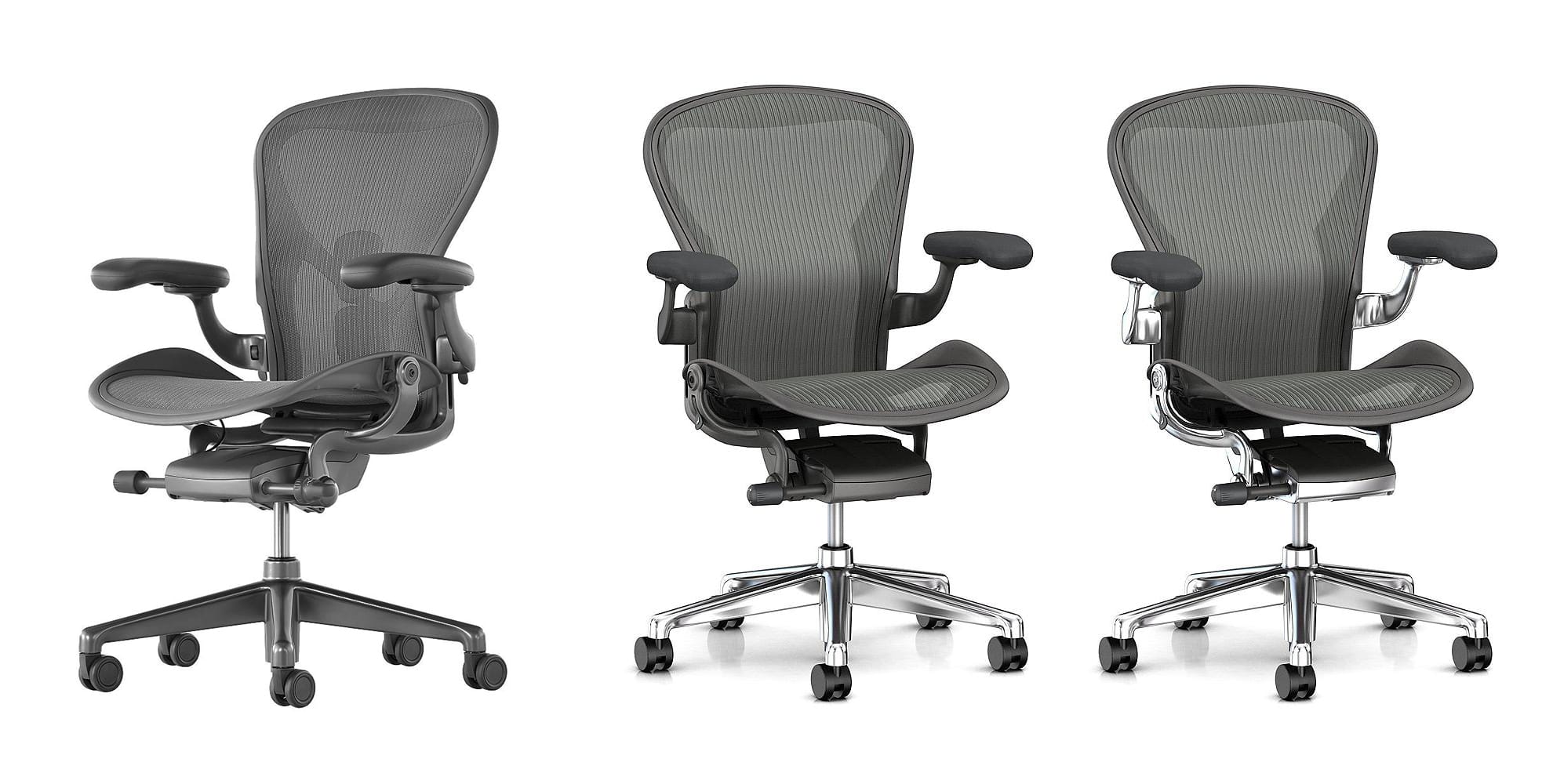 Back Support
For back support, the Aeron Chair offers three options. No additional back support is offered with the Zonal Back Support selection. This relies on the chair's excellent engineering and 8Z Pellicle material for support and should be plenty comfortable for most users. The pellicle suspension also helps you stay cool by allowing air, body heat, and water vapor to pass through the seat and backrest. This increase in aeration allows your skin to maintain an even and comfortable temperature. Your posture will also dictate how much extra support you need. The Adjustable Lumbar Support option adds a further 4.5" adjustable range to support your lower back.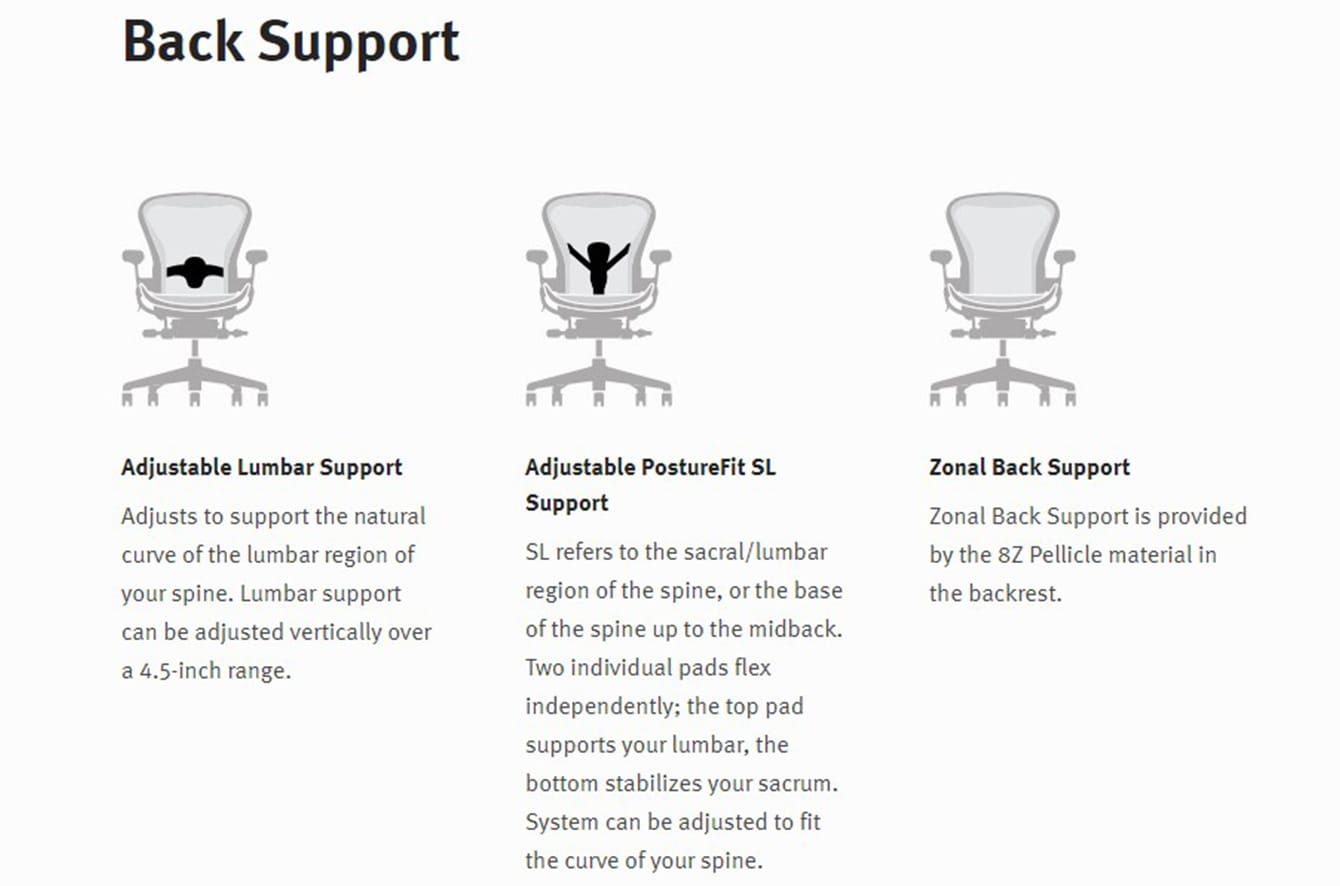 Finally, the Adjustable PostureFit SL option is the most expensive addition and goes as far up as your mid-back to stabilize the most area with two adjustable zones. It provides you with the feel of natural movement. Equipped with adjustable sacral and lumbar support, these individual pads imitate a healthy standing position. As shown above, the lumbar support is built into the frame of the chair–no add-on pillows or parts here.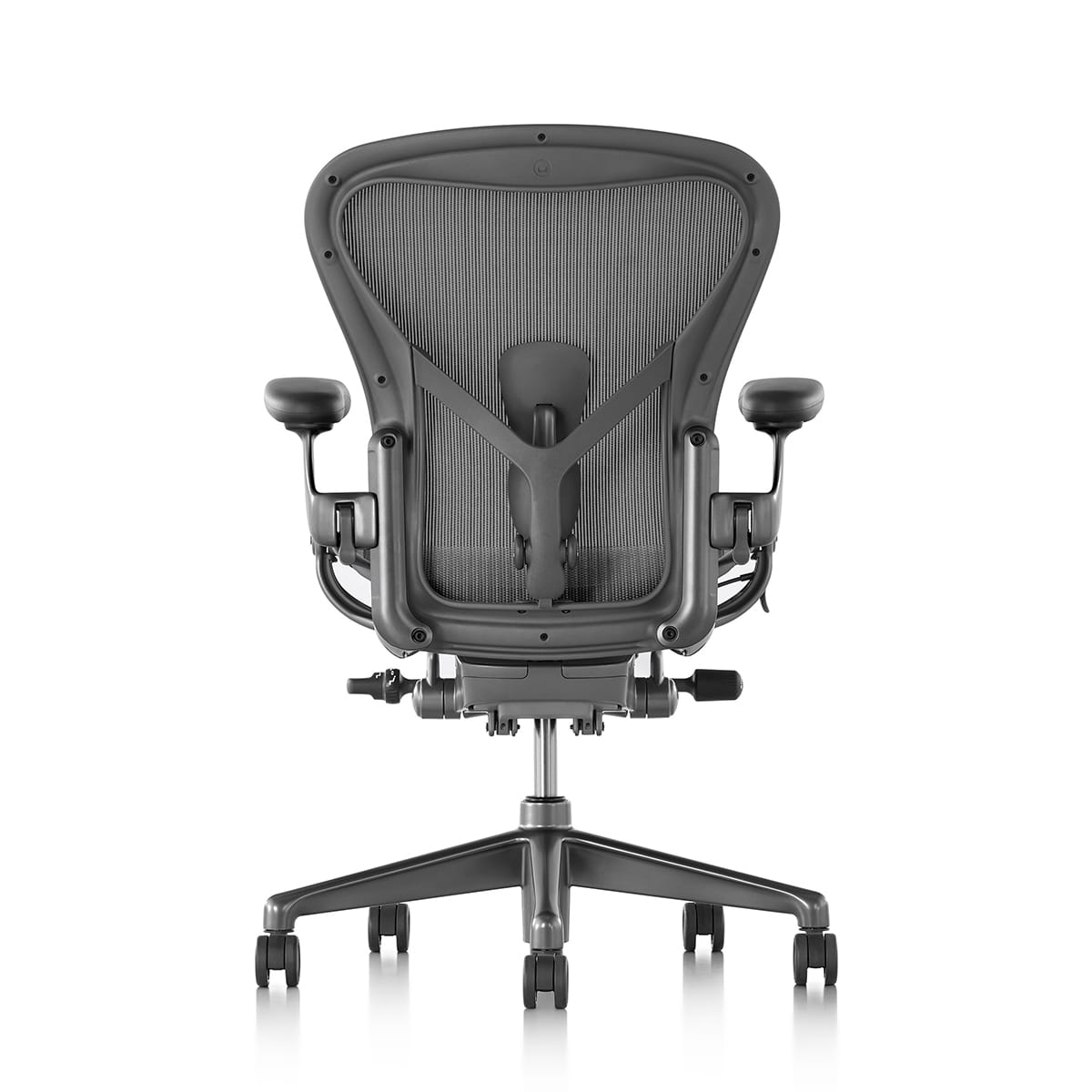 Glide Options
Select your glide options (aka the casters or wheels on your chair) based on the surface you'll be moving around on. The Hard Caster is appropriate for carpet only, especially low-pile carpeting that is commonly found in commercial buildings. The middle option is a standard caster suitable for most office flooring, while the Quiet Roll option includes a braking feature, so your chair doesn't roll away.
Tilt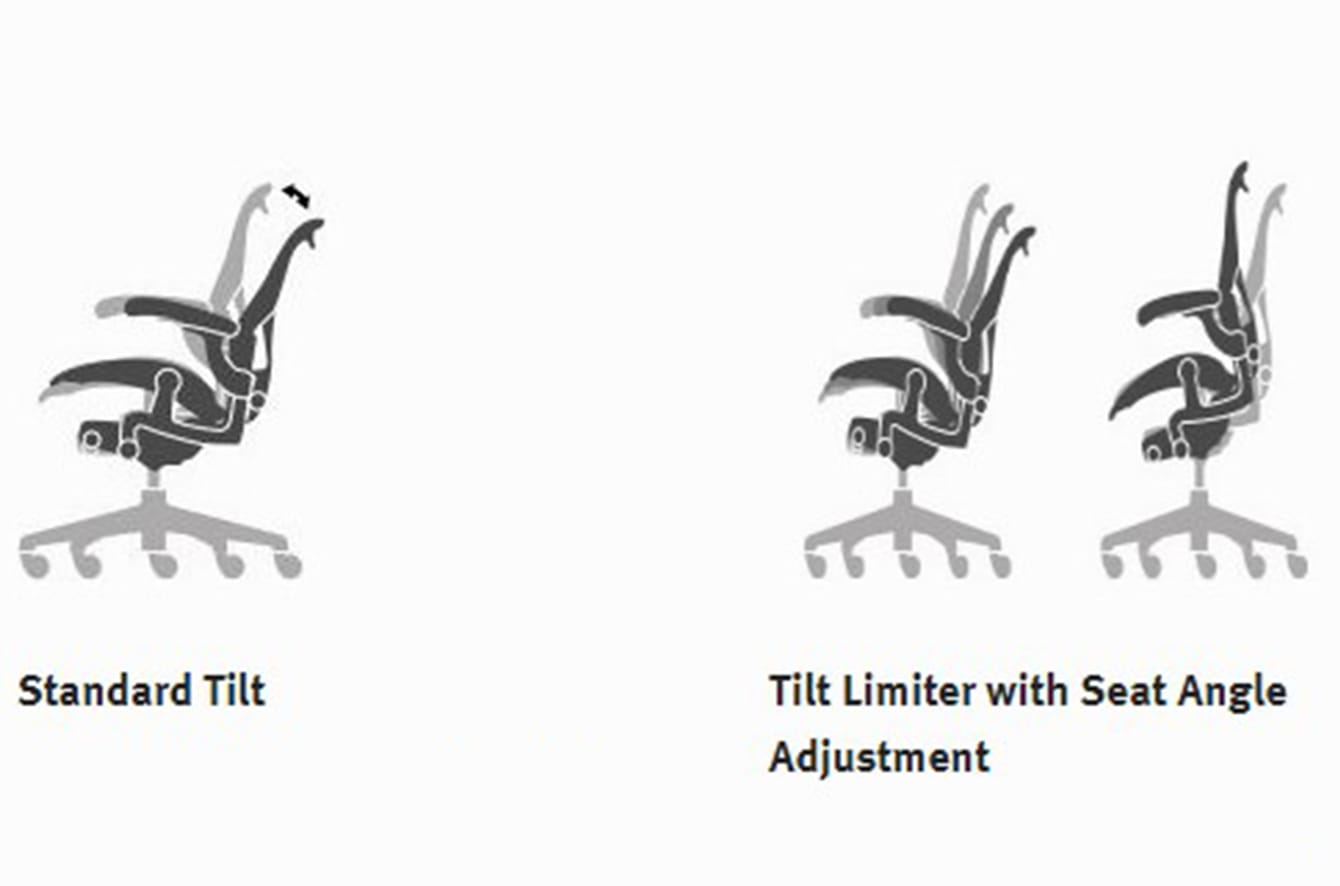 Adjustability is a necessity, and the tilt of your chair might be something you want to adjust throughout the day. All Aeron chairs will tilt in the back rest to a certain degree. The tilt mechanism provides a smooth trajectory, which delivers an optimal balance point to help maintain control of movement while reclining. Standard Tilt uses a simple tension knob for manual adjustment, whereas the Tilt Limiter option allows you to select a comfortable range of tilt should you want to bounce back and forth a bit from upright to reclined. Finally, for those who perch on their chairs, the Tilt Limiter and Seat Angle adjustment option allows the seat surface to tilt forward up to 5 degrees.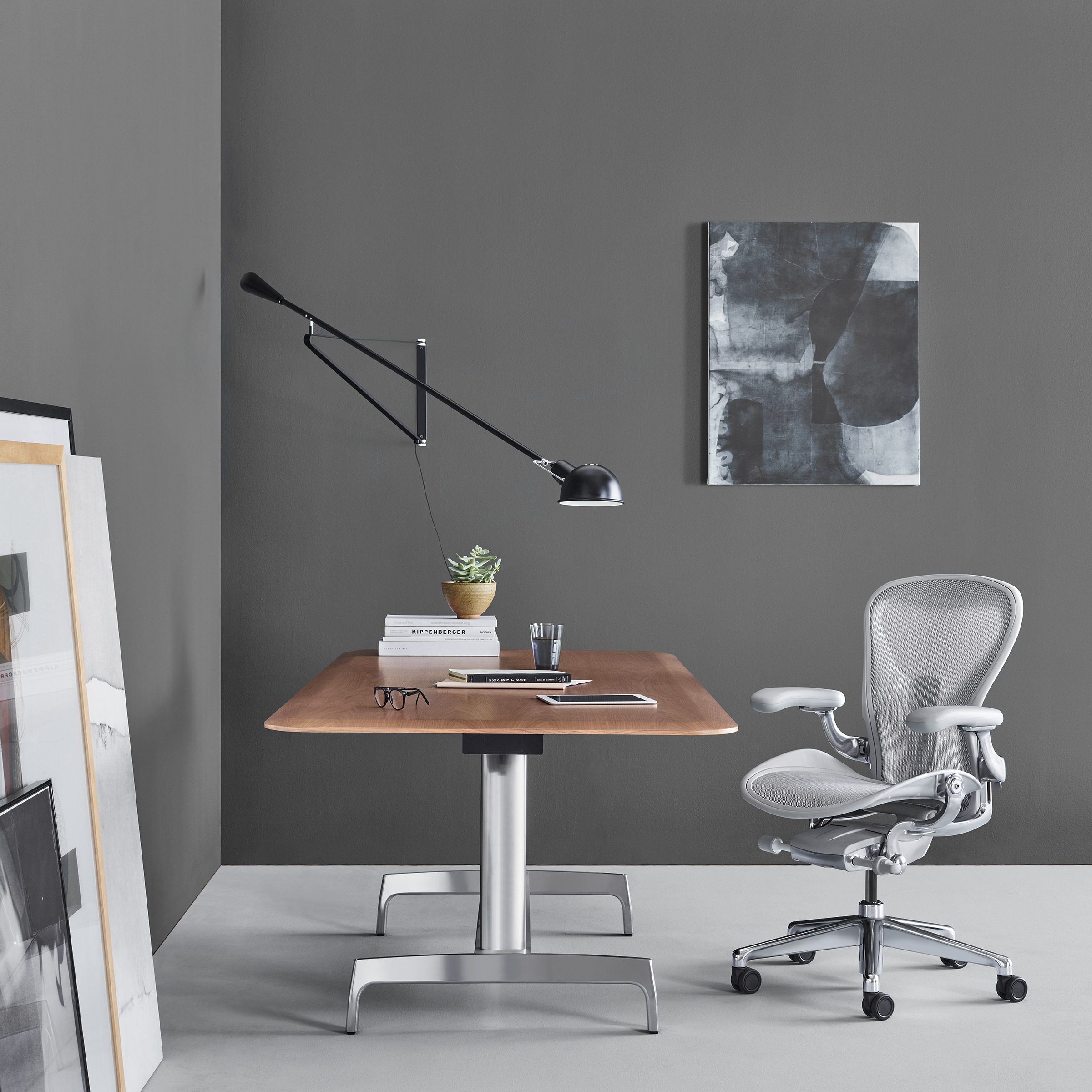 Arms
The final selection is arms, and it's fairly straightforward. Simply decide if you like your chair arms to be adjustable. The Fixed Arms are stationary and will never be able to move from the position they're set into at the factory. Height Adjustable arms can move up and down, while Fully Adjustable arms can pivot to inner or outer angles, tilt backward and forward and move up and down the backrest for the ultimate customizability.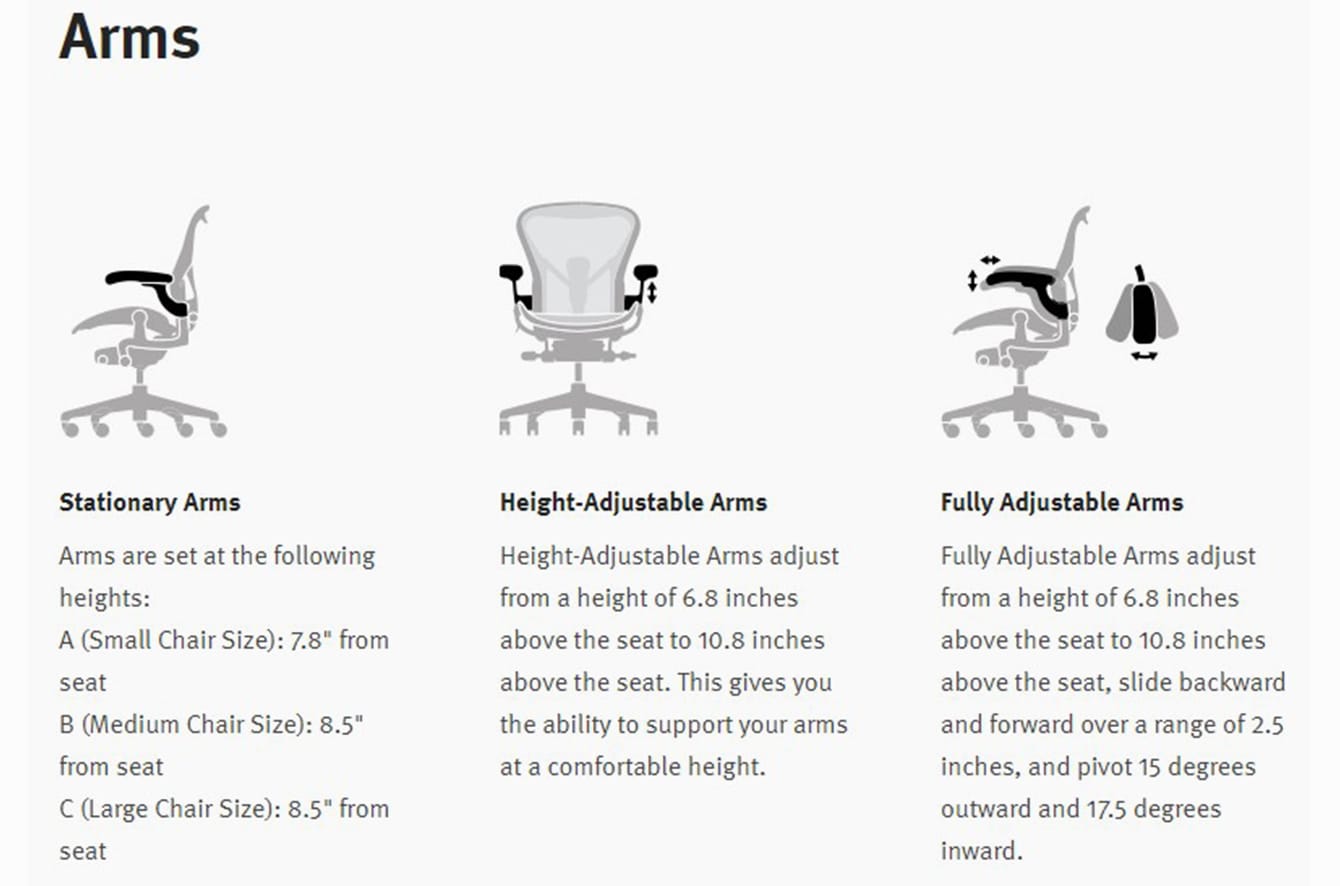 So, there you have it, the Aeron Chair broken down into all its parts and pieces for easy selection. The painstaking engineering that has gone into this icon of modern design is apparent in each option you choose. Happy configuring!