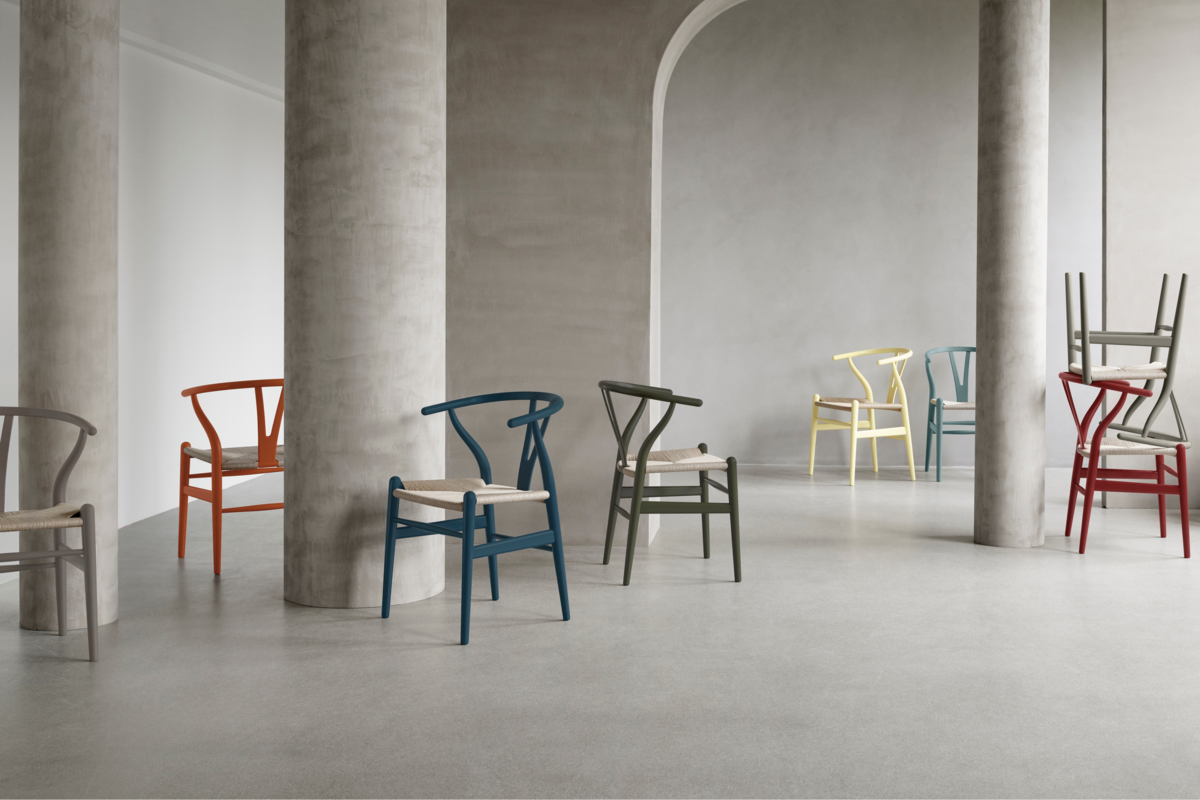 Almost 400 feet of handmade paper cord. 100 steps from start to finish. 25 colorways. From 14 parts, taking three weeks to make and two months to cure; one icon of modern design: The CH24 Wishbone Chair, designed by Hans J. Wegner. 
Arguably the master of Danish chair design, Wegner has a staggering 500 chair designs to his name. He spent his life and career seeking to create the "perfect" chair. With the Wishbone chair, he came as close as anyone ever has with a design that is recognized, beloved and knocked-off all over the world.
History of the Wishbone Chair
In continuous production by Carl Hansen since 1950, the chair's design is the same now as it was more than 70 years ago. Wegner created the chair in the mid-1940s as part of a series inspired by portraits of Danish merchants sitting on chairs from China. It was a niche inspiration, but the Ming Dynasty emperor's chairs proved fertile ground for Wegner's genius. The Wishbone Chair certainly resembles its 17th-century horseshoe-back chair muse, though Wegner approached his design with signature Danish simplicity of line and little adornment.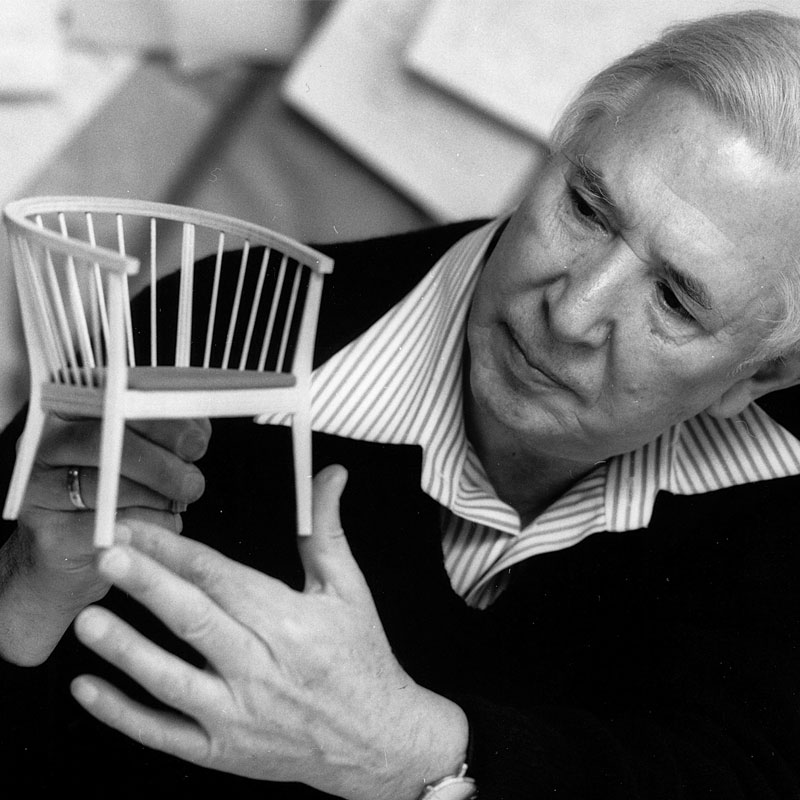 An Eco-Friendly Approach
Scandinavian values are key to the production of this chair—Danish company Carl Hansen remains dedicated to sustainable forestry. The ash, beech and oak from which Carl Hansen builds the Wishbone Chair is grown mostly in Denmark under strict domestic and international regulations that preserve the health of forests and contribute to reforestation efforts. American cherry and walnut are also in the Carl Hansen repertoire and are subject to similar laws. Scandinavian culture has a "waste not, want not" ethos, so it will surprise few to know that every leftover bit of wood (most of which was harvested from trees 150-200 years old) that does not make it to a Wishbone Chair is either repurposed in another project or recycled as heating fuel for local economies.
The Manufacturing Process
Master craftsmen work their magic in Carl Hansen's Aarup studio in central Denmark. Each Wishbone Chair comprises 14 pieces, ingeniously designed to fit together just right. Wegner was a cabinetmaker first, and his experience with joinery and how wood works is evident in every curve. The top rail is bent using steam to create the signature back and arms, and every piece designed to fit into its place without any hardware—just a bit of glue and some terrific engineering make these chairs built to last for decades. Even the paper cord (393 feet of it, to be precise) is hand-waxed and expertly woven for years of comfort and support.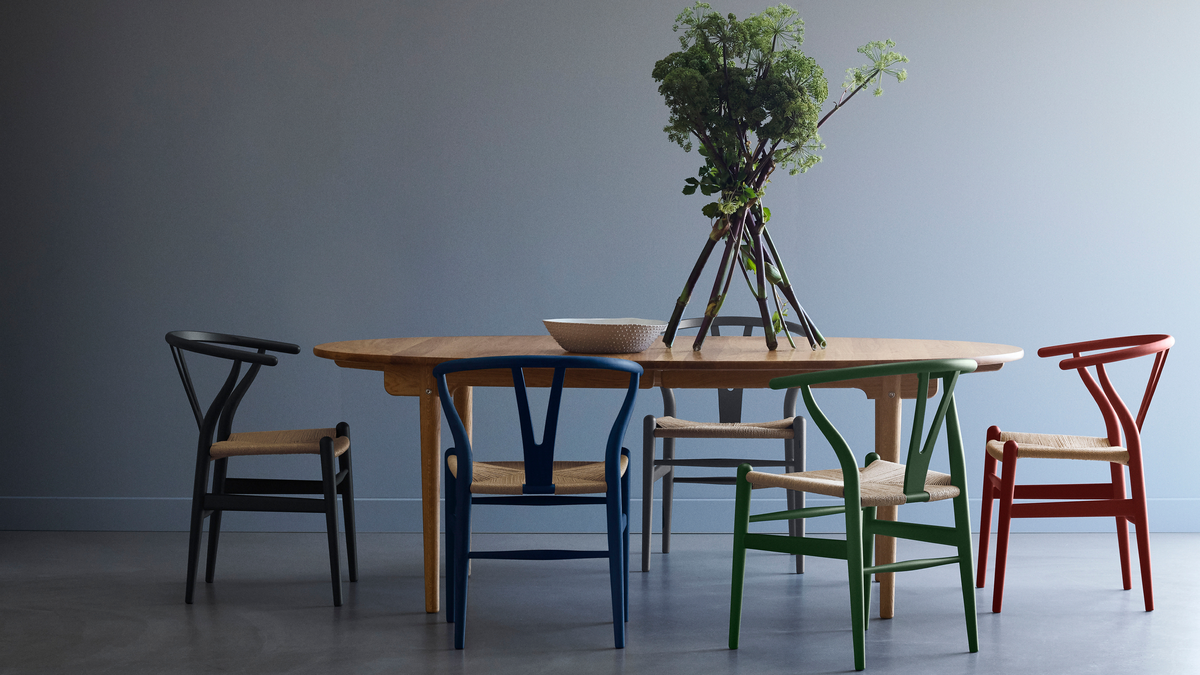 How to Authenticate a Wishbone Chair
With its pedigree, style and convertibility, it's no wonder why the Wishbone Chair is one of the most copied designs on the market. Less expensive replicas are everywhere, and unscrupulous retailers may even use genuine images to sell their junk wares online. While an almost-Wishbone Chair might serve the pocketbook in the short term, it will certainly not hold up over time. The authentic design is in it for the long haul, in terms of both construction and design. The design elements that set a real Hans Wegner chair apart from the pack grow more beautiful and desirable with each passing year; imitation chairs simply aren't built with the same attention to detail, and over time, the cracks start to show both literally and figuratively.
There are several ways to determine whether your Wishbone Chair is the real deal. First is price: If it seems too good to be true, it is. Paying for fine design is an exercise in taste and ensures good design keeps being produced.
You may be able to get a similar look for less, but discerning eyes can tell the difference. How? Construction. An authentic Wishbone Chair is handcrafted from fine materials, and it shows. You will see no joinery in the curved back or anywhere else, no hardware screwing the pieces together. The woven seat will be fine, the waxed paper cord is taut and perfectly aligned. Many knockoffs have saggy seats made of nylon and poorly joined wood scraps with grain that doesn't quite match. 
A third cue is that a real Wishbone Chair will have a Carl Hansen & Søn label affixed beneath the main Y support on the underside of the seat. Older models may have a stamp with the name or a sticker; new products have an aluminum tag attached with the serial number.
Finally, if it looks close but something just feels off, take some measurements. Authentic pieces are a fixed size and do not deviate. Of course, this assumes you can see the chair in person, which may not be the case when purchasing online. When shopping online, do business with reputable retailers only. The good news is, you're already here.