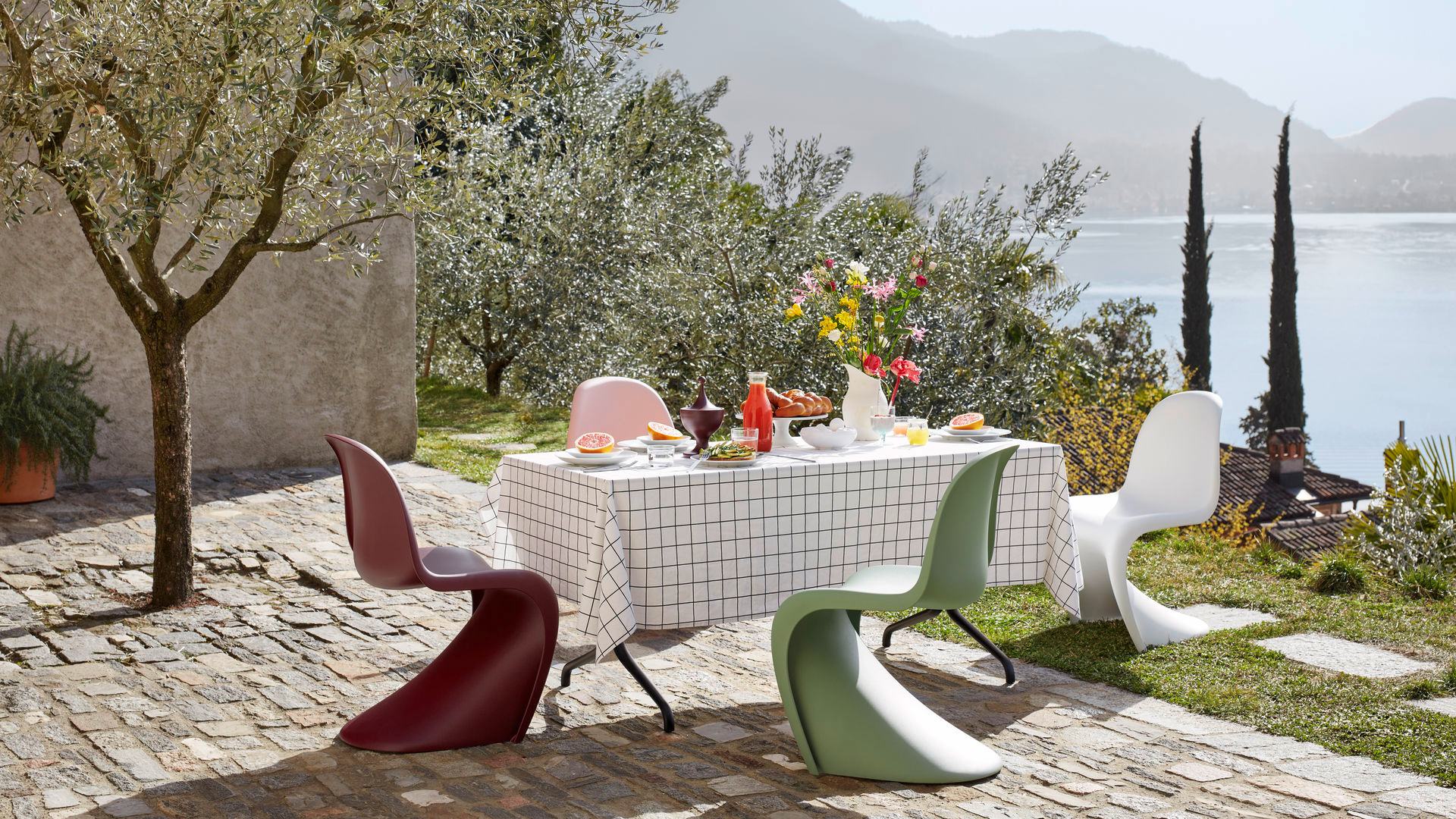 The formula behind dining chairs hasn't changed since the ancient Egyptians invented them to elevate nobles during meals over 4,000 years ago. Though no longer reserved for the elite, modern dining chairs serve the same purpose, fusing functionality and style at tables of every shape and size.  
Millennia of tinkering—coupled with the Renaissance, Industrial Revolution, and invention of plastic—have left us with an abundance of dining chair options from luxe upholstered seats with curving armrests to simple wooden chairs and high stools in every design aesthetic. In any setting, the ideal dining chair creates a comfortable vantage point from which we can enjoy meals and conversation while contributing to the beauty of a home.  
Whether you're redesigning a formal dining room or looking to add a fresh element to a cozy breakfast nook, these iconic dining chairs offer style and support in equal measure–improving every meal and midnight snack.
Standard Dining Chair by Jean Prouve for Vitra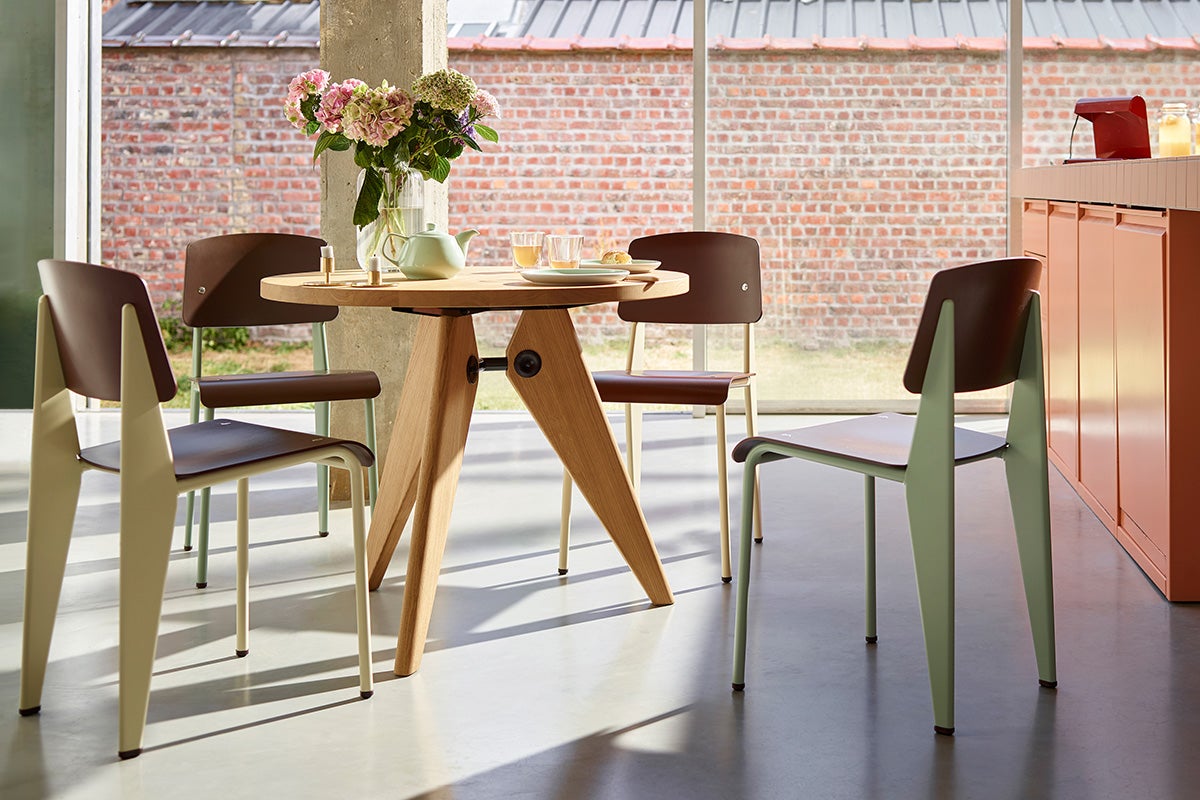 Often referred to as simply "The Standard" chair, Jean Prouvé's classic dining chair is as versatile as it is timeless. The chair itself relies on the legs-back-seat combo made from separate pieces, which come together to offer an industrial look with smooth, polished edges. Originally designed in 1934, Prouvé continued tweaking the design over time and throughout World War II when restrictions on metal inspired him to create an all-wooden version, as well as later iterations with stronger back legs. Today, modern productions of the chair by Vitra combine durable yet lightweight steel frames with polished, curved wooden seats and backs. In addition, an all-plastic model was released in a range of colors that add a pop to any space. At ease in minimalist spaces and stylized dining rooms alike, the Prouvé chair's long-lasting popularity landed it a spot in MoMA's permanent collection.
Masters Chair by Philippe Starck for Kartell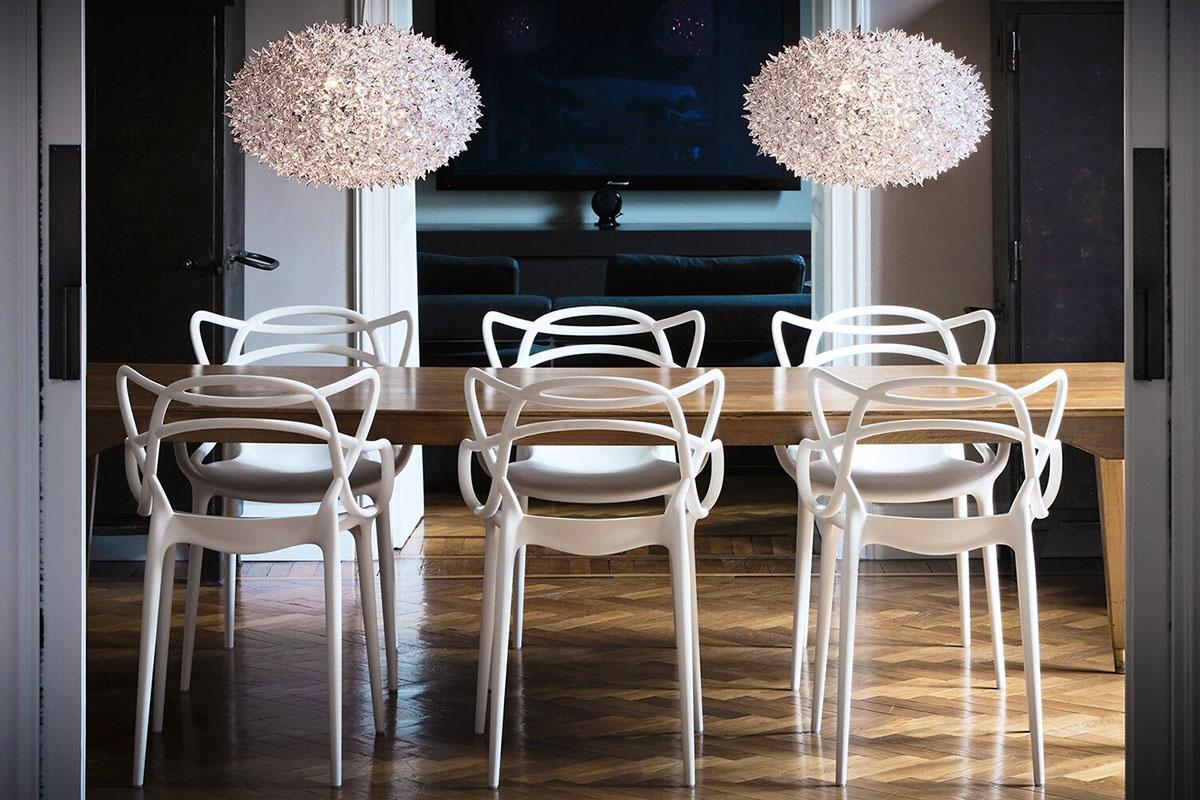 A fusion of classic designs into a single chair, the Masters Chair is an instantly recognizable and adaptable seat. Created exclusively from molded plastic by Kartell, the Masters Chair is the brainchild of modern design mavens Philippe Starck and Eugeni Quitlet. The duo set out to design a chair that paid homage to early iconic seats, combining the most famous designs from Jacobsen, Saarinen, and Eame, into a single seat. Though simple the chair's curved, flowing back and arms provide exceptional support, while the range of colors available – thanks to the chair's basic, all-plastic construction – make the Masters Chair a chameleon among dining chair options that can move seamlessly from formal dinners to casual outdoor affairs.
Frank Lloyd Wright Racine Guest Armchair by Steelcase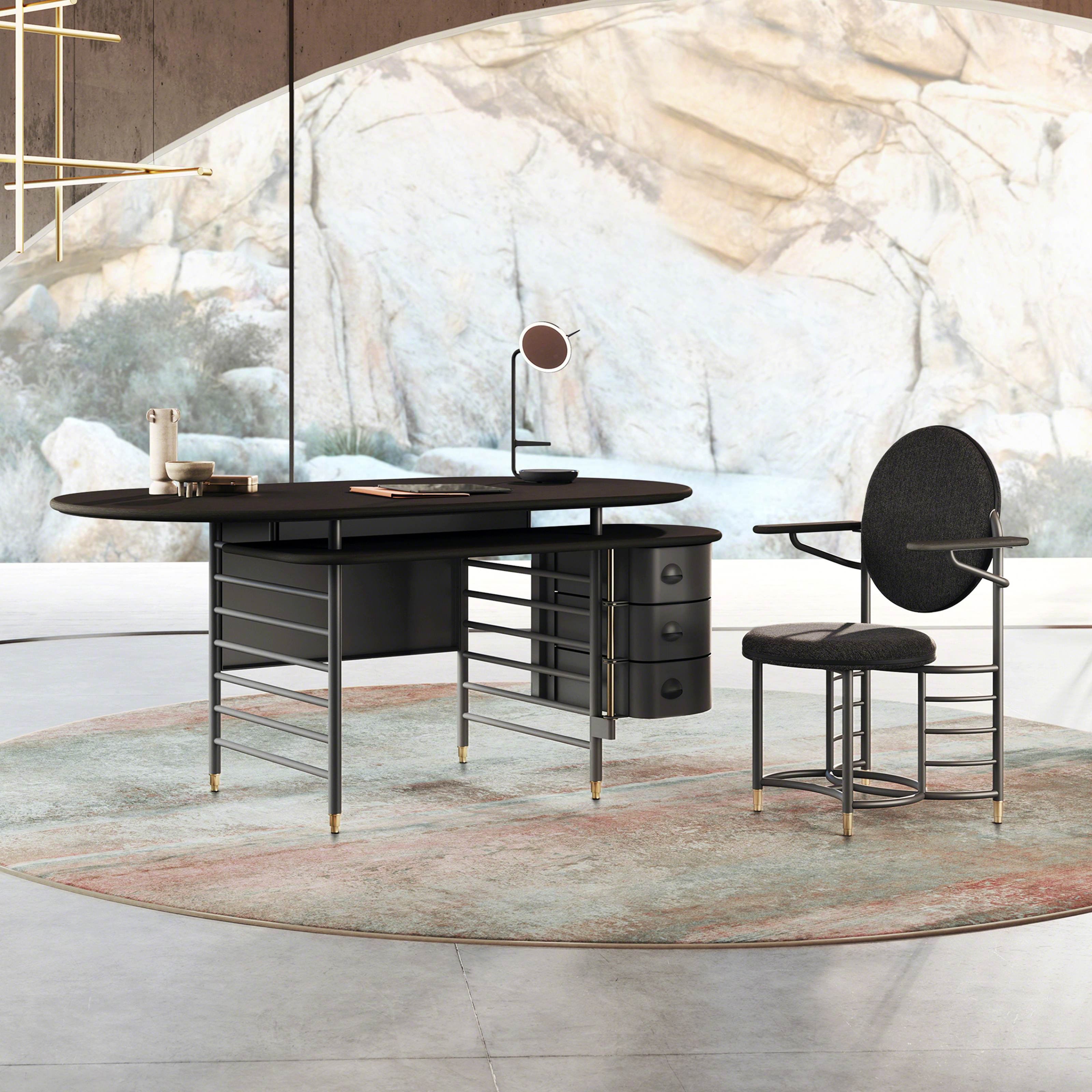 While architect Frank Lloyd Wright is best-known for his grand building designs, the furniture he designed for everyday tasks within spaces like the Guggenheim Museum, Fallingwater house, and SC Johnson's Great Work Room are equally inspiring. Resurrected in 2023, Wright's signature Racine chair was originally commissioned for the Great Work Room in Racine, Wisconsin in 1939. Blending classic American chair design in the form of upholstered ovals with Wright's eye-catching architectural signature, the chair's combination of curves and spaces invites inquiry from afar and a long, comfortable rest once seated.
Bellini Chair by Mario Bellini for Heller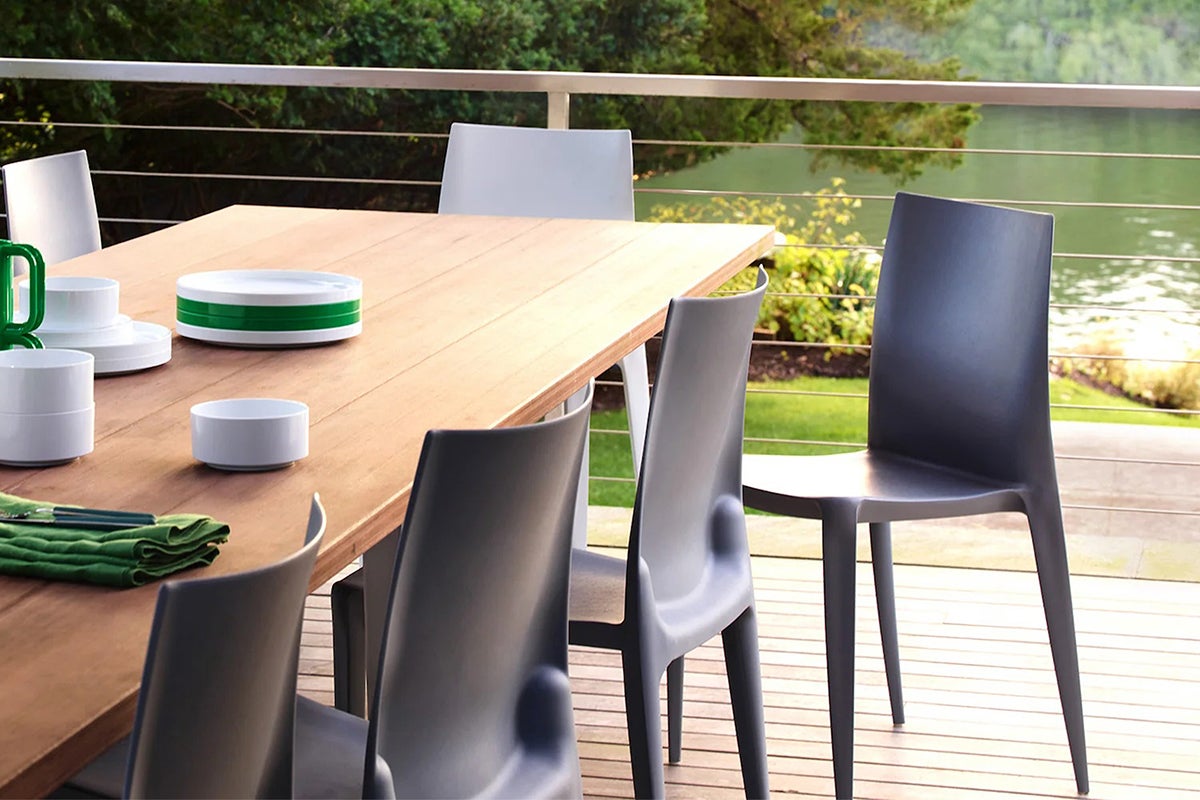 Designed in 1998 by celebrated Italian architect and designer Mario Bellini, the Bellini Chair was the first piece of furniture Heller ever produced. Made in the USA, this indoor-outdoor chair is stackable up to six high with a dynamic contemporary style. The sturdy polypropylene construction gives added comfort thanks to a flexing back and light surface texture. This design earned Mario Bellini his eighth Compasso d'Oro award in 2001 and resides in the design collections of many museums worldwide.
Ghost Chair by Philippe Starck for Kartell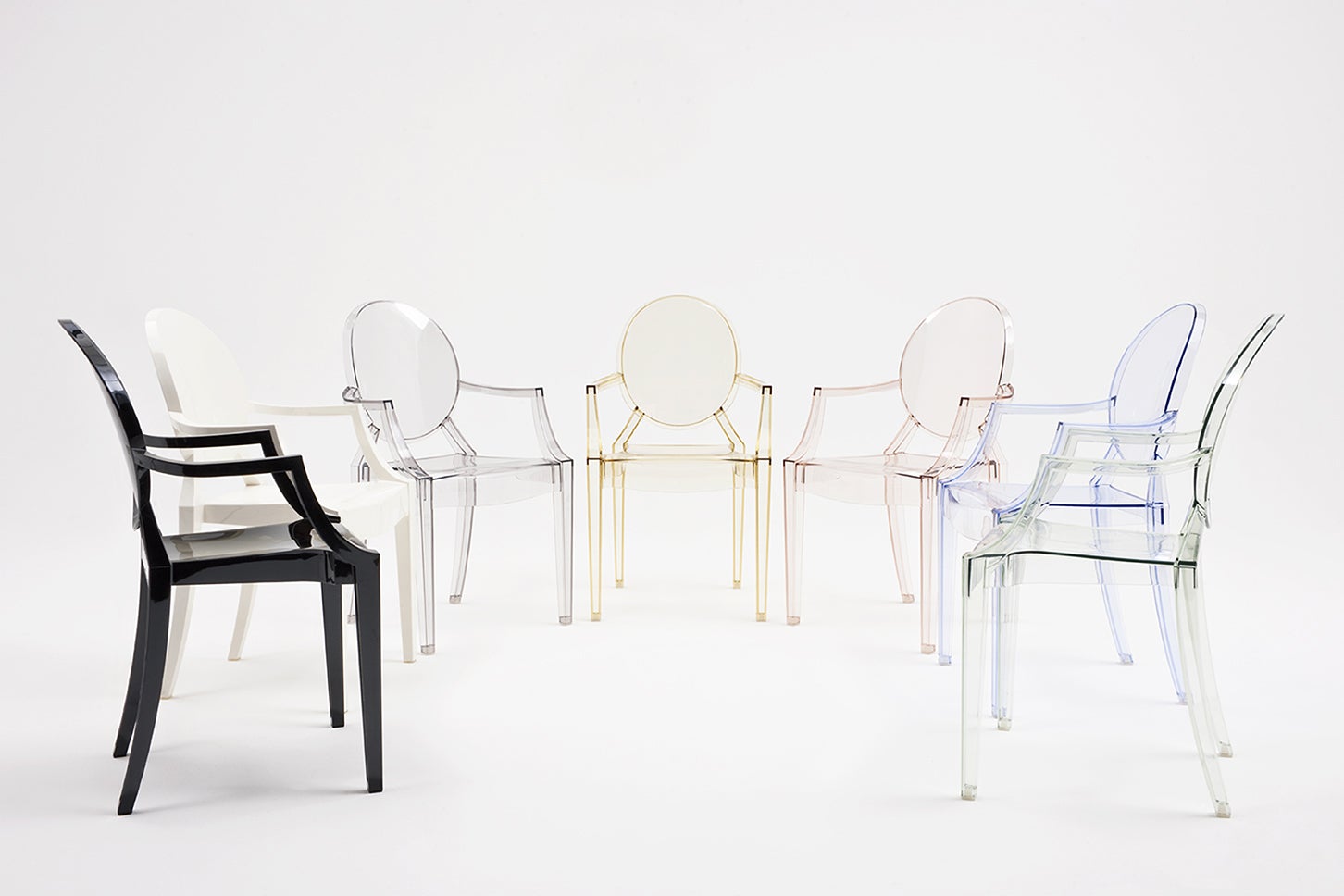 A Starck staple, the Ghost Chair is remarkable for its ability to enhance nearly any style. First released in 2005, the chair's acrylic construction makes the seat durable and transparent, allowing plastic to prove its prowess as a material that's both practical and artistic. Produced by Kartell, arguably the master of molded plastic furniture, the seat itself blends tradition with modernity: The oval seat back and traditional shape recall minimalist chair designs of the 20th century while the clear finish and use of plastic make the chair thoroughly modern.
Panton Chair by Verner Panton for Vitra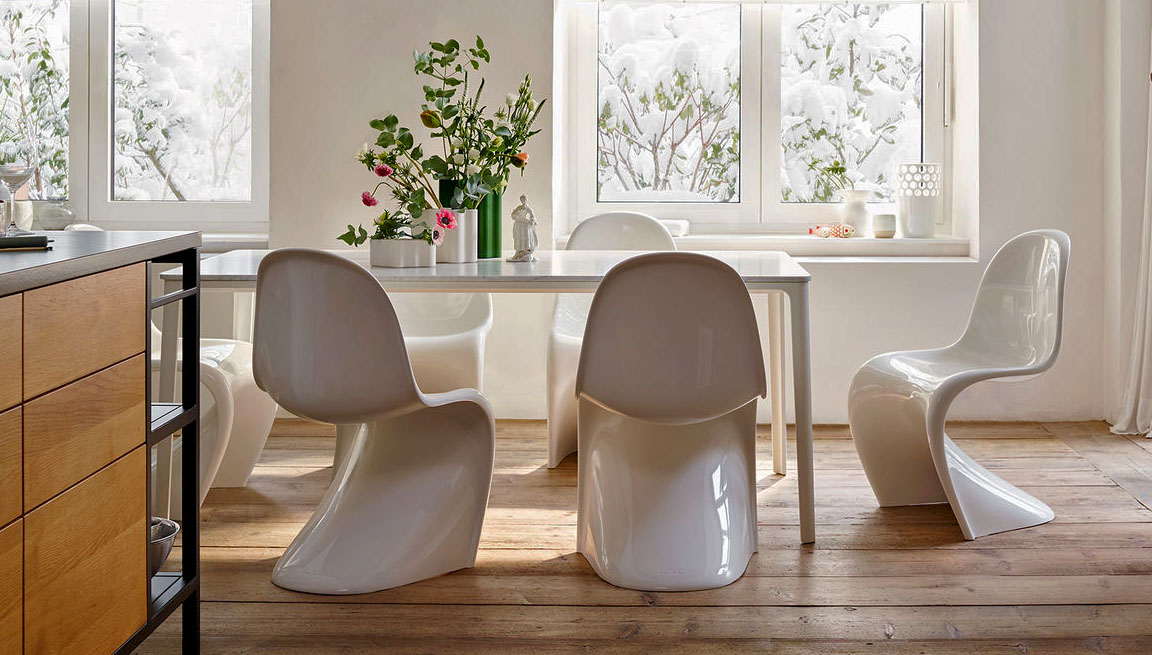 Made from a single piece of molded plastic, the Panton chair was revolutionary upon its debut at the Cologne Furniture Fair. Today, the swooping icon remains extremely popular for its bold shape and exceptional comfort. Created by experimental Danish designer Verner Panton, the chair was reportedly rejected by over a dozen manufacturers before Vitra designed a process for manufacturing the now-legendary seat. Sleek and stackable, the Panton chair's unique shape injects a dose of whimsy and artistry into any dining spaces it occupies, inviting visitors to relax and play.
Cherner Armchair by Norman Cherner for Cherner Chair Company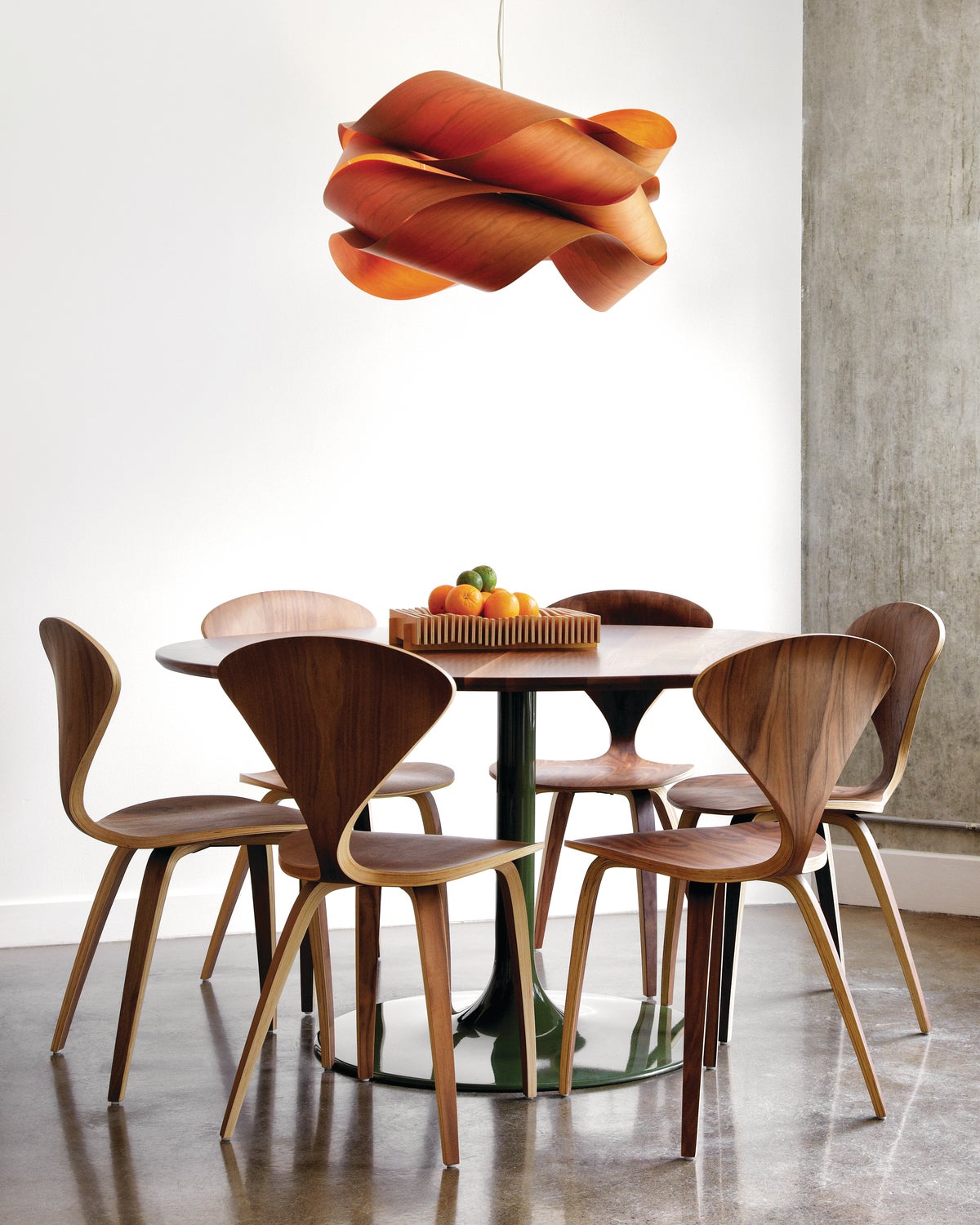 The Cherner Chair makes a dramatic statement at any table with its expansive and curvaceous form. First designed in 1958, the Cherner chair is made exclusively from molded plywood. The option to combine alternating woods and finishes between the legs, seat, and arms give the chair an added element of sophistication, while the hourglass shape of the seat creates intrigue. Though the Cherner Chair is designer Norman Cherner's most recognizable piece, his career included nearly all aspects of design including housing, glassware, and lighting. Today, the chair is produced by the Cherner Chair Company from Norman's original drawings.
Series 7 Chair by Arne Jacobsen for Fritz Hansen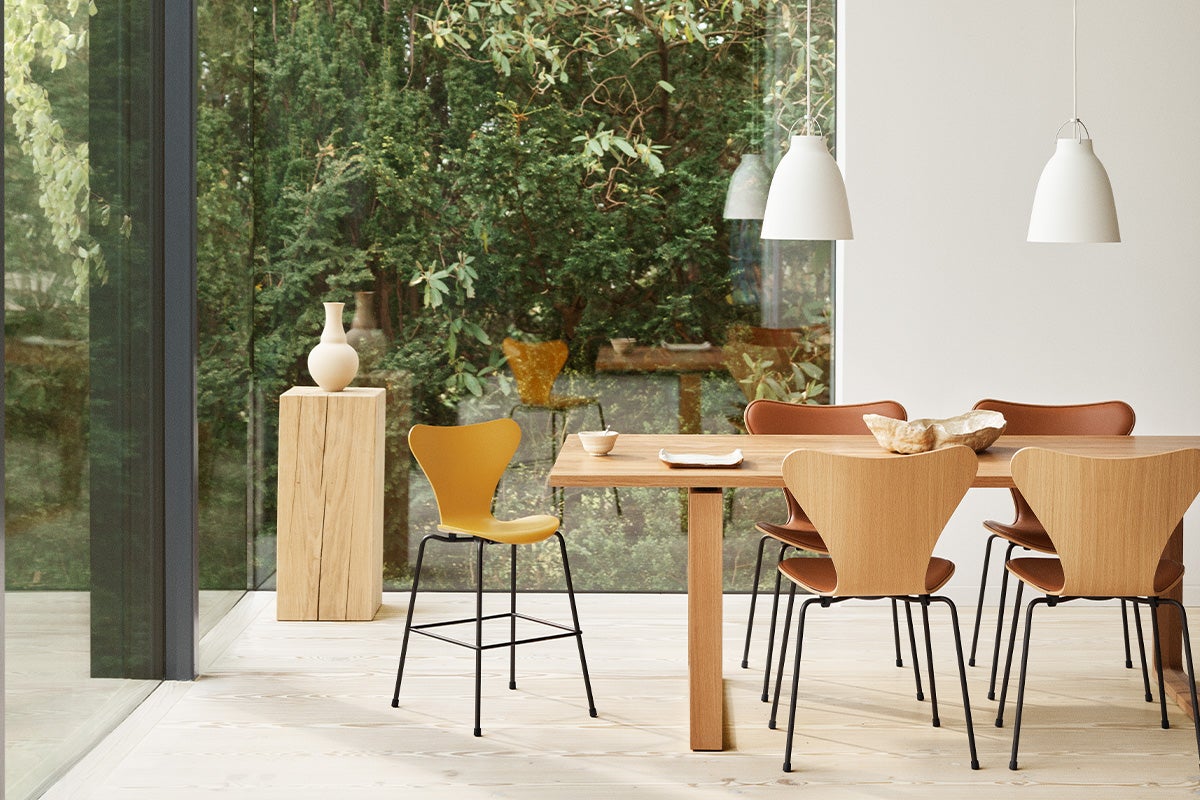 One of Arne Jacobsen's most popular and long-lasting designs, the Series 7 has been duplicated all over the world, but never matched in ingenuity. Inspired by the plywood bending technique popularized by Charles and Ray Eames, nine layers of pressure-molded wood veneer produce the minimalist but undeniably strong design that stands the test of time both in aesthetics and the construction of the design itself.
CH24 Wishbone Chair by Hans J. Wegner for Carl Hansen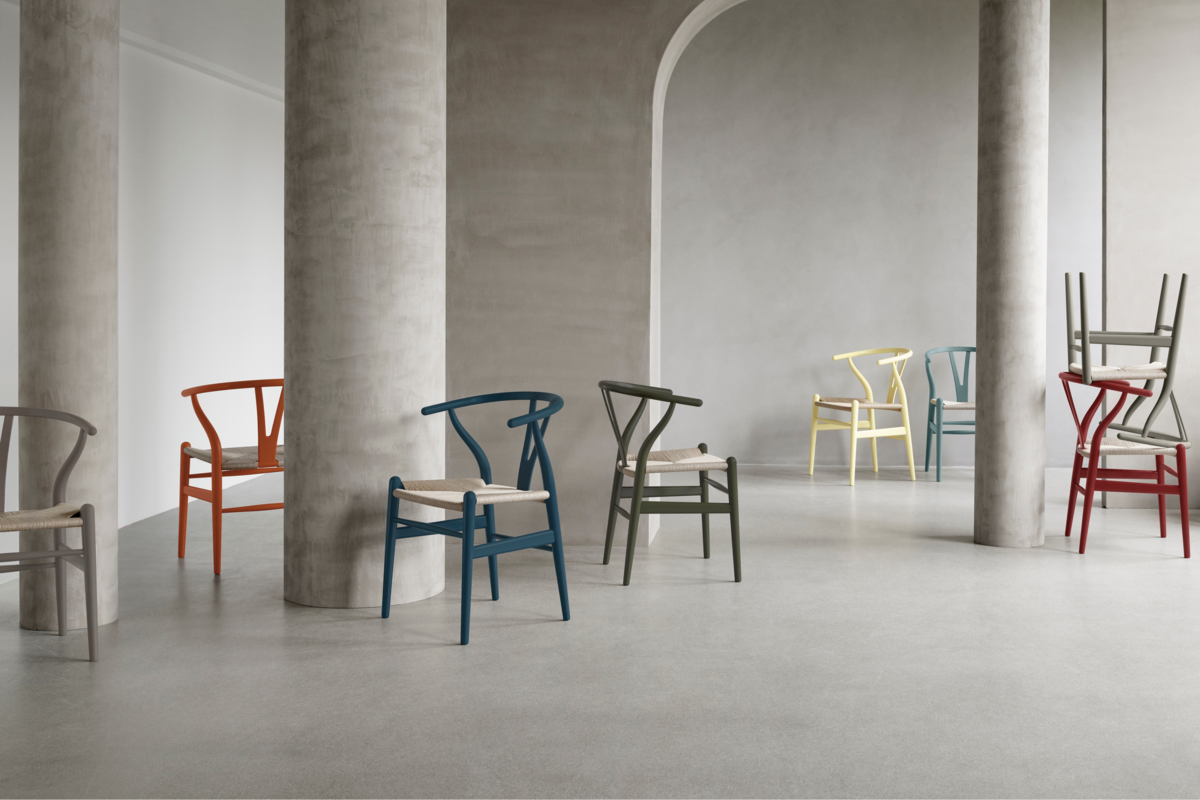 Carl Hansen is a legend of Danish design and a seating master. With over 500 chair designs during his career, the right seat was his obsession—and the Wishbone became the crown jewel of his career. The chair itself is instantly recognizable for its curved, open back and ultra-simple hardwood silhouette. Notoriously time-consuming to craft, the chair combines a wooden frame with a seat made from over 100 feet of paper rolled into cordage. The result is a dining chair that is durable and comfortable with a springy seat. The small, angular shape of the chair also makes it an effortless addition to dining rooms since it is smaller than chairs with larger wooden armrests. In continuous production since 1950, the Wishbone chair is as popular today as it was upon its inception.
Navy Chair by Emeco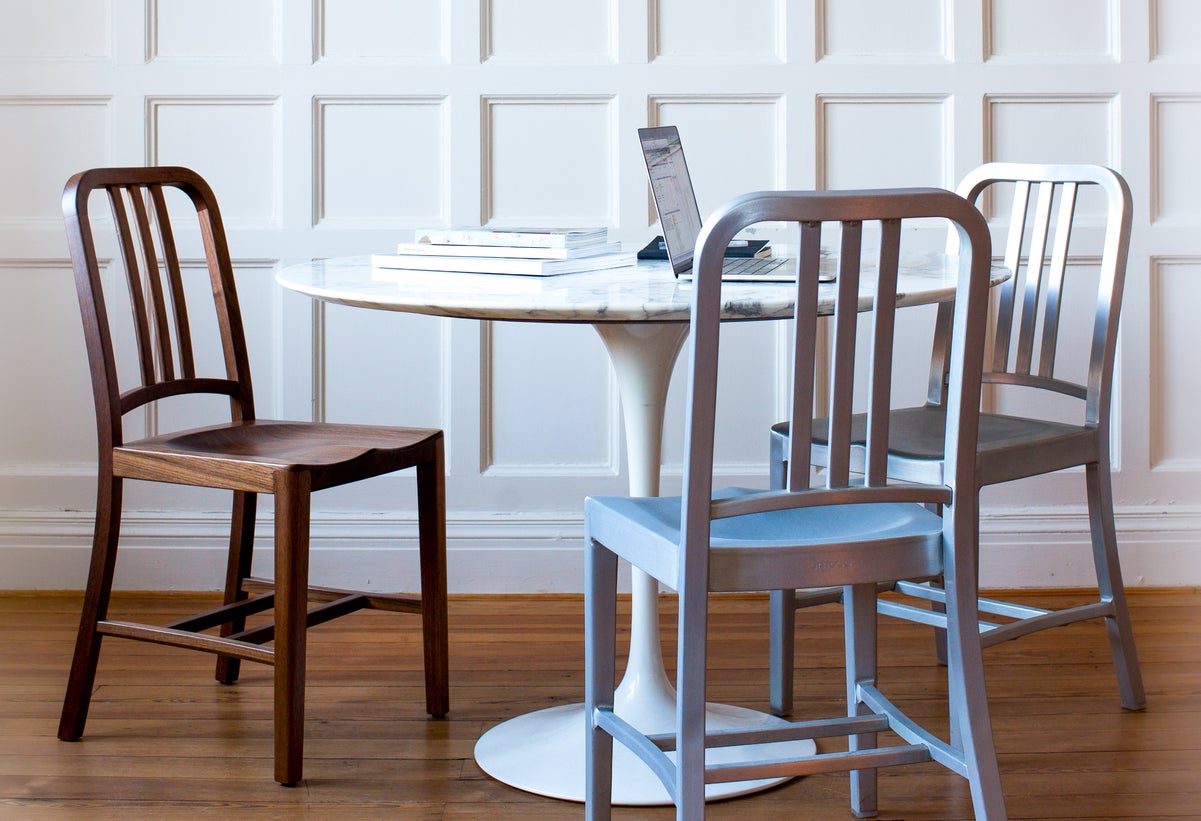 Emeco's sleek Navy Chair captures the beloved shape of classic spindle-backed dining chairs, transforming the traditional form into a modern configuration by using all-metal construction. As its name suggests, the Navy Chair was originally commissioned from Emeco by the US Navy during World War II. Challenged to create a durable seat that could stand up to rough seas, saltwater and withstand torpedoes, the Emeco team developed the chair out of aluminum – which is also naturally fireproof. Sustainable then and now, the design's fusion of function and form has led to its nearly continuous production and dominance around tables worldwide.
From the simplicity of Prouvé's standard dining chair in a kitchen breakfast nook to Vernon Panton's swooping modern masterpiece in a grand dining room, the right chair sets the tone for the space it inhabits. Today's range of designs means our chairs can be as classic or avant-garde as any space.