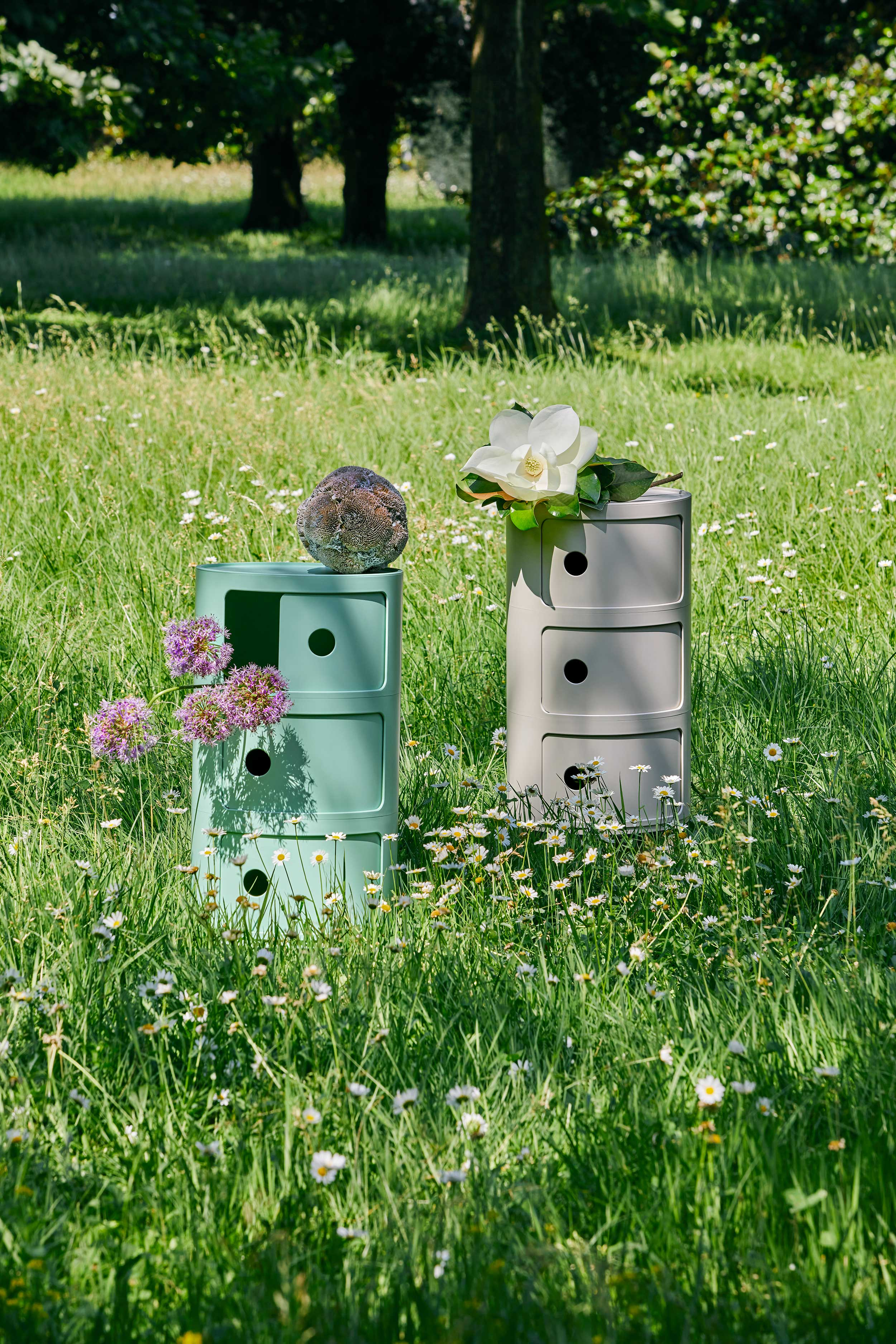 Designed by Kartell co-founder Anna Castelli Ferrieri, the Componibili storage collection made its debut at Salone de Mobile in 1967. The first modular plastic furniture of its kind, Ferrieri, an Italian architect and industrial designer, set out to create an innovative design that would be both beautiful and functional—and now more than a half-century later, the icon can be found in the permanent collections of New York's MoMA and Paris' Centre Pompidou, and in homes and offices around the world.
Supremely minimal and sleek in appearance, Componibili's adept versatility has ensured its status as a bestseller and a quintessential emblem of modern Italian design throughout the decades. As part of the brand's "Kartell loves the planet" initiative, Componibili joined the ranks of eco-friendly design in 2019. Retaining its original and playful cylindrical form, the new and fully sustainable Componibili Bio is made from 100% renewable raw materials. 
Anna Castelli Ferrieri was born in Milan, Italy in 1918. With a degree in architecture, she was one of the first women to graduate from Milan Polytechnic University. In 1947, she started working at Kartell, then an automobile accessory manufacturer, to help her husband Giulio Castelli who recently lost two business partners. Through her efforts, the company began manufacturing high-quality plastic furniture, a material considered for industrial use only and not typically seen in the home. In the 1960s and '70s, the furniture division would see more growth for Kartell than any other division, in part thanks to her innovative furniture designs, which used simple geometric shapes, bold coloring and highly polished finishes. Her main inspirations were Italian Rationalist architect Franco Albini and the Bauhaus school of design, which championed simplicity and functionality. 
Ferrieri served as art director for Kartell from 1976 to 1987 and continued to design for the company while focusing on technical aspects for projects. She later taught industrial design at Milan Polytechnic University and at Domus Academy and in 1990 formed the design group ACF Officina with alumni. She died in 2006.
We spoke with a representative at Kartell to delve deeper into why Componibili remains so popular today.
At the time of its launch in 1967, Componibili was (and still is) regarded as an innovative design solution. What was the inspiration behind the design, and what makes it a unique solution for modern living?
The Componibili collection has revolutionized the design world with a unique approach to product engineering. Componibili suits all possible contexts: individual elements can be fitted with castors and doors, and topped with a lid that also doubles as a tray. Many additional elements can be added to the original one. By simply stacking one or more elements on top of each other, they interlock securely with no need for screws or glue. A versatile and flexible vocation enables them to be a strong feature in any bedroom, bathroom, living room or office.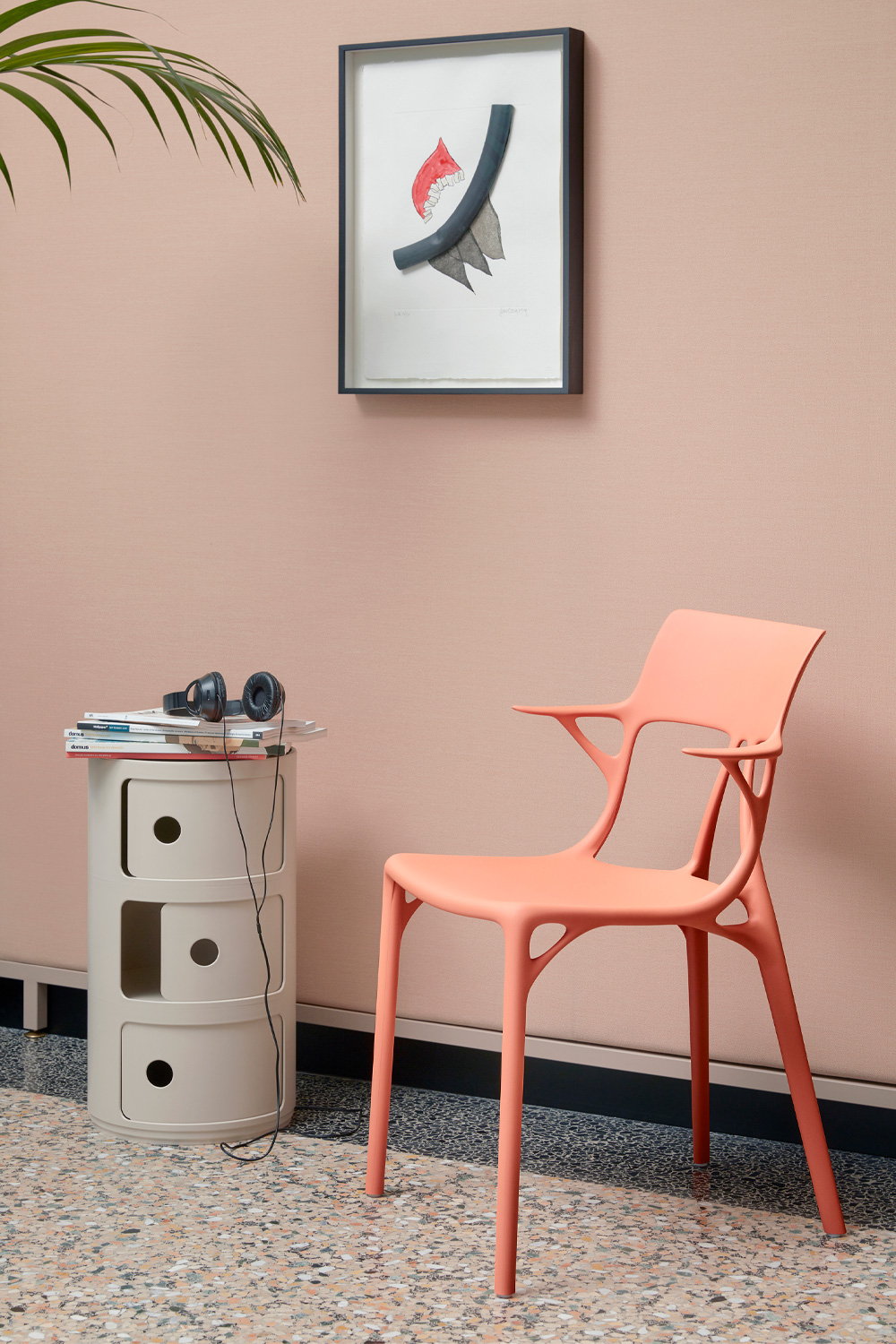 By championing the use of plastic materials in its production, how did Componibili influence successive collections manufactured with the same type of material innovation?
The Componibili elements represented a new furnishing concept; they were actually the first interlocking modular accessories made from ABS, a new material for the time, which stood out for its avant-garde mechanical and aesthetic properties. For many years now, we have been addressing this technological challenge, seeking new solutions and new materials that are able to respond to increasingly sophisticated requirements. 
In 2014, we celebrated 15 years of transparent design to recall the huge technological, aesthetic and cultural challenge launched by Kartell in 1999 with Philippe Starck, which led to our production of La Marie, the world's first polycarbonate chair, now crowned by the latest achievement, that of the Piuma chair which, thanks to a refined injection molding technique, has a minimum thickness of just a few millimeters. Kartell was the first company in the world to use this material for furnishing applications, also because of its beauty, fully aware that polycarbonate could become the material of the future. It is as transparent as glass, unbreakable, non-toxic, resistant to impact and many other adverse conditions.
Has the Componibili collection evolved aesthetically over the past 50 years?
By definition, the Componibili are flexible and transformable and this same capacity to change with the times has enabled them to become a classic. To commemorate the 50th anniversary, we also introduced new color variants in bordeaux, olive green and petroleum blue. A new version with four elements has also been presented, to complete the two- and three-element variants. So, Componibili has reinvented itself in a different skin, to be newly launched as a brand icon and a great commercial success for the company.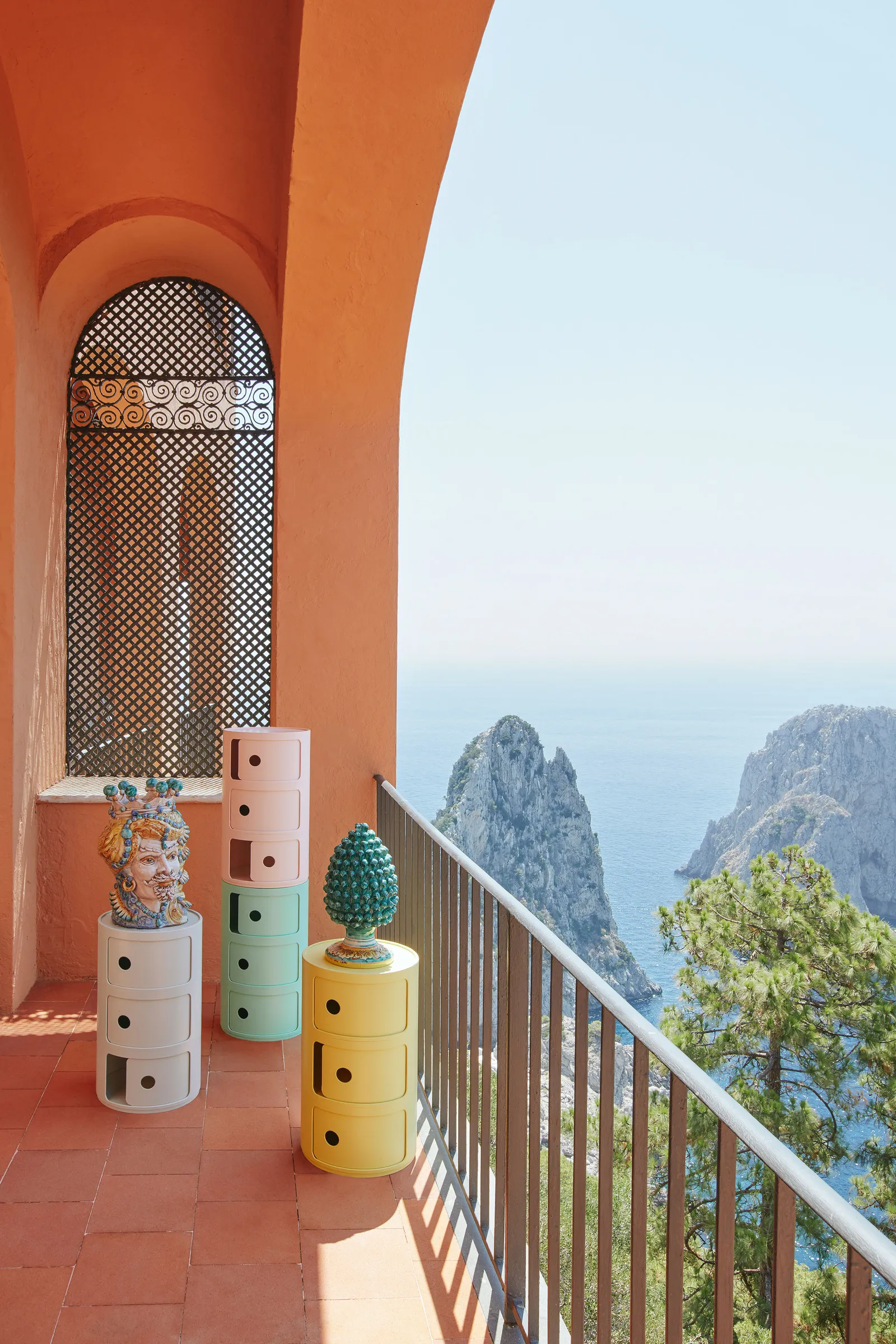 Why do you think this product has remained popular over such a long period of time?
The Componibili are some of the most quintessentially iconic objects and Kartell long-time bestsellers. They continue to represent a contemporary and up-to-the-minute symbol of creativity pertaining to a period of the past in which new aesthetic codes and lifestyles were catching on. The Componibili are timeless because they carry a desire for innovation and change, typical of those objects that have left a mark in history and, for this reason, will never go out of fashion.
---
Forty years later, Anna Castelli Ferrieri's influence continues to resonate in the design community. Her revolutionary use of polyurethane earned her several honors and awards throughout her life. The Componibili remains one of Kartell's best-selling items.