$545.00 - $755.00
+ FREE SHIPPING
MARKETING_5-2-2019 Herman Miller authorized retailer messaging m
Variations
Select Caster Option (2) :

2.5 In. Hard Caster/Black Yoke/Carpet

2.5 In. Hard Caster/Black Yoke/Carpet

2.5 In. Caster/Black Yoke/Hardfloors & Carpet

2.5 In. Hard Caster/Black Yoke/Carpet
Shipping surcharge
: (Why?)
Key Features
The Sayl Basic Work Chair designed by Yves Behar in 2010 for Herman Miller, inspired by suspension bridges brings ergonomic seating to the forefront. The SAYL Basic Work Chair includes Standard Height-Range, Tilt Limiter, Fixed Arms and Fixed Seat Depth and a 5-star base for increased stability. Additional customization options available. Give us a call for more information.
Herman Miller is known for their iconic Mid Century Modern designs and ergonomic office furniture. Working with major designers, Charles and Ray Eames, Isamu Noguchi and George Nelson, they created enduring pieces that are still sought after today such as the Eames Lounge Chair and Ottoman. Today, their office products and task chairs are at the forefront of innovation and ergonomic design. Herman Miller products are designed to enhance your surroundings and make your life more comfortable and meaningful. Every Herman Miller product is built with a commitment to sustainability, global warming and renewable energy.
The Sayl Basic Work Chair is available with the following:
Details:
Chair swivels 360 degrees
Fixed arms are removable without special tools
Fixed Seat Depth option is fixed/unmovable at 16" deep
Y-Tower/Base, back suspension, arm pad finish, and upholstered seating available in a range of colors
5-star base with caster options
Support is molded directly into the seat back structure
Inspired by the principles of suspension bridges (and specifically the Golden Gate Bridge, located near B?har's fuseproject in San Francisco)
Boasts a frameless back with Y-Tower support structure
Seat encourages a full range of movement
Tactile controls are intuitive and adjust easily to the user
92% recyclable and US-made, using 100% green technology
Ships Knocked Down, no tools required for assembly
Designed by Yves Behar in 2010
Greenguard Certified (meets strict low chemical emissions standards) compliant
Warranty: 12 Years
Made In USA
Options:
Seat Color: Berry Blue, Twilight, Black, Carbon/Charcoal
Back Suspension Finish: Slate Grey, Studio White, Black
Base/Y-Tower Finish: Black Base/Black Y-Tower, Polished Aluminum Base/Black Y-Tower
Arm Pad Finish: Twilight, Black
Caster Option: 2.5 In. Caster/Black Yoke/Hardfloors & Carpet, 2.5 In. Hard Caster/Black Yoke/Carpet
Dimensions:
Base: Diameter 19.75"
Item: Width 24.5", Height Adjustable From 34.25", Adjustable To 38.75"
Seat: Height Adjustable From 15.5", Adjustable To 20", Depth 16"
Manufacturer IDs: view
AS1SA22PFN2BKC7SG973005 AS1SA22PFN2BKBBSG973005 AS1SA22PFN2BKC7SGBK3005 AS1SA22PFN2BKBBSGBK3005 AS1SA22PFN268C7SG973005 AS1SA22PFN268BBSG973005 AS1SA22PFN268C7SGBK3005 AS1SA22PFN268BBSGBK3005 AS1SA22PFN2BKC798973005 AS1SA22PFN2BKBB98973005 AS1SA22PFN2BKC798BK3005 AS1SA22PFN2BKBB98BK3005 AS1SA22PFN268C798973005 AS1SA22PFN268BB98973005 AS1SA22PFN268C798BK3005 AS1SA22PFN268BB98BK3005 AS1SA22PFN2BKC7BK973005 AS1SA22PFN2BKBBBK973005 AS1SA22PFN2BKC7BKBK3005 AS1SA22PFN2BKBBBKBK3005 AS1SA22PFN268C7BK973005 AS1SA22PFN268BBBK973005 AS1SA22PFN268C7BKBK3005 AS1SA22PFN268BBBKBK3005 AS1SA22PFN2BKC7SG973007 AS1SA22PFN2BKBBSG973007 AS1SA22PFN2BKC7SGBK3007 AS1SA22PFN2BKBBSGBK3007 AS1SA22PFN268C7SG973007 AS1SA22PFN268BBSG973007 AS1SA22PFN268C7SGBK3007 AS1SA22PFN268BBSGBK3007 AS1SA22PFN2BKC798973007 AS1SA22PFN2BKBB98973007 AS1SA22PFN2BKC798BK3007 AS1SA22PFN2BKBB98BK3007 AS1SA22PFN268C798973007 AS1SA22PFN268BB98973007 AS1SA22PFN268C798BK3007 AS1SA22PFN268BB98BK3007 AS1SA22PFN2BKC7BK973007 AS1SA22PFN2BKBBBK973007 AS1SA22PFN2BKC7BKBK3007 AS1SA22PFN2BKBBBKBK3007 AS1SA22PFN268C7BK973007 AS1SA22PFN268BBBK973007 AS1SA22PFN268C7BKBK3007 AS1SA22PFN268BBBKBK3007 AS1SA22PFN2BKC7SG973014 AS1SA22PFN2BKBBSG973014 AS1SA22PFN2BKC7SGBK3014 AS1SA22PFN2BKBBSGBK3014 AS1SA22PFN268C7SG973014 AS1SA22PFN268BBSG973014 AS1SA22PFN268C7SGBK3014 AS1SA22PFN268BBSGBK3014 AS1SA22PFN2BKC798973014 AS1SA22PFN2BKBB98973014 AS1SA22PFN2BKC798BK3014 AS1SA22PFN2BKBB98BK3014 AS1SA22PFN268C798973014 AS1SA22PFN268BB98973014 AS1SA22PFN268C798BK3014 AS1SA22PFN268BB98BK3014 AS1SA22PFN2BKC7BK973014 AS1SA22PFN2BKBBBK973014 AS1SA22PFN2BKC7BKBK3014 AS1SA22PFN2BKBBBKBK3014 AS1SA22PFN268C7BK973014 AS1SA22PFN268BBBK973014 AS1SA22PFN268C7BKBK3014 AS1SA22PFN268BBBKBK3014 AS1SA22PFN2BKC7SG973015 AS1SA22PFN2BKBBSG973015 AS1SA22PFN2BKC7SGBK3015 AS1SA22PFN2BKBBSGBK3015 AS1SA22PFN268C7SG973015 AS1SA22PFN268BBSG973015 AS1SA22PFN268C7SGBK3015 AS1SA22PFN268BBSGBK3015 AS1SA22PFN2BKC798973015 AS1SA22PFN2BKBB98973015 AS1SA22PFN2BKC798BK3015 AS1SA22PFN2BKBB98BK3015 AS1SA22PFN268C798973015 AS1SA22PFN268BB98973015 AS1SA22PFN268C798BK3015 AS1SA22PFN268BB98BK3015 AS1SA22PFN2BKC7BK973015 AS1SA22PFN2BKBBBK973015 AS1SA22PFN2BKC7BKBK3015 AS1SA22PFN2BKBBBKBK3015 AS1SA22PFN268C7BK973015 AS1SA22PFN268BBBK973015 AS1SA22PFN268C7BKBK3015 AS1SA22PFN268BBBKBK3015
Sayl Basic Work Chair Availability
All combinations for this product are listed below.
Related Searches and Products
Related Products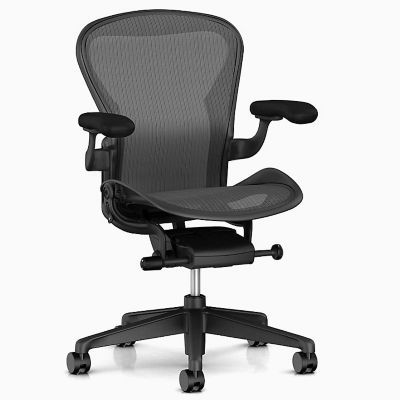 Ergonomic bliss. The Aeron Office Chair " Size ...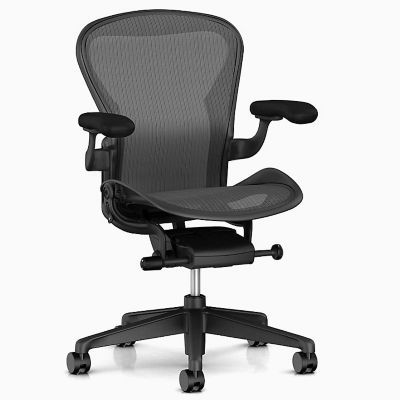 Description:
Ergonomic bliss. The Aeron Office Chair " Size B, Graphite by Herman Miller features breathable 8Z Pellicle suspension seat and back which create 8 zones of varying tension. Its PostureFit SL technology allows you to sit chest open, shoulders back ...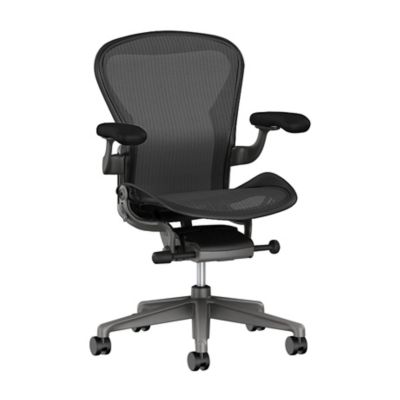 There is no question why the Aeron Office ...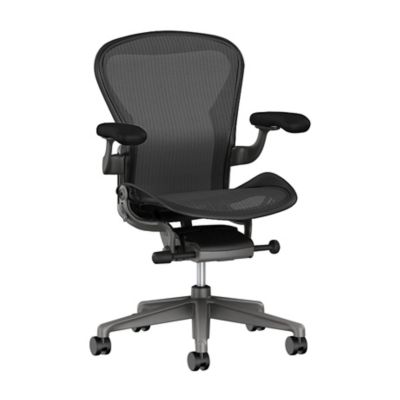 Description:
There is no question why the Aeron Office Chair by Herman Miller is a best-seller even 20 years after its debut. The Aeron Office Chair " Size A, Graphite features PostureFit SL technology which enables you to sit chest open, ...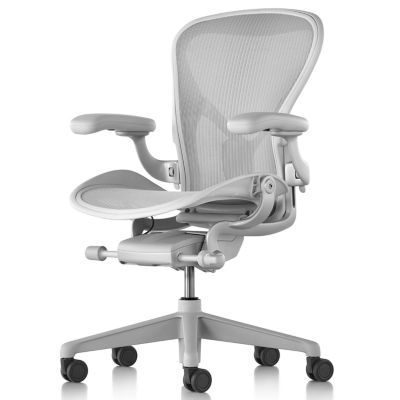 Being the world™s most identifiable ergonomic working chairs, ...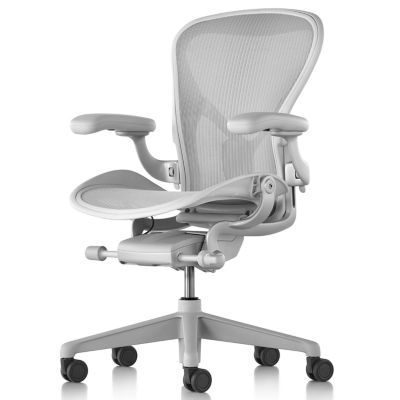 Description:
Being the world™s most identifiable ergonomic working chairs, the Aeron Size C Office Chair by Herman Miller is a flawless merging of iconic aesthetics and remarkable comfort. Available in a range of sizes for a tailor-made sit, this adjustable chair ...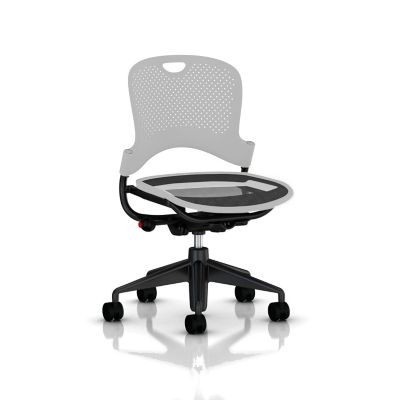 Embark on an escapade for cutting-edge comfort that ...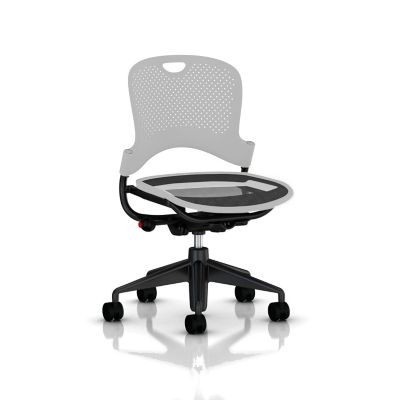 Description:
Embark on an escapade for cutting-edge comfort that supports your extremities without costing an arm and a leg. The subtle stylings of the Caper Multi-Purpose Chair by Herman Miller were engineered by Jeff Weber of Studio Weber + Associates following ...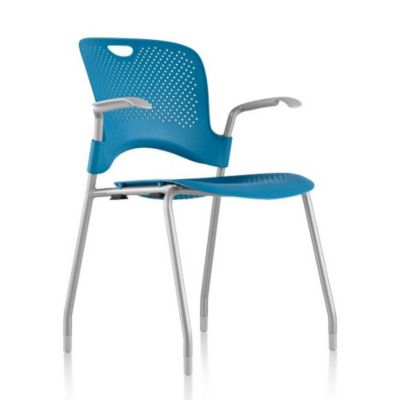 Get comfortable with the Caper Stacking Chair from ...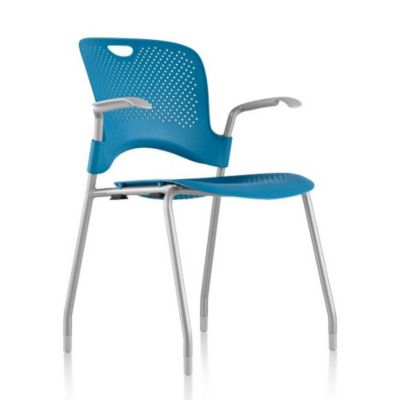 Description:
Get comfortable with the Caper Stacking Chair from Herman Miller, which offers cozy contours in a sleek and versatile package. Designed to accommodate a diverse profusion of people and spaces by Jeff Weber of Studio Weber + Associates, they expertly ...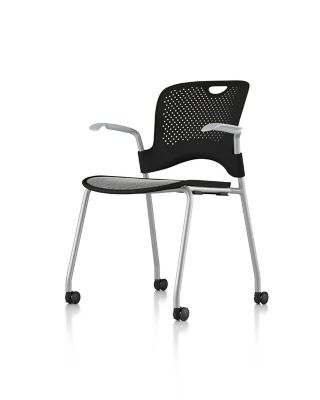 Contoured for comfort. The Herman Miller Caper® Stacking ...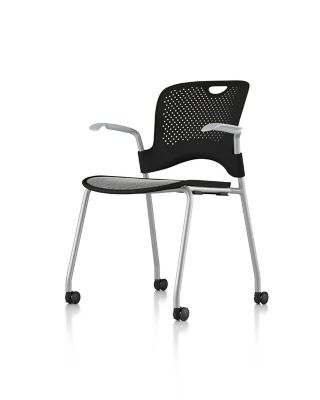 Description:
Contoured for comfort. The Herman Miller Caper® Stacking Chair with Flexnet™ Seating is designed to accommodate a diversity of people and spaces using strong, breathable suspension material. A Polypropylene back distributes weight evenly to conform to your seated body while ...
YOU'RE CURRENTLY VIEWING