Pendant Lighting
Learn More About Pendant Lighting
Why We Love Pendant Lighting
Pendant lights, hanging lights and ceiling suspensions can help personalize a space and put your sense of style on display. Contemporary pendant lights give a room a unique sense of structure and substance, showing funky and sometimes fascinatingly strange shapes. Pendants set the tone for whatever room or environment they are in and whether contemporary or not, these hanging ceiling fixtures create a sense of collected calm that is appropriate for the room. Hanging lamps also offer an alternative to traditional chandeliers or portable table lamps and floor lamps, contributing illumination from a single light source rather than many.
Read More
Pendant Lights for Every Room & Application
Hanging lamps offer mainly downward-focused lighting, making them an ideal option for dining room lighting and kitchen lighting when used over the dining table or for decorative island lighting. Long, linear-shaped pendant designs work well over kitchen islands and kitchen tables, or you can choose to string together a cluster of mini pendant lights for an eye-catching way to successfully cover your kitchen counter tops. Suddenly, the common dining room is a posh hangout for family and friends underneath any of the pendant lighting found in this well-curated assortment. And if it's a touch of luxury you need in your dining space, crystal pendants make a noticeably sophisticated statement.
In the entryway or foyer, a large pendant or multi-light pendant makes a welcoming statement that sometimes cannot be achieved with a traditional chandelier. As soon as guests enter your home, they will be met with the grace and elegance of your choice of lighting. Consider hanging a pendant in the living room as a conversation piece. You may even want to combine several mini pendant lights on a track or monorail system to create focused and character-filled lighting in the living room. And if you have the ceiling height in any of your bedrooms, be it the kids' playroom or the master bedroom, any of the adjustable pendant lights offer you the option to choose the suspension length to accommodate your specific ceiling height. Mini pendants are also another option in place of a familiar bedside lamp.
Don't forget about the great outdoors! Outdoor hanging lights, UL listed for damp and wet location areas, make relaxing outside after dark a welcomed option. Wherever you may need a decorative ceiling fixture in your home or commercial application, modern pendant lighting is sure to provide the ample lighting and breathtaking style you want.
A Pendant Light for Every Style
This collection of pendant lamps addresses a variety of interior design styles ranging from contemporary, traditional, nautical and transitional to those inspired by classic Scandinavian designs, mid-century modern pieces, delicate glass works of art and much more. Depending on the location you need to outfit with new lighting, your choices for new pendant lights is expansive. For a contemporary chic light that meets style akin to the 1950s, you will want to see the mid-century pendant lighting available from Jonathan Adler (we especially love Adler's Sputnik collection for its retro appeal). For a beautiful brass or clean copper fixture, look to the pendants available in the Tom Dixon collection and if your space follows more of a Scandinavian theme, check out Poul Henningsen's designs for Louis Poulsen, including the iconic Artichoke Light and the PH collection. On the traditional and transitional spectrum of interior design, your living area is sure to benefit from the hanging lights by Feiss Lighting or SeaGull Lighting. If your preferred aesthetic is more industrial, pendant lighting from Kichler is a safe bet. Finally, to improve the energy efficiency of your space, opt for LED pendant lights.
Show Off Your Colorful Side
As with any form of contemporary home decor, you are well-afforded the chance to show off your appreciation of color with pendant lamps. This highly-curated assortment of pendants gives you the opportunity to find a wide variety colors to use in almost any scenario. Mix and match shades of blue in a set of mini pendants for a cool, yet dramatic approach. Use stainless steel pendants in the kitchen to complement the work space environment of the room and any other stainless steel accessories you may have present. Consider layering the levels of color in your entryway to guarantee a great first impression among your guests. Outfit a minimalist home with neutral colors like black, white and gray, or go transparent with clear glass shade designs. And look to rustic brown or wrought-iron finishes for your outdoor living areas to complement the color tones found in these spaces. Try to consider other elements of your rooms to allow a pendant of choice to seamlessly blend in with your existing decor. Or opt for a personality-packed pendant that will bring a splash of radiance into the room. With so many color options to choose from, you're bound to find the look in a hue you'll love.
How To Choose the Best Size Pendant Lights
Depending on where you need a pendant light installed in your home, you will need to choose a size appropriate for the space and the available ceiling real estate. This selection of pendant lighting includes a variety of sizes to help you find the best lighting solution for almost any need with a multitude of shapes, diameters and hanging lengths to choose from. Before you begin your search, properly measure the space where the ceiling light will be installed to have a gauge of how large (or small) your new lighting needs to be. For most kitchens and dining rooms, you'll want to be cognizant of how far the light fixture will hang over the surface of the table so as to provide plenty of illumination without making the room feel small. Likewise, for kitchen island lighting, jot down the space between the island's surface and the base of the fixture to ensure ample light is spread. With measurements ready, begin your search by finding the right shape for your application. From round pendants to linear pendants and clustered, multi-light designs, every shape imaginable is available. And most importantly, thoroughly review the sizing dimensions of a pendant you are interested in to determine its height, width, length and weight (especially for oversized pendants). If you have any questions about how to choose the right size pendant light, please call our lighting experts at 877.445.4486.
Other Great Options
Voltage is a key consideration to finding the right pendants for your home's lighting system. Interior designer favorite, Tech Lighting is a go-to manufacturer of both line voltage and low voltage pendants, giving you a wealth of options to suit your needs. If you don't have the ceiling height for a pendant or hanging suspension fixture and still want something equally decorative, you'll want to see the flush mount lighting category. As their name suggests, these fixtures install flush with the ceiling, providing a noticeable element in your rooms without being obtrusive or hanging too low. Layer your levels of light in any given room by combining your ceiling lighting with a pair of wall sconces. You'll be sure to appreciate the ample amount of light available. Lastly, tune your lighting output to your specific mood or task by using dimmer controls.
Show Less
Related Products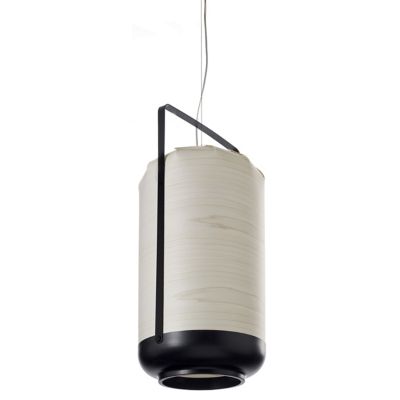 Modeled after Asian paper lanterns and inspired by ...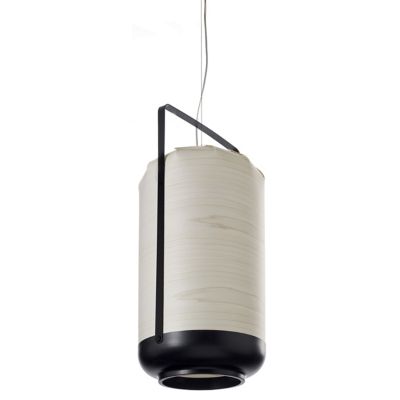 Description:
Modeled after Asian paper lanterns and inspired by the film "The World of Suzie Wong," the LZF Chou Small Pendant is crafted from natural wood timber sustainably harvested from Spanish Poplar. The extracted veneers are curled into composed contemporary cylinders, ...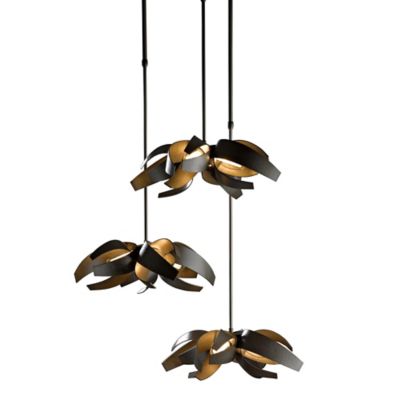 A fixture with real "flare." The Hubbardton Forge ...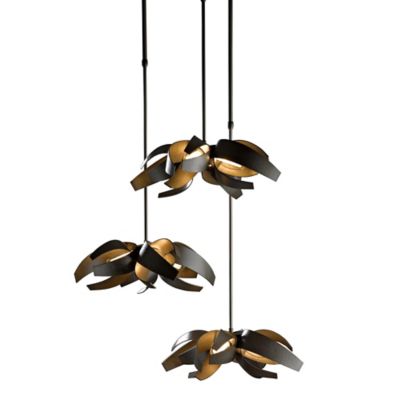 Description:
A fixture with real "flare." The Hubbardton Forge Corona 3-Light Pendant evokes the excitement of solar activity with its arching loops of hand-forged wrought iron. The interior of each dynamic curve glows with golden light from the halogen bulbs, offsetting ...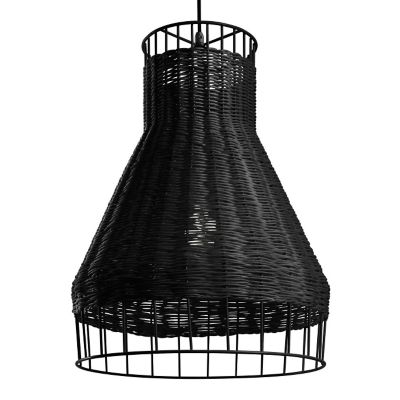 Weave together a sophisticated yet playful lighting scheme ...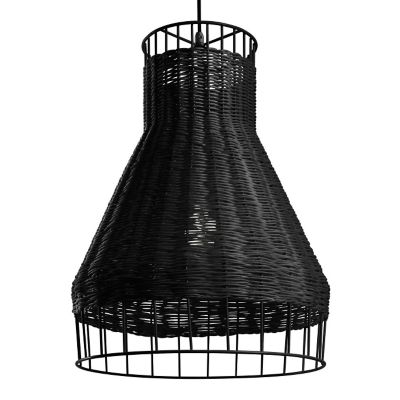 Description:
Weave together a sophisticated yet playful lighting scheme with the Blu Dot Laika Medium Plus Pendant. On an architectural frame of White powder coated steel wire is hand woven paper rattan. In addition to providing intriguing contrasting texture, the rattan ...