Why We Love Pendant Lighting
The right pendant light can add an instant style upgrade to your room. Aside from illuminating spaces, pendant lights add instant chic to indoor spaces and add to a cohesive look. Modern pendants offer unmatched diversity ranging from understated single pendant versions as well as multi-light pendants. Regardless of your décor style, you can find a contemporary pendant that suits your space – from whimsical and fun styles to those with clean lines.
What are the Different Types of Pendant Lighting?
When it comes to choosing your ceiling lighting, you have a multitude of options. Pendant lighting is suitable for more than just dining areas. These adaptable fixtures shine in a variety of settings and can serve as the finishing touch to a well-appointed space. The versatility of pendants goes as far as your imagination allows and, aside from casual and formal dining areas, these hanging lights bring sophistication and style to kitchens, long corridors, and home office spaces.
Small and mini pendant lights look great in indoor spaces like foyers, reading nooks, and bathrooms. Large hanging lamps or multi-light fixtures are best suited to indoor spaces like dining rooms and kitchen pendant lights provide bright task lighting where you need it most. Single pendants also look great when grouped together and suspended at various heights for a bold statement. When hanging a pendant over a table, the ideal drop is between 28 and 32 inches, but you can experiment with different heights to find the look to complete your space.
Another consideration is what type of lighting you need in your space. If you are hanging your pendant in a dining area, choose a fixture that emits ambient, or soft light. If you intend to use your pendant in an office, then task lighting is a better option. Choosing a compatible bulb for your fixture will help you achieve the desired illumination.
Iconic Pendant Light Designs
Modern pendant lighting has evolved over the years to become more refined while incorporating remarkable contemporary elements like cracked glass shades, highly-reflective specialty shades, and irregularly shaped shades that support modern décor. No matter how futuristic pendant designs become, there is still a plethora of pendant silhouettes that are truly timeless and look good in almost any space.
For inspiration, you'll find an unmatched selection of extraordinary pendant choices in this assortment. Here you'll discover top interior lighting brands, including Visual Comfort and the iconic Nelson Bubble Lamps. From ultramodern pendants by SONNEMAN Lighting and Tech Lighting to refined and minimalist suspensions from FLOS Lighting.
How to Choose the Best Pendants: Size, Finishes & Installation Options
With so many versatile pendant lighting options, you may have a hard time choosing just one. So how do you choose the best pendant for your space? You can start by taking stock of the space where you want to install the pendant. Understanding the tone of the room gives you a great place to make your selection.
What's the purpose of my new pendant light?

In certain rooms, a light fixture serves a more functional purpose rather than fashionable. For instance, the pendants you choose to hang over your kitchen island will provide functional, task-oriented illumination while the lighting at the front door is meant to captivate guests entering your home.

How do I choose the right size pendant light?

Begin by knowing the square footage of the room you plan to add this type of lighting in. You'll need to consider the ceiling height (including vaulted and sloped ceilings) to help you make the best choice. Be mindful of all sizing dimensions including width, depth, height and even weight of a fixture you are interested in.

What about pendant light colors and finishes?

Look for modern pendant lights that will complement your existing color palette. From vibrant reds and blues to conservative greyscale designs, this assortment has it all. Consider the finishes of hardware on the light fixture as well. While many metallic finishes are popular, your rooms may be better suited by wood accents.

How much light will a pendant provide?

The light source of the pendant is another important consideration. LED pendants will emit a different amount of light compared to those using halogen or incandescent light sources. You'll also want to be mindful of the brightness the fixture produces. Be sure to take a look at our guide on interpreting lumens too.

How do I install pendant ceiling lights?

Other things to consider when choosing a pendant for your home include the ease of installation and its maintenance. For example, if you plan to install hanging lights on a sloped surface or a vaulted ceiling, be sure you invest in all necessary connectors, suspension cables, dimmers and installation hardware, and consider how the fixture will be cleaned or maintained over time. As always, we recommend consulting with your electrician should you have any trouble installing a new pendant.
With these simple steps in mind, you're ready to find the right hanging lamps for your home. If you have any questions about the pendants found in this assortment, please call our lighting experts at 877.445.4486.
Other Considerations
Improve the energy efficiency of your home with LED pendant lighting. While eco-friendly, these LED options also feature beautifully modern designs you'll love having in your home. to improve the overall energy efficiency of your home. Determine how the pendants you choose will mix and match with other forms of lighting in your home. Appropriately layer the amount of lighting in a given room with the addition of wall sconces and modern lamps. Lastly, if you're searching for outdoor hanging lights, remember to keep in mind the UL rating of the fixture as not all lighting types were meant for the great outdoors.
Related Products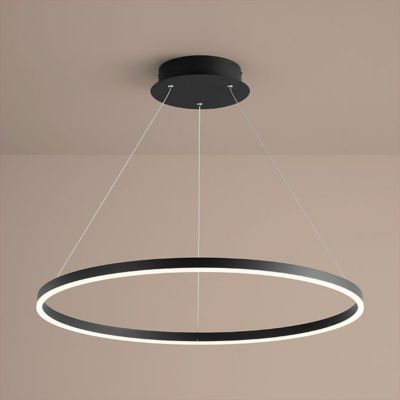 The Circulo LED Pendant from Oxygen Lighting displays ...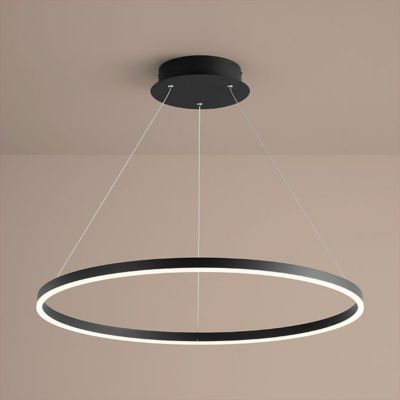 Description:
The Circulo LED Pendant from Oxygen Lighting displays a seamless blend of function and elemental form. A circular canopy sends thin cables down to a slender steel ring below. The piece appears to hover gracefully in the air, while it ...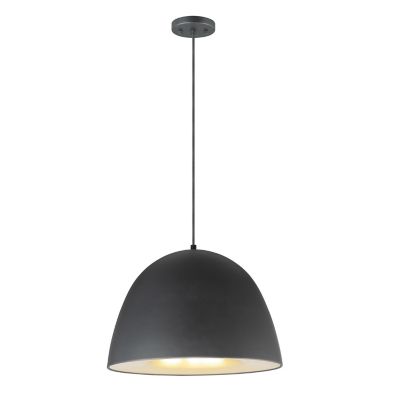 Give your home a warm and inviting touch ...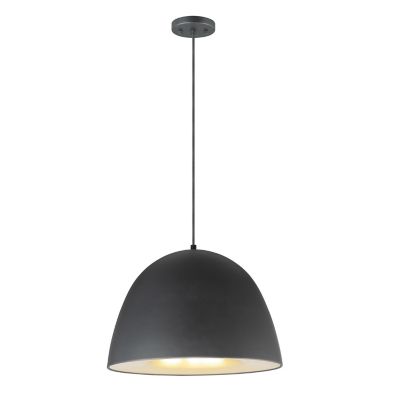 Description:
Give your home a warm and inviting touch with the Fungo LED Pendant from ET2 Lighting. Minimal and refined, this fixture is dropped from the ceiling by a thin cord that leads to its dome-shaped smooth metal shade. Inside, frosted ...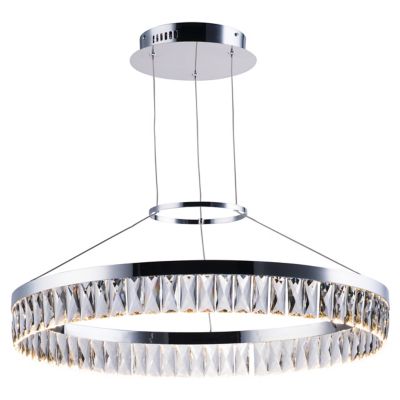 Ringed refinement. The Icycle LED Pendant by Maxim ...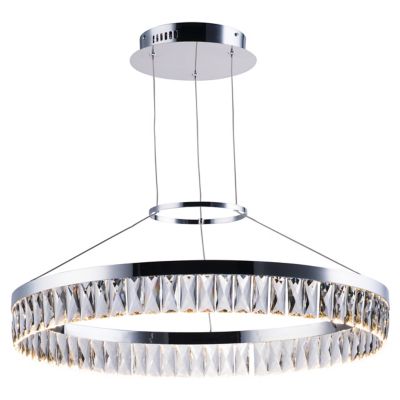 Description:
Ringed refinement. The Icycle LED Pendant by Maxim Lighting is a spectacular presentation of beveled crystals suspended from sturdy, slender cords. As the energy-efficient light source shines, each rectangular accent glimmers and dazzles for a show-stopping spectacle. Whichever room you ...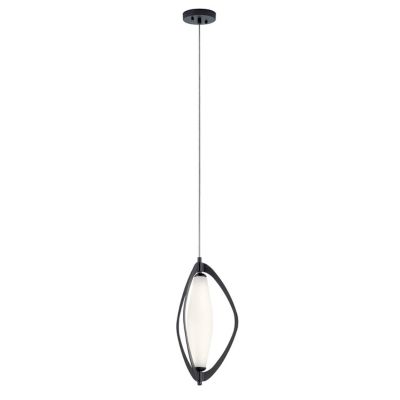 The Elan Lighting Kivik LED Pendant is an ...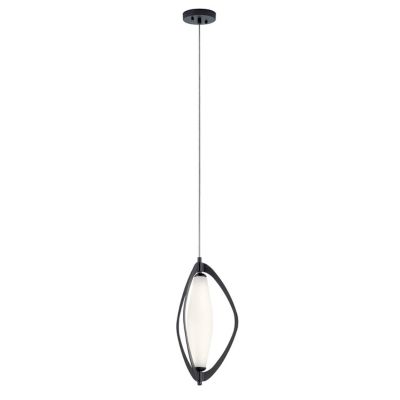 Description:
The Elan Lighting Kivik LED Pendant is an engaging piece that features modern lighting paired with mixed materials. The opal etched glass diffuser is contrasted against shiny steel metalwork, the cylindrical shade housing the hidden LED modules. The surrounding metal ...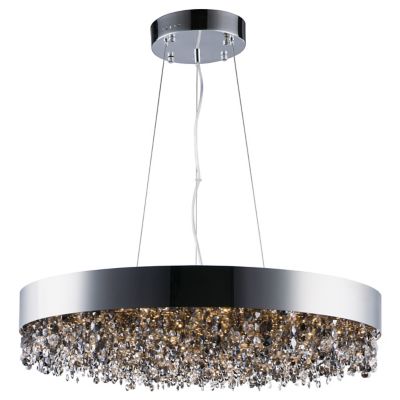 True to its name. The Mystic LED Pendant ...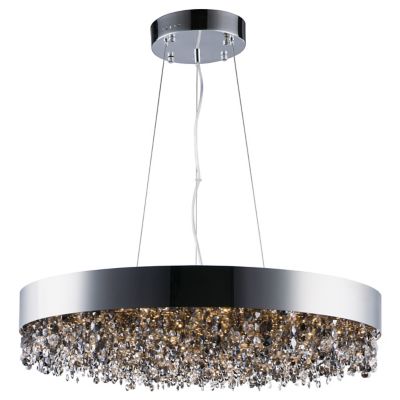 Description:
True to its name. The Mystic LED Pendant by Maxim Lighting evokes an esoteric vibe with its plethora of crystal strands that suspend from a striking steel frame. When turned on, the dimmable and energy-efficient light source creates a captivating ...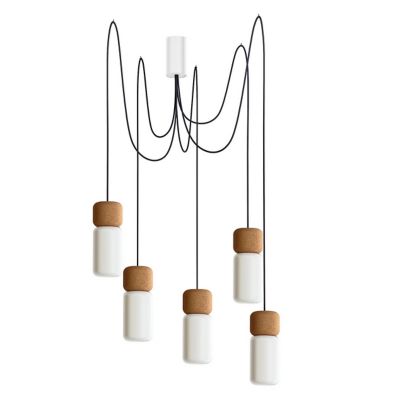 Wire up your home's sophisticated personality with the ...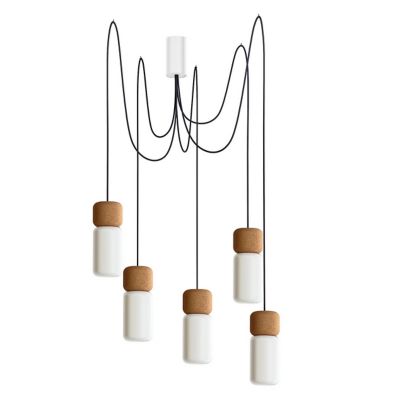 Description:
Wire up your home's sophisticated personality with the suspended battery-like forms of the Pila M5 LED Multi-Light Pendant from Estiluz. It's a quintessential CrousCalogera piece, reflecting the studio's idea of contrasting materials stacked on top of each other. CrousCalogera shows ...