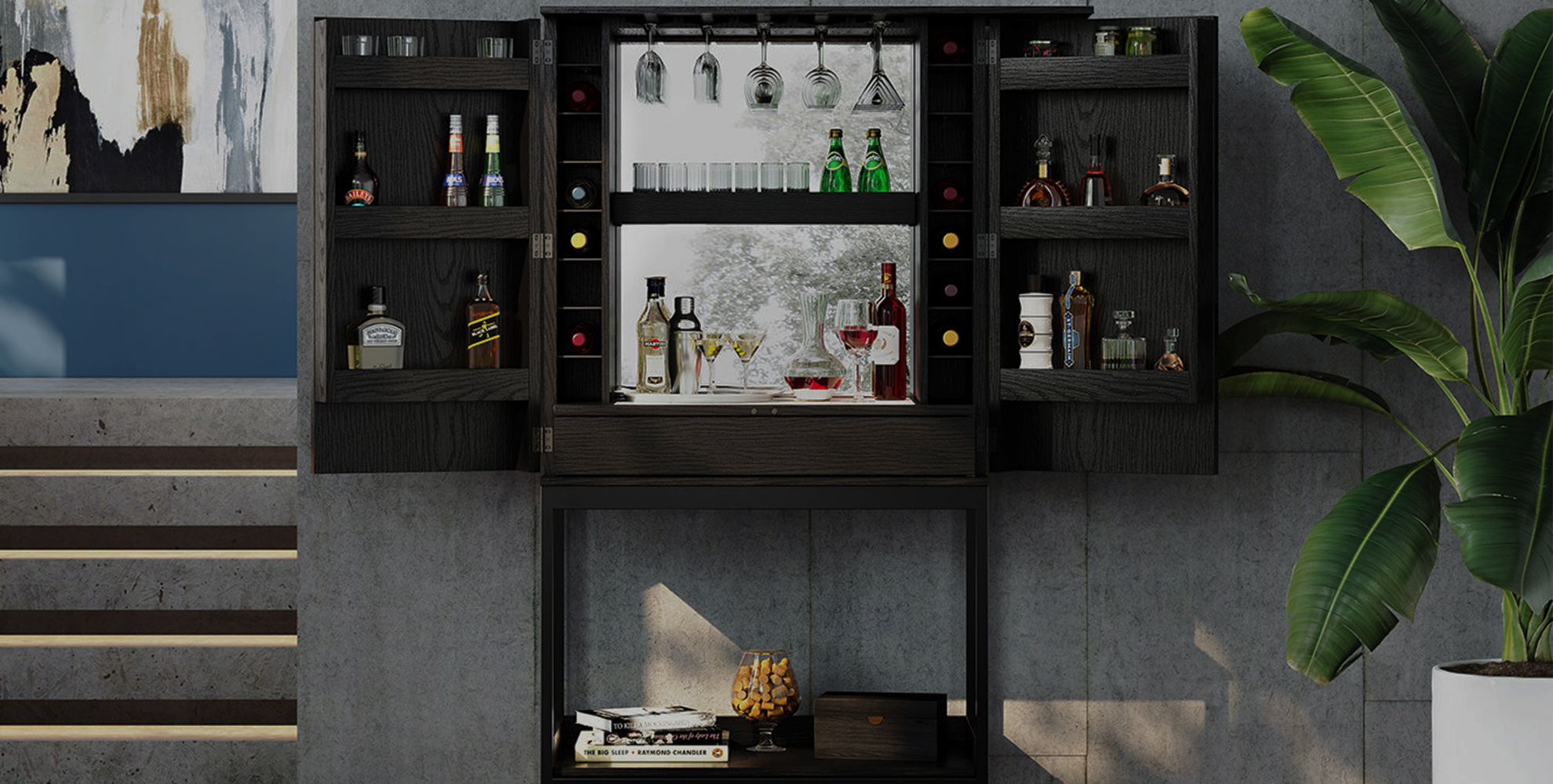 Your Guide to the Ultimate Home Bar
When going out is off the table or you simply prefer to stay home to unwind,
a home bar is a natural entertaining element. Here's how to style yours.
With the proliferation of online recipes and Insta-worthy images of cocktails done right, it has become more popular than ever to try your hand at mixology at home. Anyone can do it, as a home bar is an element that will fit in with any décor, whether your design tastes tend toward modern or classic styles.
All it takes to set up your ultimate home bar is a little logistical planning; we'll take you through the basics.
Pick the Right Spot
Where you choose to set up a home bar can be based on how great of a design impact you want to make. In terms of convenience, the place where you like to relax with a cocktail or your main entertaining space would be a logical place for your home bar. Or maybe a spot closer to the kitchen makes sense, where you can easily grab ice.
Another consideration is the impression you want to give. Do you want your home bar to be the big, glamorous design centerpiece of the living room? Or would you prefer it to blend in more subtly, tucked away quietly into the corner of a library or dining room?
Pick a Bar That Works in That Spot
The piece of furniture that you choose to house your home bar should fit in proportionally to the space where it will reside. If you have a relatively large place for your bar area, you can safely go all out with a full-sized liquor cabinet. For smaller spaces, choose a unit that stays compact most of the time but can be opened up when in use, revealing a plethora of tasty tipples inside.
There's also the option to have a mobile home bar. Bar carts can be used to organize your drinks collection from the kitchen or pantry, and then wheel it into the living room or out to the patio. Most modern bar carts easily tuck away to park when not in use; it doesn't get much more convenient than that.
Consider Non-Traditional Alternatives
Bar carts and other storage furniture dedicated to housing liquor and related implements are easy, elegant choices—but that doesn't mean you can't think outside the box and use other types of furniture in creative ways.
Credenzas and sideboards have proportions that make them ideal for a home bar set-up, and they can do double duty as storage for linens or fine china in the dining room. And in the right context, even desks or bookcases can be repurposed as well-organized bars.
Stock Your Bar
If you like to entertain a lot, a well-stocked bar should contain something for everyone. It will hold liquors of all kinds, as well as common mixers and garnishes. And you may choose to include some unexpected or rare bottles, to show off your good taste and connoisseurship.
A big bar is great, but smaller ones can still definitely get the job done. Just stick to the essentials, especially the kinds of liquor and mixers that you personally enjoy.
Choose the Right Accessories
A home bar should contain all the basics you need to make cocktails, not just the alcohol. Everything should be conveniently at hand, all together in that one place.
Your home bar should include the appropriate glassware for a variety of drinks—highball, lowball, martini and wine glasses. You should also include some essential tools with which to practice your mixology skills, such as a shaker with an ice strainer, jigger, shot glasses and bar spoon.
Tips for Teetotalers
If alcohol is not your thing, use the home bar concept to store and display whatever you do like to imbibe. The "mocktail" has risen in popularity quite a bit among non-drinkers and more health-conscious tipplers, with a variety of tasty and highly displayable options available. Going this route, the glassware and tools are essentially the same as those for alcoholic options.
You could also set up a gourmet soda bar, with a variety of Italian syrups lined up to mix into soda water or seltzer. Coordinate the rainbow of syrups with candy-colored pint glasses. Or you could give your espresso machine a place to shine with a specialty coffee bar, complete with canisters of your favorite roasts, fine porcelain coffee cups and shining silver teaspoons.
When it's all said and done, your ultimate home bar should be an expression of your design taste as well as drink taste. It contains the liquors, liqueurs or other beverages you love, easily enjoyed and shown off to perfection on a bar that complements the rest of your home's décor.
Cheers!