Outdoor Lighting Buyer's Guide
Your home is full of features to show off. The right outdoor fixtures will put those details in the best light (literally!), from architectural elements to lovely landscapes.
Whether for stepping up safety, adding functionality to your outdoor room or enhancing your home's architectural features, it's likely that your home needs outdoor lighting.
Aside from the fact that it improves the look of your home's architectural structure, yard lighting makes a safer and more welcoming environment for guests and visitors alike; pathways become visible so accidents are less frequent, and hard-to-see spots become calmer to navigate through (especially for the elderly). And aesthetically speaking, an ethereal fixture treading down a silvery walkway sure is easy on the eyes.
To help get you started, we'll walk through the basics to construct the best outdoor lighting arrangement for your home.
Types of Outdoor Lighting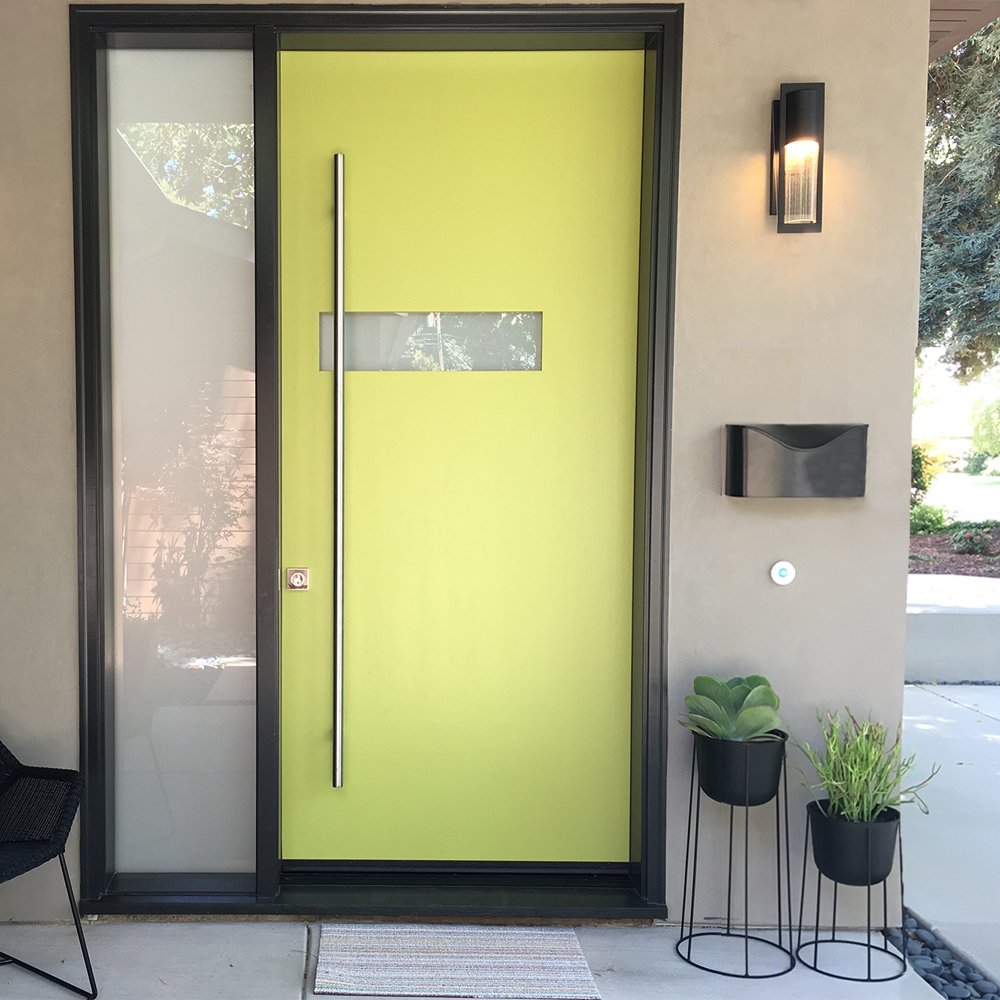 Outdoor Wall Sconces
Wall sconces are always a smart lighting option for any outdoor entryway. A well-designed outdoor wall light helps accent the features of your door, adding depth and dimension with a little bit of shadow play. Illuminating your entryway with a warm, inviting glow also makes it safer and easier for guests to find their way through.
Important considerations:
Size: If you're looking to hang a sconce on just one side of the door, look for a fixture that's about one-third the height of the door. If you're mounting two on either side, one-quarter the height should do just fine.
Be sure to mount the fixture(s) slightly above eye-level; for most standard door models, this is about 66 inches above the threshold.
Scale: Be wary of undersizing your fixtures. Sconces will appear smaller from a 50-foot distance, so going slightly larger might be a good idea. Stand at the curb and look at your entryway. If it seems like the standard measurements are just too small, don't be afraid to go a little bit bigger.
Outdoor Pendant Lighting
Outdoor pendants add a little more sophistication to home entryways. They're built to stand strong against the elements, and with the proper size and hanging length can make any type of entrance a warmer and more inviting space.
Important considerations:
Size: Your pendant should be centered about 6 inches above the door. Its size should be about 1/5th the height of the door itself. Pendants are usually hung by chain, wire, cable or stem. If you find yourself with a chain option, you have more room to adjust the height however you'd like. Remember that your pendant should be in proportion to the space, so take visual note of how it looks and feels around the entryway, then adjust accordingly.
Outdoor Post Lights
Post lights help accent the pathway to your home and set an ambient tone without the overpowering brightness of floodlights. Tall posts are great for illuminating driveways and long stretches of space that get lost in the dark. Shorter posts work well for paths and small alcoves.
Important considerations:
Number of lights: To figure out how many post lights you need, take note of the diameter that the light encompasses around the post. Then set your next fixture outside of that space. The height of the fixture will help you determine the proper placement while the function of the light will let you know if it's in the right place. Doing so will help prevent the yard from looking like an airplane runway.
Types of Landscape Lighting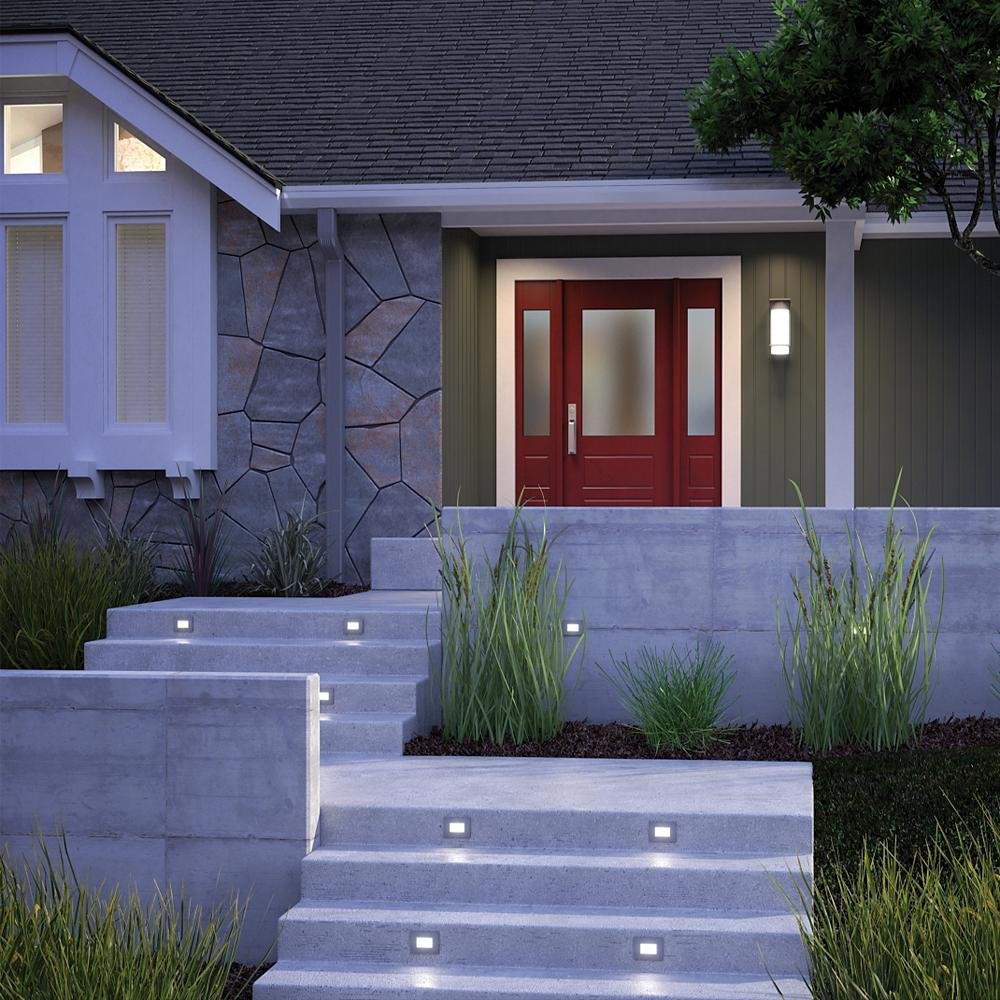 Spotlights / Floodlights
The difference between a spotlight and floodlight comes down to beam spread. Spotlights project a concentrated, narrow beam of light that's usually around 45 degrees. It's easier to aim and adjust so that if you're looking to highlight specific display points, like architectural details or landscape features, a spotlight will be your best choice.
Floodlights generally have a wider beam spread, up to 120 degrees. If you're looking to cast light over general areas like a driveway or lot, use a floodlight. It's better for overall safety and visibility.
PRO TIP

Knowing the width of the beam spread you want isn't nearly as important as the beam width in feet. You want to make sure the light reaches its subject and properly illuminates all the key features you're looking for. To determine how much light will reach its target from a certain distance, use this formula:

Angle of Beam x 0.018 x Distance from Light Bulb = Beam Width

(Example: If you have an 80 degree floodlight and install it from 10-feet away, your formula will be 80 degrees x 0.018 x 10 feet = 14.4 feet wide)
Inground Lighting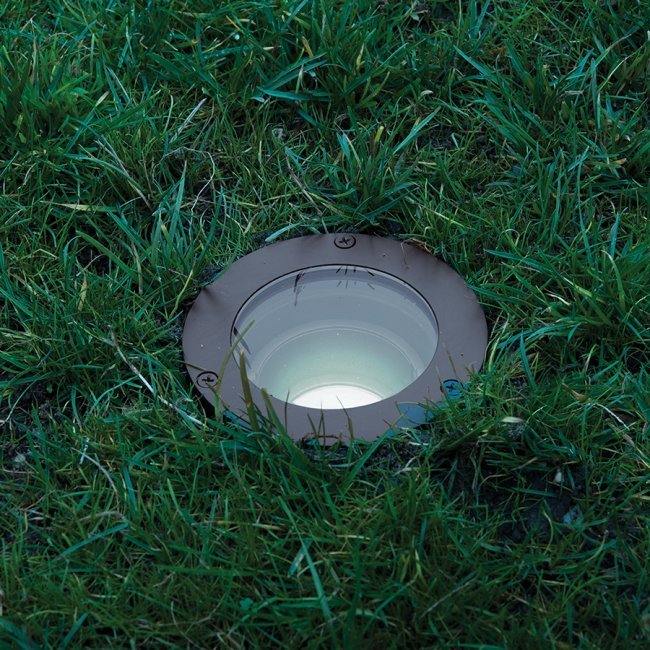 An inground light is typically a circle-shaped fixture that installs directly into the ground, and is often used to illuminate walkways and driveways. Ingrounds really heighten the sophistication and visibility of the features in your yard. It helps create drama and atmosphere with an uplight effect that illuminates the whole of a tree or structure. It also silhouettes the characters that stand around the yard; those you wouldn't be able to see on a typical night. They're best mixed with spotlights, if and when you can blend them, but uplighting on its own can be a strong lighting solution.
Since inground lights are hidden in the ground, the actual light effect is what stands out. In the case of an inground, make sure it's used to light up a strong presence on your yard. Don't worry about garden gnomes or short flowerbeds; concentrate on trees and garden walls.
Ingrounds may also be used to light up driveways for safer navigation through gates and lot areas. These need to have the proper vehicular weight ratings to suit cars that drive over them. Choose one that is strong and has ample weight sustainability. It's also highly suggested to go with an LED option, as they have crisp color temperatures that look brilliant in the dark and last for thousands of hours. The WAC Landscape Lighting LED 3 in. Inground Light is a great example of an inground that offers all of this.
Path Lighting
Path lights are a basic outdoor fixture all yards should have. Similar to post lights in that they create light markers that run down a line, path lights are shorter and smaller in comparison. Path lights easily improve curb appeal and, of course, make walking along paths safer.
Important considerations:
Size: When choosing your path lights, take height into consideration. For a nice, even glow, path lights should be installed about 14-inches high.
Scale: In terms of the borders, your paths should be within 1 foot from the sides of the walkway/pathway. Again, take note of the diameter of the light around the fixture itself and install your lights outside of these areas to avoid overcrowding.
Materials: Your path lights should be sturdy and made from materials that resist corrosion and wear. Powder-coated finishes have long-term resistance to the outdoor elements while soda lime glass stays tough throughout the seasons. LED path lights are highly suggested, as they keep costs low with reduced power consumption and burn cool with options in color temperature. Find one that will enhance the visual appearance of the exterior of your home.
Though you may have researched extensively for DIY installation options for your outdoor lighting, it's important to get some expert advice and hire a professional to work out the details for you, even if the cost is a little more up front. Once you have, you won't regret it.