Kitchen Lighting Guide
The heart of your home can reflect the soul of your style.
Here's how to show your kitchen in its best light.
Written by Cody Torgersrud
The kitchen is, as they say, the heart of the home. Whether it's a weeknight in with the fam or a gathering of everyone you know, we inevitably end up huddled in this space no matter what the occasion.
This space feeds our bodies and souls, and reflects our personal style in its own unique way. It is no wonder that the kitchen ends up at the top of the to-do list when it comes to updating your home or taking on a major remodel.
As a space that serves as both a technical space for cooking and an atmospheric space for entertaining, lighting and lighting control is critical in the kitchen. As with any space, we can break down kitchen lighting how-to into three main categories: ambient, task and accent. Let's take a look at what you'll need and where.
Ambient Kitchen Lighting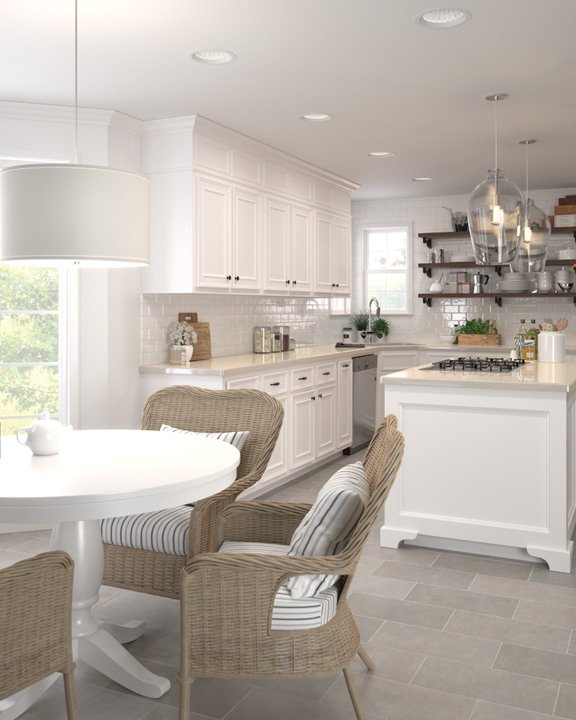 Ambient lighting is the base layer that makes a room usable. As in other rooms, this is generally lighting that originates from the ceiling. Recessed lighting is the current reigning trend, but you can also look to flushmount fixtures or even track or rail systems.
The key to ambient lighting is to provide a consistent light layer, and recessed lighting accomplishes this efficiently. When laying out recessed lighting in a kitchen, you'll want to focus on areas that aren't covered by other fixtures like pendants or undercabinet lighting. In short, think of where your feet will be, and you'll want to ensure that space is lit.
If you have a galley-style kitchen or walkways created by an island, a single row of appropriately spaced recessed lights will complete your ambient lighting scheme. If your kitchen hugs the walls with nothing in the middle, a grid pattern will ensure even illumination across the space.
PRO TIP

When using recessed lighting, always check the recommended spacing with your ceiling height and the power of the unit being used.
If recessed lighting is not an option, do not fret. Well-powered flushmounts can be equally effective if you choose locations that provide even lighting throughout the space.
And if you are having trouble moving power around in the ceiling, a track or monorail system will work. The trick here is making sure the lights do not create too much glare. Look to ones with a wide beam spread instead of a narrow spotlight to keep the light from looking like an art gallery.
Kitchen Task Lighting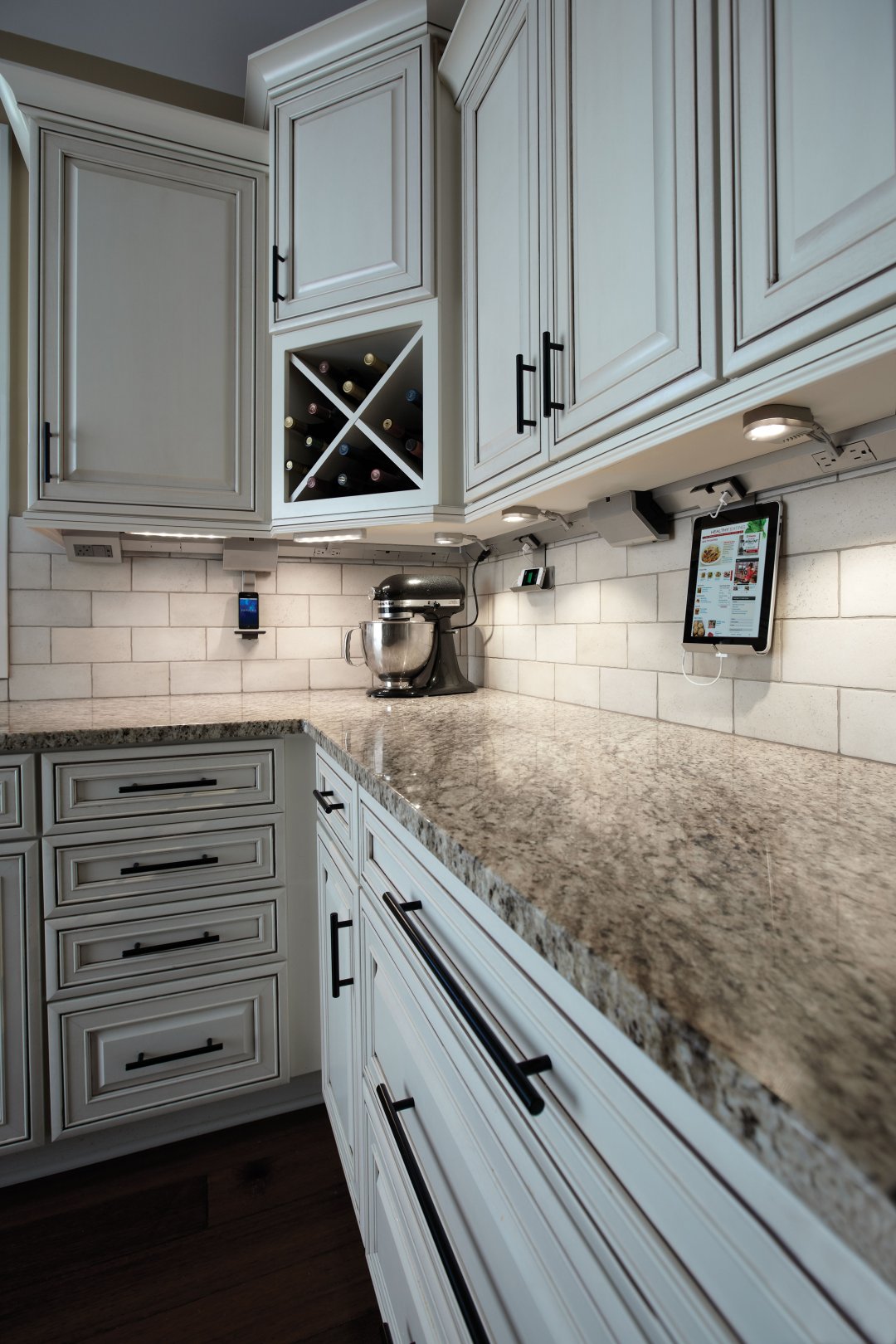 Task lighting is one of the most critical (and most often overlooked) lighting types in the kitchen. In essence, the kitchen is a work space, so make sure you have the right lighting in the right spots to enable you to work safely.
Your kitchen countertop is generally your workspace, and this is where it's most important to consider the work surface, where you'll be and the light source above. A badly cast shadow where you need to show your knife skills can be inconvenient and downright dangerous.
The second key to kitchen task lighting is under the cabinets. This is not a fancy add-on that can be ignored, even if you're looking to go minimal. In fact, installing undercabinet lighting is the best thing you can do to improve the functionality and environment of a kitchen. There is a wide array of systems and fixtures that can be added on to existing cabinets, as well as fully custom rail kits that integrate your lighting and power outlets into a seamless backsplash.
If you have open shelving or no overhead cabinets, do not despair. Smaller, directional sconces or downlit pendants can be used in multiples to create task illumination and a dramatic design statement.
PRO TIP

Undercabinet lights also provide a nice ambiance and work as a kitchen night light to save you from stubbed toes on your way to a midnight snack.
Kitchen Accent Lighting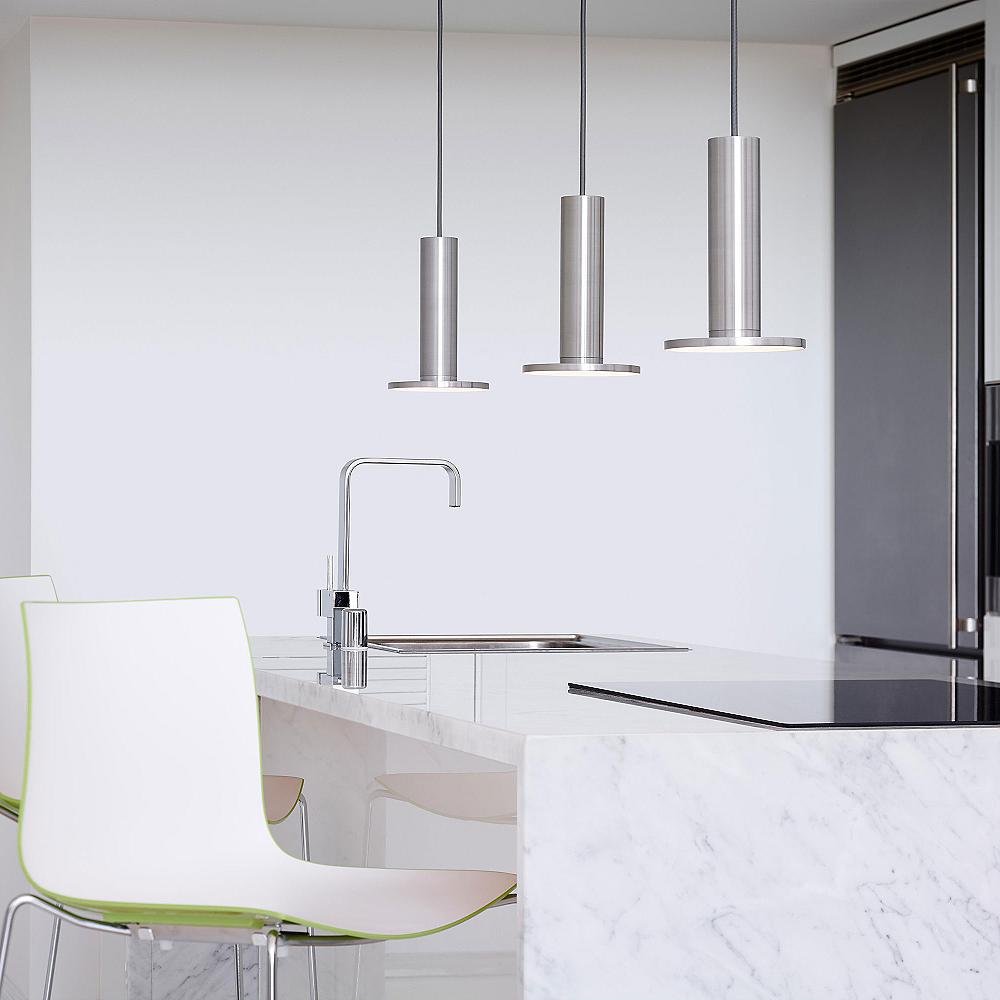 This is generally where the fun comes in, with decorative fixtures often fulfilling the accent role. While we're calling them out separately here, accent lighting often crosses categories and helps serve the purpose of ambient light.
Accent lighting is where we get to play a little, with fewer hard measurements and more of a design factor than ambient and task lighting. Popular places for accent lighting include above an exposed countertop like an island or peninsula, over the kitchen sink or over a table, in the case of an eat-in kitchen.
For islands and peninsulas, you want to select fixtures that scale correctly to the workspace. Look to leave clearance on each exposed side of the work surface to ensure you don't to knock your head into it. A general rule of clearance is 30 to 36 inches between the surface and fixture, but this can be adjusted based on your height or the diameter of the fixture.
Other popular options are a pendant, or even a sconce, for providing handy accent light over a kitchen sink. This is a perfect spot to pop a practical little piece of jewelry for the room. For either a pendant or a sconce, a directional downlight provides a little extra task lighting as well.
PRO TIP

A decorative fixture can really change the feel of a room. Don't be afraid to use materials or styles that might pop against the rest of the room to create a playful juxtaposition. Not every fixture has to come from the same family.
Consider Your Floor Plan
If you have both an eat-in kitchen and a separate, formal dining room, this takes some pressure off of the kitchen lighting since there will be plenty of light sources in the room. For the eat-in dining area, you can use something slightly more decorative or smaller than you might if this was your main light source.
For open floor plans where the kitchen opens up to the dining and living rooms, you can get a bit more grand with your decorative lighting, if you like. This will help define the dining space within the larger room and anchor the table and chairs. Go for something bold that scales with the table size but still plays well aesthetically with pendants, linear suspension lighting or chandeliers in the surrounding space.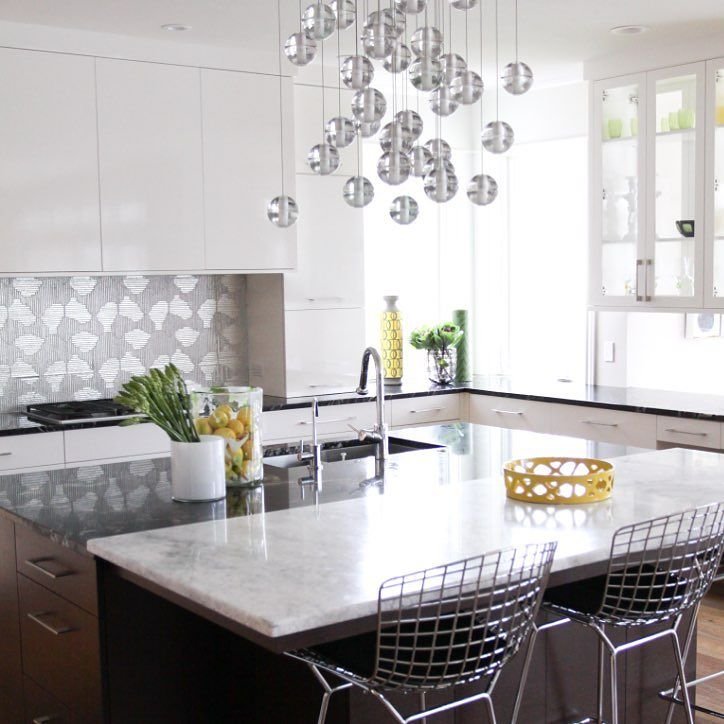 Gain Control: Lighting Controls, That Is
As important as it is to select the right lighting fixtures, you won't get very far without the correct lighting controls as well. Switches are great—but dimmers are better, and should be used where possible to best control the lighting to any task happening in the space.
When choosing fixtures, see if the fixture itself is dimmable, and ensure you select a dimmer that will function with it.
If you are rewiring or designing your kitchen from scratch, you'll also want to plan your controls layout. Most kitchens have more than one entry point, so make sure the most critical ambient fixtures can be controlled from both ends. If you're not doing a massive overhaul, look to whole-home or WiFi systems that allow you to sync multiple controls without wiring them across.
That's it! Whether you're planning an update or going for a full kitchen overhaul, the right layers of kitchen lighting will help you maximize the utility and ambiance in your space.