Welcome Home:
4 Steps to a Perfect Porch
From creating curb appeal to creating an inviting entry for incoming guests,
adding a little style to the front porch will warm up your welcomes in no time.
The threshold of your home sees a lot of action during the fall season. It's a time for visitors (from trick-or-treaters to visiting in-laws), and for well-lit porches as earlier nightfall moves in. And whether you're working with an itty-bitty apartment entry or a wrap-around portico, styling the space with a few key pieces will make your home feel welcoming and lived in—and let your guests know what fine taste you have before they even get through the door.
Here, our 4 steps to creating the perfect porch for fall and beyond:
1. Start with the right lights.
A well-lit porch not only offers a warm welcome to incoming guests, but provides safety and security for the all-important entrance to your home. Beyond choosing a fixture that is the right style and brightness you want, follow these quick tips for getting the front porch light just right:
If possible, flank both sides of the front door with matching outdoor wall sconces. If there isn't room for two, use a single sconce on the side of the door that the keyhole is on.

To get the proportions right, look for exterior wall lights that run about ¼ the length of the door.

Match the style of light to the exterior of your home. If you have a Tudor-style home, the most modern and minimal light fixture might not look quite at home. Let the features of your home's architecture guide you to a style you like.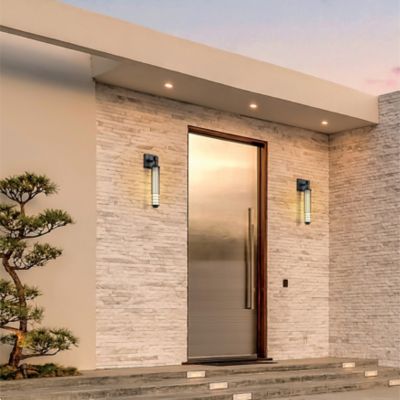 READ MORE: PORCH LIGHTING 101
2. Add a little color.
The front porch is a perfect place for a pop of color. We're partial to bright, playful shades that say "hello!" all the way up the walkway, whether that's in the form of a cheerful planter, punchy doormat or a bold swath of color over the front door, like this vivid shade of chartreuse. Whether you use a lot or a little is up to you, but limit colorful pieces to 1 or 2 items and look to neutral tones for additional items or paint colors.
3. Upgrade the basics.
Even the most straightforward elements of a front porch—you know, the things that "came with the house"—could use a little style upgrade. Your mailbox, doorbell and house numbers are all worth a second look to see if they really match your style. And if not, this a great place to add special little details to the front porch.
4. Accessorize.
From functional pieces (benches, doormats) to fun pieces (plants and outdoor textiles) the front door space can be accessorized like any other space in your home. The key here is balance, as you want the space to feel inviting but not cluttered or overwhelming. Keep it to 2-4 "extra" pieces around the front door itself.
GET THIS LOOK: