Ceiling Fans
Learn More About Ceiling Fans
Why We Love Ceiling Fans
Less expensive than running the air conditioning during the summer, ceiling fans cool the home in an economical and designer-friendly manner. Energy efficient ceiling fans, including DC ceiling fans and fans with integrated LED light kits, in particular offer even larger cuts in costs due to their eco-friendly design. And today's modern ceiling fans provide the perfect breeze in the summer and help circulate warmer air in the winter. Ceiling fan styles range from ultra-contemporary stainless steel designs to traditional builder fan options and work within a number of established interior themes. There's really no reason to not enjoy the benefits of these decorative ceiling fans.
Read More
A Ceiling Fan for Every Room & Application
Honestly, because of all of the available styles of ceiling fans, there's really no room or location where a fan won't work. And the different types of ceiling fans available makes it a breeze to find just the right one for your exact application, be it for residential or commercial use.
Large Ceiling Fans: In large, open spaces like living rooms and great rooms, a ceiling fan with a blade span of 52" or more is your best bet to cover a lot of ground. Large ceiling fans are capable of moving a significant amount of air while operating with the same efficiency as any other sized fan (if not better).
Small Ceiling Fans: In the kitchen or in the breakfast nook, a ceiling fan with a smaller diameter is the ideal choice. Although they have a smaller blade span, they bring a significant amount of style to these rooms.
Flushmount Ceiling Fans: In rooms with low hanging ceilings, including the laundry room, bedrooms and home offices, you'll be sure to appreciate the assortment of hugger ceiling fans. As their name suggests, this style of fan hugs the ceiling by being mounted flush with the base of it. Some designs offer the flexibility to extend a few inches from the ceiling, also making them a good choice for areas with low ceilings.
Outdoor Ceiling Fans: Damp and wet rated outdoor ceiling fans are great for front porches, patios, gazebos and pool areas. With a damp or wet UL listing, these fans are made available for safe outdoor use where the presence of water is unavoidable.
Ceiling Fans with Lights: Not only can a ceiling fan bring a cool breeze and fresh air into a room, a ceiling fan with an integrated light kit offers you a helpful source of illumination too. For kitchens, offices and other work spaces in the home, you'll appreciate the additional overhead lighting.
With so many variations of ceiling fans of available, you'll have no problem finding just the right one. And in commercial locations like restaurants, retail stores and warehouses, cool ceiling fans guarantee compliments from your customers, as well as the comfort they need.
A Ceiling Fan for Every Style & Theme
Ceiling fans are offered in a wide range of styles to fit in with the aesthetic of your interior landscape. From traditional ceiling fans to modern styles that are almost a work of art for your ceiling, these fans have it all. Fit a rustic or lodge theme with any of the wood blade ceiling fans from Minka Aire, including the best-selling Artemis Fan, the Aviation Fan or the Light Wave Fan. With a dedication to quality and design, it's no wonder Minka is a top brand among interior designers. The Modern Fan Company offers equally stylish options to give a room contemporary character. From the design mind of Ron Rezek, the Modern Fan Co. offers sleek stainless steel and aluminum finishes you'll love. Find innovation and ultra-modern designs in the Fanimation line. Fanimation even offers technology to allow you to control your fan from the convenience of your smart phone. Transitional, traditional and farmhouse themed spaces will appreciate the well-curated collection from Casablanca Fans and Hunter Fans. Finally, enjoy the benefits of energy efficiency in your home with an eco-friendly, DC powered ceiling fan by Emerson Fans.
How to Choose the Best Ceiling Fan
Choosing the right ceiling fan for your home requires attention to a few critical details including its size, number of blades, overall aesthetics and special features. If you can determine these details before searching for ceiling fans online, you'll have no problem finding the best option for your home.
Ceiling Fan Size
First, size is essential to the overall landscape of your space. To avoid complications while installing a fan, you'll need to properly measure the space on the ceiling where the fan will be installed to gather dimensions for height, width and weight (especially for large fan motors). If you're replacing an old ceiling fan, simply choose a size closest to the old fan to make installation easy. Blade span is the diameter from one blade of the fan to another blade, expressed in inches. Common sizes of ceiling fans are 36", 44" and 52", while large ceiling fans will carry a blade span of 60" or more. With measurements in mind, browse the available options by the blade span, keeping in mind the room where you will be placing the fan.
Fan Mounting Types
Next, determine the preferred mounting style of the fan. As mentioned earlier, flush mounted and close-to-ceiling fans are best for rooms with low ceilings like laundry rooms and bedrooms, while fans with downrod extensions are best for high or vaulted ceilings typically found in the living room or great room. If you're unsure of the mounting type for your room, simply measure the ceiling-to-floor height and compare it against the installed height of the fan from the base of its canopy to the bottom of the motor.
Ceiling Fan Efficiency
Innovation and attention to eco-friendly design has allowed for energy efficient ceiling fans to almost become the norm in many households. To ensure you're choosing a fan with the best efficiency metrics, you'll want to carefully review its CFM (the cubic feet of air per minute it moves, also referred to as airflow), its motor type (DC vs AC) and if its light kit is using LED.
Colors & Finishes Are Important Too
In addition to sizes and aesthetics, this collection of ceiling fans offers you a wide variety of colors to choose from. Begin by taking a mental snapshot of the color palette of your home. White, gray and black ceiling fans fit in well with neutral colors and lend themselves to a minimalistic look. Stainless steel and most metal finishes establish a room as contemporary, while fans with wood features are more in tune with classic and traditional decor. And colorful fan blades - blues, reds, greens and yellows - provide a room with a playful personality.
If you have any questions about how to choose the right ceiling fan, please call our fan experts at 877.445.4486.
Other Great Options
Make your life easy with a ceiling fan remote. Most remotes for ceiling fans install in the canopy of the fan and work instantly (you'll just need to make sure the remote is compatible with the model of your fan first). Or consider Fanimation's FanSync technology to be able to control the fan from a smart phone. If you're opting for a ceiling fan with an integrated light kit, you may appreciate a light dimmer to be able to control its light output and the mood of any given room. Conversely, in well-lit spaces with plenty of light sources, a ceiling fan without lights may be a better fit.
Show Less
Related Products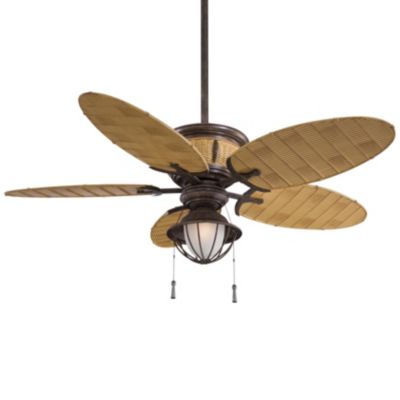 Welcome to your outdoor utopia. Inspired by the ...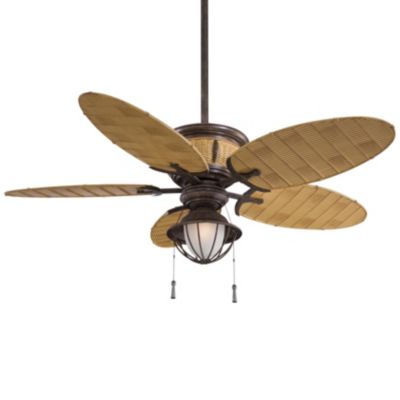 Description:
Welcome to your outdoor utopia. Inspired by the James Hilton novel depicting a tropical, mystical utopian society, the Minka Aire Shangri-La Ceiling Fan features all weather bamboo blades, a caged etched glass shade, and wicker detail along the body of ...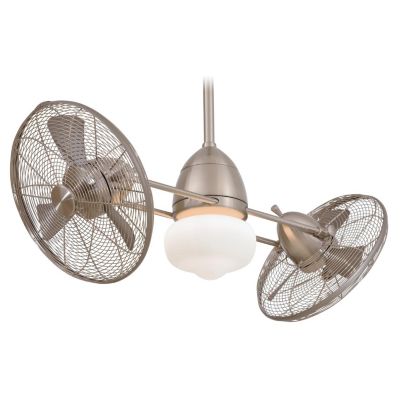 Multi-directional air movement for the dining area as ...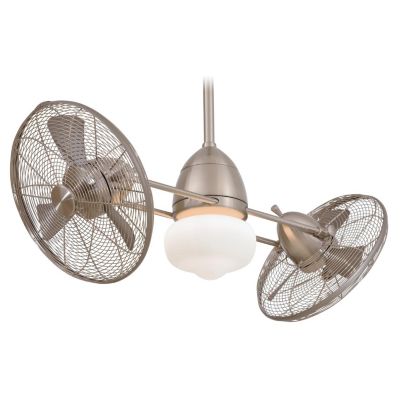 Description:
Multi-directional air movement for the dining area as well as the patio. The Minka Aire Gyro Wet 42 in. Fan, designed for indoor and outdoor use, generates excellent air circulation through its high-performance twin turbofans and 360-degree rotation. Includes a ...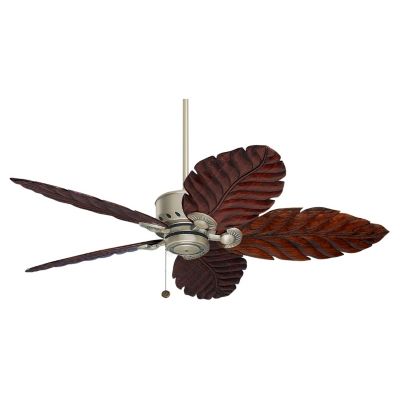 Featuring hand carved leaf blades, the Emerson Maui ...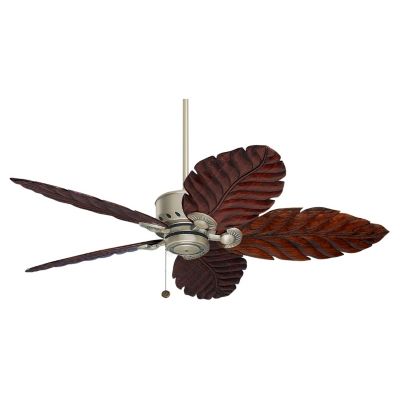 Description:
Featuring hand carved leaf blades, the Emerson Maui Bay Ceiling Fan is a tropical dream. The broad blades are solid wood and this fan is suitable for damp locations, making it a great addition to your covered patio or veranda. ...