Behind the Design:
Ettore Sottsass at 100
From humble beginnings to postmodernism icon, we delve into the life and works of
Memphis Group founder Ettore Sottsass.
Written by Nate Sverlow
Few designers embody the postmodern movement of the 20th century quite like the Italian architect and designer, Ettore Sottsass. Much like his personality, his work with furniture, lighting and various other mediums challenged industry norms with saturated colors, asymmetrical shapes and exotic functionality.
Though his designs have run the gamut of criticism—referred to as a "new friction between form and function" by the New York Times, and as a "shotgun wedding between Bauhaus and Fisher-Price" by the San Francisco Chronicle—they have found a place in the hearts of design aficionados, serving as icons of an artistic revolution that stood in brave opposition to the consumerist zeitgeist.
2017 marks the 100th anniversary of Sottsass' birth. So, now is a good a time as any to sit back and reflect on his tumultuous, but ultimately rewarding, life and his resounding influence on conceptual design today.
SOTTSASS' BEGINNINGS
Ettore Sottsass was born September 14, 1917 in Innsbruck, Austria, to Antonia Peintner and Ettore Sottsass Sr., an architect involved with modernist architecture group Movimento Italiano per l'Architectura Razionale. From this early exposure, Sottsass quickly became enamored with his father's profession, eventually graduating from the Politecnico di Torino in 1939 with a degree in architecture.
After serving in the Italian military in World War II (where he was captured, imprisoned and sent to a Yugoslavian labor camp), Sottsass returned home and helped his father rebuild buildings that had been destroyed during the war, often giving them a distinct modern aesthetic.
In 1947, he decided to create his own architectural and industrial design studio in Milan. By the mid-1950s, his career began to take flight. He worked with industrial designer and one of the founders of American Modernism, George Nelson, was commissioned by American entrepreneur Irving Richards to create an exhibition of ceramics, and became a semi-industrial producer of contemporary furniture for Poltronova, a furniture manufacturing company in Italy.
A MOVE TOWARD MODERNISM
Most notably, perhaps, was his work in the late 1950s for Olivetti, an Italian manufacturer of technology and business products. The founder, Adriano Olivetti, hired him personally as a design consultant. And, over the course of several decades, Sottsass helped develop the first Italian mainframe computer (Elea 9003), the Valentine typewriter (which was later declared an icon of 20th century design) and what he referred to as Superboxes, which served as aesthetic exaggerations of typical cabinets. The latter was his first substantial departure from clear-cut modernism, where function took a clear backseat to his conceptual critique of excessive consumerism.
THE MEMPHIS GROUP
This burgeoning dissent was clearly expressed through Sottsass' own words. He stated, "I didn't want to do any more consumerist products, because it was clear that the consumerist attitude was quite dangerous." On December 11, 1980, he founded the Memphis Group—named after the Bob Dylan song "Stuck Inside of Mobile with the Memphis Blues Again"—which exclusively designed postmodern furniture, fabrics, ceramics, glass and metal objects. Much like the Superboxes, these pieces transcended ordinary function and served as conceptual statements regarding society, politics, eroticism and even food.
The spirit of the Memphis Group is echoed in the following quote from Sottsass. He said, "When I was young, all we ever heard about was functionalism, functionalism, functionalism. It's not enough. Design should also be sensual and exciting."
Over the course of seven years (until 1987), they remained true to this manifesto, designing products (often from plastic laminate) with wild color schemes, asymmetrical shapes and bizarre styles that demand a second, third, fourth and fifth look. Since then, their collection has become incredibly popular, recently selling at David Bowie's estate auction for well over a million pounds.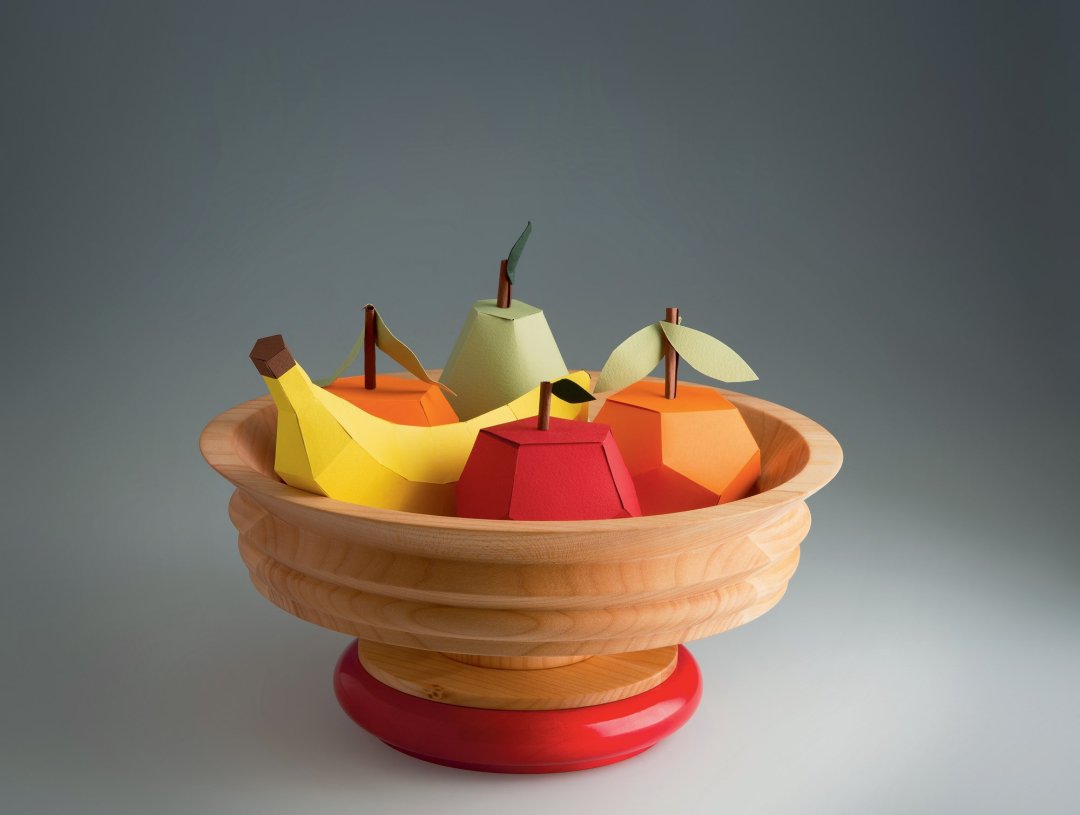 Ettore Sottsass died New Year's Eve, 2007, at his home in Milan. He was 90 years old. From his vast body of work—including furniture, jewelry, ceramics, glass, silver work, lighting, technology, business products, buildings and many more esoteric ventures—one can easily surmise that it was a life fully lived. In honor of his 100th birthday, Alessi reissued his 1990 centerpiece design in a limited run; only 999 have been produced.
From his humble beginnings helping repair his war-torn hometown, to designing computers, typewriters and experimental sculptures for Olivetti, to collaborating with the young up-and-coming designers of the Memphis Group and many others in the proceeding decades, Sottsass has left his unique, quirky imprint on the design world for generations to come.