Key Features
This clear appliance light bulb from Bulbrite is designed for household or commercial service in standard sockets. Comes as a 4-Pack.
40W 130V A15 E26 Clear Bulb 4-Pack Specifications
Light Source
Incandescent

?

Lumens
340

?

Wattage
40

?

Bulb Shape
A15

?

Base
E26

?

Voltage
130 Volt

?

CRI
100

?

Light Color Temperature
2,700K

?

Average Rated Life
2,500 Hours
Energy Star Qualified
No
Dimensions
Maximum Overall Length (MOL) 3.5", M.O.D. 1.88"
Click or tap arrows for more info.
Brightness: This is measured in lumens on the label. For example, 1100 lumens has brightness equivalent to a 75-watt bulb.
Estimated Yearly Cost: This is based on a usage of 3 hours each day. While your actual use may vary, the dollar amount noted will give you a good baseline.
Life: The overall expected life of the bulb, often in years. This is also based on a usage of 3 hours each day.
Light Appearance: Also known as color temperature, this indicates the quality of light, ranging from warm/yellow light to cool/blue light. (Warmer light in the 2700K range is what you'd expect from a standard incandescent.) The K stands for kelvin.
Energy Used: Due to more energy efficient light sources, you will not see the 40, 60, 75 or 100 watts like you used to. These days, you will more often see values in the twenties, teens or even single digits.
*Contains Mercury: Because so many fluorescent bulbs contain low levels of mercury, these bulbs outline how to properly dispose of the CFL bulb at the end of its life.
How many lumens do I need?
Lumens
The amount of light that comes from a bulb, which has commonly been measured in watts. The more lumens, the brighter the bulb.
Wattage
A measurement of the power delivered to a component of an electric circuit (allowing a one-ampere current to flow through the component under the pressure of 1 volt.)
Bulb Shape
Bulb shapes are denoted with a letter, which describes the shape, and a number, which indicates the size. The number indicates the diameter of the light bulb at its widest part in eighths of an inch.
Base
The part of the bulb that connects to the fixture and its power supply. Bulb bases are denoted with the letter E, and a number which indicates the diameter of the bulb base at its widest part in millimeters.
Voltage
Indicates how much voltage a bulb can accept via the fixture it's installed in.
Light Color Temperature
The relative color from a light source, measured on the Kelvin temperature scale. Warm light is lower in color temperature (2700-3000 K) and cool, blue light is higher (5000 K).
Average Rated Life
The average amount time that a bulb is expected to last.
CRI
CRI = color rendering index. This number, which can go from 0 to 100, measures the ability of a light or bulb accurately renders colors. The higher the number, the better, with most quality bulbs these days measuring at least in the 80s.
Manufacturer IDs: view
104140-IG
California Residents: Prop 65 regulations
Need help with some of our terminology? Check out Lumens' Lighting & Design Glossary.
40W 130V A15 E26 Clear Bulb 4-Pack Availability
All combinations for this product are listed below.
Related Searches and Products
Related Products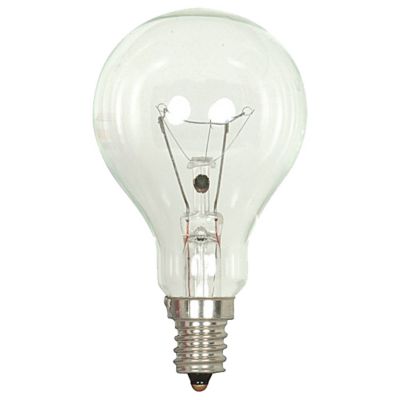 This clear decorative bulb from SATCO is designed ...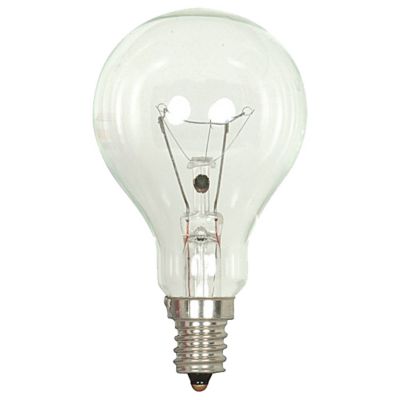 Description:
This clear decorative bulb from SATCO is designed for use in contemporary chandeliers and pendants with candelabra size sockets.
YOU'RE CURRENTLY VIEWING