Reading & Swingarm Lights
Reading and swing arm lights stick their necks out to help you.
Why We Love Reading & Swing Arm Wall Lights
Reading lights contribute to the overall interior lighting scheme with one very handy difference--they mount directly to the wall (and more specifically, the exact spot) where one might need to use it for reading or task work. The adjustable spotlight illumination can only be found in these reading lamps and swing arm lights, making them one of a kind. Many of them can also be dimmed at the fixture, adding even more convenience to an already superb design.
Where Reading & Swing Arm Lights Work Best
Swing arm reading wall lights work really well for bedroom lighting on either side of the bed. Their dimming capabilities mean one partner can read or work in bed without disturbing the other (always nice). Contemporary reading lights also go well above or right next to office furniture, leaving much needed space open for paperwork, the laptop, books and materials. Adding wall mounted reading lights from George Kovacs or Artemide will save you space and will give your office a contemporary style.
Other Great Options
LED reading lights are the absolute best at saving energy while providing the necessary task illumination for professional and personal use. And a lot of reading lights are also available as plug-in wall lights, so be sure to check them out as well! For additional reading lighting, you may also want to check out the selection of available floor reading lamps.
Read More
Show Less
Quicklinks
Learn More About Reading & Swingarm Lights
Related Products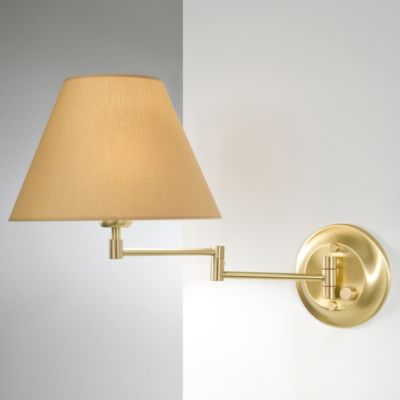 The creamy shade featured in the dimmable Holtkoetter ...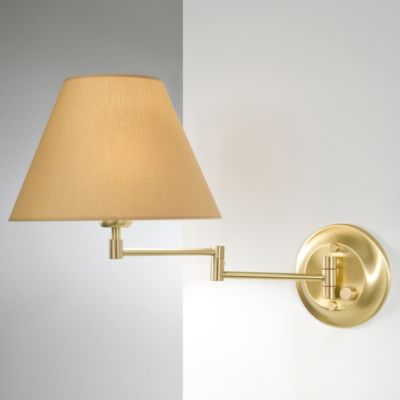 Description:
The creamy shade featured in the dimmable Holtkoetter Swing-Arm Wall Sconce 8164/1 makes this task light a warm, soft contemporary fixture for the study, living room, bedroom and more. Its fabric shade is hand-washable and the fixture can be dimmed ...