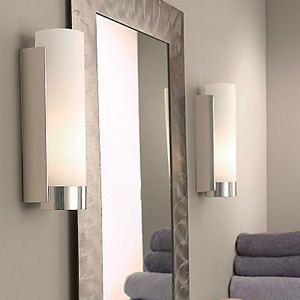 Tyrone Sconce by Robert Abbey
Your vanity lighting should be on your side.
In many bathrooms, mirrors are lit from above, by a single light or a multi-light bath bar. Those lights are great for general ambient light, which is important in a bathroom. However, they are not at all good at lighting your face, adding shadows, splotches and lines where there actually are none. The solution? Multi-light bath bars, like the Tyrone Sconce by Robert Abbey (pictured above), or wall sconces placed on each side of the mirror provide the best lighting for detailed beauty enhancement activities like shaving, putting on makeup, even flossing those (way) back teeth.
Placement Tip: The optimal placement for these side vanity lights is around 60 inches from the floor, ensuring that the brightest parts of the lights are in line with your face.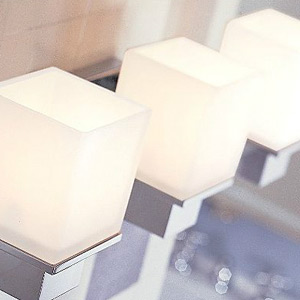 Milford Bath Bar by Hudson Valley
It's true: the right lights can make you more beautiful.
We look our best under lighting that is similar to daylight. So, to best represent the color of your face, hair, makeup and clothes, vanity lights need to mimic the qualities of daylight. This means that, optimally, your bathroom light fixtures should have white shades (frost, clear or otherwise).
Also, the light bulbs inside the fixtures need to be selected for their ability to render colors. How can you determine this? It depends on the bulb type:
Incandescent bulbs need to have a "white" color indicated. The bulb should either indicate that it has a warm white or cool white color or that its color temperature is between 2700K and 3000K.
Contrary to popular belief, compact fluorescent bulbs can be a good choice for bathrooms--as long as their CRI (Color Rendering Index) is 90 or above. This indicates that they are close to displaying colors the way that daylight does. The ideal color temperature for CFLs is also between 2700K and 3000K.
LED light bulbs are the new kids on the block, and they have become viable options for bathroom lighting. Like the others, a CRI of 90 or above and color temperature of 2700K to 3000K are recommended. Pay close attention to the brightness for LEDs, indicated in lumens. If you want something similar to 60 watts, look for around 450 lumens; 750 watts is around 1050 lumens.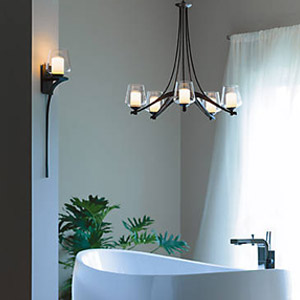 Antasia Bathroom Wall Sconce by Hubbardton Forge
Bright light and soft light? Yes, you can have it all.
So, you want to be able to have bright light for getting ready in the morning and less light in the evenings when you are relaxing in the tub. Impossible? Not at all. There are several creative ways to get both mood and task lighting in a bathroom.
Installing a light dimmer for example, is a straightforward way to control the intensity of your vanity lights. And these days, there are dimmers available for incandescent, fluorescent and LED lighting. Be sure to see the line of contemporary dimming controls from Legrand Adorne.
Install a decorative ceiling light if you have room in your bathroom. Small chandeliers and semi flush ceiling lights can set a relaxed and romantic mood when the other bathroom lights are turned off.
Add a small lamp. This is especially ideal if there's extra room on your bathroom counter. There's a wide range of lamp styles, so you can easily express your own sense of style.