Flush & Semi-Flushmounts
Learn More About Flush & Semi-Flushmounts
Why We Flush & Semi-Flushmounts
Close-to-ceiling lights naturally draw the eye upward and highlight higher up elements in a space, like crown molding or unique architecture. These low profile light fixtures are comprised of perfectly flush mounted lighting and semi-flush mounted fixtures. Flush mount and semi-flush mount ceiling lights provide overall illumination when a larger wash is needed versus focused spotlighting and they are the ideal lighting option when your ceiling to floor height is limited. This selection of close-to-ceiling lighting can become sculptures in and of themselves too, providing a functional and fashionable role in modern spaces.
Read More
Where Flush & Semi-Flushmounts Work Best
Flush and semi-flush ceiling lighting offer excellent illumination for moving from place to place and doing day-to-day tasks, and this style of ceiling lighting works best anywhere a general wash of light is needed. Bright light keeps the mood happy and active, being especially beneficial when used in living rooms, great rooms or in kitchens where people tend to congregate and socialize. And flush ceiling lights are the best option for areas with low hanging ceilings, including most hallways, bedrooms and breakfast nooks. In cozy entryways and smaller foyer areas, where a large pendant or chandelier is simply too big, a semi-flush light fixture puts your decorative style on display and provides ample lighting for guests entering the home. Finally, consider a close-to-ceiling fixture in the bathroom where it can complement existing lighting from bath bars, wall sconces or natural light sources.
A Flush & Semi-Flushmounts for Every Style
Although often considered a functional ceiling light, there are multiple close-to-ceiling light styles that can fit a variety of interior design schemes and show off your style. Contemporary low profile ceiling lights include flush mounts and semi-flush mounts from modern lighting designers like Tech Lighting and WAC Lighting. In transitional spaces, you'll love the options from Forecast Lighting or Murray Feiss. For a vibrant fixture that will really stand out, look to the colorful flush mounts from AXO Light and make a luxurious statement with a crystal low profile light. Finally, in spaces promoting energy efficiency, be sure to check out the selection of LED close-to-ceiling lights.
How to Choose the Best Flush & Semi-Flushmounts
The sizes and shapes of a flush ceiling light fixtures are endless. From drum shapes to bowls and globes to squares, you are guaranteed to find the perfect size and shape of close-to-ceiling light here. When choosing your flush mount or semi-flush mount light, be sure to review its dimensions to properly gauge its height, width, mounted length (for semi-flush options) and its weight. If you have any questions about the shapes and sizes of the low profile ceiling light fixtures featured here, please call our lighting experts at 877.445.4486.
Other Great Options
Many of the designs featured here have the option to be mounted flush to the ceiling or to the wall. When viewing a light fixture you like, check its details to see if it has multiple mounting options. And if you like the bowl shaped flush ceiling lights in this collection, you will want to take a look at the complete bowl pendant lighting assortment for more options that hang farther from the ceiling.
Show Less
Related Products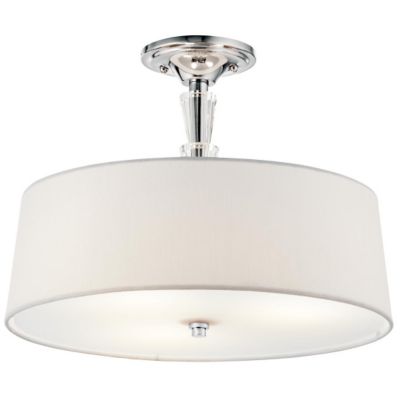 Vintage crystal perfume bottles inspired the modern design ...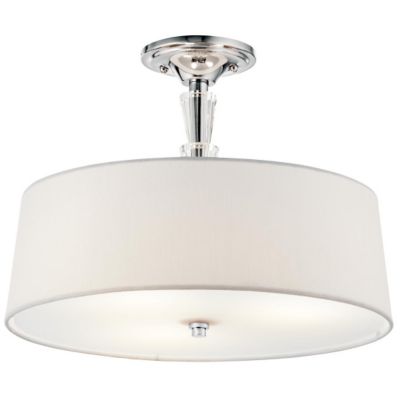 Description:
Vintage crystal perfume bottles inspired the modern design of the Kichler Crystal Persuasion Semi-Flushmount. Cut K9 crystals adorn the gleaming chromed steel frame, adding a sparkling jewel-like element as they refract the light diffused by the flared drum White Linen ...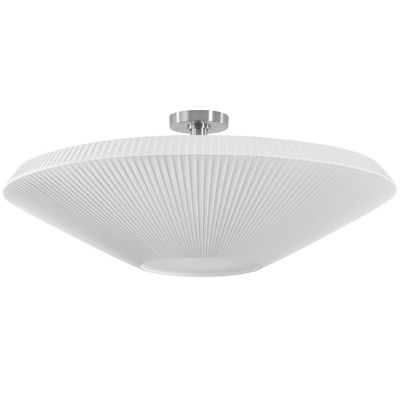 Visually echoing a cross between paper lanterns and ...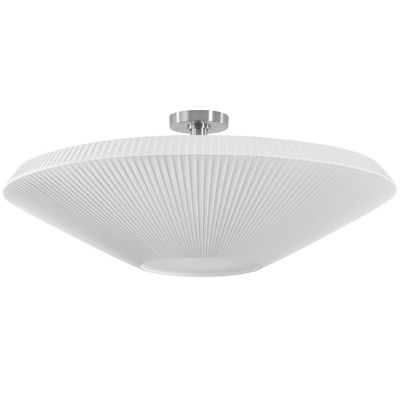 Description:
Visually echoing a cross between paper lanterns and interplanetary spacecraft, the Bover Siam 01 Semi-Flushmount is a convex ring of hand wrapped polyester ribbon. The translucent fabric and frosted diffuser work in tandem to provide warm diffused illumination. An intriguing ...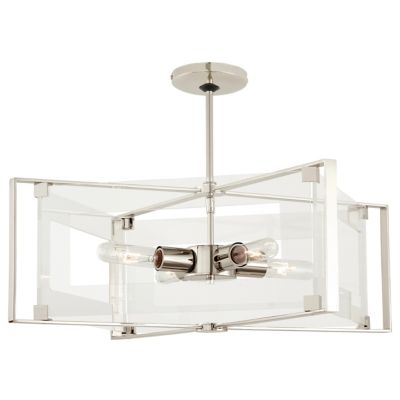 The George Kovacs Crystal Clear Semi Flushmount combines ...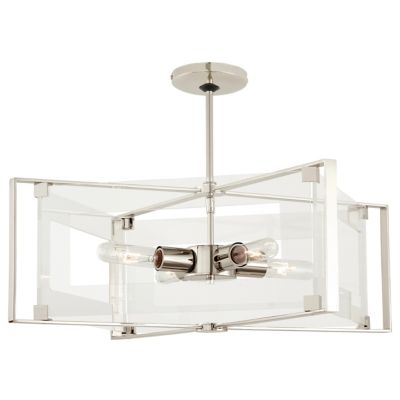 Description:
The George Kovacs Crystal Clear Semi Flushmount combines sleek angular frames with floating acrylic plates. The exposed bulb and muted accents give this piece a contemporary vibe, while the simplicity can accent a variety of decor styles. Quad bulbs illuminate ...